Aryan Singh, a native of Kathmandu, remembers going to Ason, at an invitation of his friend, where for the first time he witnessed people with red, yellow and blue caps dancing and playing with colours, and carrying khats (a form of palanquin). Singh asked his friend what the people were doing; his friend informed Singh he was witnessing Dya Lwakegu Jatra (translating as a festival where the goddesses clash), a major attraction of Paachahre. However, what Singh did not get was why people celebrated the festival.
This was five years ago. Singh, who had forgotten about the festival since then, last year stumbled on a Facebook page Yomari Cartoon Series. His leisure during the Covid-19 lockdown became interesting as he finally got some answers to his previous queries about the festival. The Facebook page had posted three stories on Paachahre: the story of luku maha dya (the hidden Lord Shiva), Paachahre (series about the festivities) and the series of Ajima Sisters.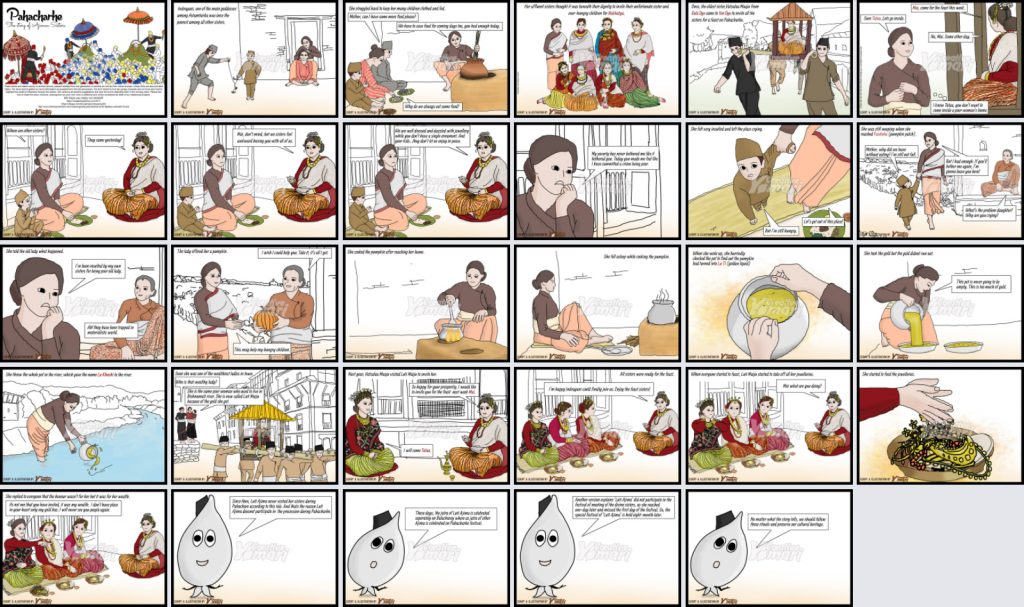 Niroj Maharjan and Munu Shrestha, two Kathmanduites currently living in Sydney of Australia, are the brains behind the Yomari Cartoon Series. As Paachahre is one of the important festivals celebrated by the community, the two chose the festival, worked on it and finalised the series to add to their collection.
The Paachahre cartoon was one among several similar works the duo of Maharjan and Shrestha have done in the past two years. They say they launched the initiative voluntarily to digitalise the rich Newa folklore so that future generations have a knowledge of the stories.
The initiative
In the first two years of their work, these two young people have published some notable series about Kathmandu's festivals such as Gathamuga, Majipa Laakhay Aaju, Gurumapa, Jibro Chhedne Jatra (tongue-piercing festival of Thimi), etc.
In the team, Maharjan is responsible for research and concept design. In most cases, he first surfs the internet going through all articles, e-books, posts related to the festival. He even talks with seniors he could connect, through his circle. He then visualises the storyboard and comes up with the dialogues for the characters.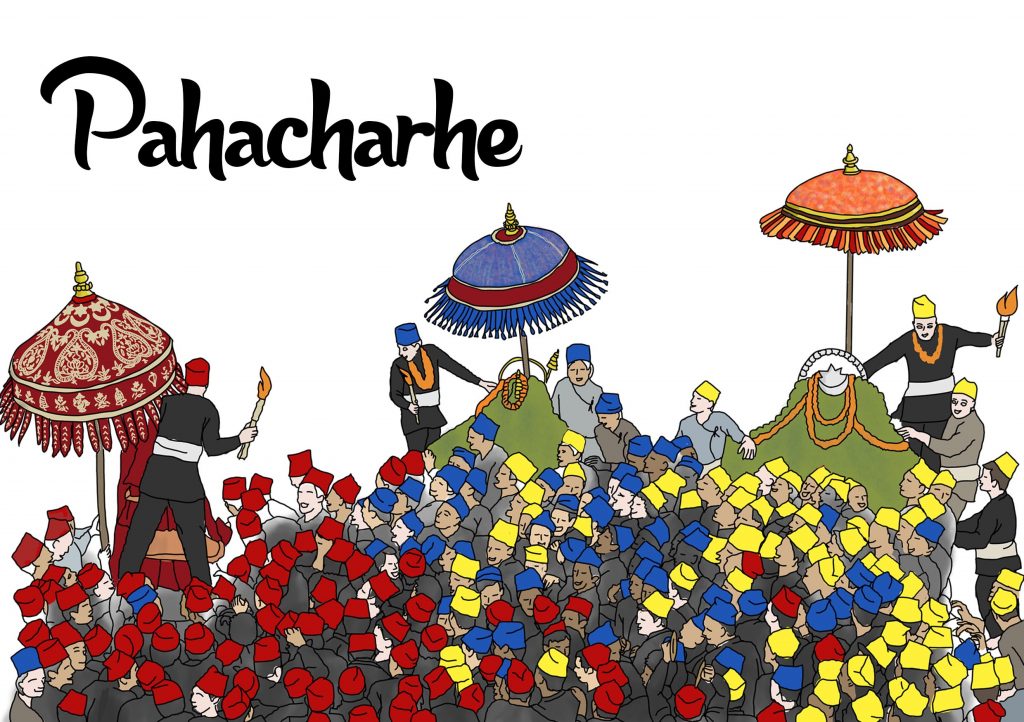 Shrestha is the illustrator and designer who creates the draft using Maharjan's visualisation and references.
Meanwhile, they have two new members in the team recently: Rahul Maharjan from Australia and Subhash Ram Prajapati from the USA. These 'non-resident' Newas finalise the script and translate the series in Nepal Bhasa.
Hailing from Kathmandu, Niroj Maharjan and Munu Shrestha started their brand Creative Yomari from the comfort of their home-based design studio while still continuing their freelance works. The initiative that started in August 2019 featured a fictional character 'Yomari' telling fictional stories for children. 'Yomari meets Chaku' was their first series.
"We were doing freelance work for event management companies here. They used to often ask us for our brand name or logos to include in their posters, but we did not have any then," explains Maharjan, "We did not realise it was important or how much exposure we could have garnered from that. But when we realised, we wanted to name our brand as something authentic that represented Nepal, so we picked 'yomari'."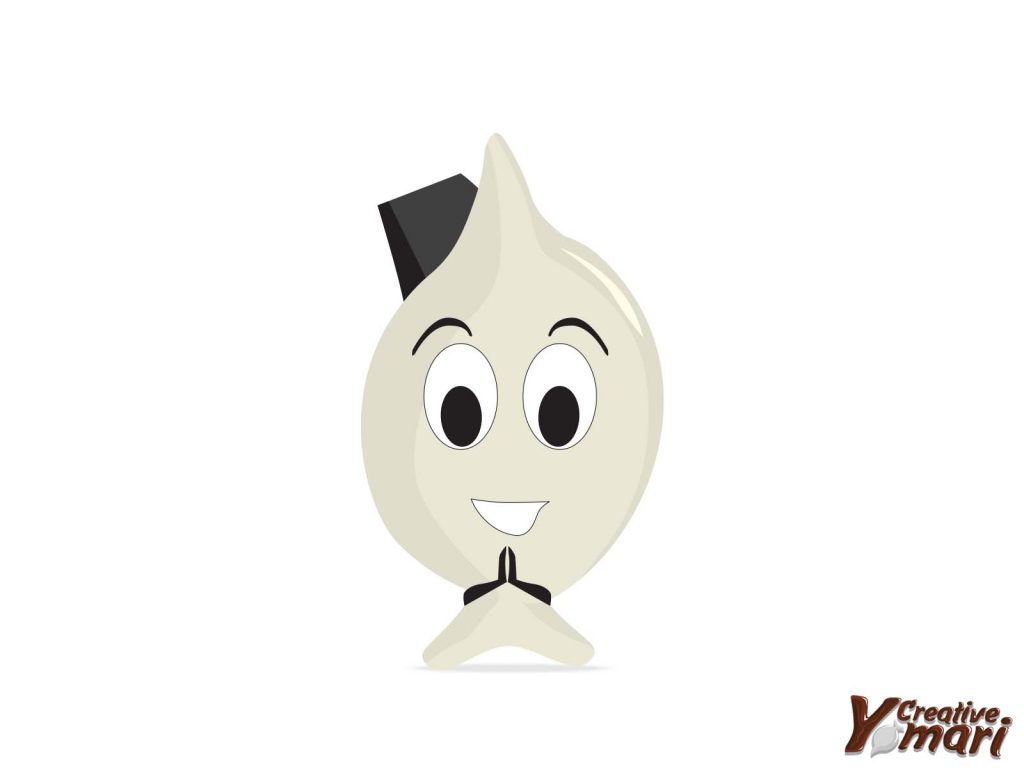 Meanwhile, the duo also say they realised how few or almost no contents existed in cyberspace that could educate the internet-savvy younger generation about their culture. With their already existing fictional character 'Yomari', they then decided to initiate a concept to digitalise the knowledge about Newa civilisation, its heritage and culture to preserve and educate the younger generation.
"We tried to pass the folklores to our children verbally just like our parents and grandparents passed it to us," Shrestha says, "But, kids these days are attracted to digital contents. This realisation gave birth to the Yomari Cartoon Series."
Rewards
Then, what started as their means to pass the stories to the next generation digitally started fascinating even grown-ups alike, share the duo.
Maharjan says, "A Montessori teacher sent us a video of her reading our stories to her students. We were beyond ecstatic to see the students express their love for the stories and the Yomari character." These days, the team also receives numerous messages with people asking about the stories of various celebrations and thanking them for the effort and clearing their confusion. Some also request a print version of the comic strips.
Such requests, they say, motivate them to work harder than before.
Shrestha adds a bigger motivation is the change she sees in her own children. "They are now more curious to know the stories behind the festivals and actively take part in the celebration. My son narrates the series in his school to his friends, which is really impressive, and a proud moment."
Yomari Cartoon Series also became imperative in getting a new team member. "I got impressed by the illustrations and the storytelling style; I became a big fan of the Yomari Cartoon Series. So, last August, I approached the team to made a series on the Jibro Chhedne Jatra. They liked the story and created wonderful illustrations for it," shares Subhash Ram Prajapati.
Prajapati, thereafter, joined the team as a translator and contributed the content in Nepal Bhasa. "By translating the content in Nepal Bhasa, we also got the opportunity to promote the language and for people to learn the language in a fun way," he adds.
Risks
But, these rewards come with a lot of challenges, according to them.
Living away from home, Niroj Maharjan and Munu Shrestha are juggling their jobs with this initiative while also taking care of their children. The creative duo were already graphic designers in Nepal, so skill-wise, they got the opportunity to put it to work. But, time management has always been a challenge, they say.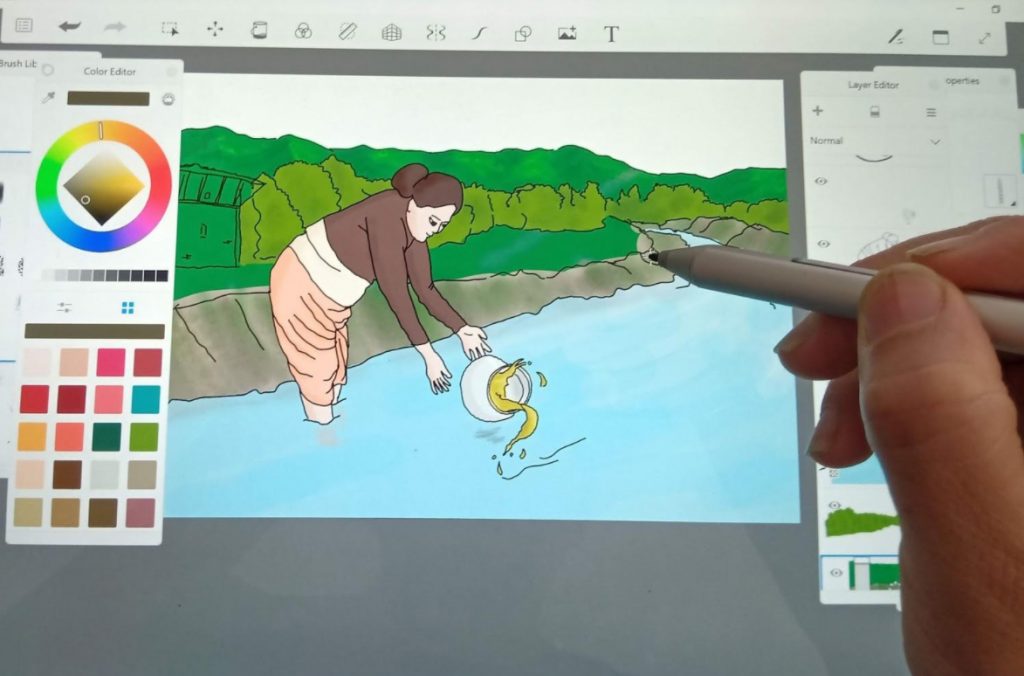 "Having no family members around to help and support, it is very hard to manage everything. We do our research and sketch whenever possible. But we have to get things done, so we follow a monthly planner and try to finish them in a scheduled time frame," Maharjan says, "We sometimes also do not have time to respond to the queries and comments on time. But, regardless of that, we now contribute at least an hour a day for the series."
Shrestha remembers some difficulties in their initial days as well. "We faced some bumps regarding how to present Yomari to the public. Our previous series contained some role-playing characters, and that created some confusions among people. Then, we started showing Yomari as a narrator instead."
According to Prajapati, the real challenge has been to increase the readership and public cultural awareness. But, he is hopeful that will soon change. "Initiatives like these have proven to be very important in this digital age. A lot of our unwritten stories are getting documented and passed on to the new generation, acting as a reference for many," he says, "This is rewarding and we can hope for the change."
What next?
To continue their series, they are now working on the Biska Jatra series and continuing their research on the Bunga Dyo (Rato Machhindranath) and Chakuwa Dyo (Minnath). But, the hardest challenge is the lack of resources for appropriate information, they add.
"We were also recently approached by a not-for-profit organisation in Nepal to publish and distribute one of our stories in the local schools. So, we are also working on that," informs Maharjan.
Apart from the cartoon series, the team has also been learning new skills to transform its series into animated versions to better appeal to the younger generations.
"We are ready to partner with animation studios and build our own research team. But, since we are still planning, we will primarily work on the comic series for now," says Shrestha.