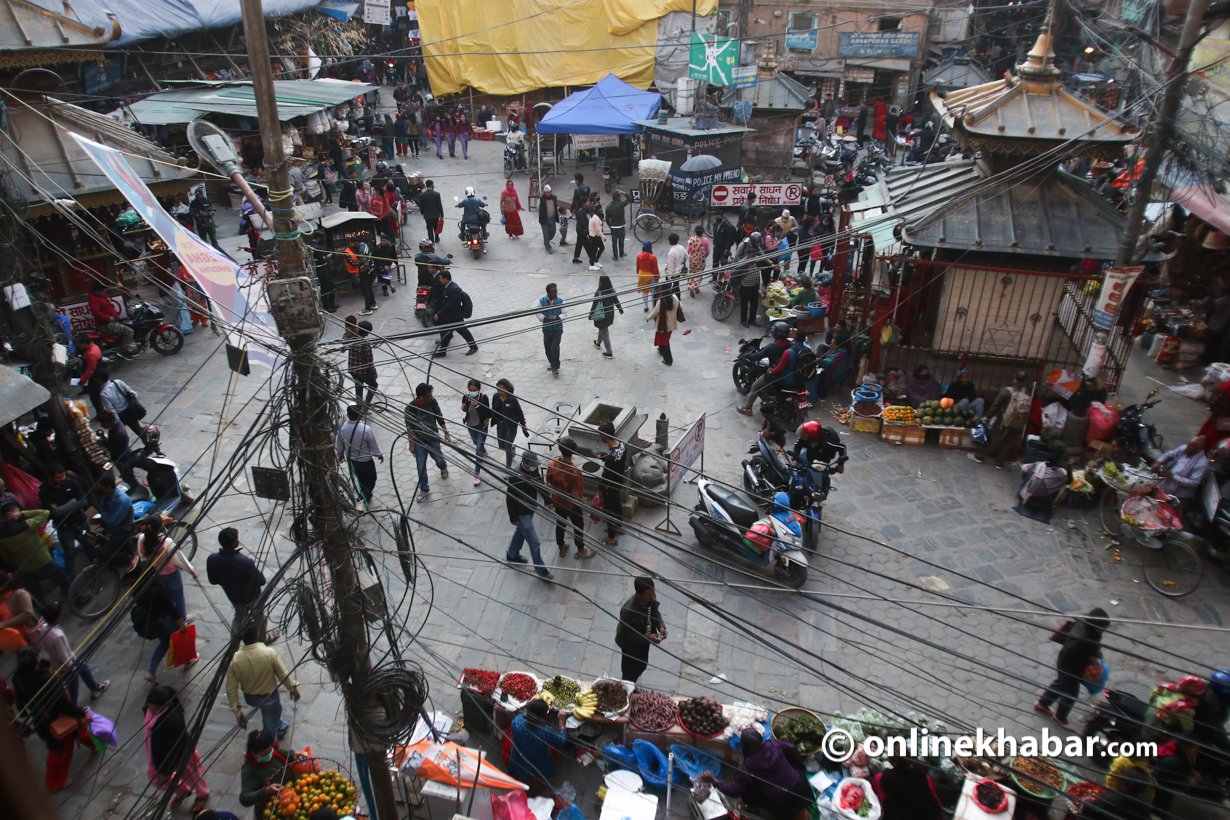 Regarded as one of the busiest, crowded areas of the Kathmandu city, Ason today has thinned out amid the fears of coronavirus. On the second day of Paachahre, one of the important festivals celebrated by the Newari community in Kathmandu, the city usually would have the streets abuzz with people, music and other celebratory activities. Today, it has fallen silent.
If the threat of the virus had not been looming over the public, the city would have been vibrant and this is how the festival would have looked.
***
In a year, the Newari community celebrates different festivals that are categorised into two major sections; chakha and nakha, depending on the nature of the festivals. In one half (chakha), they celebrate the festivals at home, eat season-friendly food and enjoy. While in the other half, they call their family, relatives, and friends to mark the day and celebrate with good food.
Paachahre is a nakha where they call others and that's where it gets its name as Paa in Newari means to call people (family and friends). Because of the tradition of inviting friends (Paasa), this festival is also called Paasa Chahre. This is a three-day-long festival with different components coming together. The Jyapu sub-community within the Newari community is famous for enjoying Newari local alcoholic beverages including tho: and aila on this day. Hence, the festival is also called aila-tho: nakha.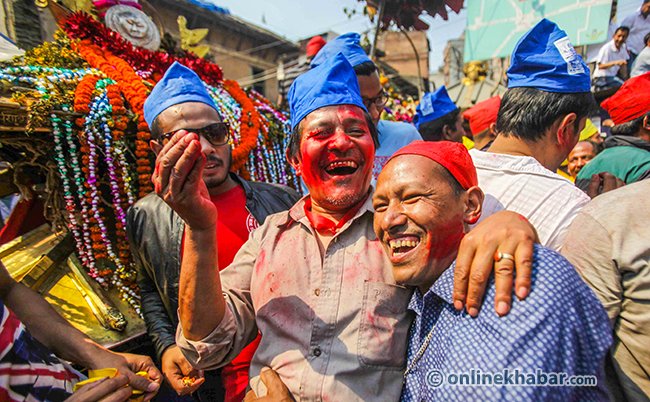 On the morning of the first day of Paachahre, the majority of people go to different temples of Ganesh, Bhairav and Ajima in the city, while in the night, they worship Lord Shiva and their family deities, and eat celebrated meals available in the season.
"In the tantric culture or under its influence, Chahre [Krishna Chaturdashi or the 14th day of the waning moon] is believed to be the time of the month where evil and supernatural powers become stronger. That is why, culturally, many traditional worshipping events are performed to ward off the evil this day. Paachahre, in particular, is believed to be a stronger night for the evil. Hence, if pujas are performed and completed, it is believed one is blessed with prosperity and good health," shares Prem Hira Tuladhar, Nepal Bhasa professor at Padma Kanya Campus.
Worshipping the hidden Shiva
On the first day of Paachahre, women of the Newari community worship Luku Mahadya, a form of Lord Shiva that gets the name for being hidden. There are a few different stories on why the lord was hidden.
According to a mythology, there was a demon who worshipped Lord Shiva with devotion. Pleased, Lord Shiva made an appearance and asked him for this wish, upon which the demon asked for an ability to turn everything he touches into ashes [hence, the demon was called Bhashmasur]. Lord Shiva gave him what he desired, but he insisted on trying the boon by touching Lord Shiva himself. After this, Lord Shiva ran away from him and stayed hidden near a damp, dark area.
There is also a story of Lord Shiva teaching Lord Bhimsen to sing. As the story goes, Lord Bhimsen was not good at singing. When he sang, Lord Shiva commented that he sounded like a donkey. After that, enraged Lord Bhimsen ran after Lord Shiva and, the latter stayed hidden to avoid the rage.
Another story suggests that Lord Shiva, who lived a life of a sage and adopted a vegetarian lifestyle, was asked by his wife, Goddess Parvati, who was non-vegetarian, to try meat and alcohol at least once. As it was a request of his wife, Lord Shiva could not deny, but at the same time, he could not be seen eating meat. So, Lord Shiva went to a dark field [near Pigalasthan on Chahre] and ate meat with alcohol.
"It is not a norm to offer meat and alcohol to Lord Shiva. However, only this day, we worship Luku Mahadya and offer him meat, samay baji, alcoholic beverages (tho: and aila), spring onions. We also offer wobu (white flower of radish), lubu (yellow flower of mustard greens) and kunabu (koirala or Mountain Ebony). At home, we prepare a feast with the same too," shares Tuladhar.
Different procession of Ajima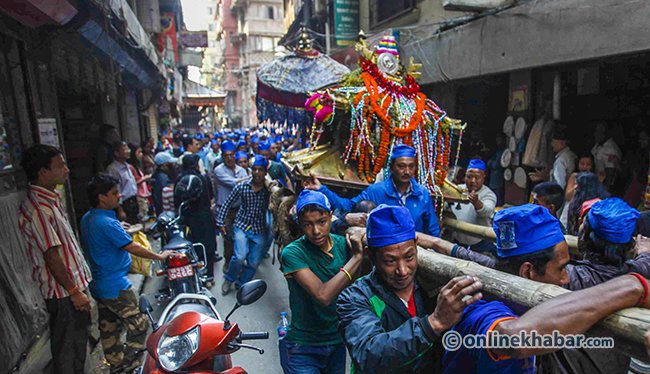 Another component of the festival is the unity among different processions of different forms of Goddess Ajima around the city. It is said that there are eight forms of Ajimas or Ashtamatrikas in Kathmandu, that were installed and worshipped for protection and prosperity.
On the second day of Paachahre, at Tundikhel, three khats (a form of palanquin) with idols of Kanga Ajima from Yetkha, Lumri Ajima from Wotu and Lumri Ajima from Tebahal are brought together for a ceremonial event. They are believed to be sisters and this event at Ason is taken as their reunion.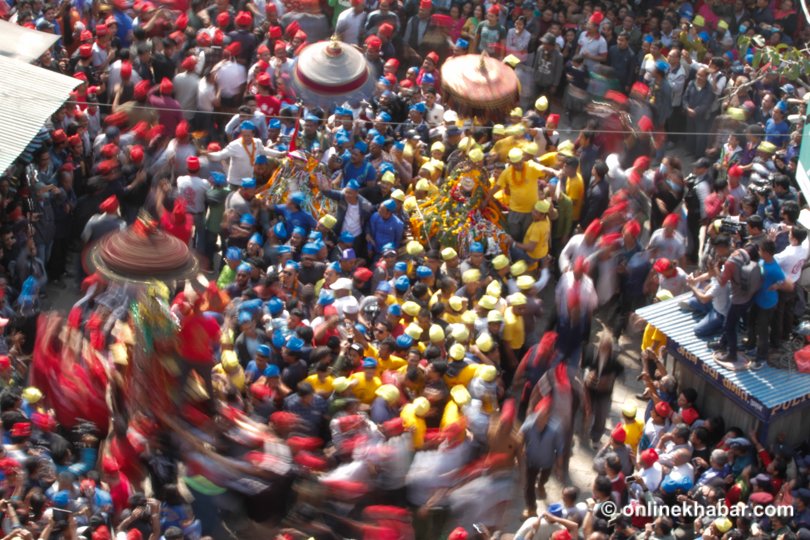 The same ceremony is conducted at Ason, a day after Ghodejatra, where the festival is much more celebrated and attended by many. The three groups are donned in red, blue and yellow caps representing Yetkha, Wotu, and Tebahal respectively. The ceremony at Ason is held at the same auspicious time for the ceremony in Tundikhel.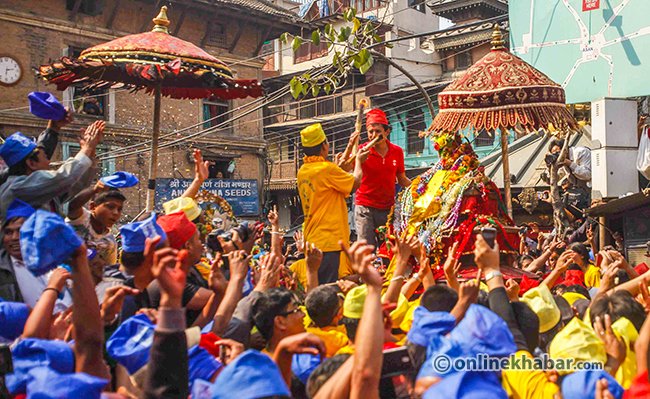 This is locally known as Dya Lwakegu Jatra (a festival where the goddesses clash). "In the ceremony, the goddesses or khats do not really clash with each other; it is just a metaphor. For the event, the two palanquins of Lumri Ajima first reach Ason, after which Kanga Ajima arrives there and goes around the two palanquins three times. During that time, a person holding a torch for three respective goddesses exchange their torches," informs Yagya Ratna Tuladhar, a former chairperson of Asan Sewa Samiti.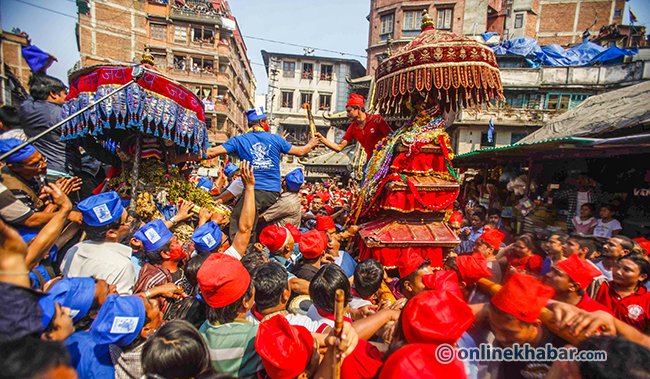 Annually, Asan Sewa Samiti manages and facilitates the crowd in the festival at Ason. Meanwhile, Bhintuna Guthi has taken the responsibility to make and distribute chatamari [in packets] as a form of prasad.
Other processions include processions of Takti (Nilbarahi) Ajima of Tankeshwor, Nyata Swetkali Ajima of Nardevi, Ugratara of Nhyaka Tol along Lord Ganesh of Kilagal and Tyangal.
The coronavirus crisis
Sadly, this year, the vibrant festival and all the processions related to the festival have been postponed amid the growing fears of the novel coronavirus infection. The government of Nepal has banned gatherings of any kind and suggested against being in a crowd of 25 or more people. From Tuesday morning, the people have been ordered not to come out on the streets except emergency. Nevertheless, the cultural event continues in a different form.
"The mass gathering had been cancelled, but as per the tradition, priests of the respective Ajima temples around Kathmandu carried the idols in a dhaki (straw bowl) and carry them here to pay a visit to Kankeshwori Aijma, who is regarded as their mother. They arrived here on Monday, spent a night here and returned back to their respective homes the next day," informs Nabin Pujari, the main priest at Kankeshwori Ajima Temple.
"It is a wise decision as we cannot afford or risk the lives of tens of thousands of people in the name of culture. Our culture is important, but not celebrating the festival with a crowd of festivals will not affect it. People continue to eat and celebrate at their houses like every year, and the elders continue telling the younger generations about the festival, the culture, and its values. There is always the next year, we are not disheartened by it, and I believe I speak for the whole community," adds Yagya Ratna.