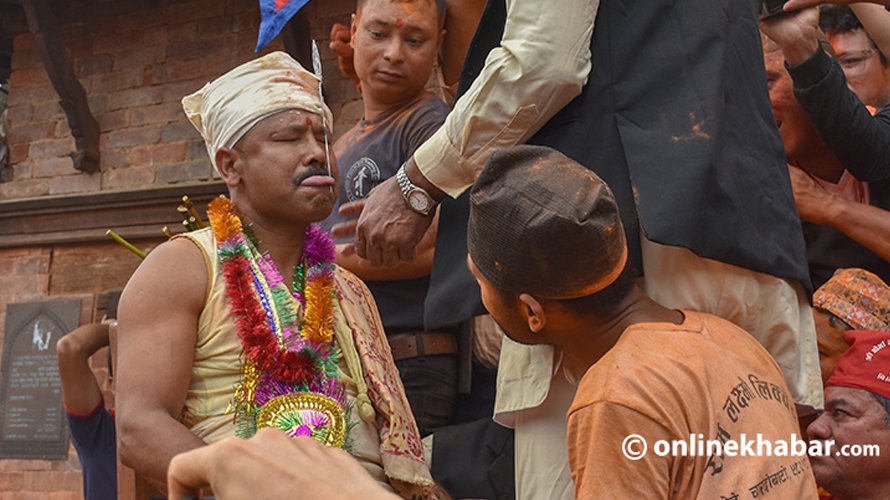 Four days before the jibro chedne jatra (tongue piercing festival) Buddha Krishna Baga Shrestha stood in front of all the Bode village elders to commit that he will pierce his tongue for the seventh time on Monday, the second day of the new year. Every time he stood before the elders, he felt the same: "I wanted to to do it."
But in the last two instances, things have been a bit different. "This year and the year before that, I had to do it because no one else volunteered to do it."
"If I don't do it, no one will do it. As much as I don't want to do it, I can't see this festival not continue," shares Buddha Krishna whose brother Krishna Chandra has also pierced his tongue a dozen times.
As per tradition, only a male person belonging to the Shrestha lineage and native of Bode can pierce his tongue. A popular legend states that the festival started little before Bikram Sambat when a khyak (demon) troubled the village folk. He destroyed their produce and ate their cattle. Angry villagers summoned a tantric, Bhimdutta Karmacharya of Deo Patan, to capture the demon.
Karmarcharya laid traps around the village of Bode and one day caught the khyak. The villagers tortured the khyak. Some pulled his hair, some beat him, and some pierced his tongue so he could no eat their cattle or grains. The villagers then took the khyak around the village to show the people that evil has been defeated.
But soon Karmacharya realised that the khyak was one of goddess Nil Barahi's guards. The torture meted out on the demon made the goddess angry. Karmacharya and the rest of the villagers then struck a deal with the khyak under which he would roam the village with his tongue pierced once every year for the next seven years.
When the demon completed his seven years, the people felt that he had brought good luck to the village. With the khyak gone, they needed someone to do it. A man from the Shrestha clan volunteered to do it.
"Since then the festival hasn't stopped. It's something we are proud of. But historians and writers who have written about the festival still call the man piercing his tongue a khyak," shares Prem Kumar Nidar, a resident of Bode.
And that is what makes Buddha Krishna sad. He shares that being called a demon is quite hurtful and disrespectful.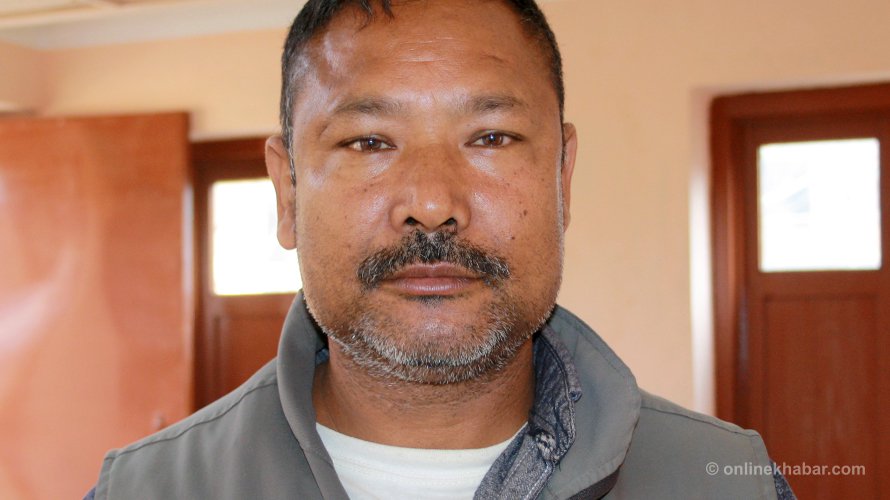 "They call me a khyak. But they do so without understanding what's going on. They haven't realised I and many others before have done this for the citizens of the village. But people and historians don't focus on that part," shares Buddha Krishna.
Buddha Krishna says that he doesn't understand why people who are so religious do not understand that a demon doesn't visit a temple nor does he carry fire.
"Many people ask their kids not to look at me because it's inauspicious. But do they even realise the pain and the suffering I go through? I have to pierce my tongue on an empty stomach. I do not eat for over four days. But I still do it because it is something that has to be done," adds Buddha Krishna.
His thoughts are echoed by Nidar who shares that most do not know the effort that goes behind the festival. "The one piercing his tongue has to arrange for everything. He has to pay for a feast. This has been going on for over 2,000 years and it has never stopped. The only reason for that is because of people's will to do it. I'm nearly 70 now and from what I've seen I've never seen this festival not happen," shares Nidar.
Juju Bhai Shrestha, who has pierced his tongue eight times, has a different mindset. He shares that the first person to pierced his own tongue was a demon, but the ones who did it after him were just men. "Legends talk about a man stepping forward to pierce his tongue because it was beneficial for the village. If people don't want to believe it is up to them. Everyone is entitled to their opinion," shares Juju Bhai, who after piercing his tongue for the eighth time, stopped after various family commitments.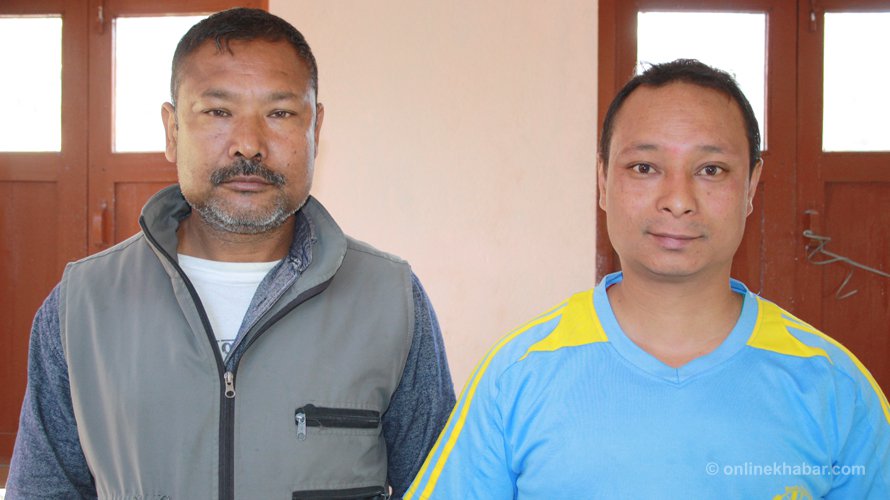 Future
Both Juju Bhai and Buddha Krishna feel that if people are still told that the tongue piercer is a demon, no one from the future generation will step up. However, Nidar feels that someone or the other will step up because that has always been the case.
"When Budhha's brother stopped he came forward. When he stopped Juju Bhai stepped up and when Juju Bhai had to stop Budhha came forward again. This has been going on for generations it's not going to end that easily," adds Nidar.
But Juju Bhai feels that people need to start educating other people and start sending their children to do it. "We need children to know that what we are doing isn't something bad. Sure it is a bit scary but there is nothing demonic about it."
However, in the 21st century, the effort to preserve the festival is quite hard. Buddha Krishna has been asking his sons to do it for quite a while now, but both of them who at one time had said they'd do it, are reluctant to do so.