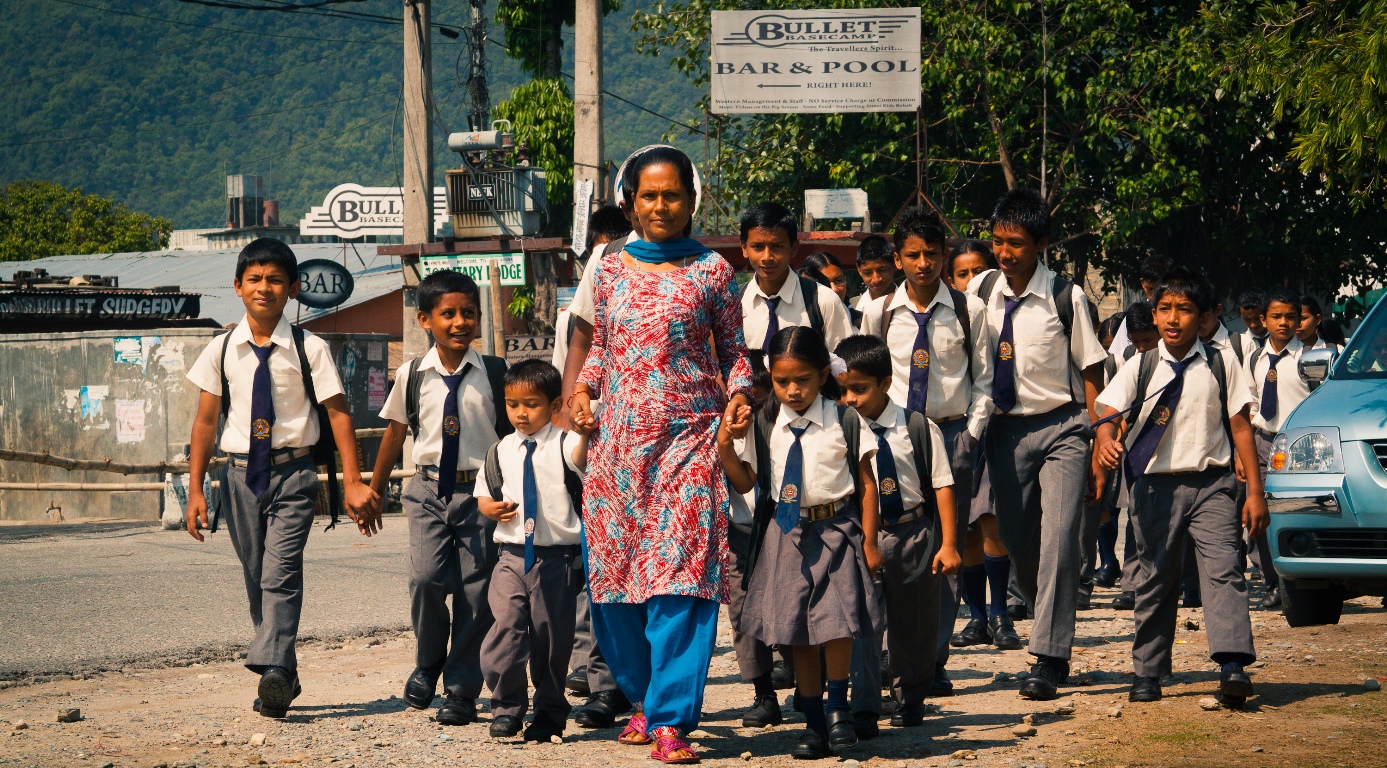 When I asked Sita, on a normal day, why she had stopped coming to school, she said, "I am now working in my house every morning and evening, and in the afternoons I carry composts in my neighbourhood, from where I earn decent money like other girls in the community."
This is the reality of the capital of the country, Kathmandu. The question here is what stops girls like Sita from going to schools. Is it a matter of accessibility and affordability? And, what happens when their livelihood is altered by a new enemy in the form of an unanticipated pandemic, like the Covid-19?
Nepal has a relatively short history of privatisation of education, a mere half-century (since 1971) since churches and markets provided alternatives to the citizens. In 2020, an assortment of both private and public school-going masses in the country is largely divided by their socio-economic conditions, which in turn determines how, where, when and why not the children go to school and secure their right to an education.
Every year, at the lower secondary school age, about 32.7 per cent of out-of-school children drop out completely while 44.3 per cent are never expected to enter school (UNICEF, 2016). This is a confounding ratio which one may expect to rise after the recent pandemic.
Global initiatives on out-of-school children are implemented in the country and some strategic compliance is made by the government towards meeting its a Millennium Development Goal of establishing free primary education, strengthening 'Welcome to School' campaigns, monitoring children at risk and extending the provision of midday meals to children in vulnerable areas. Despite these, the unacceptable drop-out rate is continuing, driven by an imbalance between livelihood demands and the right to education. Poverty is the most significant barrier to education, increasing the odds of being out of school, whether considering the whole of Nepal, rural areas only, or urban areas of Nepal as 41.8 per cent of Nepal's population live below the poverty line, according to the Nepal Living Standards Survey 2011. So, only when families can fulfil their basic needs, they can think about sending their children to school.
The services sector is the biggest contributor to the economic growth in Nepal, more than agriculture and industry combined (ADB, 2014). But, this sector was the most affected by the 2015 earthquake (UNICEF, 2016). The misbalance can further disrupt the country with the advent of Covid-19, with stagnation in the economy, immobility creating a shortage in income-generating jobs which will impact the most on blue-collar workers' families. Again, the children will be out of school; again, other global programmes will be implemented in Nepal, and this cycle will go on.
But, the children who never enrolled in schools or dropped out remain unreached despite these policy measures (UNICEF, 2016). So, until and unless we disseminate the value of education and match the local contexts with needs and rights-based approaches, the drop-out ratio will increase after this pandemic.
Financial literacy programmes can be a strategic measure to make people literate, which also will enable mothers to understand about finances and where to spend money as the famous saying goes "when a mother is literate, the whole family is literate." Along with this, the federal and local level governments can partner with telecommunications agencies as the penetration of smartphone is 100% in every family these days. With data packages, children from Mugu will be enabled to access online remote learning strategies. Hence flexible learning programmes in which the children can learn according to their schedules should be enabled. Local governments must now strengthen the monitoring mechanisms and track the families which require more assistance with the flow of basic needs now so the risk of dropping out is reduced and assistance from scholarship and meal schemes would reach to the right person and in right place.
The essence of education is to defeat the learning crisis, to which Nepal has become accustomed to, and usher in a brighter tomorrow, through participatory learning, strategically delivered in accordance with the need. If we look at community compliances in the fight against the Covid-19 outbreak, we may well already have the resolve to overcome the challenges.
---
Published on May 3rd, Sunday, 2020 6:03 AM
---
Download Onlinekhabar App. Android click here & IOS click here . Keep in touch with us on Facebook, Twitter & YouTube.