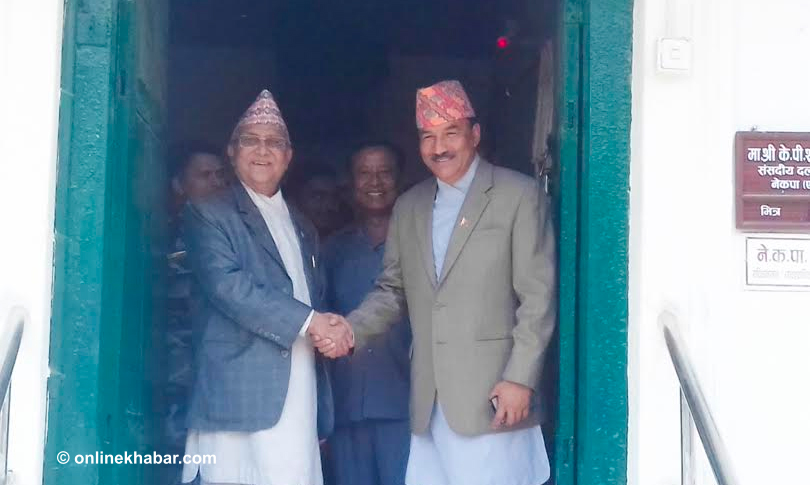 Kathmandu, July 19
Rastria Prajatantra Party Chairman Kamal Thapa has accused CPN-UML Chairman KP Sharma Oli of trying to 'buy' some of its lawmakers to make ruling parties' bid to endorse the constitution a failure.
An RPP leader tells Onlinekhabar that Chairman Thapa has evidence of the UML bid, "A proof of this misconduct along with a photograph is safe with Kamal Thapa."
On the basis of same evidence, Thapa has warned Oli not to play any game within his party, the source says.
In a recent meeting between the two leaders, Thapa reportedly told Oli, "The UML and RPP have different opinions about the constitution amendment. Please stop playing within my party over the issue."
Otherwise, Thapa and Oli had a cordial relation.
The UML is trying to bring four RPP lawmakers–Ram Kumar Subba, Resham Lama, Babita Moktan and Biraj ista–to the opposition camp, the RPP source says. The RPP in total has 37 lawmakers.
READ ALSO:
The main opposition had taken disgruntled RPP lawmakers to a resort on the outskirts of Kathmandu while the government was preparing to put the constitution amendment bill to vote in April last week, the source RPP claims.
The government had put off the plan after disappearance of 10 RPP lawmakers.
Leaders of both UML and RPP, who are said to be involved in transaction, however, denied the allegation.
UML's Agni Kharel, who is said to have talked with the RPP lawmakers, says he met Subba as they share a family relation. Subba, on the other hand, says there is not any deal with the UML though he is against the amendment bill.