As you turn towards Aloknagar-Shankhamul from the bridge connecting Tinkune and Minbhawan of Kathmandu and walk along the Bagmati, you will reach the front of Ketli Cafe, then Makaighar, followed by Chiyawala, Thelaghar, and Cooker Coffee. All of these cafes and restaurants have made this place alive.
This place was not always like this until a few years ago. Here lied a shed for cattle and a meeting point of secret weed smokers along with the stench of excrement. No one would dare to walk this way alone.
But, Ganesh Dev Pandey decided to turn that dilapidated shed into Chiyawala, a cafe.
His neighbours used to say, "Who will come to this place to have tea?" His own family said, "Have you gone mad?" But he did not let all of these criticisms come across his will. He listened to his mind that said, "One should start working, it will be successful wherever it is."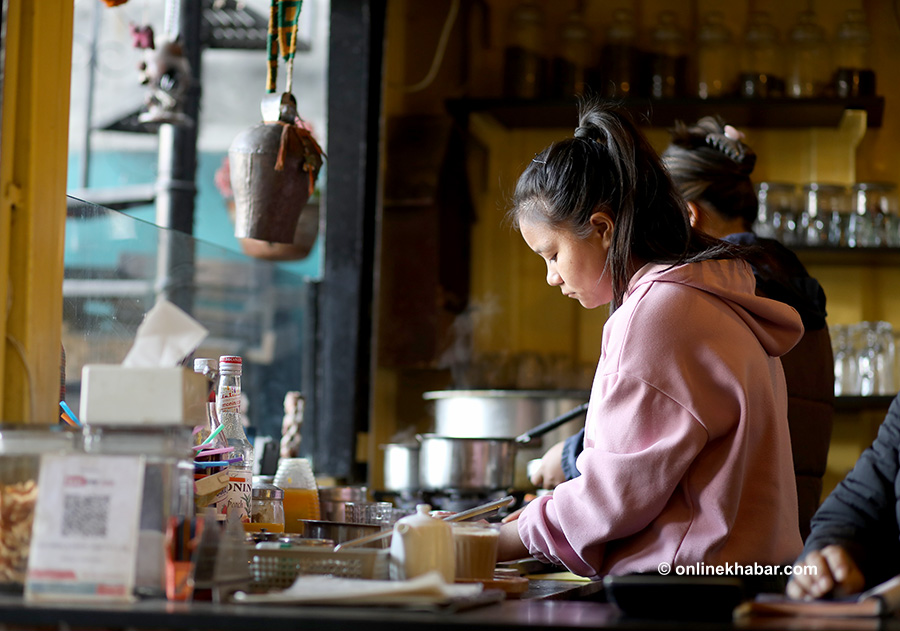 At his cafe, customers are served with varieties of tea. At another nearby restaurant, Makaighar, multiple corn 'fusion' dishes welcome the customers. Somewhere near, a traditional kettle of tea and somewhere coffee brewed in a pressure cooker await the customers. Standing at this place, one may think that not only the dishes but also the definition of the restaurant has changed.
There is an established mindset that a restaurant should be opened in an already crowded place, one has to make a big investment, it should be bright and colourful at a glance, chairs and tables should be comfortable and attractive, dishes should be served according to the taste of the customer and Nepali, Indian, Chinese, and continental menus should be prepared. But, after visiting these restaurants on the banks of the Bagmati, these perceptions of people change by 180 degrees. And, looking into the transformed grammar of restaurant businesses in Kathmandu, one realises an idea is exactly what is needed.
Serving unique yet authentic food
These restaurants along the Bagmati corridor have some common features. Most restaurants have their own special menus that reject the evergreen chowmein-and-momo dishes and serve the original taste of Nepali food. For example, if you go to Chiyaawala, along with the common tea made from a mixture of milk, sugar, and tea, you will also be exposed to tea of ​​many flavours, colours, and aromas ranging from Rs 40 to Rs 800.
At Makaighar, one can taste the spicy corn delicacies made from the maize produced in a village of Pyuthan. Its menu includes everything from popcorn to dhindo. Some dishes have been fused with continental food such as crunchy corn with chicken, and corn pizza, Thaman Kumar Bhandari, the manager of this restaurant, says.
Similarly, the practice of the Ketli Cafe is also unique. It serves tea from the kettle directly. Mouth-watering milk and spice tea is cooked and served in the same way as in the village. Now, it is planning to sell tea made on firewood.
The speciality of the Cooker Cafe run by some youth of Butwal is the coffee prepared in a pressure cooker. It traditionally makes coffee produced in the Nepali soil.
Promoting the concept of reuse and recycle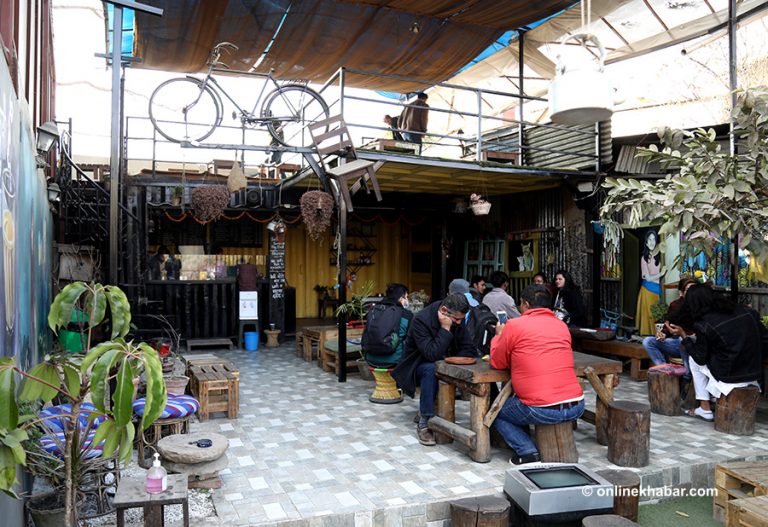 While opening his cafe, Pandey was also picking up things from scrap collectors. He brought scrapped televisions, typewriters, cameras, bicycles and decorated them artistically. There was no money to buy an expensive chair or table, so the television screen and old tyres were turned into a table.
Ketli Cafe also has a similar look. On the surface, pebbles are spread. There is no expensive furniture there. Small and old tyres have been collected and a glass table has been made on top of them. There is a simple muda to sit on.
The structure of the Cooker Cafe is also made of materials that have been used elsewhere such as wooden bobbins, things used in kitchens, and many more. Old materials used in the kitchen have been used in many ways.
Bhandari, on the other hand, has decorated his restaurant with old things from his own village such as janto, dhiki, and okhal (grinding tools). There are gundris (small carpets) and chakatis (cushions) made from maize husk to sit on. Similarly, traditional stoves and necessary equipment have been kept to give a glimpse of the village enhancing the beauty of his restaurant.
Bhandari has tried to give a similar look of his ancestral home made of mud and stone in Pyuthan to Makaighar. There is also a batulo chautara (a circular and raised-up resting place) in the courtyard, where one can sit comfortably on a pile of corn husks. In his restaurant, Gandharvas (members from the Gandharva community whose traditional occupation is singing) performs songs on the sarangi.
Bigger fruit of small investment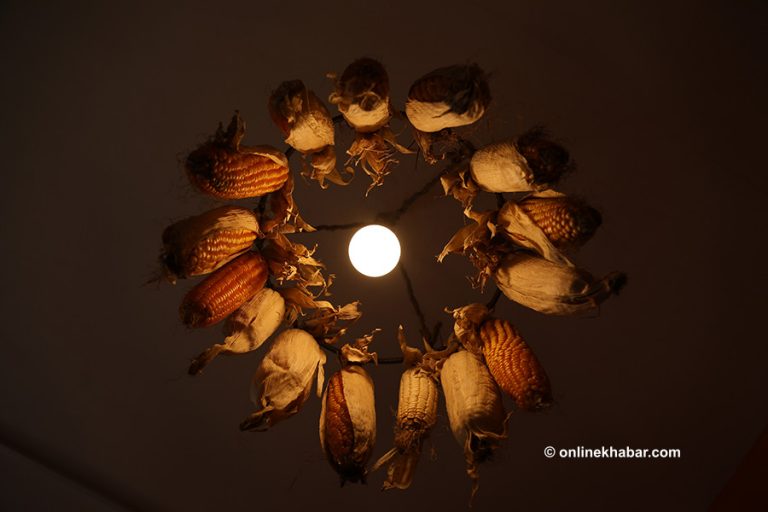 If Pandey had had a lot of money, he would hardly have reached the lonely bank of the Bagmati. Likewise, if Bhandari had had everything, his legs would have wandered elsewhere. The desire to "do something with a small investment" drove them to where they are today.
"I was in financial trouble after the film 'Gajabaja' was banned," says Pandey, also a filmmaker. "So I looked for a cheap and open place to earn some money and eventually reached this place." After getting a place at his convenience, he built Chiyawala there.
There was no cost to build large structures and buy furniture. "I didn't really have the money, so I picked up the items from scrap collectors and used them in a restaurant," says Pandey, "But, now it looks different and aesthetic."
Past experiences shaping the present and future
At present, the Chiyawala cafe is decorated with a 50-year-old ashtray and old-model black and white television, and typewriter, etc. Pandey says his parents raised him by selling tea in his childhood and that is why he linked it with his life and future.
Nischal Upadhyaya, who runs the Ketli Cafe, also used his past experiences as inspiration for running this cafe. He shares there used to be no place or cafe where he along with his friends could chit-chat for hours and hours, drinking tea during his college days.
Ordinary cafes would not allow them to sit for a long time and they did not have enough money to go to the expensive cafes and restaurants. In order to put a full stop to this problem faced by many college-goers, he decided to open the Ketli Cafe.