Among the various famous names in the history of Nepal, Bhanu Bhakta Acharya is also one. Born on July 13, 1814, in Chundi Ramgha village of Tanahun district, he has made many contributions to the history of Nepali literature and unified the country amid the cultural and linguistic diversity with the Nepali language.
To commemorate his contributions to Nepali literature, people still celebrate Bhanu Jayanti on his birthday.
So, without further ado, on the day of Bhanu Jayanti, here are the five important contributions and events that made Bhanu Bhakta Acharya the household name we know today.
1. Translated 'Ramayana' in Nepali
His major contribution was translating the Hindu epic, Ramayana, into the common Nepali language.
Back in the time, the Sanskrit language had its dominance. Every literature and book was written in Sanskrit. Hence, the literature and the ocean of knowledge was limited only to people with the knowledge of Sanskrit. The common people used to find it very hard to understand. So, he made a huge contribution by translating the literary works in Nepali.
He wrote Ramayana in poetry form in Nepali. The Nepali scholars believe this translation preserved the lyrical essence of Ramayana and without distorting the inner meaning of the Hindu epic. Probably, this was the first-ever translation of any Sanskrit literature into the Nepali language.
2. Taught selflessness to common people with his 'Ghansi' poem
Being born in a wealthy and highly respected Brahman family, Bhanu Bhakta Acharya lived life with ease and did not face any financial difficulties. One day, he met a ghansi (grass cutter), who sustained his life and family by working all day long. 
As history suggests, he saw the ghansi digging a well alongside the road. When he asked why he was wasting time instead of working, the ghansi replied he wanted to be remembered even after his death. And, he was doing it for the tired pedestrians and people who travel far to fetch water. Thus, he wanted to serve humankind with his act. Bhanu Bhakta Acharya was quite impressed with him and also wrote the following famous lines:
भर् जन्म घाँस तिर मन् दिई धन कमायो
नाम क्यै रहोस् पछि भनेर कुवा खनायो
घाँसी दरिद्र घरको तर बुद्धि कस्तो
म भानुभक्त धनी भैकन किन यस्तो ।
मेरा ईनार न त सत्तल पाटिकै छन्
जे धन चीजहरु छन् घर भित्रनै छन्
त्यस घाँसीले कसरी आज दिए छ अर्ति
धिक्कार हो म कन बस्नु न राखि किर्ति ।
Here, Acharya says that he was surprised with that act of the ghansi who was poor yet still working to help others. The poem became a masterpiece and left a mark on society.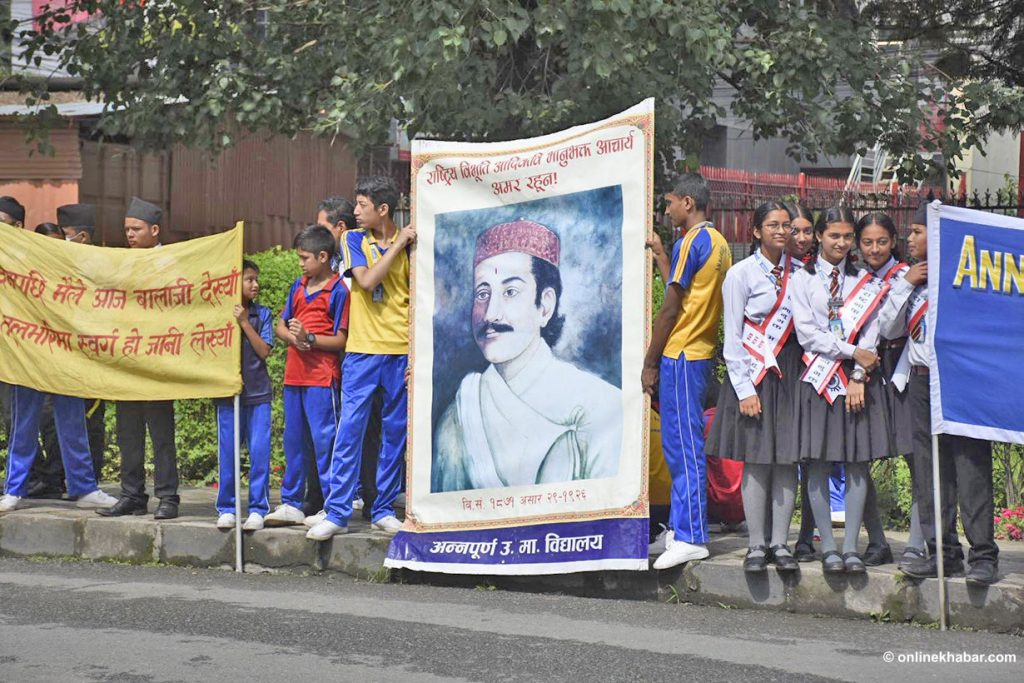 3. Contributed to Nepali literature in several other ways
Not only the Hindu epic Ramayana, but Bhanu Bhakta Acharya has also translated many other Sanskrit literary texts into Nepali. 
His other various famous works of literature are namely, 'Kantipuri Nagari', 'Ek Man Chitta Lagai Chakari Garya', 'Khwamit Yas Giridhaari Le', 'Baalaaji Dekhyan', 'Ma Bhanubhakta', 'Roj Roj Darshan Paunchhu', 'Prashnottar Mala', 'Bhakta Maala', 'Ram Gita', and many more.
Once, he was sent to prison due to a small misunderstanding for signing some papers. Then, to demand his freedom, he wrote an apology letter to the Rana prime minister at that time. A petition to free him not only granted him freedom but was also given a bag of money.
Similarly, he wrote a popular poem 'Ma Bhanu Bhakta':
पाहाड्को अति बेस देश् तनहुँमा श्रीकृष्ण ब्राह्मण् थिया,
खुप् उच्चा कुल आर्यबंशि हुन गै सत्कर्ममा मन् दिया।
विद्यामा पनि जो धुरन्धर भई शिक्षा मलाई दिया,
तिन्को नाति म भानुभक्त भनि हुम् यो जानि चिहन्नी लिया।।
4. Got titled as the 'Aadikavi' of Nepal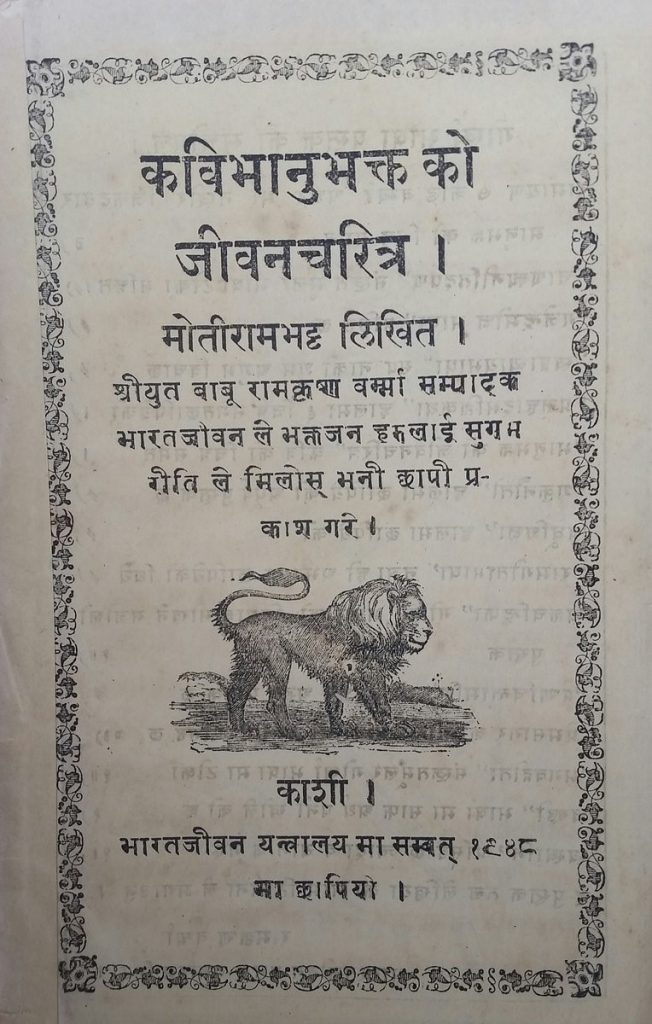 Bhanu Bhakta Acharya is honoured with the title 'Aadikavi' of Nepal. In the Sanskrit and Nepali languages, the word 'Aadi' means the first-ever and 'Kavi' means poet. So, he is known as the first-ever poet in the Nepali language. Motiram Bhatta first referred to him as 'Aadi Kavi' of Nepal while writing Bhanu Bhakta Acharya's biography in 1981. Motiram Bhatta is also the poet who published all of Acharya's manuscripts and works of literature.
Acharya was given the title of the first poet in Nepal not because he was the first-ever poet in the history of Nepal, but he was the first poet to write poems in the common Nepali language. After him, other writers also started writing literature in the Nepali language.
5. Was named a national hero of Nepal
A national commission headed by another famous writer Bal Krishna Sama announced Bhanu Bhakta Acharya as one of the rashtriya bibhutis or national heroes of Nepal.
In 1955, playwright Sama was appointed by the then king Mahendra Bir Bikram Shah Dev. The commission that Sama headed enlisted 13 people, including Acharya, as national heroes to honour their individual contributions to the nation.