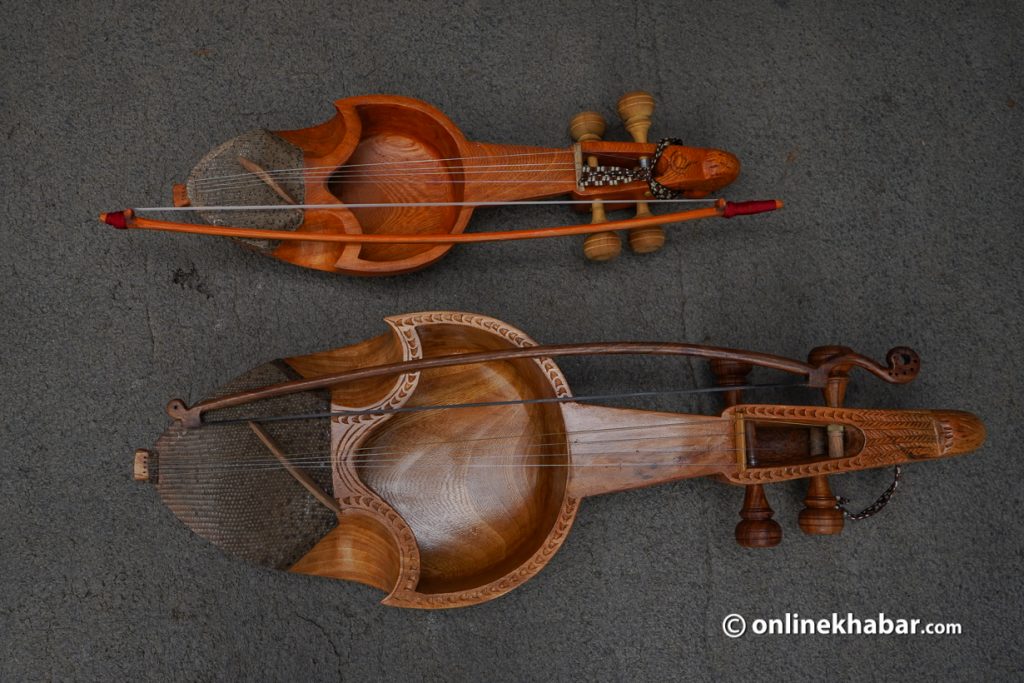 Until three decades ago, Motilal Gayak from Baglung used to travel from village to village, singing songs of tragedies and separation in the sounds of a sarangi, a kind of a fiddle. He did not give up his ancestral profession as a gandharva (the singer) even until he breathed his last at the age of 75.
While he would roam around singing, the villagers would not only just get news, but his presence would also pull the crowd creating a musical environment with him singing songs of tragedies.
Although there are no written records, there is a popular story about the people of Kaligandaki who disappeared in the collapse of the bridge in the Baglung area some four decades ago. On the occasion of Maghe Sankranti Mela, many young people carrying heavy loads of marijuana also went missing from Badigad. Motilal used to sing the stories of the same in the rhythm of the sarangi, across Nepal and in Assam, remembers Gopal Gayak, Motilal's son.
The sarangi, in Nepali society, is not only a musical instrument, but it is also a medium that tells several stories of the past and ultimately help the marginalised Gandharva community shape its future. The tradition is so rich that even modern-day Gandharvas are determined to carry their ancestors' legacy.
The changing time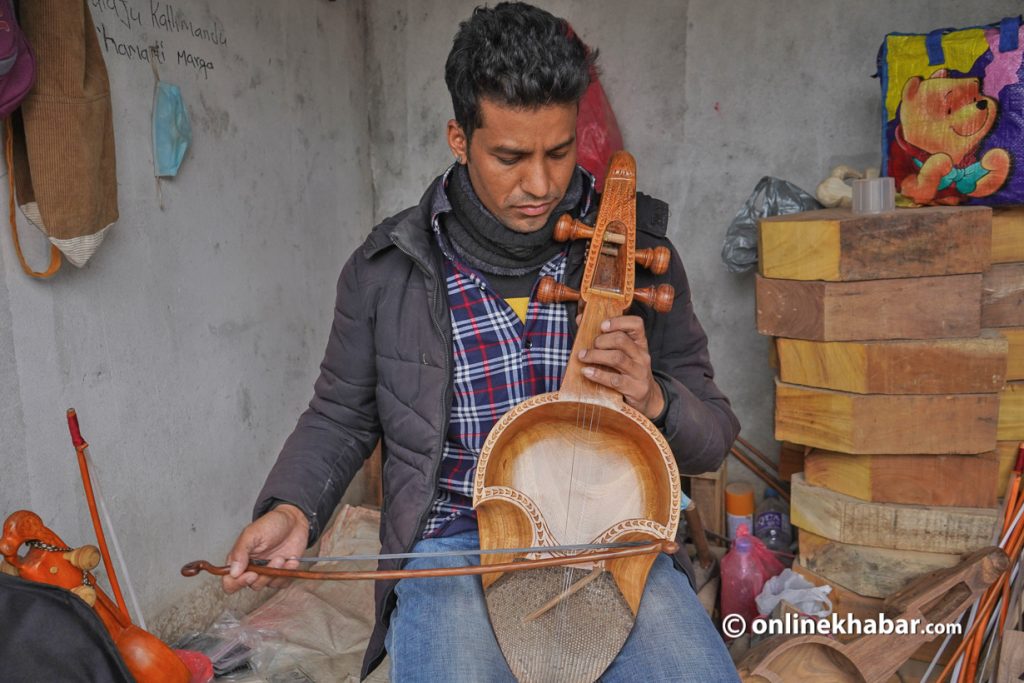 Many generations of Motilal's family have been brought up by the income from singing the same songs of separation. Other families in the village would be busy farming.
Until the time of Motilal, the art of playing sarangi and singing used to be handed over to the new generations traditionally. But, with time, his sons, of the new generation, started turning away from the family profession. Motilal, of course, wished that at least one of his sons would take the profession ahead. But, three of his four sons did not step forward.
But, while Motilal was on his deathbed, he breathed a sigh of relief when his youngest of the four sons, Gopal, agreed to take the generations of musical heritage. But, Gopal did so with a modern touch.
A way out
However, even until recently, Gopal was not attached to the sarangi's melody.
Gopal had gone to Assam of India with his father at an early age. He did not want to imagine his life around sarangi. After spending a few years there, he started looking for ways to get rich quickly. He then came to Nepal and visited a lot of recruitment agencies in Kathmandu in his bid to go abroad. Eventually, he got a visa to go to Saudi Arabia, but he did not earn as much as he had hoped.
On the contrary, after working for 15 months, he started having problems where his hands and feet would swell up affecting his work. His stay in Saudi Arabia was shortened and then he returned to Nepal.
Two years ago, he even had to have a kidney transplant. But then, he did not feel like going abroad again.
Then, Gopal remembered his father's wishes and decided to take forward his family's profession. And, in retrospect, he feels that was the right call for him. Hence, for the last one and a half years, he has been playing the sarangi and making a living.
New generation's love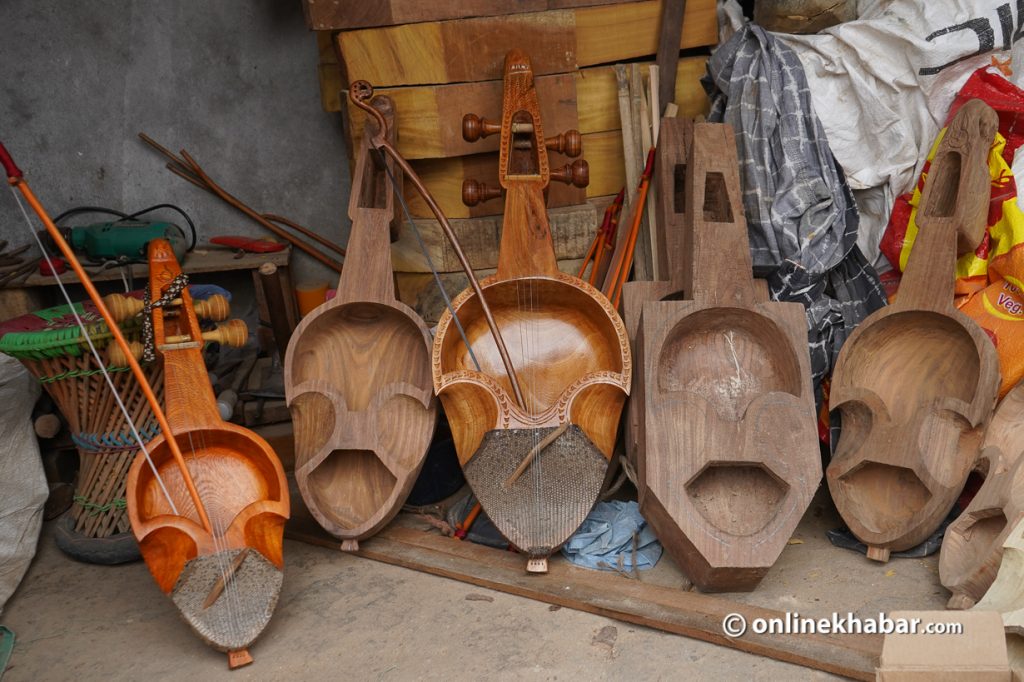 Nowadays, Gopal is also busy making sarangis, more than a dozen every day on average. His shop in Balaju, Kathmandu, has flourished with the new generation's growing affection towards playing and selling the instrument. He believes sarangi suits well in the hands of the new generation.
He started making sarangis while he lived in Baglung. But, after hearing that he can earn more in Kathmandu, he came here six months ago.
"As soon as I came, the lockdown was put in place. But, after Dashain, the business started getting better. I sell up to 20-25 sarangis daily and two employees help me here. The monthly income is around Rs 200,000."
The Gandharvas
The stories about Gandharvas singing and fairies dancing are mentioned in many religious scriptures like Skandha Purana, Samaveda and other sub-vedas. In all the scriptures, there is a mention of sarangi. Gradually, with time, its shape has changed.
According to him, in the past, the strings were made from the intestines of a goat and the bow was made from the horse's tail. Even if the materials are not used now, he says, the originality and the unique tonal quality are still the same. The rules of musical notes apply in the sarangi like in other instruments, he adds.
Because the Gandharva-style music was hummed and made by the Gandharvas and the deities, it is also called vedic music or spiritual music.
***
Scriptures describe Gandharvas as singers in all of the stories. Historically, the last name the community used was Mijar. But many, like Gopal, have adopted Gayak as their last name that clearly reflects their profession (as it means singers).
In different periods of history, other words have been used too. Prithvi Malla's 1222 Dullu Kotistambha inscription mentions the 'singer' community among all those who were exempted from taxes. Mentions can be found in inscriptions of Jayasthiti Malla and historical stories of Prithvi Narayan Shah's Nepal Unification Campaign.
There is a mention of Maniram Gaine among the Gorkhali war heroes in Nuwakot. All show that the community has been active and contributed much more.
One of the popular mediums used by sarangi players and instrumentalists is karkha, a way to sing songs of heroism. It was the way of the Gandharvas to inspire the warriors with their songs. But, it can be found mentioned even before the unification of Nepal.
French musicologist Merrill Helfer collected 53 Nepali karkhas, the majority of which are on the verge of extinction. 
---
First posted in 2022.