Pashupatinath temple is thronged by people all year round. Among the many occasions that attract devotees and sightseers from everywhere to the temple, Balachaturdashi has its own charm and religious importance in people's hearts. It is one of the many unique festivals that are only observed in Nepal.
When the ritual was first said to be observed, it was limited to the Pashupatinath temple area only. However, with time, for convenience, other shrines and temples dedicated to Lord Shiva have also become the destinations for devotees to observe the day.
As Balachaturdashi is being observed today for this year, we explain everything you should know about this festival dedicated to the deceased family members. We also tell you how it is connected to the ancient Newa culture of Kathmandu.
How is Balachaturdashi celebrated?
Observation of this ritual starts from Marga Krishna Trayodashi, the 13th day of the waning moon in the month of Mangsir [December 12 this year]. Devotees who observe this ritual maintain strict fasting, with only one meal that day and abstaining from garlic, onions, fish, eggs and other food items that are said to be impure.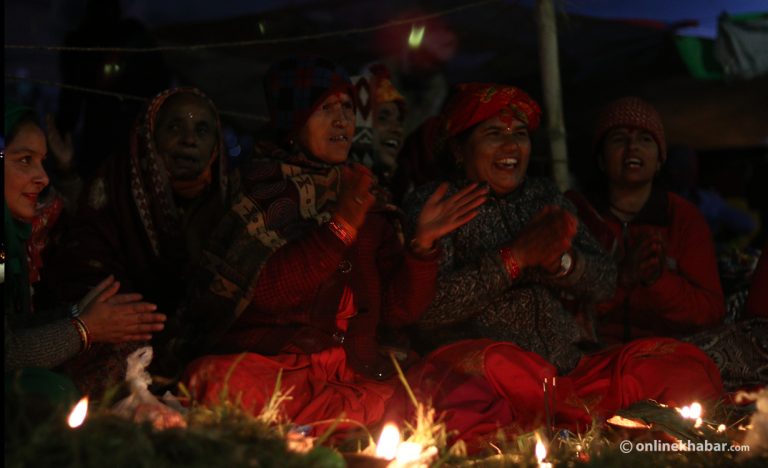 In the evening, they reach the Pashupatinath temple or shrines dedicated to Lord Shiva and chant hymns and prayers to Lord Shiva all night long. They light akhanda jyot (eternal flame) at the temple in the name of the deceased souls of their families. People also light butter lamps and release them onto the Bagmati river or nearby water bodies.
The next morning, Marga Krishna Chaturdashi [December 3 this year], the devotees take a holy bath and start their journey around the Pashupatinath temple premises spreading seven kinds of grains along the way. The seven grains (also called Satbeej) include dhaan (rice), jau (barley), til (sesame), gahun (wheat), chana (chickpeas), makai (maize) and kaguno (foxtail millet). The route taken by the devotees is Kailash-Suryaghat-Gaurighat-Aryaghat-Guhyeshwari-Mrigasthali-Bishworup-Kirateshwar-108 Shivalinga.
An associate professor at the History and Purana Department at Balmiki Campus, Nawaraj Ghimire, says this path they follow is said to be the path taken by Lord Shiva when he came to the Pashupati area from [Mount] Kailash.
Why?
According to Ghimire, the story regarding the occasion can be found in the Hindu scripture called Himavat Khanda of Skanda Puran.
An important section related to this festival can be found in Nepalamahatmya of Himavat Khanda, Chapter 84, verses 134-135:
'Mrigasthaligirim Bhrantwa Brihincha Bikshipennara: Subarnaratikatulyam Lawate Twaritam Phalam |
Margakrishnachaturdashyaam Matpriyayam Tirtho Mayaa Mrigarupam Dhritam Tatra Kshipet Beejam Shatadhikam ||'
Here, Lord Shiva tells a story to Goddess Parvati about the time when he took the form of a deer and resided in the Mrigasthali jungle of the Pashupati area. In the story, Shiva tells Parvati that spreading one grain of the mentioned crops in the jungle on Marga Krishna Chaturdashi is equivalent to donating one ratti [one 64th of a tola] of gold.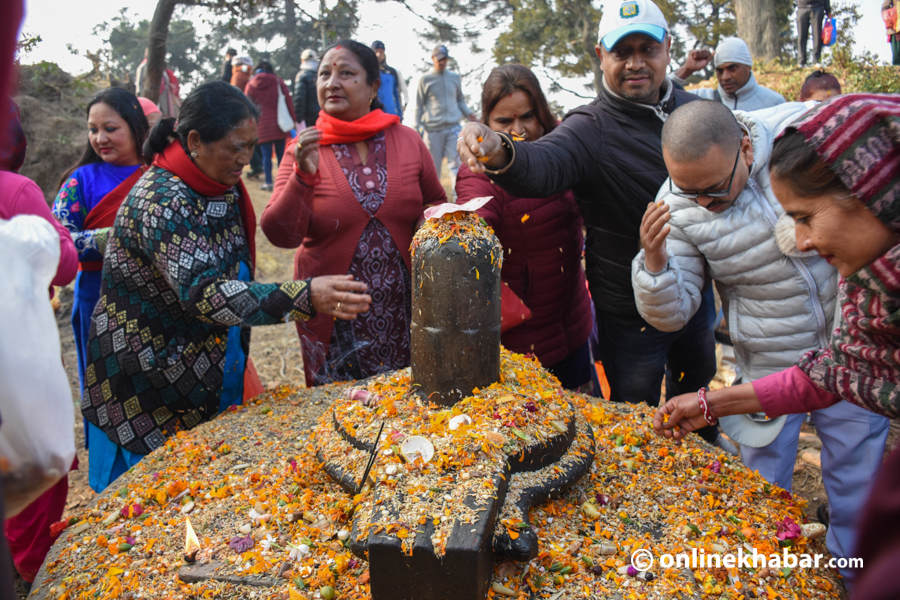 "To follow the path taken by Lord Shiva on this day is equivalent to any pilgrimage," Ghimire, hence, says, "It is believed following this ritual wholeheartedly can give penance to the dead souls of one's ancestors or loved ones."
According to a myth, Ghimire says, there was a trader named Bala Nanda who had come to Aryaghat in Pashupati. There, he was eating on the bank of Bagmati. Near him, a body was being burned in a pyre. The head of the body exploded and a part of the human brain dropped in the plate which Bala Nanda unknowingly ate. After that, Bala developed a new taste for human meat and became demon-like [also called Balaasur] with unkempt hair and long nails residing in the jungles. Because of him, people, for many years, were scared to go to the Pashupati area fearing their lives.
Bala had a childhood friend named Brisha Simha. The locals went to Brisha and then pleaded with him to kill Bala and rid them of the fear. Brisha abided by the people's request and got Bala to spend time with him as before. When they met, Brisha mixed drugs into Bala's food and drink to make him unconscious. Once unconscious, the locals killed Bala and got rid of him for good.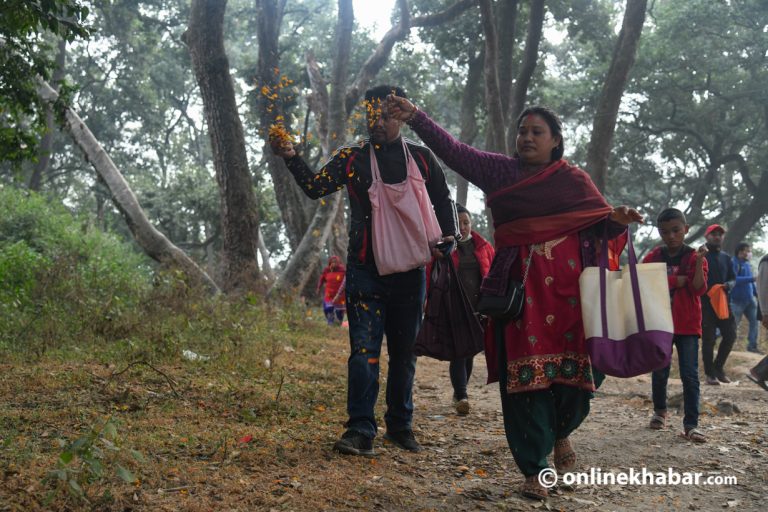 But, being a reason for his friend's demise filled Brisha with remorse. He wanted to repent his sins and went to Lord Pashupatinath for suggestions. He was then asked to do the holy ritual of lighting a lamp in his friend's name and chant hymns all night without sleeping. The very next morning, he was asked to spread the seven kinds of grains in the Pashupati jungle in the memory of his late friend so that he can rest in peace in his afterlife.
This very ritual was later named Balachaturdashi, concludes Ghimire.
According to Nepal Academy Vice-Chancellor Jagaman Gurung, there is another version of the story that says Bala was a cremator at Aryaghat. One day, when everyone left the scene, Bala was sitting near the burning body eating beaten rice mixed with curd when the piece of human brain dropped in his plate. Bala, who then turned into a cannibal, was hiding in the Mrigasthali jungle where a deer enchanted him and brought him out in the light, where the people killed him.
Who began celebrating Balachaturdashi?
Since the occasion has been continued for aeons, the date of when the ritual was first observed cannot be ascertained. No one knows who began celebrating Balachaturdashi.
For generations, it has been believed to be a part of pro-Brahmic Hindu culture being followed by Hindu devotees. Ghimire asserts that the culture was followed by the Arya community residing in the country.
But, Gurung argues it was not the Aryas that first started the ritual. "Chaturdashi or Chahre is a very important day of the month for the Newa community. Chahre, before a new moon, is the day that demonic or evil spirits get stronger. And, during this time of the month, they worship Lord Shiva, who is also called the god of the gods, goddesses, and demons, to stay safe," he says, "We can see the evidence in other festivals celebrated by the community, such as Paachahre, Silaachahre, and Gathamuga Chahre. As the community was the first settler of Nepal Mandala, it is likely that this ritual was celebrated first by them."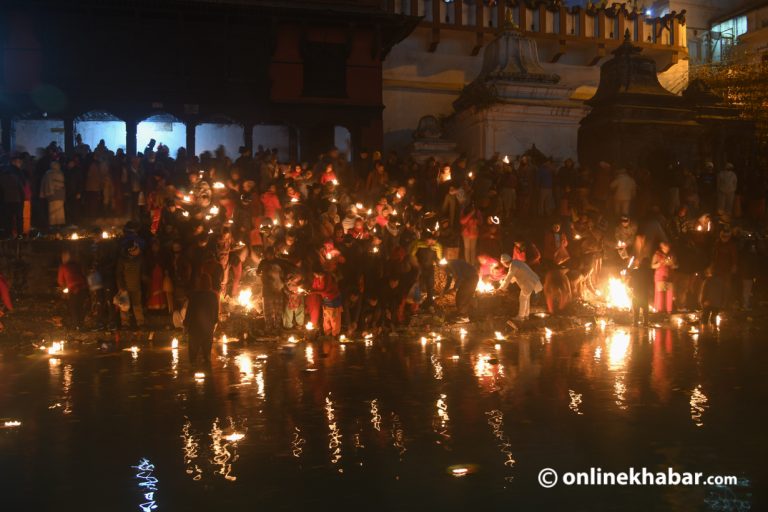 He also forwards the proof that the print version of Himavat Khanda Puran that was first published around 1955 was brought from Bhaktapur. "We do not know yet who the writer of the Puran was. However, it has been found that it was written in Sanskrit and was written in Bhaktapur. It was Yogi Naraharinath who found this scripture and then published it in Nepali and Sanskrit versions here."
"Everyone wants their loved ones to be in peace [even after death] and they feel the same about gaining punya (good deeds). So, people started copying this ritual from the Newa community and now we can see this ritual being observed outside Kathmandu too," he adds.
Gurung also adds the ritual has become a communal activity today and is celebrated by people of all castes and creeds. Tamang and Lama communities are also a part of it. They can be seen residing and performing rituals near the Kailash forest.
---
From the archive