Lately, apple farming has grown as an alternative to popular black marsi rice among farmers of Jumla in the remote Karnali region of Nepal. Padmi Nepali of Tila rural municipality-4 says the farmers started cultivating apples in search of an easy way of income after local rivers started eroding their paddy fields during the rainy season.
A decade ago though, Nepali remembers the whole field was filled with kali marsi rice plants. But, today, the same field is filled with plants of apples. For farmers, this has been a way out after the river washed away their ready-to-be-harvested paddy, an incident that still haunts the farmers, Nepali adds.
Farmers from some 80 households have started commercial apple farming in the area. Each farmer has planted some 50 to 150 apple seedlings.
The significant shift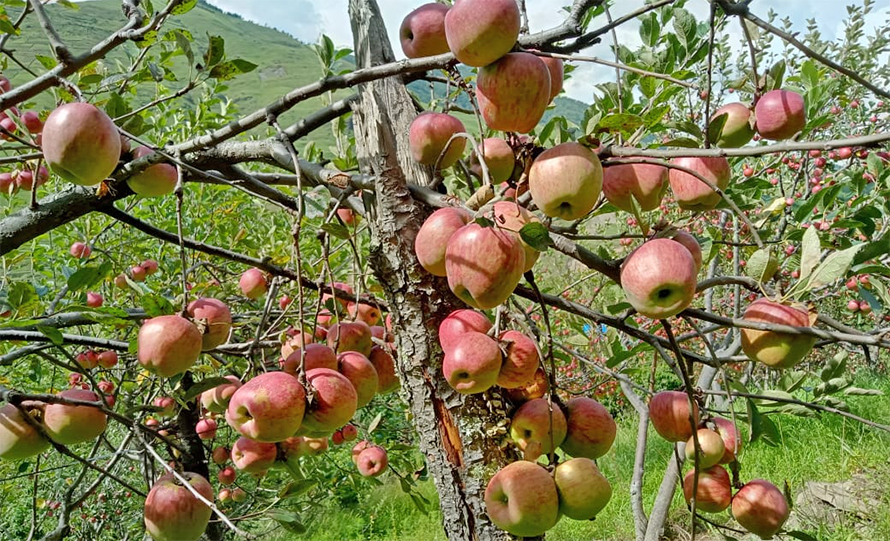 Every year from around March to November, women were seen taking the lead and working hard to cultivate rice in this place. Now, the situation is been better, says farmer Nira Upadhyaya. "In the past, the production of rice would be less and in August/ September, when the river flow would increase, it would cause a flood and destroy the harvest and hard work of the whole year."
But now, not just apples, the farmers grow beans, black lentils, legumes and vegetables, including potatoes, cauliflower, radishes, carrots and tomatoes.
"We could plant other plants to stop the river from eroding, but apple trees have been beneficial to not just stop the eroding but gain sufficient income too, almost double than before," briefs Upadhyaya. But, it took four years before their efforts started bearing fruit, she adds.
Another farmer Yagya Prasad Upadhyaya says, "In many villages of Jumla, the fields that were turned into bogs are now barren. Since we benefitted a lot from planting apples, and erosion by the river could be avoided, others also have adopted the same."
Doubling the dividents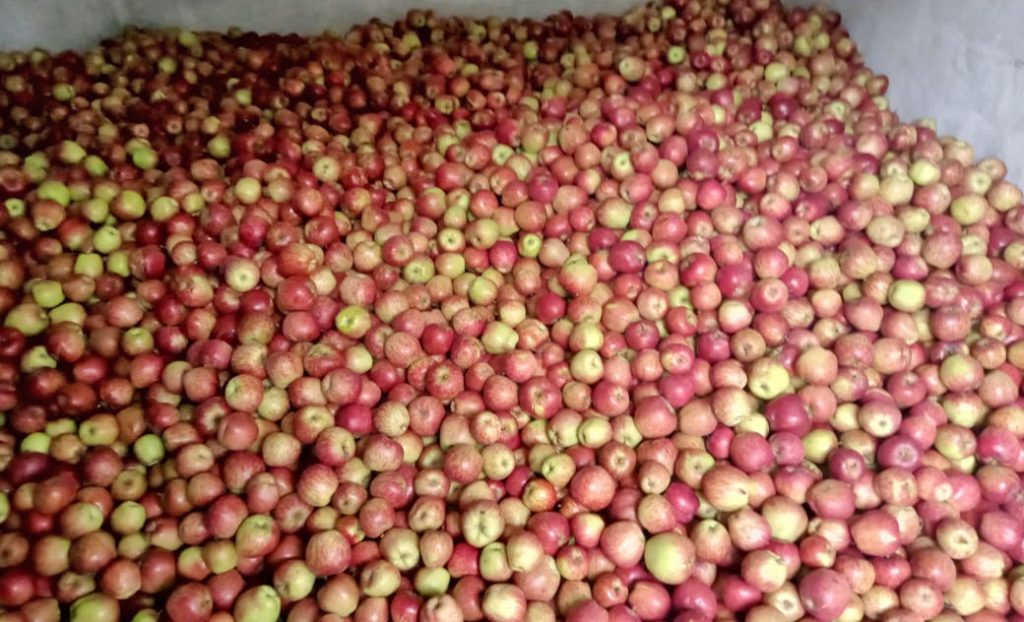 Farmer Kali Khode Nepali says she has not felt the need to work with others and is comfortably affording her children's education by selling apples. "Apples are being sold at Rs 50 to 60 per kg now as traders have started coming to the orchards to buy apples directly."
Also, the road is just 10 minutes away from the orchard whereas the Karnali Highway is an hour away, on foot, so getting a better price for their products has been easier.
As roads have reached the village, farmers say apples are also getting good prices. Apple farming has been easier and more beneficial whereas there is also the trend of cultivating walnuts and peach plants. Farmer Timke Nepali here adds, "I grow other vegetables and beans in the same field as apples so when I need them, I sell those and earn."
But local Krishna Kant Chaulagain also remembers that since they did not have money to buy apple seedlings, an NGO, working for flood and landslide control in the district, had helped them in the process. "We received 500 free seedlings collectively for all the farmers in the area, and now they are reaping good results," he adds.
This has divided the workload among men and women too, in the sowing to reaping process as well as in getting them to the market, adds another farmer, Supadhara Nepali.
Timke says, "It has become easier to cover the household expenses even when my husband is not at home. Because cash comes directly to hand, it has become easy for other women too." Of the total apple farmers, 60 per cent are women, and they are all reaping their economic rights.
Multiplying variants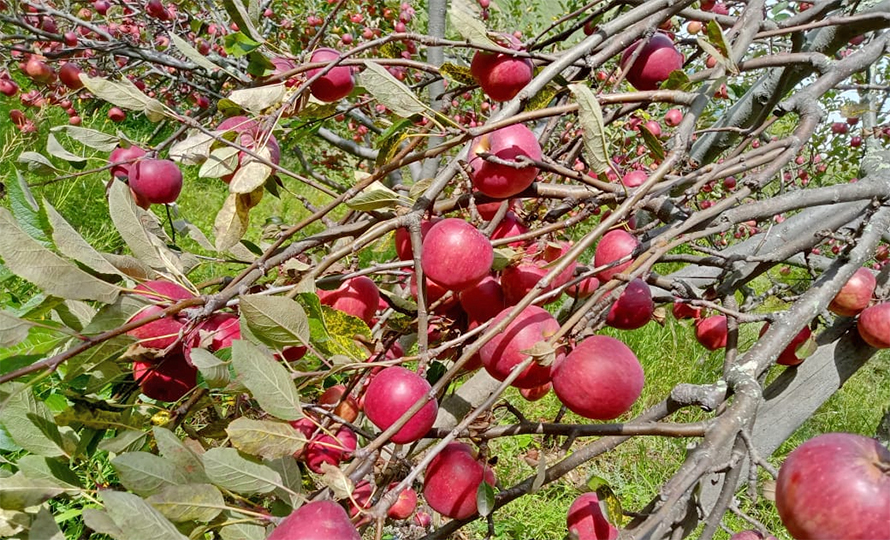 Farmers in Jumla are today cultivating apples of different varieties like royal, golden and red delicious. Seedlings of the newly developed Fuji apples have also been introduced in recent times, but they are sowing older versions of apples and reaping more benefits from them.
Khem Raj Shahi, an agriculture officer at the Jumla District Agriculture Development Office (ADO), informs out of the 9,000 hectares of land used for apple farming in Jumla, 7,500 hectares of land has been bearing fruits and the remaining section is used to grow seedlings.
He says high-density Fuji apples have been planted in 1,000 hectares of land while in the rest, local royal, red and golden delicious varieties have been planted. According to Shahi, there is still ample potential for the expansion of apple farming in Jumla and farmers can earn well, and alleviate themselves from their poverty.
One farmer can earn about Rs 100,000 to Rs 400,000 a year from apple farming. However, given that apples have trouble with long-term storage, farmers are still feeling forced to sell them at a price set by traders, lower than their expectations. Farmer Shanti Nepali suggests if there was such a facility, farmers would have sold apples at a higher price.
According to the Jumla ADO, cooperatives and women's groups established for commercial cultivation of apples have been receiving assistance from the office as well as provincial and federal government offices for orchard management, irrigation, distribution of new seedlings and seeking solutions for the lack of fertilisers and seedlings.