India's seasoned artist Anuradha Majumder came to Kathmandu last week–to show people that she is dead.
She acted as the protagonist in the play Sabiti staged at Shilpee Theatre, Battisputali. But, her role was essentially that of a dead woman. But, she abruptly woke up and started discussing the topics about political, social, and economical aspects of society.
According to the makers of the play, its story vividly dissected social structures formed on various ideologies hidden inside the curtain of several isms, biassed social norms, and mad commercialisation.
But, how could they get Anuradha Majumder, who is apparently busy in her own country, as the protagonist? The answers include her old connections with Nepal and her hopes for the theatre sector here.
Anuradha Majumder's Nepal connection
Anuradha Majumder, who has been doing theatre for over two decades, says she felt thrilled to have performed in Sabiti directed by Bimal Subedi. 
"It was a memorable experience," she says. "Whenever I perform, I get connected to the place and audience here. As a woman and a citizen of a country, I am also well aware of the different subjects taken up by the play."
Despite the play being staged for just three days, from July 1 to 3, notable numbers of the audience showed their presence.
Majumder found all the responses of spectators pure and organic. She says people were crying, they were not able to speak, and for her, the silence communicated what the words could not. She was delighted to see the audience coming to the theatre, to support such a polemical piece of art.
But, this was not the first time Anuradha Majumder was in Nepal. "I have a very long memorable journey with Nepal. I have a very beautiful bonding with this place. My initial stage of growth as a theatre artist happened in Nepal."
The 53-year-old theatre artist has performed several theatrical works in Nepal. Her first play in Nepal was titled Malami premiered in 1997.
Majumdar says she is very grateful to Nepal.
Progressive theatre scene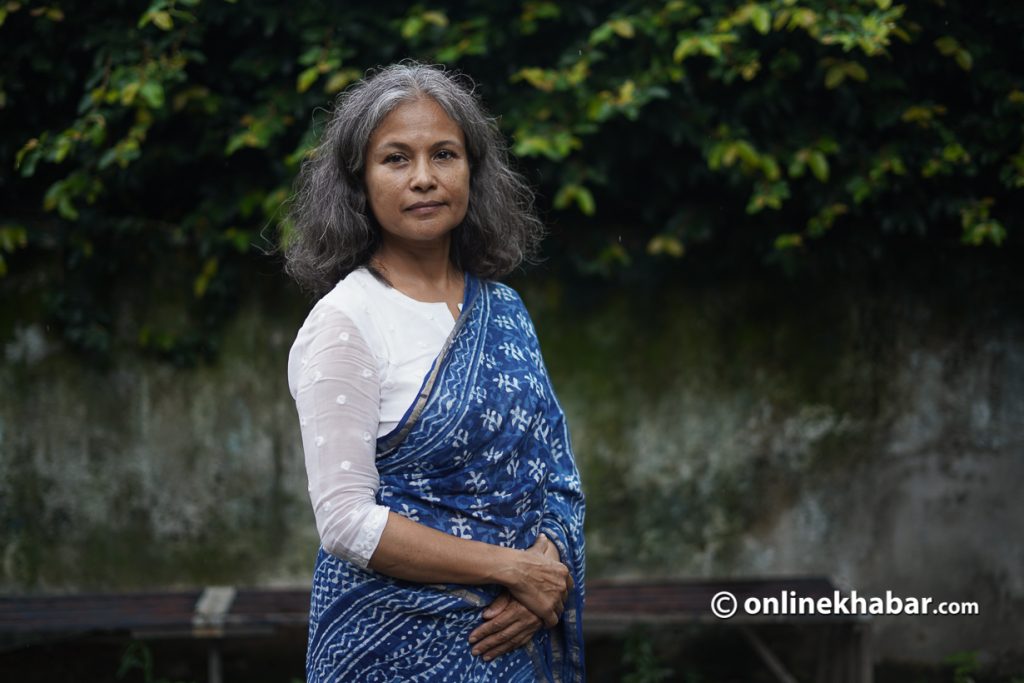 Despite living in India for most of her life, Anuradha Majumder avidly follows the Nepali theatre scene. 
"The theatre scene of Nepal is growing tremendously. The young generation is enthusiastic and taking it very progressively. Love, passion and probably, the magic of tangible transformation of literature, poetry, organic ideas or feelings on the stage is captivating the young minds into theatre," she says.
Majumder says she loves to see more plays that feature Nepali essence and Nepali culture. "Theatre should focus on local ideas and stories. If this doesn't happen, the signature value will be lost. That's one of the major threats to the theatre. Your art needs your signature," she adds. 
Lately, the advancement in technology is shifting artists' focus from theatre to cinema. But, Anuradha Majumder believes that it is not going to impact the theatre scene.  
"Theatre is a live art form. Even if you put a hundred cameras into the theatrical space, you won't get the essence. You must watch it live. Theatre has its speciality; there is no risk for it," she says. "Cinema has its charm whereas theatre will always remain with its pure value." 
Differences in theatre and cinema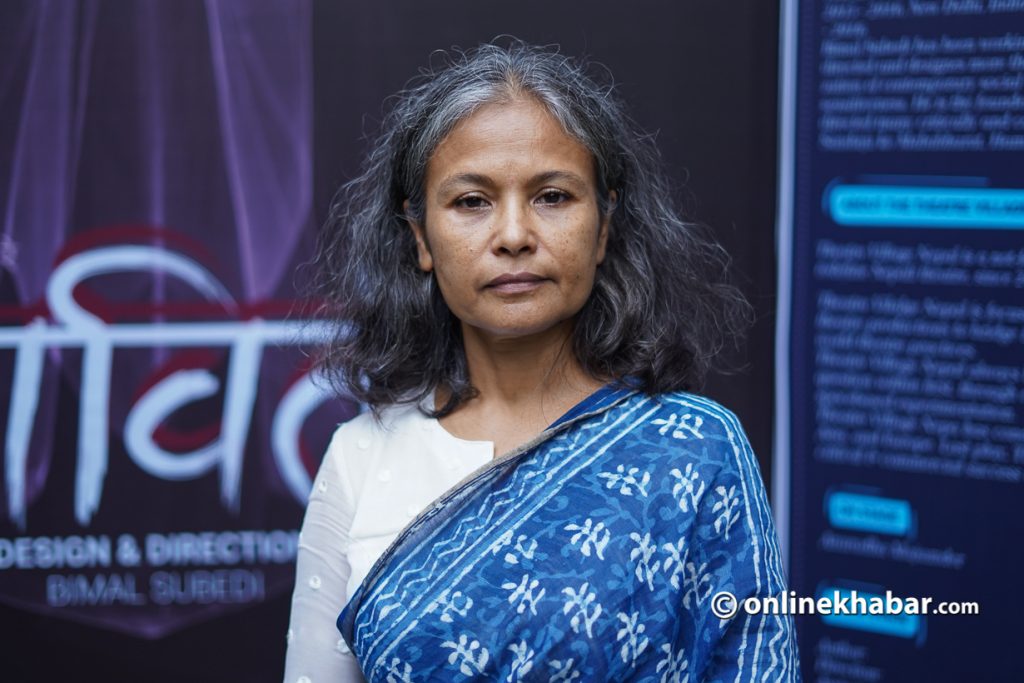 Anuradha Majumder has also worked in films with the most recent being Kriya directed by Sidhartha Srinivasan. She has observed various differences between working in theatre and films but equally prefers working in both mediums. These two mediums of expression are maiti and sasural (a woman's homes of her parents and husband).
"Theatre is the mother of art. It is like a family's progress. Ritualistically, there is rehearsal. All the unit members come together either as actors or technical human resources. They sit regularly. It has a kind of family environment where you grow together," she says. "This kind of growth is rarely seen in the field of film, as it is based on the theory of alienation." 
According to her, the process of making a film is highly complex and happens in different space and time zones with the involvement of specific technology. This makes the entire thing quite expensive. Because of its core nature, you cannot teach a person who is completely new to this field during the shoot. There is less space to learn between action and cut. But, in theatre production, you can grow simultaneously and significantly. 
"Any art piece should be practised through continuous innovation, not as a mass production or repetition. And while giving birth to art, whether it's film or theatre, we should understand its limitations and its strength by practising that medium."
Lastly, Anuradha Majumder ends the conversation by defining what acting is for her. "Acting is a slice of your life, the way you breathe and live. You carry your culture, heritage, beliefs, values, ethics, philosophy and history in it," she says. "Artwork is an integral part of a human being, you can't be an imitation there."