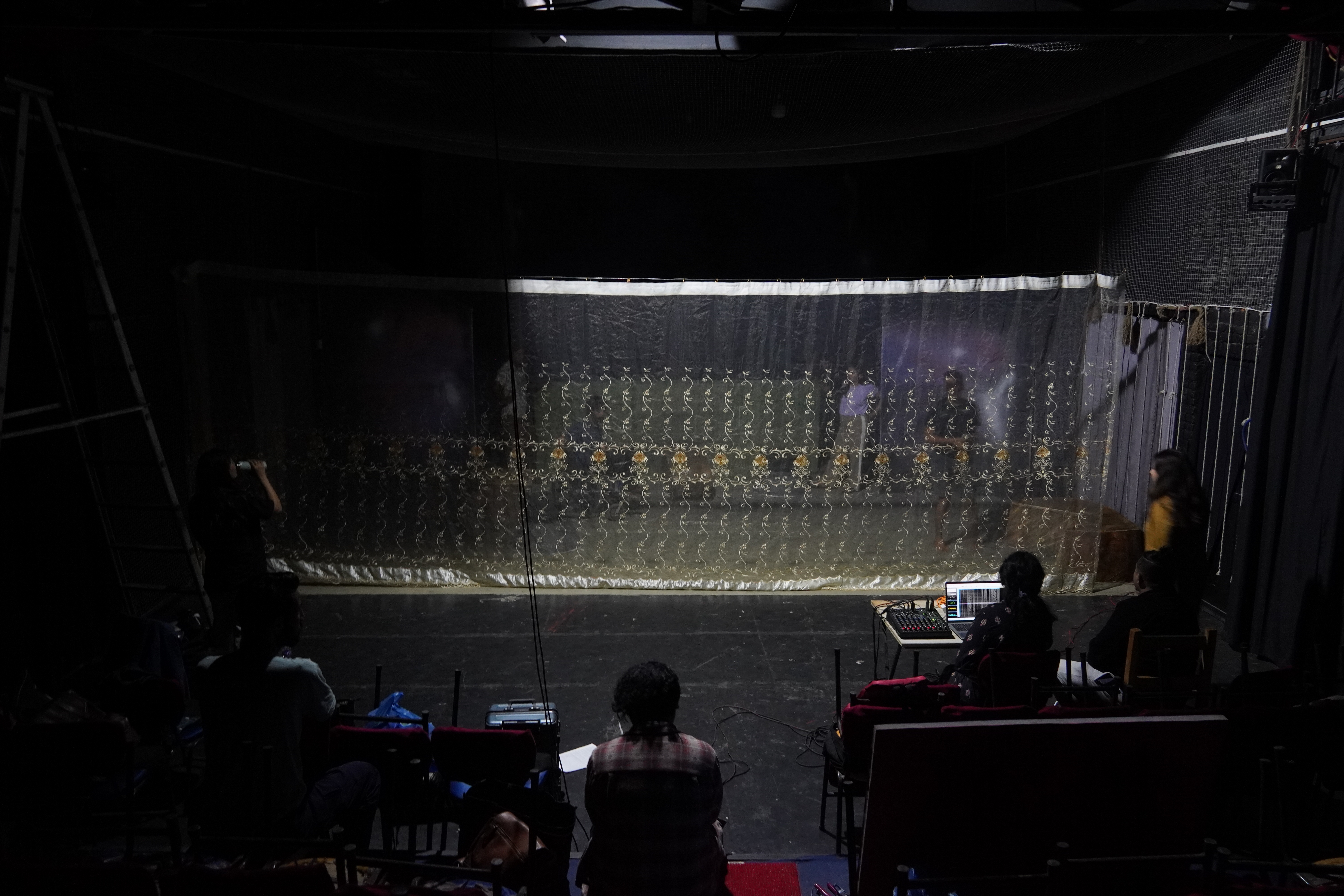 It was the 47th day of a rehearsal for Tranzit, a play which is releasing on Friday, July 21 at Shilpee Theatre in Kathmandu. Actors of the play— Divya Dev and Milson Rai— are sitting on a long steel chair, opposite the theatre's entrance. When they are asked what they have been doing, they say that they are waiting for their lover Mayavi, the protagonist of Tranzit.
Their body language, facial expressions, and speech convey they are already into their characters, giving the impression that they are fully prepared to take the stage. After a while, the entire cast assembles in the auditorium and starts discussing what they are going to do.
The play has been written by Kumar Nagarkoti. In his career, Nagarkoti has gained recognition for his unconventional and experimental plays, which embrace absurdity to present life in remarkably surprising and thought-provoking ways. Tranzit continues this legacy, offering an experience that conveys an absurd message, though with a touch of subtlety that makes it all the more intriguing.
To truly grasp its essence, one must personally encounter the play's unique perspective on life.
Hard work pays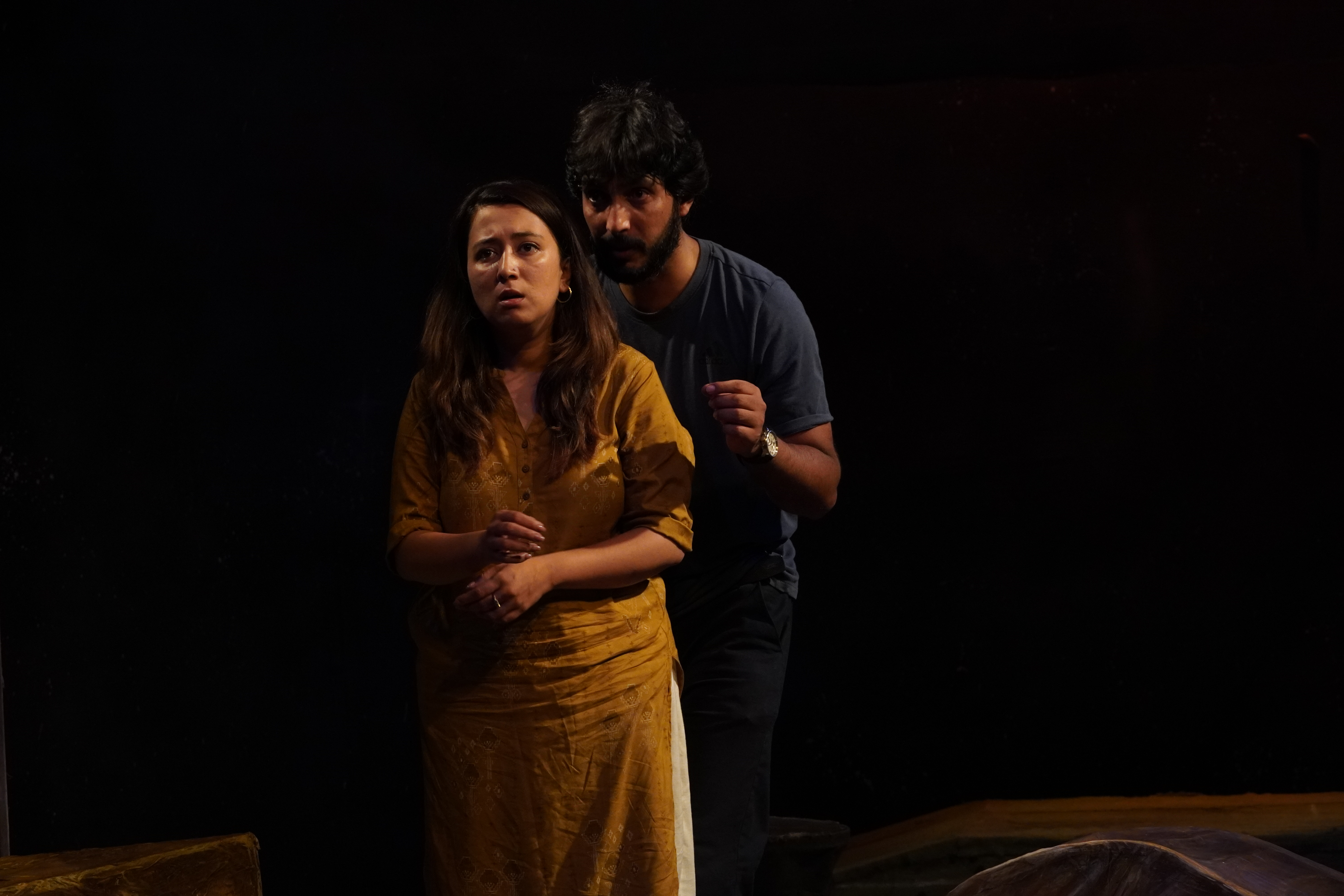 Inside the auditorium, the crew members are arranging the lights. They are working tirelessly to complete the setting for the play.
Ghimire Yubaraj, director and actor of the play enters the auditorium and promptly takes charge. He engages with the light technician, providing specific instructions on when and how to use the lighting effectively.
In order to enhance the performance, he requests the technician to cast shadows of the actors by dimming or turning off any unnecessary lights. It was clear he was trying to use lights to add depth and atmosphere to the play.
Before kicking off the first rehearsal of the day, Ghimire instructs the actors about their entrance and exit on the stage. The rehearsal begins. It is not smooth. There are several pauses and the cast and director give each other feedback on how to address the mistakes.
Staging a play is hard work. There would be times when the light technician would make mistakes by casting inappropriate lights or would miss cues.
The actors forgot their dialogues and movements. Similarly, a sound person would play the wrong track or makes an error in the volume range. The mistakes continue and corrections would be made calmly, without frustration or anger.
As the rehearsal was ongoing, some lights stopped working. There was frustration but Ghimire called for calm asking everyone to take their time.
"Don't rush. Everything will be fine. We have time," he said.
In this rehearsal, active participation and engagement are not limited to the director alone. The actors themselves take an active role in critiquing their performances and working to improve any mistakes.
There's a first time for everything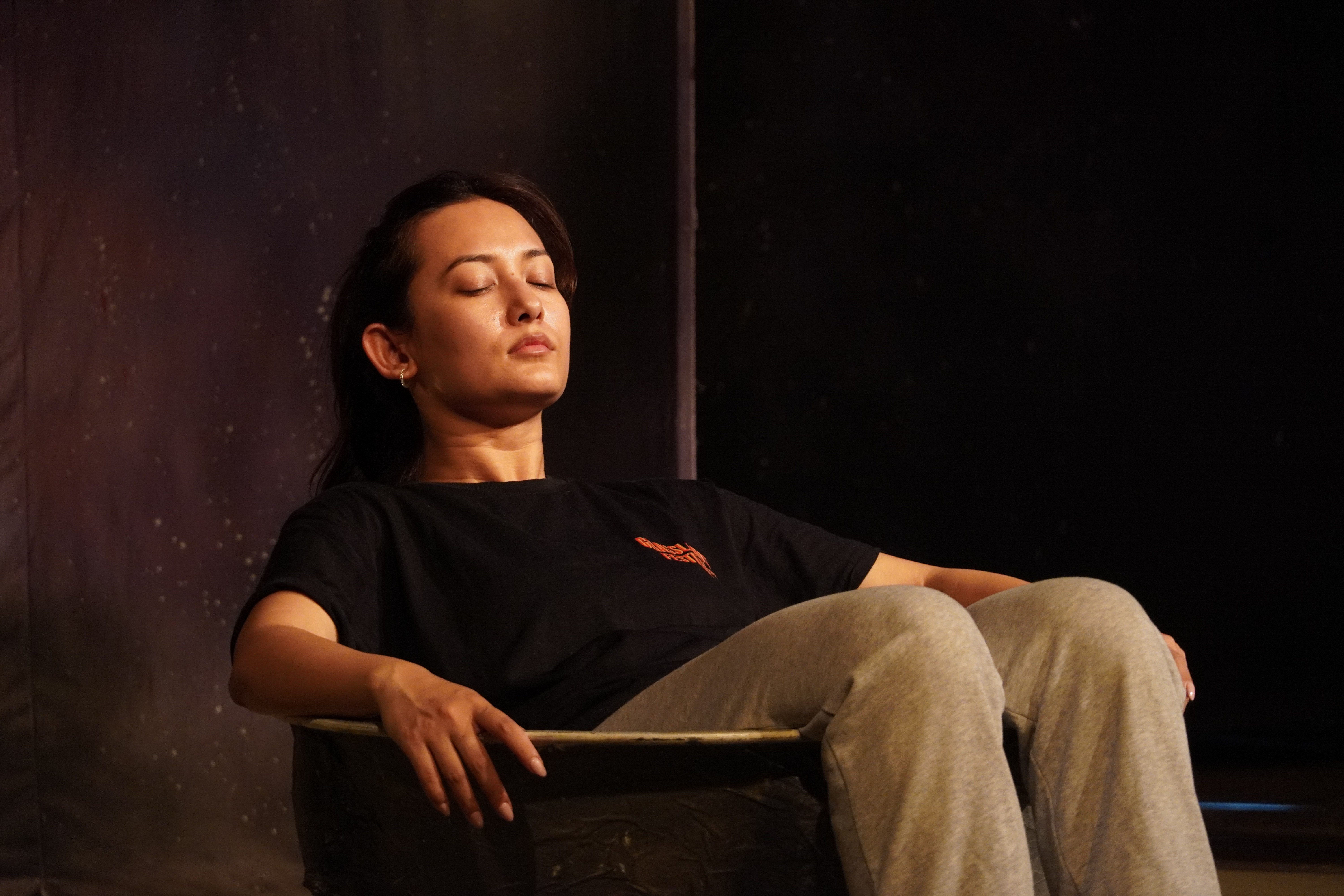 Tranzit is Shilpa Maskey's first play. She looks confident but there must be some sort of anxiousness. Maskey wants this to be the start of something great. Which is why she often asks if what she is doing is correct. While rehearsing one of the scenes, Maskey asks Divya Dev whether her breathing technique to depict the tension is correct.
Maskey has wanted to do theatre for quite some time. But for some reason or another, that never happened. But when an opportunity came knocking through Divya Dev, she took it with both hands.
She is not new to acting as she's done seven feature films. That said, she feels theatre is different and more challenging.
"I had to go out of my comfort zone in many things including voice, body language, dialogue delivery and character," Maskey tells Onlinekhabar. "Since the beginning, I have had a hard time in projection. It was difficult for me to figure out when I should be loud and when I shouldn't."
The major difference Maskey has found in doing theatre and films is concerned with rehearsal. In films, she does not need to rehearse but for theatre, she has been spending hours rehearsing.
In films, the impromptu acting looks natural but in theatre things are different, she says.
Not just Maskey, Divya Dev, who had done a number of plays also found Tranzit challenging. He had to struggle to analyse the text.
"The play is challenging because it's a very different text and genre compared to the play I have been doing. Previously, I was more into realistic plays," says Divya Dev.
According to the playwright of the play, Kumar Nagarkoti, Tranzit is a psychological thriller.
Rhythmic coordination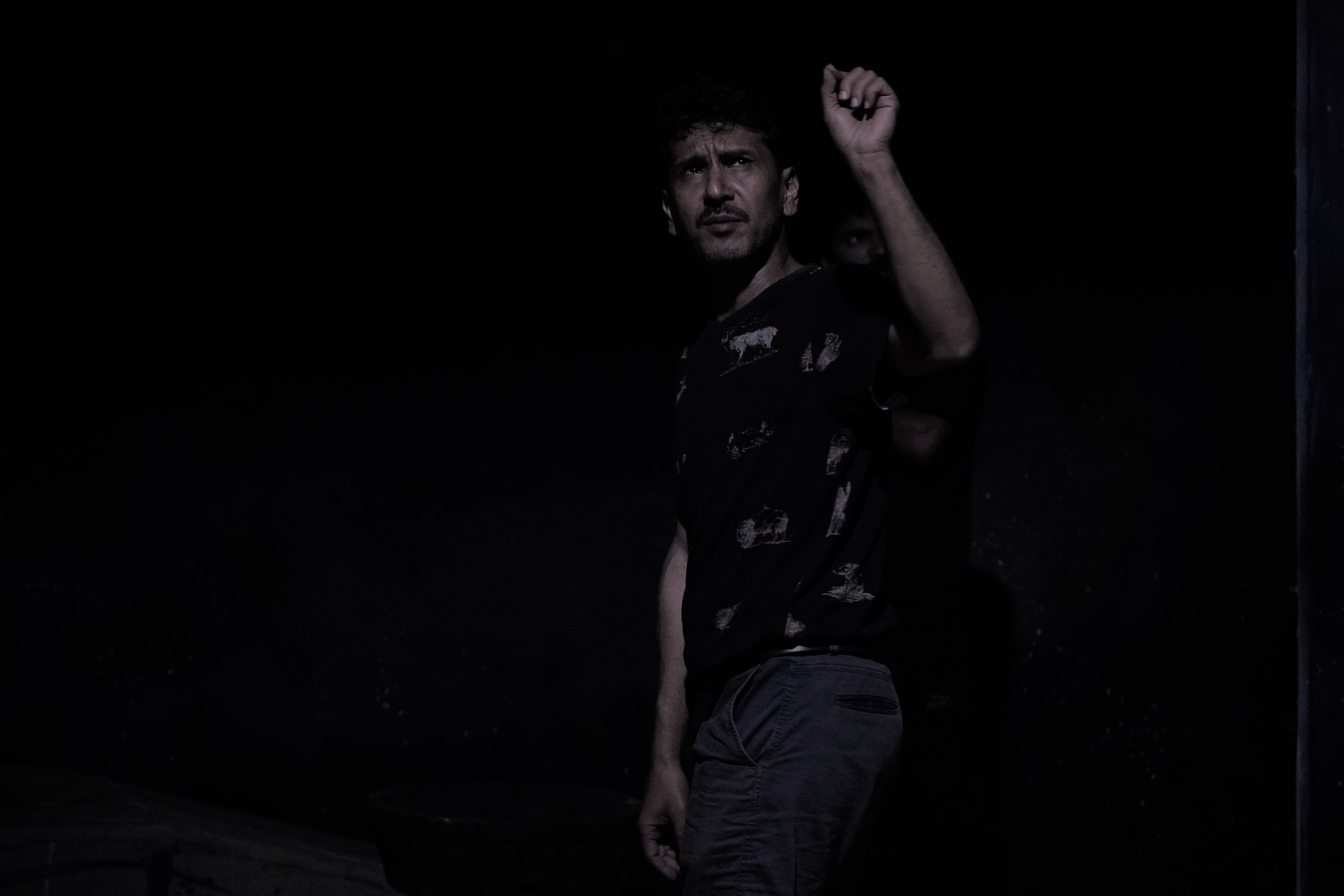 On that day, a vibrant and harmonious atmosphere permeated among the entire crew. They were moving around, meticulously inspecting the lights and settings to ensure everything was in perfect order.
Director Ghimire, too, actively participated in this process. He observed the rehearsal from different vantage points, occasionally occupying front seats and at other times positioning himself in the corner of the last seat. His constant movement exemplified his dedication to capturing every nuance of the performance.
After engaging in the rehearsal for one and a half hours, the entire crew of the play decided to take a well-deserved break for approximately 10 minutes. However, even during this break, their focus remained dedicated to the play. They used this time to review and discuss the performance they had just conducted. All they were doing was talking about Tranzit.
Soon the second phase of rehearsal began which went on for another 90 minutes. As the second phase of rehearsal ended, an actor in the play, Akanchha Karki, came out of the stage and checked how the setting looked in different lights. Karki is making her comeback on stage after three and a half years.
"I was missing the stage and after a long wait, I got the right character. I am feeling very young," says Karki.
Similarly, Ghimire went to Nagarkoti, who was watching the overall rehearsal from the second last row of the audience seat. Nagarkoti was watching how the actors were portraying his play for the first time. Ghimire asked whether any corrections were needed. Nagarkoti suggested correcting one of the props from the setting as that could distract the audience. Ghimire agreed and made a change.
Nagarkoti felt satisfied watching the rehearsal. This is Nagarkoti's third play. His earlier plays Coma- A political sex (2014) and Bath Tub (2019) were also directed by Ghimire.
"The way Ghimire had executed such a technical, complex and absurd text into the stage has amazed me," says Nagarkoti.
Most awaited play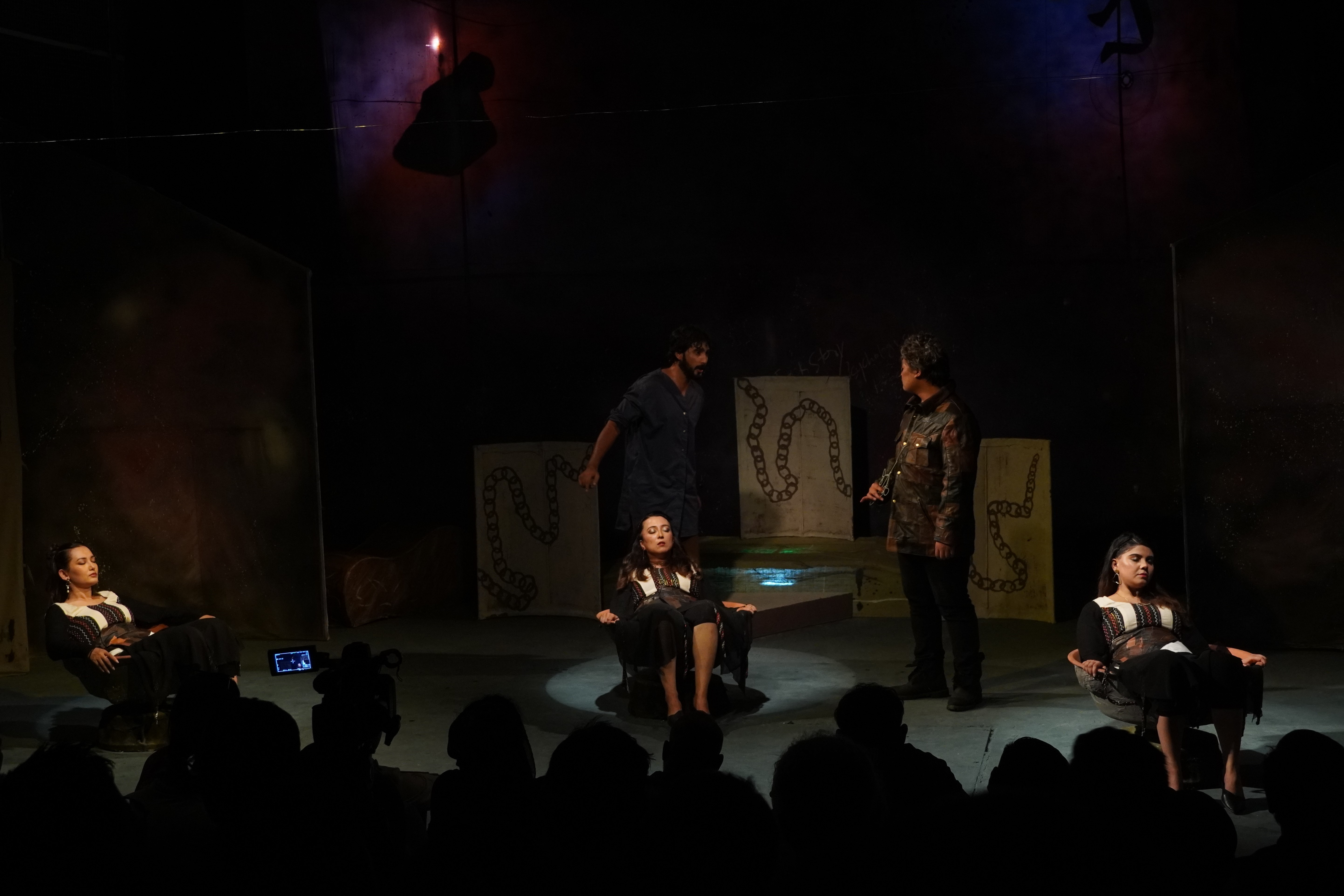 Tranzit is one of the most awaited plays of this year because of its cast and playwright. The play written by Kumar Nagarkoti features popular figures like Divya Dev, Shilpa Maskey, Akanchha Karki, Basana Timilsina, Ghimire Yubaraj and Milson Rai.
Finding the right cast was the major challenge for both the playwright and the director. It took them a year to finalise the cast.
When Nagarkoti began writing the play, Divya Dev and Ghimire Yubaraj were already there in his head. Nagarkoti had demanded Ghimire to find casts who look modern and graceful with a good English accent.
"The other criteria for the cast was they should be able to finely deliver the literature and absurd movements," says Ghimire.
Some artists Ghimire selected at first agreed to do Tranzit but later after reading the text, they dropped the plan. He says that they could not assimilate and relate to the text. They thought that this was going to be a traditional play. "Some of them said, I liked the play but I think I could not do it," he adds.
"While searching for the character I realised that many artists want a social character who can move the audience with their emotions, but the character in Tranzit does not have such a role," says Ghimire.
However, Ghimire now feels happy enough to find the perfect casts for the play and he is confident enough that they would not disappoint the audience.
Tranzit will be staged at Shilpee Theatre from July 21 and will conclude on August 19. The play can be watched every day except Tuesdays at 5:30 pm. There will be an additional show on Saturday at 1:00 pm.