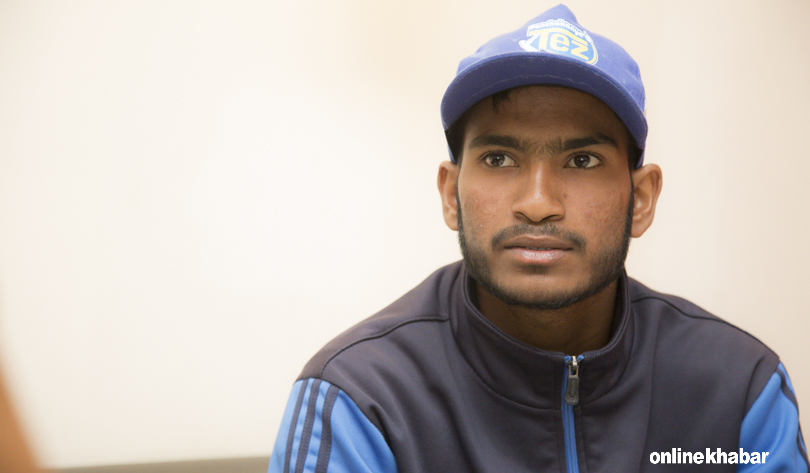 Photo: Shreedhar Poudel
Until October 2, 2016, 16-year-old Aasif Sheikh was just another lad from Birgunj who had played cricket at junior levels. Among the fans of the game, he was better known as the younger brother of Region 2- Birgunj all-rounder, and 2014 national One Day Tournament 'Player of the Series', Aarif Sheikh .
But that was before that fateful day in October.
The next day he'd become someone else.
The finals of the Everest Premier League was not just any other match for the Sheikh brothers. This was what they had been dreaming about for years.
On that day, at the Tribhuvan University Cricket Ground, Aasif was unstoppable. Not only did he become the one and only batsman to reach triple figures in an innings in the tournament, he fulfilled, partially, his childhood dream.
"I felt the pressure as I took to the ground," remembers Aasif, who has been selected for Nepal's squad for the U-19 Asia Cup. "Sarad (Veshawker) dai got out in the first over. But I did not let the pressure get to me, I tried to build an inning," he remembers.
"My legs were hurt so I could not take singles easily. But on the other end, at least for sometime, I had a reliable figure motivating me to make the most of the opportunity," he says.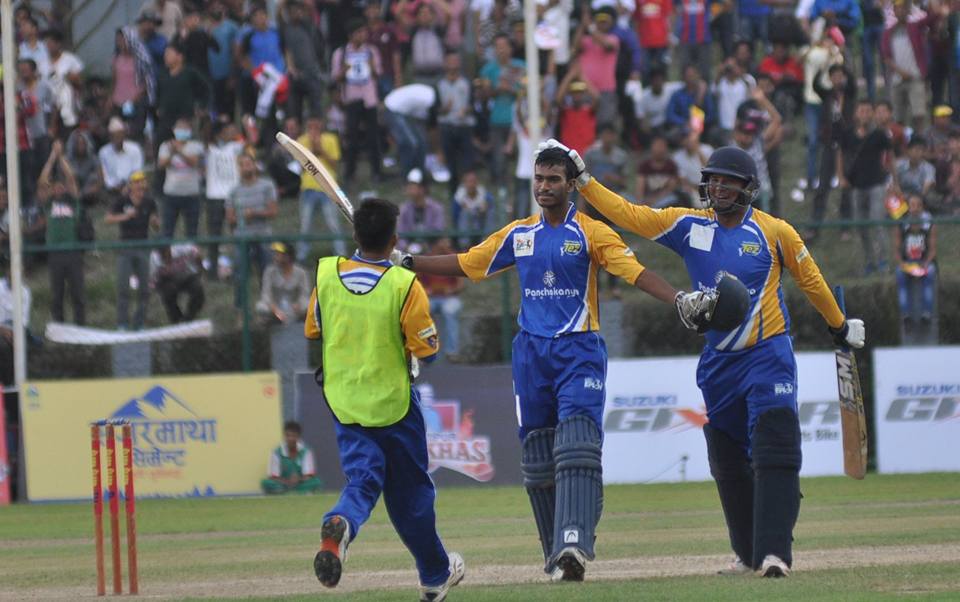 Aarif Sheikh scored an unbeaten century in the final of EPL, against Colors X-Factor. Photo: Nepal Cricket Fans on Facebook
It all started in Birgunj. Two kids, one around five years older than the other, grow up in a family whose breadwinner runs a motorcycle workshop. The older one picks up the cricket bat, plays with local friends, saves money to buy equipment and then makes it to the U-19 team as vice-captain.
The younger one, out of curiosity, watches his brother hit sixes. As he is small, he rarely gets to hold the bat, but takes to the field whenever he's brother is around. Eventually, he also gets to hold the bat.
Aarif played and instrumental role in Aasif's life. He taught him to play to his strengths, and not blindly follow him. He taught him to dream big.
"Dai (Aarif) told me to play my shots that day. He was taking quick singles, and that helped tick the score along," Aasif remembers. "Both of us went to the same school. I would watch him play school-level tournaments. His style of play involves taking lot of singles."
Aarif played and instrumental role in Aasif's life. He taught him to play to his strengths, and not blindly follow him. He taught him to dream big.
"Overtime I started dreaming. How wonderful it would be for both of us to bat together and field together!" But because he was 4-5 years older than Aasif, he could not get that opportunity in school.
But last year, as Nepal's U-19 team prepared for the Youth World Cup, both the Sheikhs were part of the training camp. "There I got to bat with my brother. We looked great together. I think in one of the matches we played a 60-70 run partnership."
The duo, especially Aasif reaslied that the brothers have a good understanding, and can play well together. Aasif's intuition proved right during the title match of the EPL.
Whenever Aasif and his brother are not playing cricket, they are watching it on the telly. Their dad is a big fan, and watches games closely. "When I scored that 100, our dad downloaded the highlights onto his mobile phone and watched it the whole night," shares Aasif.
"The feeling that one gets after things like these is indescribable."
While Aasif, who has played for Nepal in the U-16 and U-19 ACC tournaments, prepares for the U-19 Asia Cup, his brother Aarif is doing his best in the nets. "He wants to make it to the national team when Nepal play Kenya in March. I also want to be a part of that squad."
But given the limited number of matches Nepal hosts, it looks an uphill task for the older Sheikh. "Our dream is to play long batting partnerships for the national side, and nothing can beat that," says Aasif.
"I am ready for it, and dai is also ready for it."
When Aasif takes the field against Sri Lanka this week, his brother, although in Nepal, will be with him in spirit, motivating him to send the ball out of the park, and knock hard on the door leading to the senior squad.