Biraj Maharjan warmed up at Dasharath Stadium on Monday, with a heavy heart. Having played 72 times for Nepal, captaining them 18 times, this was going to be his last match. As he came on for Tridev Gurung, in the 89th minute of the game, for the 73rd time, he looked emotional. Why wouldn't he be? His career with the national team was coming to an end after 13 years.
As he came onto the pitch, the crowd gave him a standing ovation while his teammates gave him the captain's armband. Everyone who followed Nepali football knew how much this moment meant to him.
"I feel extremely lucky to have been able to live my dream. To walk out with a win in my final game at home with the crowd cheering was special," he said.
Glorious career
Maharjan started his football career when he joined the All Nepal Football Association's football academy in 2000. Since then, he has never looked back as he represented Nepal in all age groups, winning things along the way.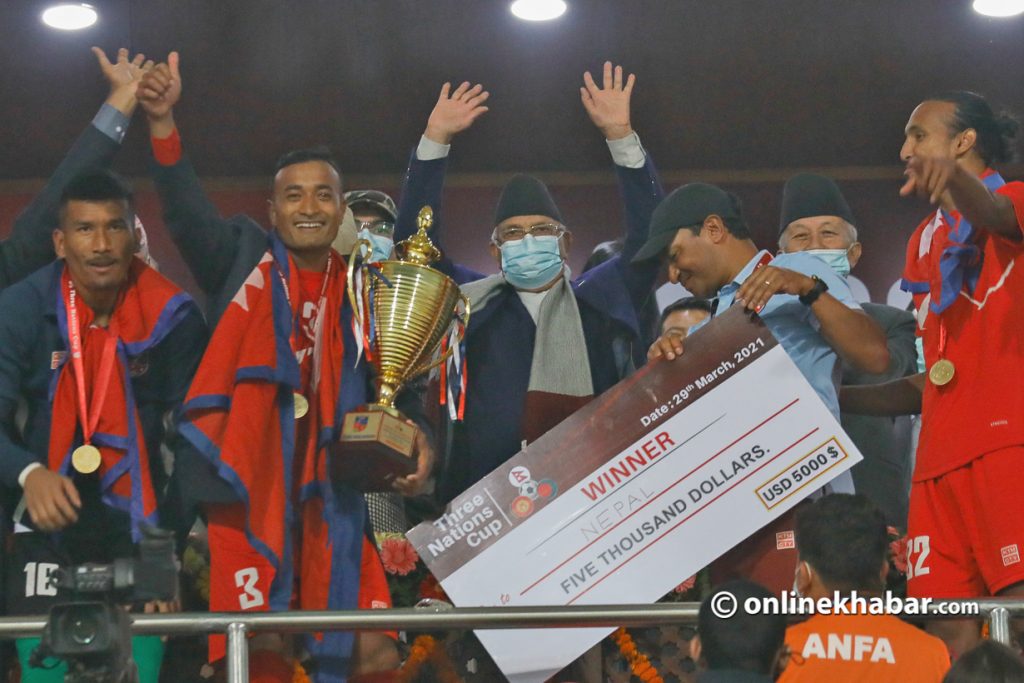 Making his debut against Pakistan in 2008 at Pokhara Stadium aged 18, he then became a regular starter for Nepal at left-back. His commanding presence and versatility meant he was the first name on the team sheet. Having made his debut, he soon got on the score sheet as he scored his one and only international goal against Kyrgyzstan during the AFC Challenge Cup in March 2009.
In 2015, he captained Nepal for the first time against India and by 2016, he became Nepal's most successful captain winning three international tournaments in a year that included a gold medal at the South Asian Games held in Guwahati, India. Along with that, he also led Nepal to victories in the Bangabandhu Gold Cup and the AFC Solidarity Cup in Malaysia.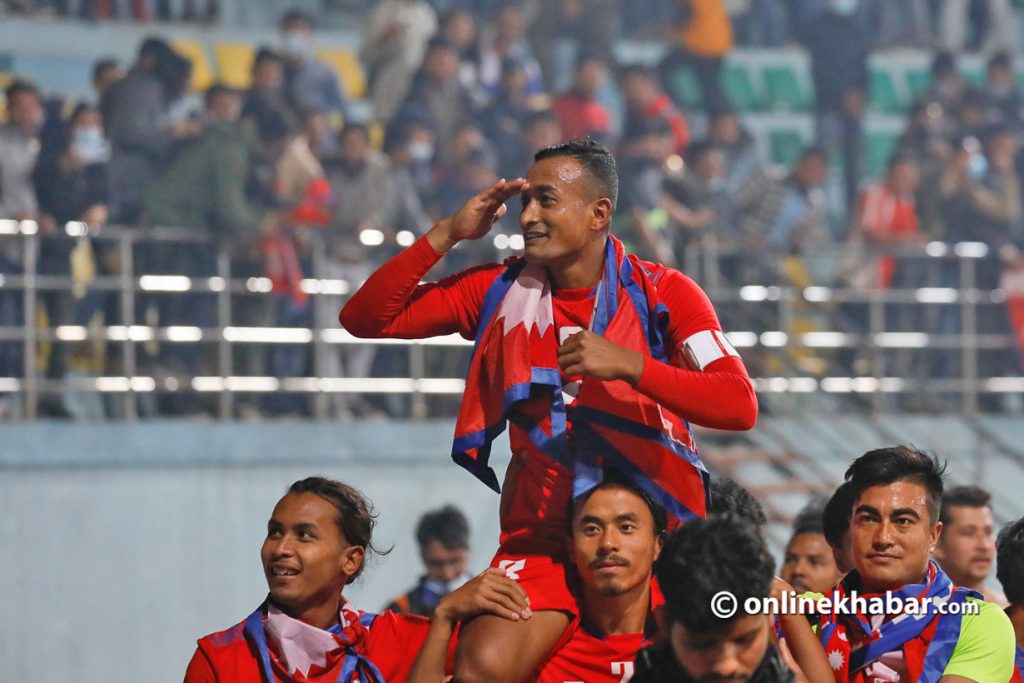 Towards denouement
That success, however, did not last as Nepal's record since then has not been great. Even though in 2018, he beat Raju Kaji Shakya's appearance record, Maharjan's form dipped and has been in and out of the national team since 2019.
He had been winning league titles in Nepal, but his performances did not really appeal to then coaches Gyotoku Koji and Johan Kalin. Prior to Monday's appearance, Maharjan last played for Nepal in a friendly match against Malaysia in June 2019.
However, leading Machhindra Club to their first league title, Maharjan made a comeback in the national team just in time for the Three Nations Cup in which he, until the final, played little to no part.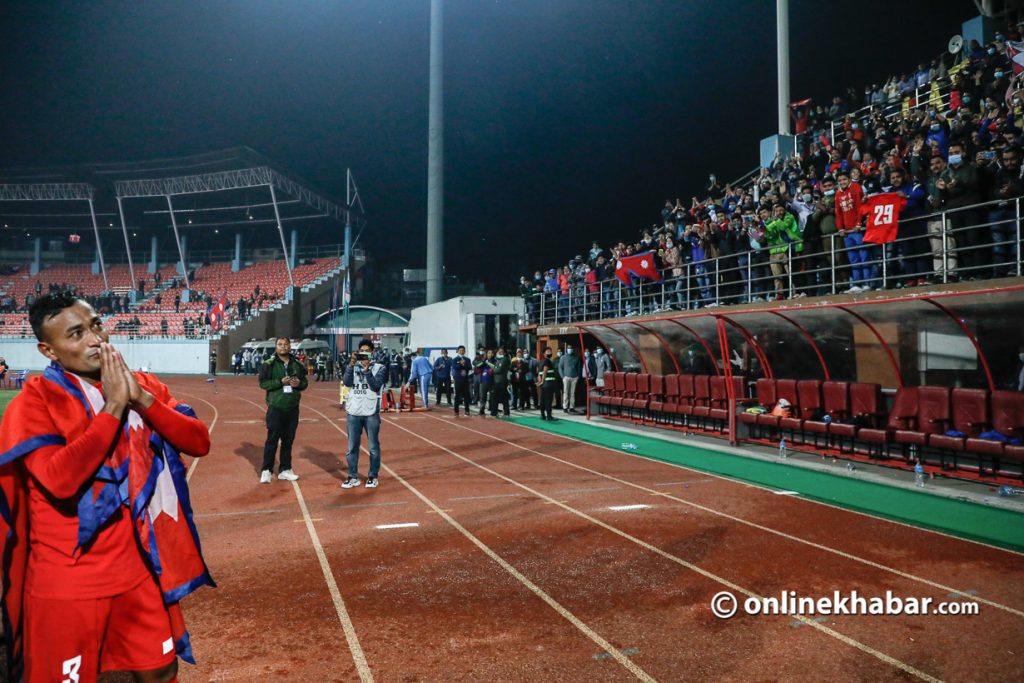 But, he knew that would happen. Speaking before the tournament, Maharjan had said that he was going to retire to give the younger generation a chance to represent Nepal.
"I'm not getting young and with football at home a rarity, I feel that now is the right time to retire. If I can go out by winning a trophy in my final game, that would be great," he had said before the tournament started.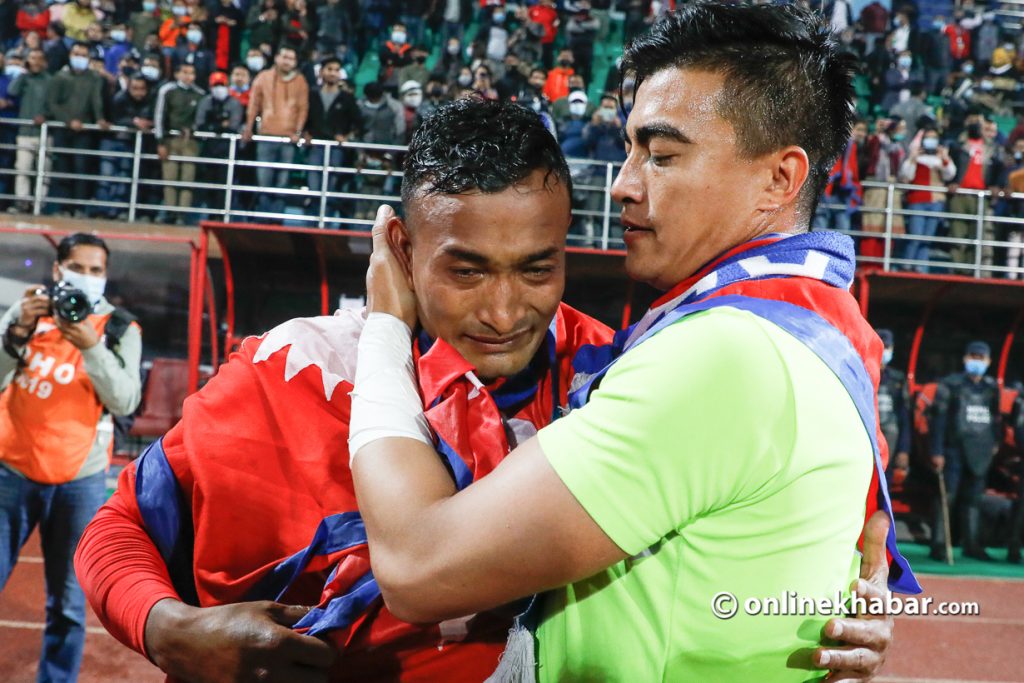 That is exactly what he did. He went out in the best way possible. Winning a trophy at home with a partially packed Dasharath Stadium chanting his name is something he had always dreamt of. Carrying Maharjan on their shoulders, the team also paid homage to one of Nepali football's best players.
Putting on the blazer offered to him but PM KP Sharma Oli, he left the stadium with a bright smile on his face knowing that this, even though looks like the end, is in fact the start of something bigger.
"You'll see me in the football field," he said.