When Johan Kalin was appointed the coach of Nepal's national football team in January 2019, there was a sense of excitement among Nepali football fans as he aimed to win a SAFF Championship during his tenure.
Having finished second with an average Machhindra Club in 2013, there was a feeling that by hiring him, Nepali football would go places. That feeling got stronger when Kalin led Nepal to a goalless draw against a strong Kuwait team in March 2019. However, with a record of just one win in 10 games, Kalin in November 2020, resigned from his position citing personal reasons.
While some fans were happy that he resigned, a lot were gutted. Many argued that his game was archaic, defensive, boring and his record spoke for itself. But, others say that given the team he had, he did well. They say he tried to make Nepal tough to beat, solidified the defence and paid a lot of attention on the players' fitness. Both sides have strong arguments about Kalin, but he believes he did what was right for Nepali football but did not have sufficient time to realise his vision.
Focus on defence
"My plan was simple: Make us strong defensively because we were conceding silly goals," says Kalin after two months of resignation from his home in Sweden. "The goals that we conceded against Pakistan and the Maldives in the SAFF Championship are examples of these goals which if avoided could have turned the match in our favour."
Kalin says that when he first took charge of Nepal, he knew that the major challenge would be sorting our leaky defence and make sure the players were paying attention to their fitness and were organised. In a bid to change the players' attitude towards defending, he did many defensive drills mainly to change the players' mindset.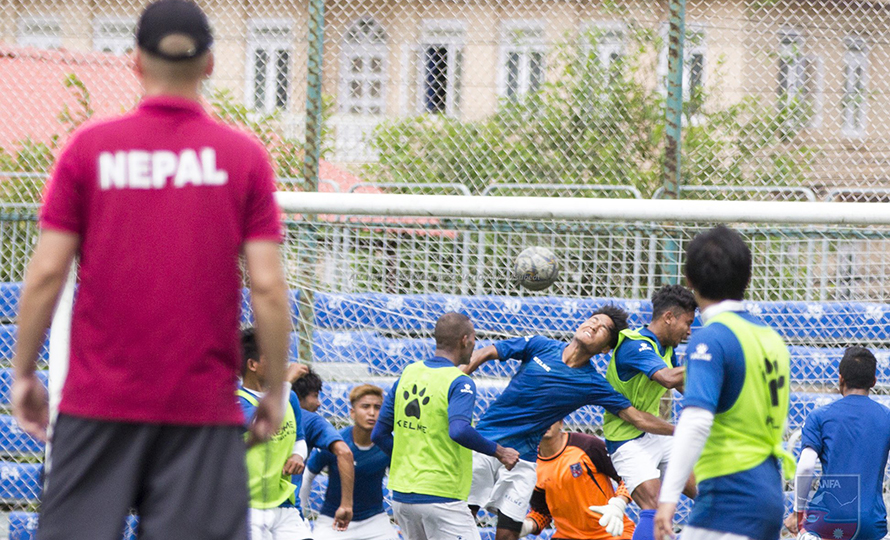 "If you look back at all the goals that we have conceded in the past decade, almost all of them have been due to concentration lapses by players. My main challenge was to change that and make them understand tactic and where I was coming from," he says.
With the aim of winning the SAFF Championship, he wanted to spend a year working on defence. The first few games saw a glimpse of that. In the two games against Kuwait, Nepal's defensive performance was so good that even the Kuwaiti coaching staff praised it, he says.
"We were solid defensively. We had only worked for a few months and we were able to compete with the Kuwait team, who even though had just returned from a ban, were still very strong," he says.
But, that joy was short-lived. Nepal lost 2-0 to Malaysia in June 2019 followed by what Kalin says is his worst game as Nepal's manager in the 7-0 loss to Kuwait in September 2019 during the World Cup Qualifier.
"That was bad. I don't know what happened," he says.
That did not stop him from continuing to push his philosophy. He got rewarded too. A resilient performance against Chinese Taipei in Taiwan gave Kalin his first win as Nepal's coach and Nepal's first win in the group stage. That was followed by a game against Australia in Canberra which was a no contest. From the start, Australia bullied Nepal and ended up 5-0 winners.
"The scoreline didn't paint a very good picture, but our boys did well, I think. We played well against players who play in top European leagues. At least for 70 mins, we did," he says.
He says that had Nepal played attacking football against such a team, the scoreline could have been anything and questions the understanding of people who make such comments.
"In Nepal, people say I'm defensive, but it would have been a horrible decision if I had played open football against such a quality side," he says adding that it is easy to criticise.
Resignation was Covid-19 compulsion
The loss against Australia was followed by a 3-0 loss against Jordan and 1-0 loss against Kuwait at a neutral venue in Thimpu. The latter, which was his last game in charge, was his best game, he says.
"We were awesome in that game. We gave them nothing but had a few chances ourselves. Sure, we conceded and lost but the performance was just amazing. I was so proud of the boys," he says.
After that, preparations were underway for the rest of the games against Australia, Jordan and Chinese Taipei. But, Covid-19 started spreading across the world and Kalin moved back to Sweden to be with his parents.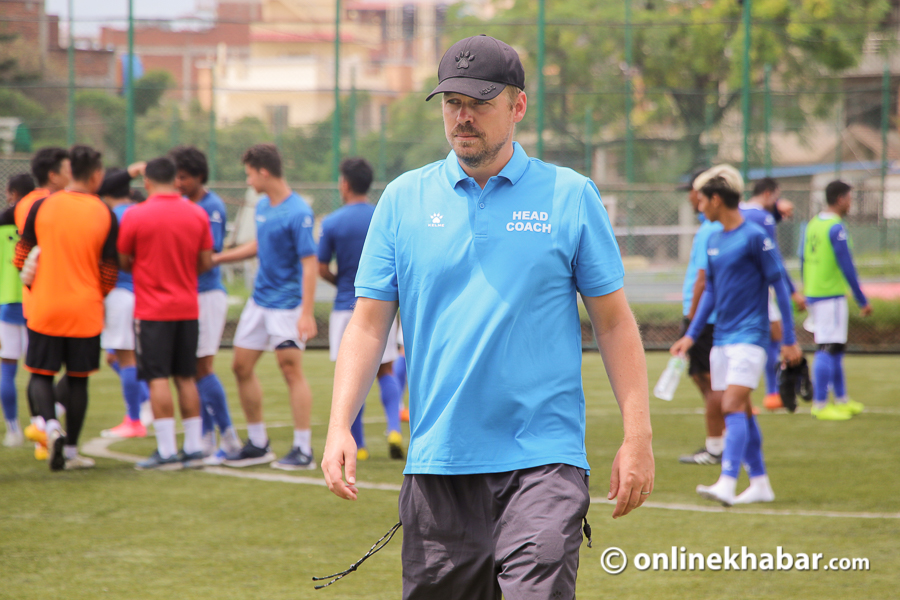 "Times were tough. I wanted to continue, but my parents are old and I want to be here with them during these tough times. I didn't think it would be fair on ANFA, the players and the fans, which is why I decided to resign," he says.
His biggest regret he says is not to have managed a game in Nepal. Having sat with Nepali fans in the 2011 SAFF championship in New Delhi, Kalin was always fond of them. But, due to issues with Dashrath Stadium, all games were played away, even the home tie against Kuwait was played in Thimpu.
"I really wanted to have the fans backing. They have been supportive and would have given us a lift. Hopefully, they will get to watch Nepal steal some points in the remaining games."
His vision for Nepali football
When asked what he feels needs to be done to improve Nepali football, he says attention needs to be given at the grassroots level and players must spend time at the training. He emphasised the need for more football pitches or plastic pitches so that more and more players could train. He says that the kids should be given good footballing education from an early age in a similar manner Germany did in 2006.
"We need to train and coach them well. Give them good coaches from a young age. That's how football can develop," he says. "Players are passionate, but we need to be realist too and work hard to work on our flaws."
He says that even though his time came to an end early, he appreciated the support from the Nepali fans. That said, he does want them to be patient with Nepal as it will take time to become a better team.
"I know fans don't like to hear the word 'patience'. However, that is what it is. We need to be realistic. The next qualifying games are not going to be easy. But, for now, we need to look at performances rather than the results."