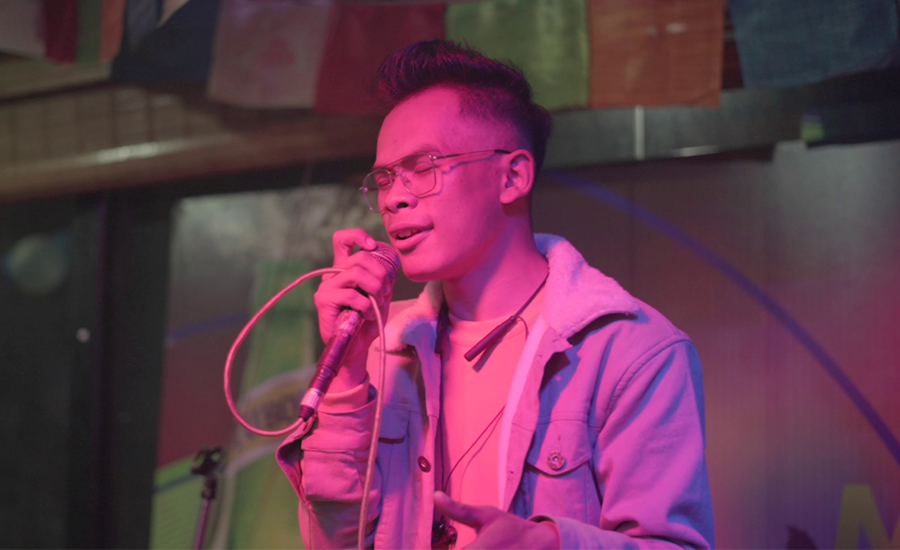 Three years back, Urgen Dong was no one. However, with the release of his song Tadha Vaye Pani (Although You Are Late), he got an indelible identity as a singer and songwriter.
The popularity of the song that he wrote when he was working in Dubai not only gave him fame but also financial stability to carry on with his passion for music.
He created the hit song when he was away from his loved ones and was missing home, especially his beloved girlfriend who was in Kathmandu. He was anxious and worried about being in a long-distance relationship. "I was in pain and was constantly worried about what if she left me. Such feelings made me write Tadha Vaye Pani," says Dong.
Urgen Dong hence turned his pain and suffering into creation as he also released two other songs during his stay in Dubai—Maya Tito Mitho and Pyari Aama. Now, his songs have garnered more than 10 million views.
Humble passion for music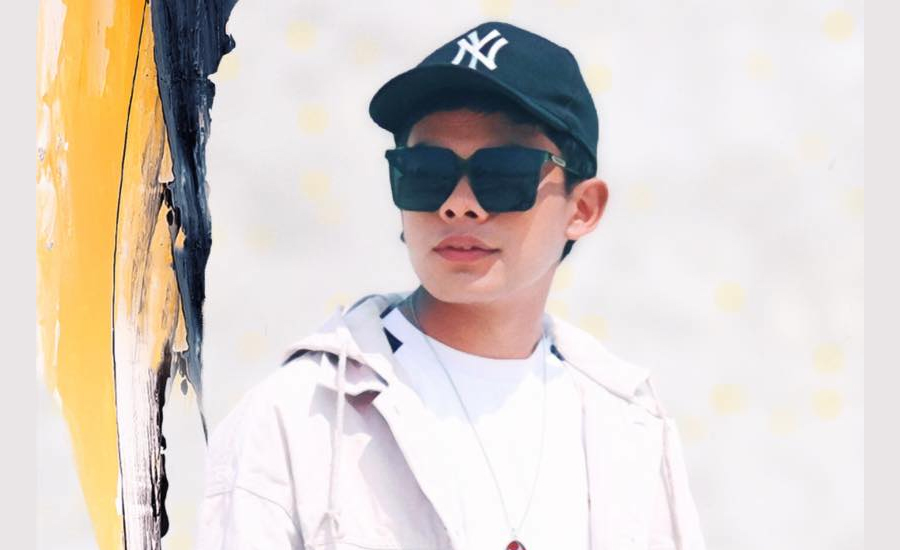 Urgen Dong's songs are melodious; they are filled with stories of love. Moreover, he includes different languages spoken in Nepal besides Nepali, which makes his music unique.
In Tadha Vaye Pani, he has shown the ups and downs of everyday life and a part of the lyrics is in the Tamang language. Likewise, his latest hit song Lajalu Lajalu has the Tharu vernacular. "I have tried to include other languages besides Tamang in all of my songs. This is a new experience in music, which is being appreciated by the audience," he tells Onlinekhabar.
Urgen Dong comes from a humble family background. His father used to work as a tempo (three-wheeler electric public transport vehicle) driver and his mother was a daily wage worker. Since his school days, he was interested in music. When he was in grade eight, he worked with his mother to get money to buy a guitar.
Due to the weak financial condition of his family, he did various jobs in the capital. Back then, he worked at furniture and garment shops. He also worked as a street vendor. "I did everything to overcome the financial crisis of my family," says Dong.
But his passion for music was still there and with a couple of his friends, he performed in a pub that helped him financially.
As soon as he completed school, he released the song Kina. It turned out to be a flop and it also demotivated him.
Lessons from the pain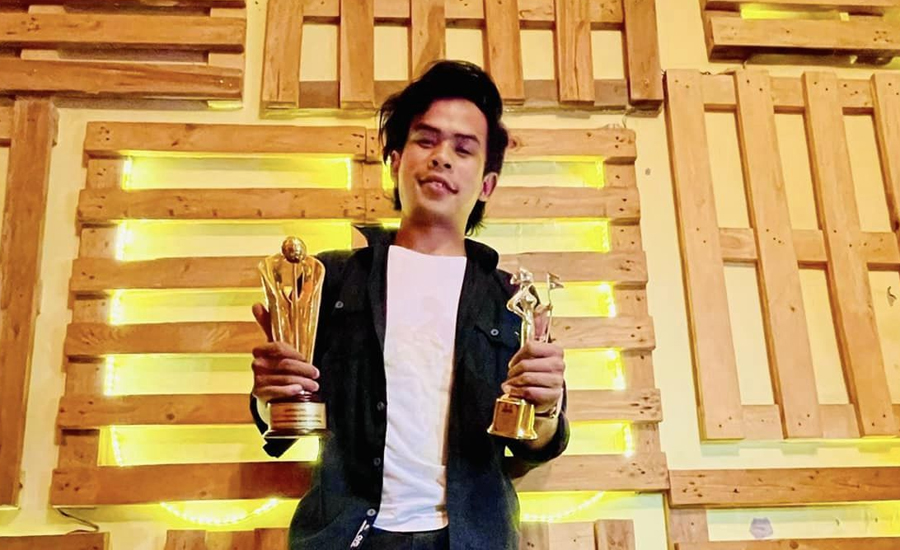 While Urgen Dong was struggling to do music, the 2015 earthquake created an unexpected change in his life. His band members flew for foreign employment due to their weak financial status and he lost hope to make money from music.
Moreover, being the eldest son of the family, Dong did not have any choice but to go abroad to sustain his family. He went to Dubai and worked as a dishwasher.
For nine months, he continued the job. But, to return home, he had no money. One day while roaming around the market, he saw a guitar. He could not resist himself and immediately bought it. During his free time, he used to sing and play his guitar.
In the meantime, he got a chance to participate in Alfa Got Talent, a programme organised jointly by 21 companies in Dubai, to select the best talents among the employees. Urgen Dong performed a song at the event and was announced the winner. He also received a laptop, Rs 300,000 and an air ticket to Singapore.
However, he did not go to Singapore because he had to come to Nepal on holiday. After coming back to Nepal, he released the song Maya Marya Chhaina Ni in collaboration with Girish Khatiwada and Chetan Karki. He also released other two songs: Magney Haina Ni and Pyari Aama.
He thought that working with the famed singers would make his song popular. But, things did not meet his expectations. "All the three songs fared badly," he says.
Urgen Dong also participated in Nepal Idol season 2. But, he was eliminated from the audition round in which he sang his original Maya Marya Chhaina. Dong cried a lot after the elimination. Nepal Idol was his dream, but he could not make it. "This demotivated me and I lost all my hope to be a musician," he says.
But, his days were yet to come.
The turning point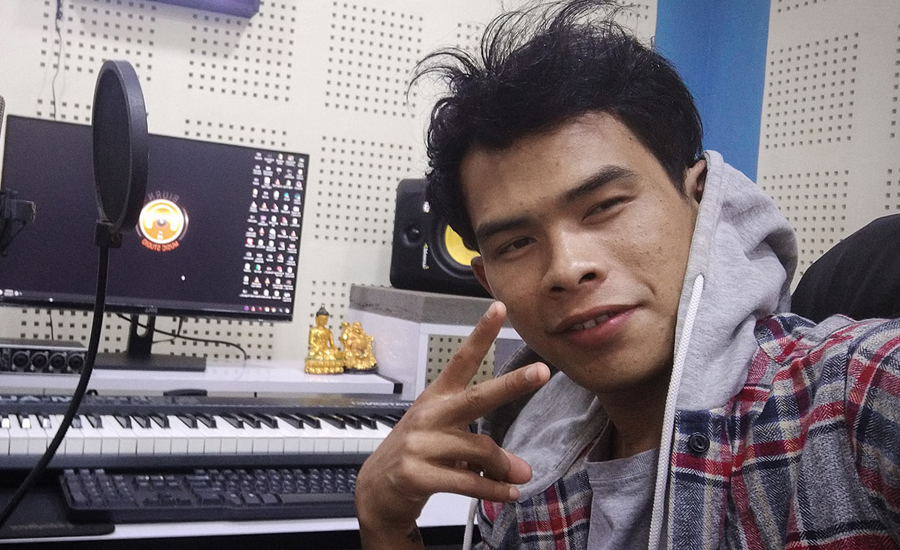 Urgen Dong was all set to go abroad again as he was frustrated due to his continuous failure in music. This time, he planned to go to Australia on a dependent visa. However, on the last day to submit the documents, he decided to cancel his plan as he wanted to do something in Nepal.
In the meantime, his uncle Birendra Dong persistently motivated him to focus on music and rekindled hope in him. Following his uncle's advice, he opened his own studio—Birun Studio. Then, he started gaining popularity through his songs.
"With a lot of struggle, I have made my way here and I feel very lucky. Very soon, I am releasing four of my new songs," says Urgen Dong.
---
This story was translated from the original Nepali version and edited for clarity and length.