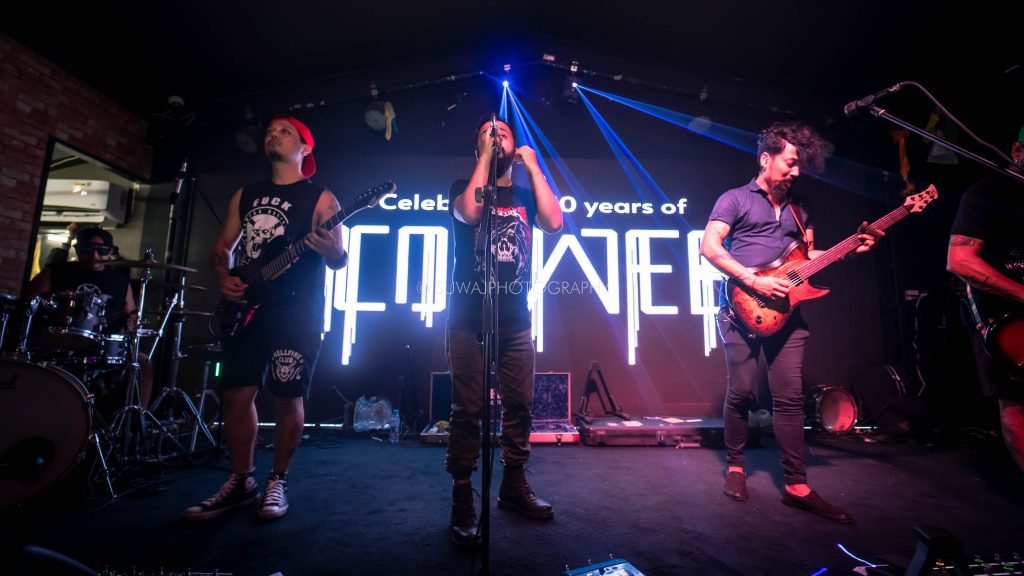 It has now been three decades since the rock band Cobweb are rocking the Nepali music scene. So far, the band have released eight albums, sung 65 songs, performed over 5,000 gigs and toured eight different countries. Cobweb, one of the pioneers of rock music in Nepal, are an inspiration to all Nepali rock music lovers.
The band's current lineup includes Divesh Mulmi on vocal and guitar, Nilesh Joshi on bass, Siddhartha Dhakhawa on drums, Sanjay Aryal on vocals and Sujan Tandukar on guitar.
So today, we have brought the eight best songs from Cobweb. We hope you will like it.
1. Maryo Ni Maryo
Maryo Ni Maryo released in 1996 is from the band's second album Cobweb. This song immensely helped the band get familiarised with their fans as their first album could not take the hype in comparison to its second album.
The song is also famous for the modified vocals that are produced by using a talk box.
2. Mercedes Benz
Mercedes Benz is an all-time popular Nepali rock song from Cobweb. The song is popular among all Nepali rock music lovers and amateur guitarists because its intro riff is catchy and easy to play.
Mercedes Benz represents the album with the same name that was released in 2000. Back then, the song took the Nepali rock scene to the next level. It inspired all the rock music lovers based in Nepal.
The song is still popular among the youth and is played at pubs that feature live music.
3. Timro Maya
Cobweb also have some love songs and Timro Maya is the most popular among them. You can dedicate this song to your loved ones at any time. If there is an argument between you and your beloved, this song has the potential to sort out the issue.
The song is also easy on the ears. This all-time hit love song was released in 2004, representing the album Swing.
4. Rajneeti
Released in 2016 as a part of Cobweb's latest album Astitwa, Rajneeti features heavy sounds. The lyrics of the song written by Shreyaskar Karki, Sabin Rai and Jeeban Lama depict the negative side of politics and what it does to the general public. In 2019, the band also released its music video.
The music video directed by Pranab Joshi has a simple presentation. It features band members performing live on a stage.
5. Namaste
This song is different from the band's other numbers as it is based on the reggae genre, which sounds cool and vibrant. Likewise, if someone likes the wah-wah effects, this song is perfect for them to listen to.
The song is from the album Project Namaste released in 2010. You can listen to or jam up this song with your family and friends. Trust us, this is going to be fun. It is easy to sing and play.
6. Mero Lagi
Mero Lagi is another popular love song by Cobweb. This is one of the songs played mostly in restaurants by live musicians. The song is also from the album Project Namaste.
Since it is a love song, its verses are very romantic. The snippet of lyrics goes: Timi Ma Nai Chha Mero Sara Khusi / Timi Ma Nai Chha Mero Sara Sapana / Mero Lagi Swarga Ko Artha / Matra Timi, Timi Nai Chhau [ My every happiness is within you / My every dream is within you / For me, the meaning of heaven is you / Only you and you.]
7. Hodbazi
Hodbazi is neither love nor a political song, but it is a song for a cause. The song written by Urdeep Joshi says no to drugs. The song portrays the consequences of consuming drugs. Hodbazi is also a part of the band's second album Cobweb.
8. Pratibimba
Pratibimba is one of the most underrated songs of Cobweb. Along with its composition, the lyrics written by Prajwal Kattel and Ritavrat Joshi are equally powerful. It talks about existence, consciousness and crisis. The song is from the album Astitwa.