Nepal is not exactly known for its fishing scene. If you think of Nepal, most often, it is known for its beautiful and intimidating mountains (of which it hosts eight of the ten highest in the world).
But, with over 100 different species of fish in the waters around Nepal, fisherfolk will never be bored here!
The bonus? You will be out on the serene water, surrounded by the magnificent mountainous, jungle scenery that Nepal is known for.
The best time to fish is between the monsoon seasons. Head to any one of these spots from February to May (springtime), and October to November (autumn) for the chance to battle a fish in the serene mountain environment.
Here are our choices for the best places in Nepal to fish.
1. Seti Karnali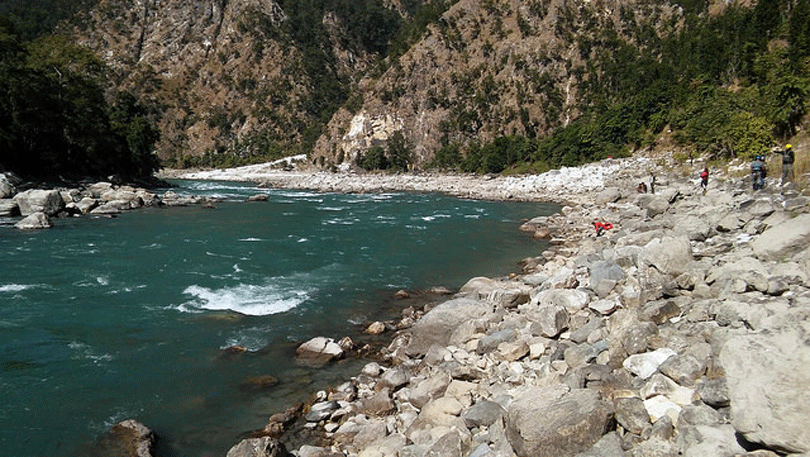 Don't miss your chance to fish on the longest river in Nepal. At 315 miles long, there are plenty of fishing spots along the Karnali river, where your chances to catch large fish are good.
But, our top choice spot is Seti Karnali where the Karnali meets the Seti tributary. The Seti river itself is 107 miles long, and also has a variety of fishing spots. You can float down the river on a float tube as you fish, which gives you an opportunity to marvel at the beautiful scenery as you pass.
You can fish for unique species like the Golden Mahseer and the Silver Mahseer (also called the Indian salmon). Although catch-and-release is encouraged, the Mahseer is a tasty fish to cook, so you could catch your own dinner! They are endangered, so take only one.
You will have the best luck using a spinning rod and reel with a monofilament line with a weight of up to 40 pounds. Choose brightly coloured spinners that are on the larger side.
This river is also home to the Gangetic river dolphin, which is the largest freshwater mammal on the Indian subcontinent. Keep an eye out for one while you are fishing!
2. Pokhara lakes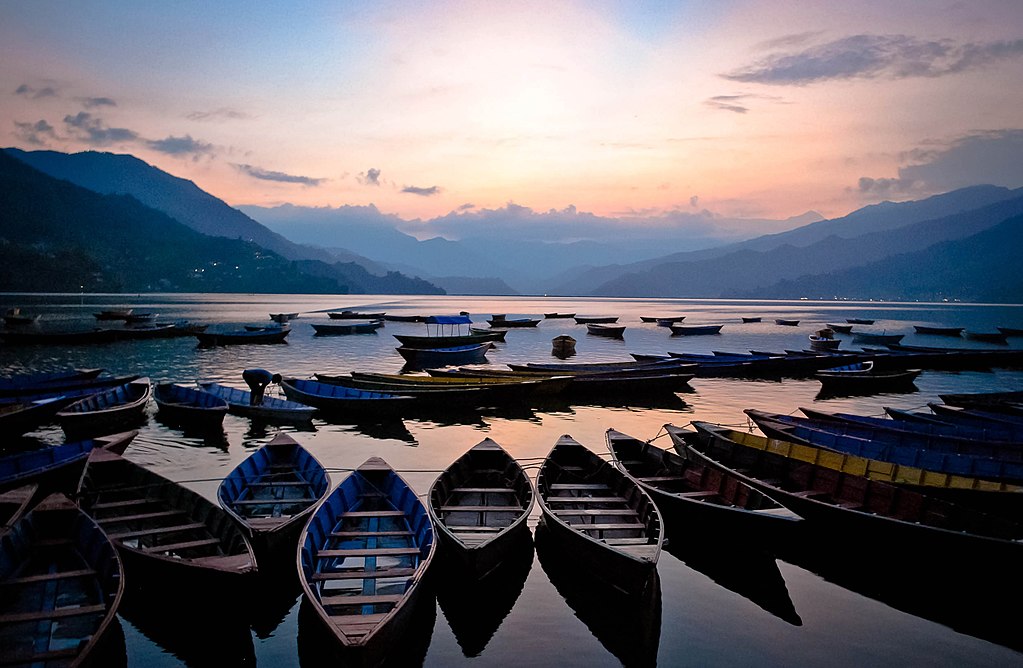 Inside the city of Pokhara are a couple of lakes that offer great fishing opportunities. Phewa (or Fewa) lake and Begnas lake are both stunning clear lakes that have amazing mountain backdrops.
Phewa lake is a great fishing spot, but it is also a wonderful place for families to spend a day together. There are kayaks and boats for hire, a market nearby, and many restaurants nearby. It is tourist-oriented, so it can get busy.
Although this lake is often crowded with people, it is so big that it is not difficult to find a more peaceful spot where you can fish away from other people. There is also a temple in the middle of Phewa Lake, so you can have a spiritual experience.
Begnas lake is much quieter and is about 10 miles outside of Pokhara. It is relatively untouched, so if you want a more relaxed fishing experience with a solitary feel, Begnas Lake is the better choice.
In both of these lakes, you will be able to catch Mahseer, common carp, catfish, sahar, katle, asla, and others. Most restaurants in the Pokhara area have Phewa Lake fish on their menus!
3. Balephi river
About 45 miles outside of Kathmandu, you will find the Balephi river. This whitewater can be challenging to fish as it is a narrow and fast-flowing river. It is a well-known destination for whitewater rafting and kayaking, but the fishing can be great here too.
Similar to other rivers and lakes in Nepal, the fish you are most likely to catch here are the Golden Mahseer and the catfish. You may also find trout, carp, or common Mahseer on the end of your line.
This is a prime fishing spot for those who may enjoy adventuring as well as fishing. You can go whitewater rafting to get your adrenaline pumping or explore the surroundings for a more relaxed activity.
If you do choose to fly fish in the river, be careful as the narrow nature of the river means you may get your line caught in the trees on the bank. Also, watch out for whitewater rafters while you are casting!
4. Tamor river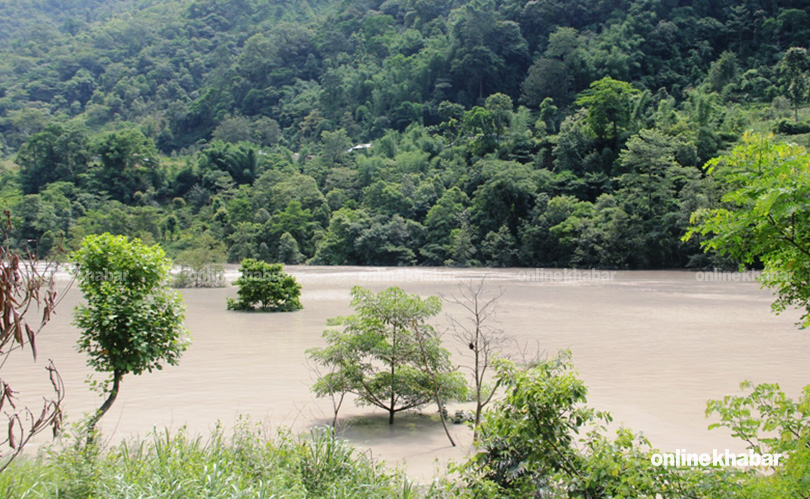 Fishing in the Tamor river gives you the opportunity to catch some more unusual species. The Tamor is a quiet river and has not been fished as much as others. Therefore, the fish population continues to grow, and it makes for an exciting day's fishing.
You may catch river loaches, the Nepali minnow, catfish, Himalayan trout, asala, and the trophy catfish, known as goonch.
Catching a goonch is the ultimate dream for many anglers fishing in these waters. These monster fish present a challenge, both mental and physical. They are extremely muscular and heavy and have a habit of planting themselves in the river's bed, between rocks so they cannot be moved.
If you are after one of these big fish, you will need to prepare yourself and use a braided line for extra strength. By all accounts, the lure you use is of no consequence – if the goonch is not hungry, it will not bite, no matter how appealing your bait is.
Even if the goonches are not biting, your chances of catching other fish are good. A day on these waters is worth it even if you get no bite, simply for the spectacular views of Mount Everest and Mount Makalu.
Conclusion
Nepal is so much more than just mountains, jungles, and spiritual enlightenment. If you are a fisher, you will find these waters to be interesting and challenging, and you will have a chance of catching some large and unusual fish.
Anyway, the scenery in Nepal is so beautiful that fishing is a great reason to spend some time outdoors, surrounded by its amazing nature. It is also a good activity to do if you want some alone time, or if you are looking for something fun and educational to do with the family!
Whatever your reason for getting out your rod and reel, fishing in Nepal is much more than you may expect.