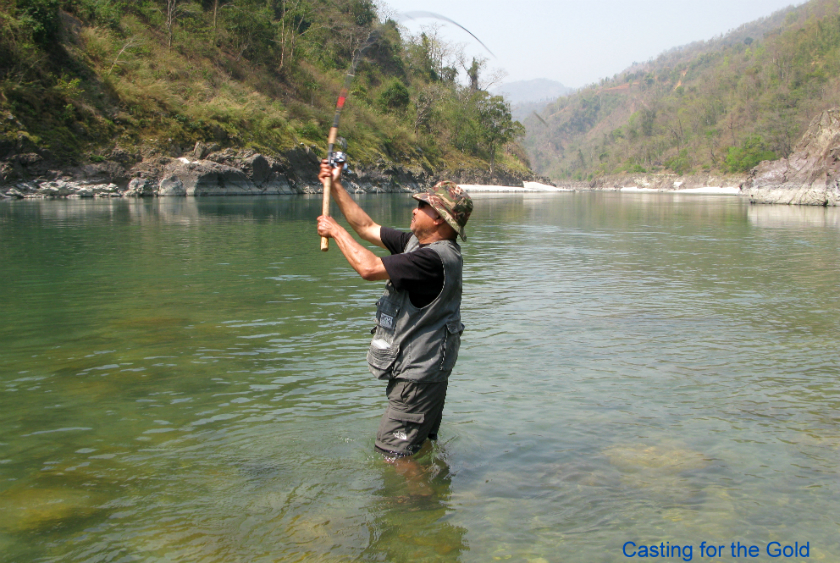 The golden mahseer of the Himalayan Rivers, with its streamlined body and resplendent hues of olive green, silver, and yellow with a golden tinge, is a beautiful creature to behold, and a formidable challenge to bag.
This little adventure of mine meant a lot to me because it successfully motivated a group of veteran anglers from Dharan to set a record for the first ever mahseer catch-and-release among their fishing fraternity in the waters of the Sun Koshi, Tamor and Arun rivers in eastern Nepal.
In March 2005,  I decided to go on an angling tour of eastern Nepal's Sapta Koshi river in quest of the legendary Himalayan fresh-water game fish, the golden mahseer (tor putitora), commonly called the pahenle sahar in Nepali. Jim Corbett called it the fish of 'my dreams' and went on to christen it 'the tiger of the water'. Skene Dhu, a prominent writer named it the 'Mighty Mahseer'.
The time for my reckless wandering into a godforsaken hostile territory was not right as the length and breadth of the country was hard hit by Maoist insurgency. Friends and family members called my single-mindedness nothing but 'sheer lunacy'.  Perhaps, they sounded right but call it madness or call it destiny, that's what drives anglers in pursuit of this most coveted quarry, the undisputed king of the Himalayan rivers.
After a 45 minute flight to Biratnagar, it took an hour on a taxi to get to Dharan, a well-planned and remarkably clean city and former recruitment center for the Brigade of Gurkhas. Soon, I was shaking hands with my fisher friends: Bharat Sunuwar, Tek Bahadur Limbu, Upendra Limbu and Prem Gurung. I knew I was in capable hands for the seasoned veterans, with more than 15 years of their angling in the Sun Koshi and the Tamor (a tributary of Sapta Koshi), knew these waters like the back of their hands. The trip would not have been possible without them.
Mai Beni
Our final destination was Mai Beni, some 35km south of Dharan, a remote hillside slope that jutted out to the confluence of the snow-fed rivers, the Sun Koshi (locals also called it Dudh Koshi) and the Arun.
We made the first leg of the journey from Dharan to  Baraha Chhetra (a Hindu shrine) on the roof of a battered Land Rover (we couldn't get seats)—leftovers from Dharan's British Gurkha days. Can you imagine, these jeeps were good enough for 15/16 people, shuttle 40-odd commuters at a time crammed in like gundruk— a type of local spinach tamped down into an earthen pot, set out to ferment, then sundried and served as a popular curry.
Phew, the hour-long ride on the heavily rutted treacherous hill track in the rickety old jeep with sheer drops to the raging Sapta Koshi below happened to be one of the most hair-raising experiences of my life!
Our first layover was Baraha Chhetra, a small pilgrimage town lined up with tea houses, shops, living quarters and a dharmashala (rest house for the pilgrims). A stone paved path led to the famous Baraha temple, a Hindu god Vishnu in the manifestation of a pig. Hugging a wooded hillside, the temple looked onto the mighty Sapta Koshi, a stone's throw away.
Our much-awaited angling began that evening. After the clammy day under the hot March sun, the light breeze that came off the river felt fresh and invigorating. I couldn't believe my eyes when I stood before the magnificent Sapta Koshi, the largest river system in the country, which stretched out in all its glory, awesome and dignified, the water a soothing turquoise hue. The swirling depths, the sound of lapping waves against the gentle rumble of the river, the cool waft of air, the smell of Koshi water, and the lush wooded hills around made my already breezy and sparkling spirits running riot.
Total bliss!
Excited? Of course, I was for the prospect of fishing these legendary waters for the first time was just too overwhelming. I was the most euphoric of the group, anticipation and awe running at fever pitch. Devotees offered prayers and took holy dips at a nearby confluence where a small feeder stream called Coca met the Koshi.  Forested hills towered on the other side of the river. A suspension bridge over the Coca hung across the northern skyline, connecting two districts, Sunsari and Dhankuta.  Our angling that evening proved unsuccessful though and we retired for the day.
A stepping stone
We had company at the river bank the next morning—local fishermen. And while we fished using metal lures, they used flour paste for bait. We followed an anxious cast-and-retrieve routine, almost like the rhythmic ticking of a clock, over and over again, eager for a bite. The locals, however, followed a simpler more relaxed routine—simply stand-and-cast then wait with the patience of Solomon.
After something like two hours of working the riverbank up and down, our efforts paid off.  Prem landed a beautiful golden mahseer weighing nearly two kilos. The flurry of excitement was joined in by the local fishermen too. After a brief photo shoot and an exchange of pleasantries, we released the catch.
Even before I started this journey, I had a new sense of purpose all set in my mind–to release all the mahseer catches we made. I was rather dubious about the whole idea though for nothing of that sort had ever been done before by my fisher friends in their 15 years of angling. It would indeed be a Herculean task, I realised. To my great relief and delight, my wonderful friends agreed on the catch-and-release when I explained in length the steady decline in the golden mahseer population over the years and its threatened status.
I had no idea then that it would prove as a stepping stone in all future releases of mahseer catches made by my Dharan friends–to this day! Surprisingly, Prem, the most opposed to the idea turned out to be the first to admit openly that it was more fun and sporting releasing the catch, rather than keeping it back for eating.
The Dharan friends even went on to help me raise some awareness among the riverside community on the alarming phase that particular species was going through and the dire need to conserve them.
Bad vibe
We had no idea that the news about the Catch-n-release had already spread like bushfire—apparently picking bad vibes.
Eyebrows were raised and fingers pointed at us when we walked by the bazaar. For the locals, releasing a hooked fish was unimaginable and unacceptable–nothing less than a cultural shock. No sane person in their community would ever do a thing like that.
It did, however, help me rub shoulders with the locals, who listened curiously to what I had to say.  I particularly shed light on the popular but unethical methods like blast fishing, poisoning, electro-fishing, fishing during the spawning season and rampant gill-netting. Gorey, a senior local fisherman, who happened to drop by the tea house, although deeply skeptical, was my eager audience.
I began, "Gorey bhai, I'm here not to mislead you or trying to persuade you to release your catches, because I know that's your bread and butter. All I want to say is that there's an urgent need to save the golden mahseer from being destroyed by unethical means, if we're to enjoy harvesting it year after year.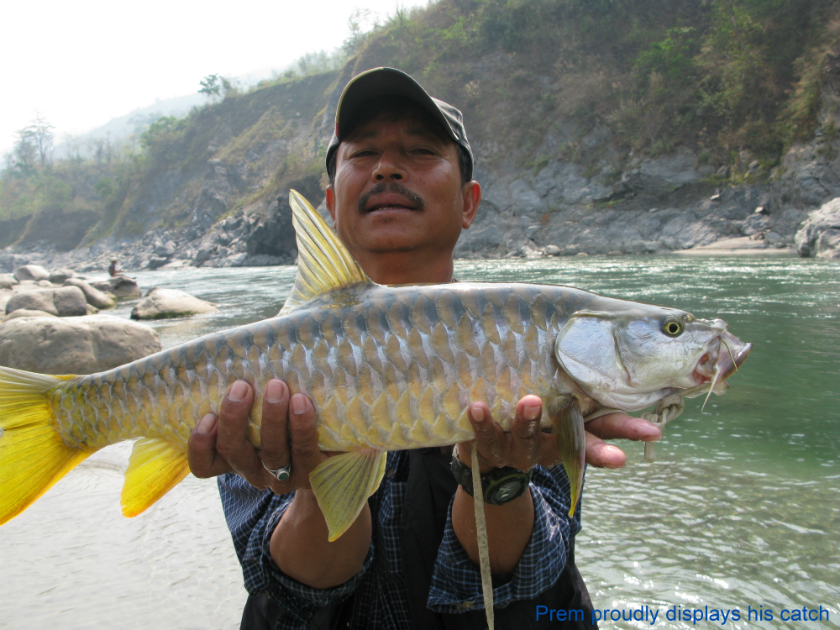 It's time we preserved it for posterity, so that our children and grandchildren, too, can reap the rewards."
"Secondly, the fishing must stop during the breeding time. A spawning female mahseer", I explained, "lays eggs in batches of nearly 25,000 eggs per kilo of body weight."
"So a golden mahseer weighing 10 kilos lays some 225,000 eggs," I went on.
"Unfortunately, mahseer eggs and fries have a high mortality rate for they undergo rough waters and harsh conditions," I explained.
"If, say, only 25% of them survive and make it to adulthood, what will we have the next season:  56,250 to be exact, plus the spawning mother, right? But, if we kill the breeding female we will lose all 56,251. No?"
I did my best to get the startling facts across, hoping that Gorey understood the facts, the issues and the consequences. And though he looked confused and overwhelmed by the figures at times he made it a point to nod vigorously.
Boundless Koshi
Our hike to Mai Beni began the next morning, each guy lugging a backpack weighing no less than 10 kilos. Prem's weighed a whopping 30 kilos. Besides, a few pieces of clothing and our fishing gear, most parts of the load was taken up by food supplies, including enough rice and dal (lentils) for the entire trip and pots and pans to cook it. For a city slicker like me, it felt like venturing into the "world's last great wilderness!"
The trail followed the contours of the boundless Sapta Koshi all along. I stopped occasionally to gaze silently down in awe at the great expanse of water that transformed itself into deep pools followed by raging whitewater rapids. Rocks and huge boulders, some the size of a truck, lay piled up against the river banks.
The trail cut across rugged terrain with no sign of habitation until we arrived at Ghumti Khola, the proposed site for a hydroelectric dam, then a small settlement called Tribenighat. A closely knit village at the confluence of the Sun Koshi and the Tammar river, the latter spanned by a suspension bridge.
After Tribeni, the river downstream takes on the name of Sapta Koshi, a merger of seven rivers, namely Sun Koshi, Indrawati, Tama Koshi, Likhu, Dudh Koshi, Arun, and Tamor and flows south to the plains of nearby India and ultimately the Ganges or the holy Ganga.
Tribeni is also known as Majhini Ghat named after a lady from a Majhi (fishermen) ethnic group; ghat translates to a river bank or a cremation ground for the Hindus. As the local legend goes, this lady used to ferry travelers across the Tammar River in her dugout canoe long before the present bridge was erected.
The locals also say that she once ferried late King Mahendra( Late King Birendra's father) across the river. Unaware of the stranger's identity, the Majhini insisted that before she'd take him across he must help her carry some firewood up from the river bank. By all accounts, the king did so, with pleasure.
These areas of Nepal's eastern lower hills are inhabited mostly by ethnic Rais, especially of the Bantawa and Chamling clans, who live by fishing, raising goats, chickens and selling bamboos by ferrying them down the Sun Koshi, but grow very few crops.
Rice is an extreme rarity in those parts and corn serves as both the staple crop and the daily meals for the locals.  We had to survive on dhindo (cooked corn flour dough) after our stock of rice and dal (lentils) we back-packed along ran out.  We stopped briefly for tea and a little snack at Tribeni, and then continued on.
Our next village stop was Shimle, which boasted of an imposing suspension bridge over the river Arun, which divided Bhojpur from Dhankuta district.
End of Part 1 of 2
---
Published on August 8th, Wednesday, 2018 10:55 AM
---
Download Onlinekhabar App. Android click here & IOS click here . Keep in touch with us on Facebook, Twitter & YouTube.