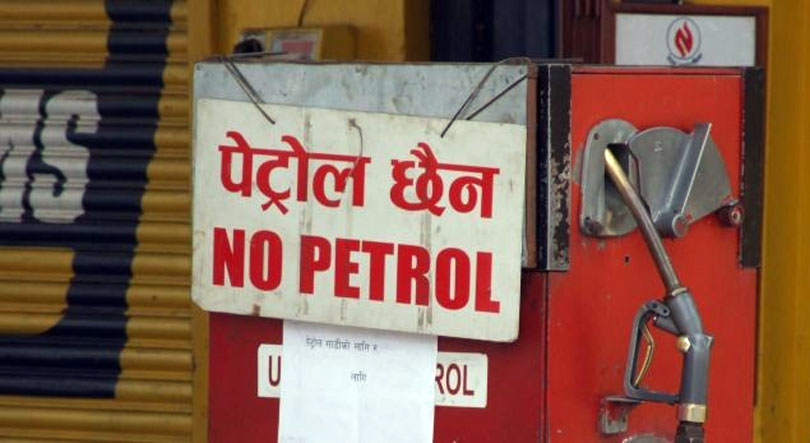 Kathmandu, November 2
Kathmandu Valley is currently grappling with unavailability of petrol because of Nepal Oil Corporation's inability to distribute petrol to fuel stations during Tihar holidays. Thanks to this inability, most of the fuel stations based in Kathmandu and surrounding areas are sporting 'No Petrol' signs.
NOC has not supplied oil to the market during Tihar holidays, conceding that it could not supply oil as its employees had not returned to work. Because of this, motorists have not been able to refuel their vehicles for three consecutive days.
In major urban areas, no fuel station is distributing fuel, accentuating the shortage. This means going has become really tough for those, who want to embark on long-distant travels, with NOC doing nothing to address the situation.
After a gap of three days, NOC supplied petrol to the market on Wednesday. The valley alone requirs around 2,500 kilolitres of oil every four days. But on Wednesday, the state-owned oil monopoly supplied a paltry 300 KL to the market.
Netra Kafle, chief of NOC's Thankot depot, claimed that the problem arose because fuel stations did not receive oil consignments during Tihar holidays. He said problems arose also because NOC employees had to be given leave during the festival.
Last Saturday, we distributed eight lakh litres of petrol (8 KL) in Kathmandu, Kafle said, adding: Today, we have sent 3.44 KL petrol to the market.
Kafle conceded that NOC could not supply petrol to the market because employees of its Thankot depot had not returned to work. Today, there was a need for more than 500 KL petrol in the market, but neither employees have not returned to work nor are tanker drivers available to load oil.
There's enough stock of petrol, Kafle said, asking all not to believe in rumours.
Kafle said NOC will start supplying oil to the market from tomorrow onwards.