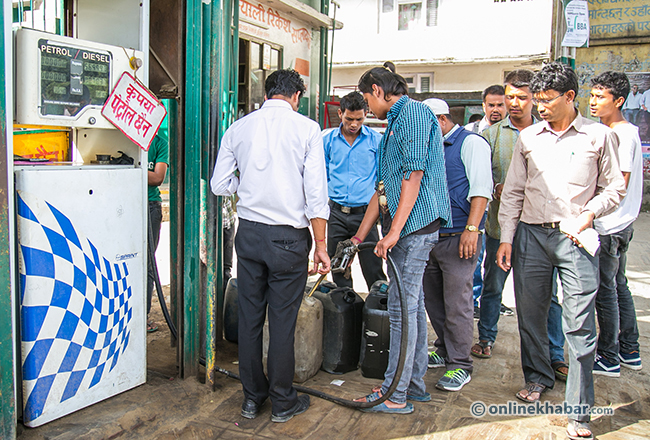 Kathmandu, July 4
On Saturday, Kathmandu witnessed what looked like an emerging oil crisis.
There were long lines outside fuel stations, with motorists desperate to refuel their vehicles. On Monday too, queues were very much there.
This was because oil tankers bound for Kathmandu from Raxaul remained stuck on the Mugling-Narayangadh road on Friday, owing to incessant rains that caused flooding and landslides at a number of places.
On Saturday, Nepal Oil Corporation did not distribute petroleum products to fuel stations in Kathmandu because not all oil tankers bound for the Capital City from Raxaul arrived.
Mukunda Ghimire, spokesperson for NOC, conceded that there were lines outside fuel stations on Monday as well because they did not distribute fuel on Saturday.
On Sunday, we sent 623,000 litre of petrol in the market, while on Monday, we sent 500,000 litre, Ghimire said, adding: The lines will deminish gradually.
Kathmandu's daily petrol requirement is around 450, 000 litres. Even a day's disruption in vehicular movement causes fuel shortage in the market.
NOC's Thankot-based fuel depot says this situation has arisen because of what it calls an inadequate storage capacity.