Priyanka Karki is one of the most popular actors in Nepal. From teleserials to films and web series, she has acted in everything. To date, she has done over 30 films and won several more awards for her work. Karki was announced as the best actress for the role in Suntali and Chhakka Panja.
This time, we have brought seven interesting things about Priyanka Karki. We hope you will check it out and know more about her.
1. Chop Chop Diaries
Besides acting, Priyanka Karki is also interested in cooking. To sustain her interest, she has launched a YouTube show titled Chop Chop Diaries. In her show, celebrities are invited as guests and asked to cook different food items with Karki.
Likewise, there is a Q&A segment, in which the guests answer her questions while eating. Recently, a new format has been introduced in the show where the food is precooked and guests hold a conversation with Karki while having the food simultaneously.
In its latest episode, Vek and Yabesh Thapa were featured as guests. Some other celebrities who have been to the show are Barsha Raut, Shrinkhala Khatiwada, Paramita RL Rana and others.
2. Miss Teen 2005
Priyanka Karki earned into the showbiz industry at a very young age. She was the winner of Miss Teen 2005. It is one of the biggest beauty pageants in Nepal annually organised by Kathmandu Jaycees. The first edition of the event was first held in 2002 and has been annually held since then.
3. Starting off with a sitcom
Before appearing in the motion pictures, Priyanka Karki acted in a weekly sitcom, Ghar Beti Baa. The show was very popular back then. The story of Ghar Bheti Ba was primarily focused on disputes between landlords and tenants.
4. Instagram queen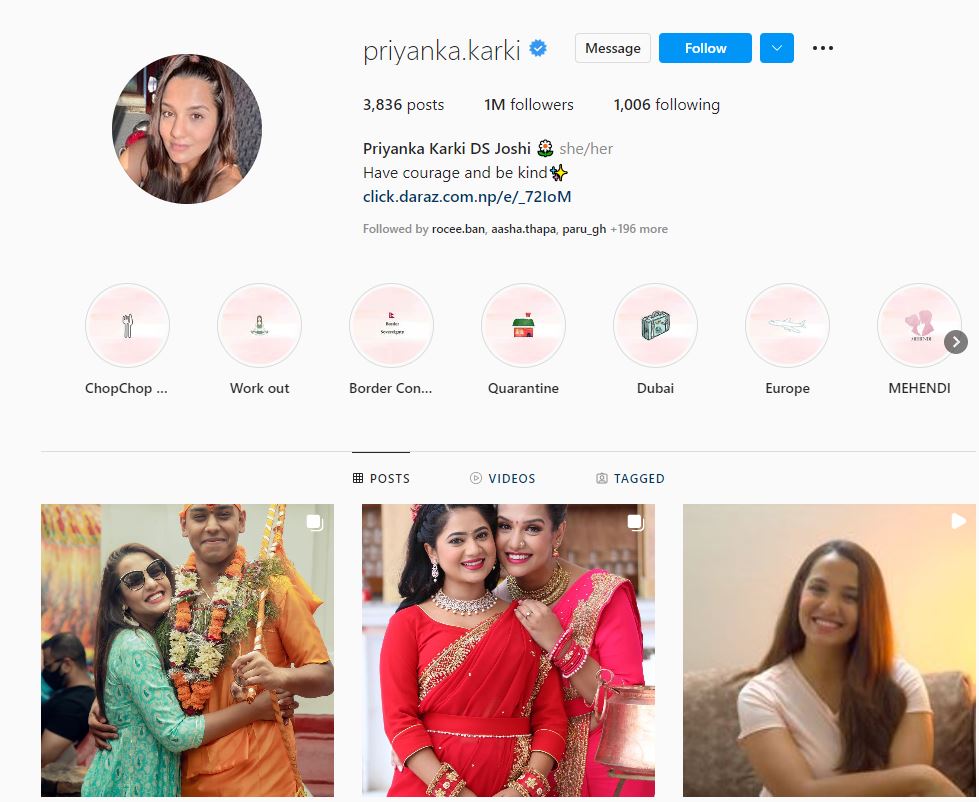 Priyanka Karki is a Nepali celebrity with the third highest number of followers on Instagram. Currently, she has one million followers. Ahead of her from Nepal are Aditi Budhathoki with 2.1 million and Nirmal Purja aka Nimsdai with 2 million followers.
5. Cover songs
Karki has also sung a few original and a lot of cover songs. In one of the originals titled Aawaran, she collaborated with Yama Buddha, but her covers such as Maya Ta Maya Ho and Like I'm Gonna Lose You are also quite popular. Both of the cover songs feature her husband Ayushman Deshraj Joshi.
6. Vlogger tag
Priyanka Karki is also busy recording her lifestyle. Her vlogs on YouTube are also popular among the audience. One can watch her daughter Aayanka and different aspects of her family life in the vlogs.
7. Anchoring
Karki is definitely a person with many feathers on her hat. Once, she was also an anchor for different shows. She anchored the fashion show The Glam Factor in 2006 and Glamour and Style in 2007. Similarly, she was also the host of a talk show titled Call and Win.