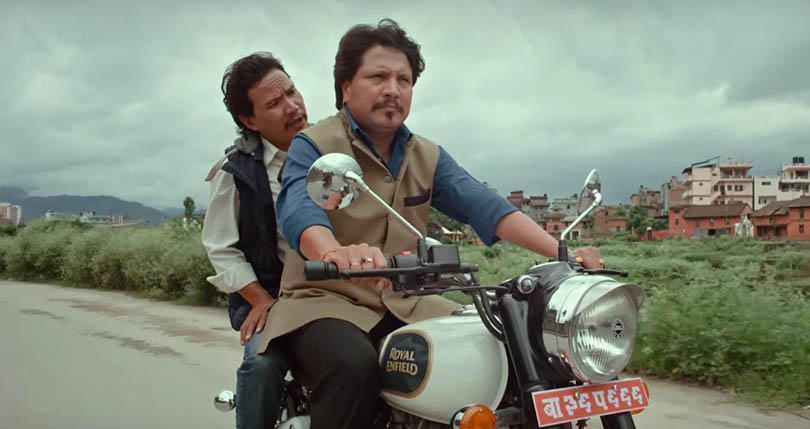 Aama Saraswoti Geeta Devi Films
Chhakka Panja marks the third collaboration between comedians Deepak Raj Giri and Deepa Shree Niraula and a motley crew of comedians, all of whom share a common provenance of prime time comedy shows thriving on what could be broadly called 'social satire'.
While it is only natural to see the tradition of comic relief find continuation in the Tito Satya duo's oeuvre, in Chhakka Panja, the transition from the episodic nature of a series to a feature length movie does not happen without a few loose ends.
The movie (about a curious group of villagers in post-conflict Nepal, where the remittance based economy is changing lives in striking ways) operates with the understanding of the episodic format of tv series. Like a shade of quirk clumsily given to a TV character to save them from broad strokes (a catchphrase, for one), all the characters in Chhakka Panja are given a moral leitmotiv, devised to further the social awareness the movie brings to the mix.
But it is highly disconcerting to see Chhakka Panja use this advantage only as a medium to purge itself of the act of dismissal.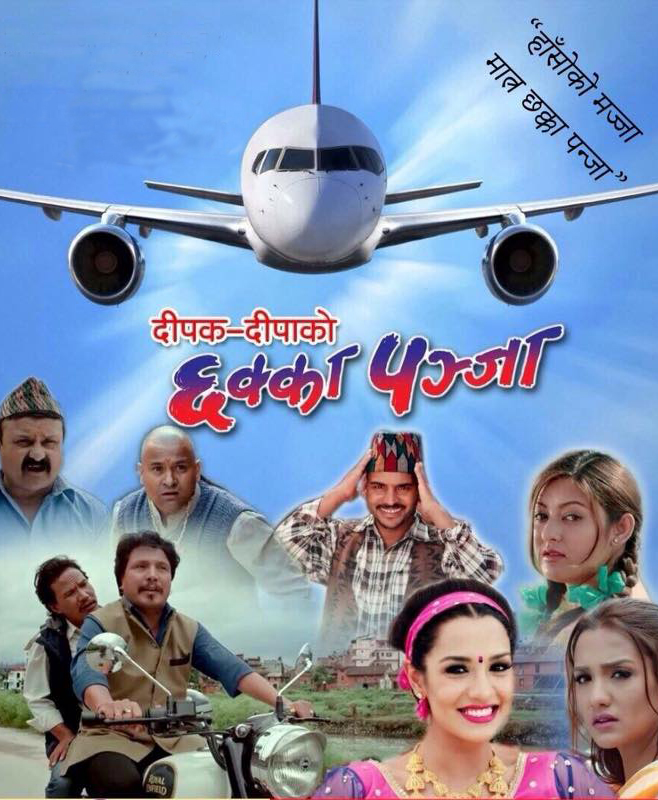 All the characters in Chhakka Panja are given a moral leitmotiv, devised to further the social awareness the movie brings to the mix. 
There is a distinct cadence to the delivery of jokes in the duo's movies characterised by a relentless delivery which is only slowed down to give way to operatic scenes.
In Chhakka Panja, these scenes talk about the irreverent men folk of the village and hence the plight of the women. In what can be only be described as passive aggression of the fairer sex, the movie, directed by Deepa Shree Niraula this time, suggests a female uprising against patriarchy before finally submitting to it, as if to say 'kay garne', a refrain which has its origin in the tenacity of life in Nepal.
Priyanka Karki's Champa is an embodiment of this submission. With a legendary beauty, the talk of whom extends to distant villages, she is fiery when in contempt but not without the possibility of genuine tenderness. While it is not palpable at once, Champa is an alluring character to which, Priyanka Karki adds with her youthful beauty.
It also adds to the glorification of Champa that most other villagers are either ageing or are in their final years of youth.
At the other end of the spectrum are the men, more specifically the flippant Bhagwaan alias Raja (Deepak Raj Giri) holding on to his feudal past, fully aware of the loosing effect his standing has on the villagers. It is significant that a character like his finds place in contemporary Nepali cinema which, at least in its context, has evolved enough to embrace the change in social hierarchy.
However, it is no laughing matter that Chhakka Panja is unwilling to let go of its derivative past and fits itself tightly in slots of structure formed of relentless jokes, one ensemble dance routine, one romantic song and a cameo; with no room to escape.
***
Read also
'Akira' movie review: A history of violence
'Bir Bikram' movie review: Unpolished storytelling
'Chapali Height 2' movie review: A staggering display of excess