If the hills could talk, they'd tell you I'm a crummy hiker. They'd tell you that I get lost midway, and that I gasp for breath to cover the last stretch.
But I'd do it all again to get out of town–to at least get away from this cavalcade of dust that we receive in the name of city expansion.
The hills and the stretch of muddy roads opened up, inviting and challenging us and to make us realise that city life has softened us all.
Reaching Balthali wasn't a journey that had us just ride our bikes up to the destination. We stopped at the bus stop near Panauti and hiked from there on. The heat was beating down and slowly, the hills got steeper. All of it would seem like a normal hike up a hill, but what really struck me was how isolated we were from everything.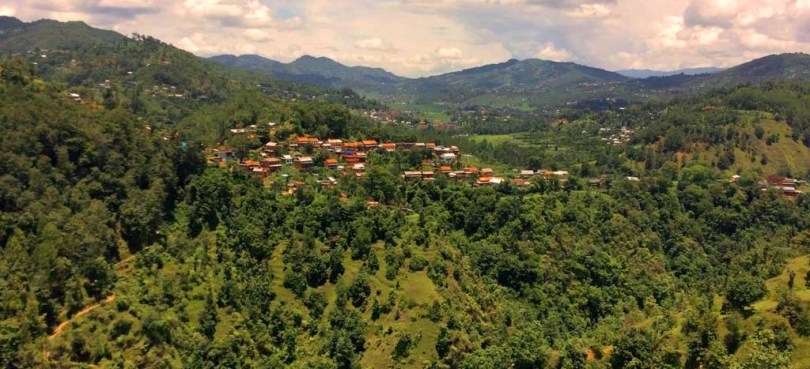 The trek up to Balthali Eco Hill Resort, where we were staying for the night, is steep and it becomes painfully clear when you're on your way down (more on that later). The property itself sits on top of a hill with no houses distracting the awesome view. It is one of those sprawling retreats dotted around the Kathmandu Valley.
The resort is one of those places that have close to zero occupants most of the time, and yet run year after year.
***
While traversing and minding my own business, I ended up traveling these beautiful beaten paths. I was walking alone, just thinking as I have always done. My friends were merely catching up, I thought. A call:
Where the hell are you?
I am walking, where are you?
We are on the right track up, turn around!
I should have known. The only time I ever lead a line was when I was under the influence of three bottles of beer, and there was just one bathroom at the pub.
After swallowing my pride, I walked back to realise that I had clearly deviated from a point that really should have had better signs. The right path should have me going up a hill with bamboos as stair supports.

After having walked 2 km or so pointlessly, I had decided to rest every 200 metres. With due diligence I hiked up. What sprawled open before me was a beautiful spot that can only be described as a paradise in a pocket. The people were warm, the abodes were comfortable and it just goes to show how much people in Nepal value visitors ans guests.
After spending a glorious night at the resort, then waking up to see Kobe Bryant play his last game (yes, I am a city boy) we headed down to a swimming spot. We traversed on what has to be the most dangerous downhill hike I have ever encountered. And I hiked down from Namchhe.
The fallen flora just makes it unbelievably difficult for you to get any grip. The trip down had dead leaves and fallen branches blocking our way, not to mention there was absolutely no real space to put your foot down. Around me, all people feared of someone slipping because if they did, it wasn't going to be pretty. Somehow, some way, all of us made our way down only to find this pool to be extremely shallow and already populated. So much for nothing!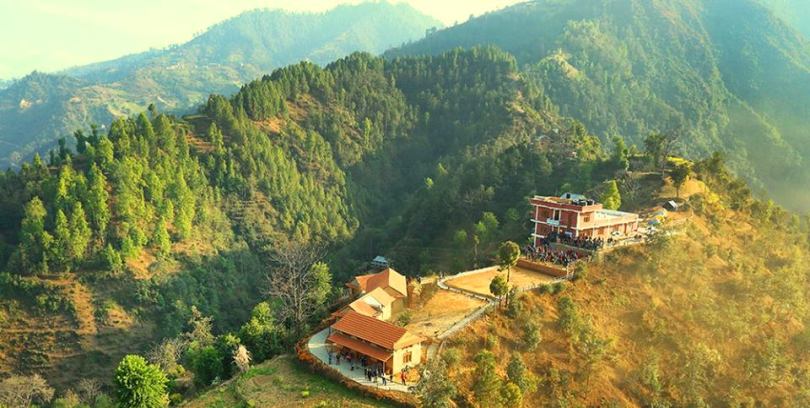 The trip back up was surprisingly easy and what really challenged us was getting to the buses in time to get back home before sundown. As we all crammed ourselves into the bus, we all longed for the city. It is a strange realisation, that tell you that maybe you're not ready for the hills.
But take nothing from it. Balthali is an amazing getaway. For those who look to traverse just a little further, gain just a little tranquility; it takes the cake. The fact that it is not all too well-known adds to its allure. You know that you will at least find some peace up there.
One of the most poignant moments during the entire trip was when we decided to rest while hiking downhill. All of us looked back up to the resort we were staying at and marveled at how far down we had come.
It was at this point one of our seniors looked at us with a bewildered expression and bluntly said, "Ka tyo ho mula, tyo po ho ni!" pointing at a hill even further up with only a tin sheet glinting through the tall trees.
Maybe I would do alright in the village.
---
Checklist
Getting There

While your mighty motorbike might take you to Balthali (depending on how much you love your trusty bike), it is advisable to take a bus to Khopasi.
Several buses to Panauti leave from Kathmandu's Old Bus Park daily. You will reach Panauti via Thimi, Bhaktapur and Sanga in about 3-4 hours. After you reach Panauti, catch a ride to Khopasi, the starting point of the hike.
Once you reach Khopasi it's a straight up hike. It is very advisable to keep asking what route you're on because some of us end up lost following a simple road.
The main junction is one that will lead you to a bamboo support mud staircase that takes you to the steepest part of the hike. Go up, with all your stamina in tow because you will need it.
Where to Stay

The Balthali Eco Hill Resort (9851168851) provides comfortable accommodation in its many rooms and tents. An executive deluxe room fitted with all modern amenities can also be booked. If you are more of the outdoor type, book a tent. It provides great views of sunrise from the comfort of your bed.
---
Also read
Herd Haven: Shuklaphanta Wildlife Reserve