Despite being a band that only got together around a year ago, Tape is garnering a lot of noise. Despite doing less than 10 shows, the band's music has been lauded by musical peers for its tightness and chemistry. Their music is oddly pleasing to listen to. It is irregular, asymmetrical, and even offbeat but as you carry on listening to it, you will find layers in their complex rhythms.
The trio's try
Niman Chitrakar on drums is flawless as he sets a tone for the band. Sagan Tamrakar's taping and melodies give the band a voice while Swopnil Karanjit's bass gives the band its soul. Having played together for a year, this trio are now gearing up to release their first EP called Stars Are My Friends on September 25 at Beers N' Cheers, hoping they can continue to touch people with their instrumental pieces.
"We are doing something we love. It's fun and pleasing and we hope to continue this for years to come," says Karanjit.
The band started in September 2020 when Karanjit and Tamrakar finally found the drummer they were looking for. The cousins were jamming together and were looking to form a band that leaned towards progressive rock and math rock when they met Chitrakar.
"The way he played the drums made us insecure. At that time, we felt it was going to be hard convincing him to join us," says Tamrakar.
To convince him to join, Tamrakar and Karanjit sent him a track they were working on, called Motion. Chitrakar liked it and a few days later, they were jamming together. Since then, they have been meeting regularly playing together, providing feedback to each other and learning from each other while working on their EP.
Tamrakar and Karanjit say Chitrakar's theoretical knowledge helped them a lot as it made the song-making process easy. They say he helped them structure the song in a better manner that they say was exactly what they needed.
"We were making songs, but his drumming ability along with his know-how gave us added motivation to work hard. It was like we had to work hard to get to his level," says Karanjit.
Telling stories without words
And, work hard they did. In less than a year, they completed five songs for their EP, which they have recently recorded. They say that the process was smooth because they did not have vocals in any of the songs. But despite not having vocals, their songs tell a story.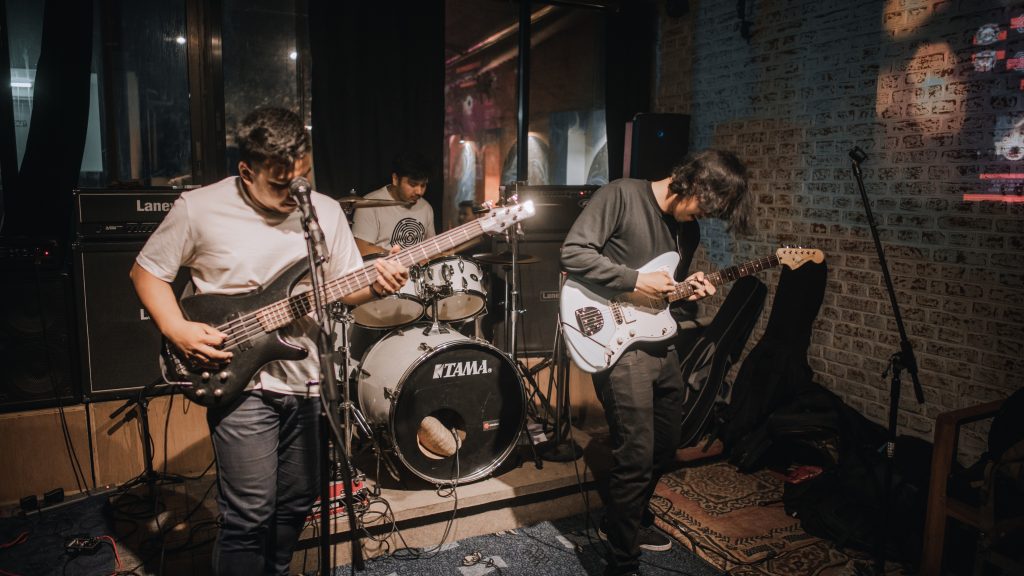 The motion was created by Tamrakar, thinking about a man in a coma who lived in a phantom reality. The band, thinking how a rhino would move, crafted G-Slide and their title track Stars are my Friend was created by Tamrakar who wanted to pay tribute to everyone who helped him to pursue a career in music.
"We try to tell a story through melody. I normally think about things, get into a zone and play. Sometimes, I create great things, other times not," says Tamrakar.
They started playing shows too. The first one was at Karanjit's house, after which they played at other venues. But, their break came when they played at Beers N' Cheers which has been a hub for original music in Kathmandu. There, they started getting feedback from musicians and opportunities to play. The hype started to build up around them.
"Things were going great for us when suddenly Covid-19 hit Nepal again and we under lockdown. It was like we hit a speed breaker," says Karanjit.
But, that did not deter them. They worked on their album and started recording as soon as lockdown lifted. The recording was done at Alchemy Inc where Sujan Joshi aka Hoko helped them with sound. The trio say they were lucky to have stumbled across Joshi who treated their song like his own and gave them tips to make it better.
"He went above and beyond our expectations and helped us out with sound samples and equipment. His inputs have been invaluable to us," says Tamrakar who hails Joshi's dedication.
The band now are focusing on their album launch which is getting closer. They hope people will like their songs and want to put up a show for everyone who shows up on September 25.
"People have supported us, watching us perform for a minute on social media. We're grateful for that and want to pay them back by giving them a show to remember," say the band.