Go on a morning tour, you can hear bhajans (Hindu and Buddhist religious hymns) and devotional songs everywhere. Not only around the temples but bhajans have also been making the ambience of homes musical. Playing and singing bhajans are also considered mandatory in any religious activities, ceremonies, and worship. Further, most radios and televisions in Nepal also start their mornings by playing bhajan music.
Gayatri Mantra and Saraswati Vandana among others can be considered evergreen bhajans in Nepal. All these showcase the market of bhajans is exciting in Nepal. Additionally, in this holy month of Shrawan, Nepali society listens to and consumes more devotional songs and music.
So what is the status of bhajan music in Nepal? How many singers are involved in bhajans music as full-time bhajan singers? And how much do they earn? Let's find out here.
Very few established Bhajan singers
Most of the mainstream singers have sung hymns. Singers including Pramod Kharel, Ram Krishna Dhakal, Ananda Karki, Anju Pant, Purushottam Neupane, Prajapati Parajuli, Pashupati Sharma, Khuman Adhikari, Radhika Hamal, Devi Gharti, and Devika Bandana have sung bhajans.
In the past, the only medium to listen to bhajans was Radio Nepal. Radio Nepal started its mornings with hymns. Besides, hymns could be heard on the radio during festivals. In the days that followed, the audio hymns were gradually released. After the era of the video began, videos of bhajans are being released. Nowadays, videos of hymns are being made public. However, experts say that even a dozen bhajan music are not made public every year.
In India, there are many singers who have made a name for themselves by singing hymns. Even in Nepal, some singers like Bhakta Raj Acharya have made a name for themselves through hymns. He is given the title of 'Bhajan Shiromani'.
Besides, some other old singers including Nati Kaji, Phatteman, Krishna Man Dangol, and Shiva Shankar established themselves as bhajan singers by singing hymns on Radio Nepal. However, nowadays, there are very few singers known from the bhajans.
Among those, one is Resham Sapkota, who has already released more than two dozen bhajans since 2006. Many of his bhajans like 'Jhuto sansar' have earned millions of views on YouTube. He releases about three bhajan music every year.
Origins and influences
Recording bhajan music and making videos are different tasks. There are many bhajan mandalis (bhajan-singing groups) in cities as well as villages. Most of the established bhajans singers are found to have started their career from there.
For instance, Sapkota says he started singing hymns by being inspired by his father. He shares, "In my village, people used to sing a lot of bhajans. My father also used to sing many bhajans. Under his influence, I began to sing bhajans."
Like Sapkota, singer Khuman Adhikari, who has sung five bhajans, also shares that he sang hymns as he was impressed by the hymns sung in his village.
Singing for self-satisfaction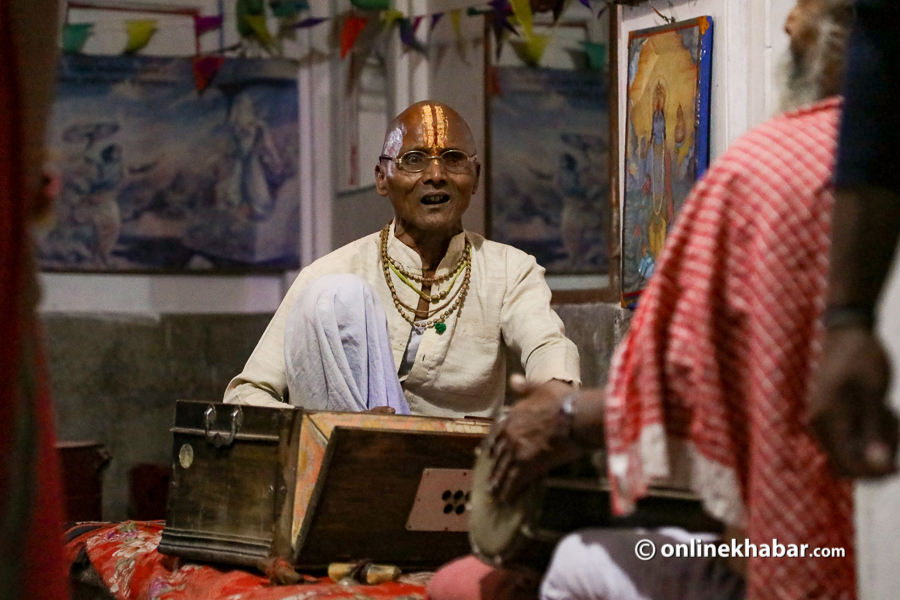 Most of the singers have sung at least one bhajan. But, why do they do so? What is the commercial side of bhajan music?
Many singers often associate singing bhajans with self-satisfaction rather than making earnings out of it, thinks Sapkota, "Talking about business in bhajan music is like talking about the commercial benefits of building a temple."
Similarly, Adhikari also says he does not see the commercial sides in the bhajan music industry. "In my case, singing bhajans is for self-satisfaction," he says.
Singer Shirish Devkota also feels the same, "Bhajans are connected with religion and culture. Therefore, it is sung for self-satisfaction and preservation of culture rather than profit and loss. I have also sung for self-satisfaction. So I feel many other singers also sing bhajans for the same reason."
However, Devkota admits that videos of the bhajans have started getting good views of late and the singers have started viewing bhajan-singing from a commercial angle as well. Singer Radhika Hamal, who has given voice to a dozen bhajans, also shares similar views.
"Initially, I sang without any financial hope, but I was rewarded," she shares, "I am lucky to have had the opportunity to sing many bhajans." She is happy that the bhajans have started getting good views on YouTube. However, she says it is sad that the numbers are comparatively very low.
Further, she adds, "It's sad that barely a dozen bhajans get released yearly. Having said that, artists should sing bhajan despite the risk of investment."
Meanwhile, Sapkota adds that bhajans made with hard work and research have become and are becoming commercially successful. Such bhajans win the hearts of the listeners and spectators. However, he is concerned about the recent trend of singing bhajans without any study.
In addition, singer Narayan Rayamajhi says even though singing bhajans has been a profession in India, a similar situation could not be created in Nepal. He explains, "Earlier, bhajan music were recorded by radio, however, now making bhajans costs millions. As it is not like any other commercial songs, there are very few people who are active in singing bhajans."
"We can find plenty of singers to sing bhajans, but there are a very few to continue. Despite the risk of investment, artists should take the lead in singing devotional songs," Rayamajhi adds.