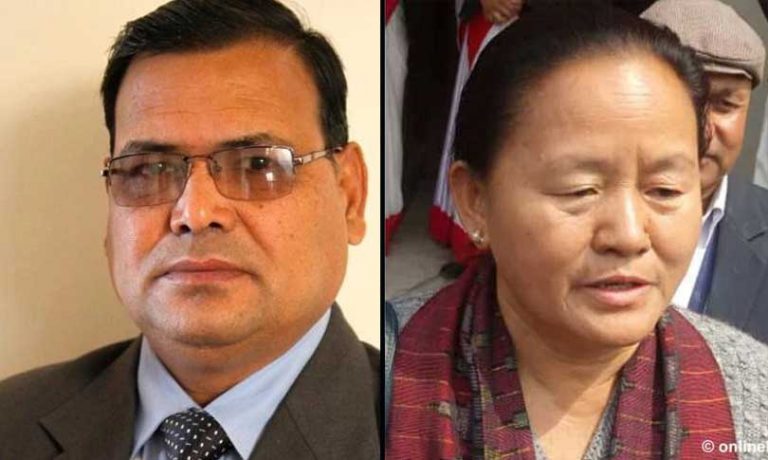 Kathmandu, July 29
Speaker Krishna Bahadur Mahara says lawmakers cannot demand resignation of either himself or his deputy Shiva Maya Tumbahamphe during parliamentary discussions as a case with the same demand is being considered by the Supreme Court.
Mahara responded to a statement made by Nepali Congress lawmaker Laxmi Pariyar in the House of Representatives today citing Article 105 of the constitution bars anyone including the House to discuss the issues which are sub judice.
Media have reported that the main opposition party is planning to raise the issue strongly in both the houses as well as on the streets.
But, Mahara told the House today, "I would like to inform you that discussion on this issue cannot be held as it may have adverse impacts on justice delivery about the case being considered by the court as mentioned in Article 105 of the constitution."
Advocate Achyut Kharel around a month ago had filed a case at the Supreme Court demanding a writ ordering the Speaker and his deputy to be from separate parties.
The constitution has it that the two top officials of the House of Representatives must belong to different parties. Earlier, the balance was maintained as Speaker Krishna Bahadur Mahara represented then CPN-Maoist Centre whereas the Deputy Speaker Shiva Maya Tumbahamphe represented then CPN-UML. However, the two parties later merged into the Nepal Communist Party.
Following the merger, the  Congress has been demanding that one of them resign. The ruling NCP, however, argues that no one should resign as both of them have already 'left' their parties after getting elected to the parliamentary positions, and they were of different parties when they got elected.