The hospitality industry in Pokhara is moving beyond its lakeside-centric market. Numerous hotels and resorts have come up on the outskirts of the city in areas previously less-frequented by tourists.
The newly-opened properties are all located on hills like Sarangkot, Nau Danda and Pumdi Bhumdi that surround the Pokhara Valley.
Lake Side, the most 'touristy' area in town has reached a saturation point when it comes to hotels and shops for tourists. This is the main reason why tourism entrepreneurs are looking elsewhere for business. Moreover, the price of real estate in the city has seen a dramatic increase in the recent years, and this has discouraged entrepreneurs to set shop there.
This renewed interest in areas beyond the main city gives a much-needed respite to the oftentimes sketchy tourism industry of the Lake City, which had until now been unable to expand to its full potential.
Here we look at six new hotels and resorts have opened for business in around Pokhara's recently.
1.
Himalayan Front Resort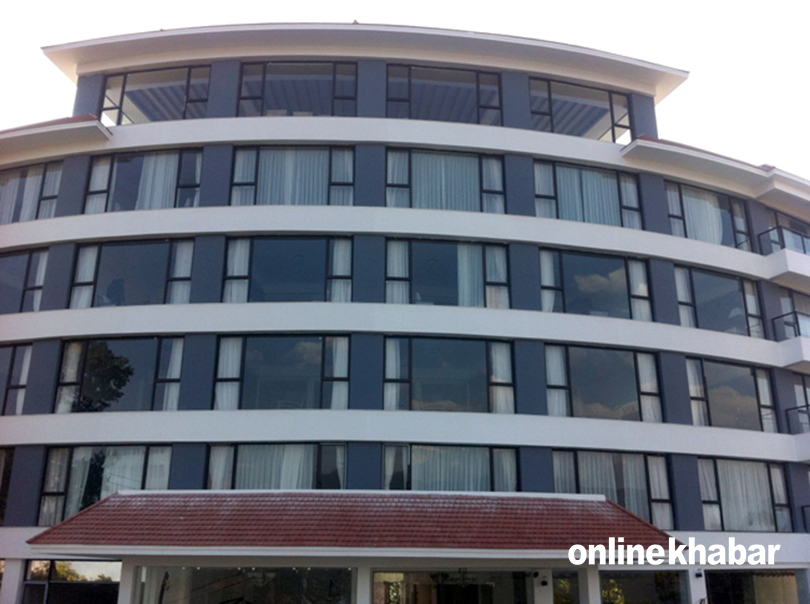 This hotel opened for business at the end of last year.  This sprawling four-star property is spread over an area of 5 ropanis, and is located in Sarangkot, northwest of the valley. Sarangkot is famous among tourists as a vantage point to view the Annapurnas.
The resort has seen a steady number of guests since its opening.  Japanese and European tourists come here in big numbers. But the resort equally welcomes domestic tourists, says owner Karna Shakya.
"The tariff for the rooms at the resort starts from Rs 5000 – 10,000," says Kiran Khadka, resident manager of the resort.
2.
Rupakot Resort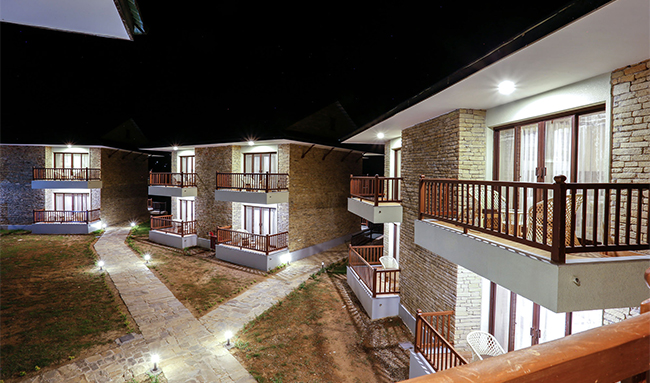 Rupakot resort is located near the Begnas Lake where 12 villas equipped with all modern amenities welcome guests for a relaxing stay.
From every room of the resort, the operators say, you can take a peek at the Annapurna range.
The resort's 42 deluxe rooms are priced at $ 300 per night. Discount is available for domestic tourists.
3.
Himalayan Deurali Resort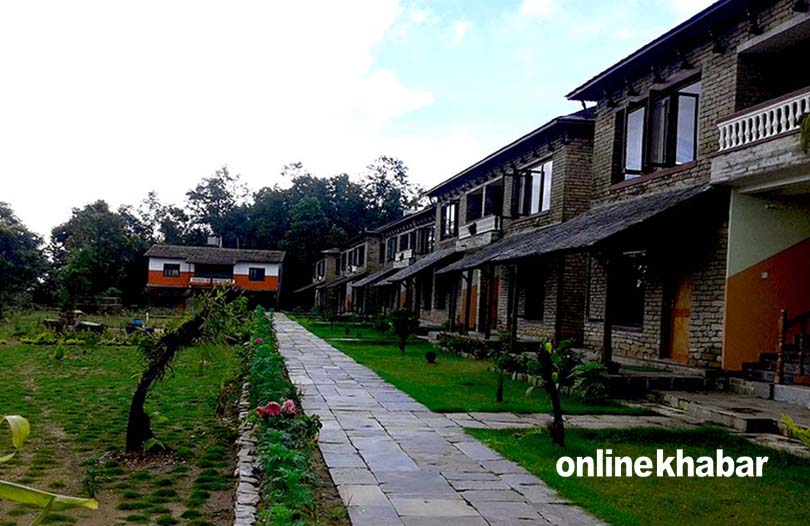 Located at around 20km away from the city centre, Himalayan Deurali Resort in Nau Danda is spread over a massive property of 330 ropanis.
The resort has six cottages with four rooms each. Designed to reflect a typical Gurung household, these 24 rooms are divided  into 'deluxe' and 'super deluxe' categories.
For foreigners, the tariff for a 'deluxe' room is set at $ 70-80 while a 'super deluxe' room can be rented at $ 80-100. The rates are different for domestic tourists. Nepalis can rent a 'deluxe' room at the resort for Rs 3,000 while a 'super deluxe' room can be rented for Rs 3,500.
The resort's remoteness may hold appeal to those seeking a retreat from the banality of routine life. All of the resort's rooms are built adjacent to the Machhapuchhre peak while its property stretches in all directions.
Frequented by Chinese tourists, the resort also has two in-house restaurants.
4.
Begnas Lake Resort & Villas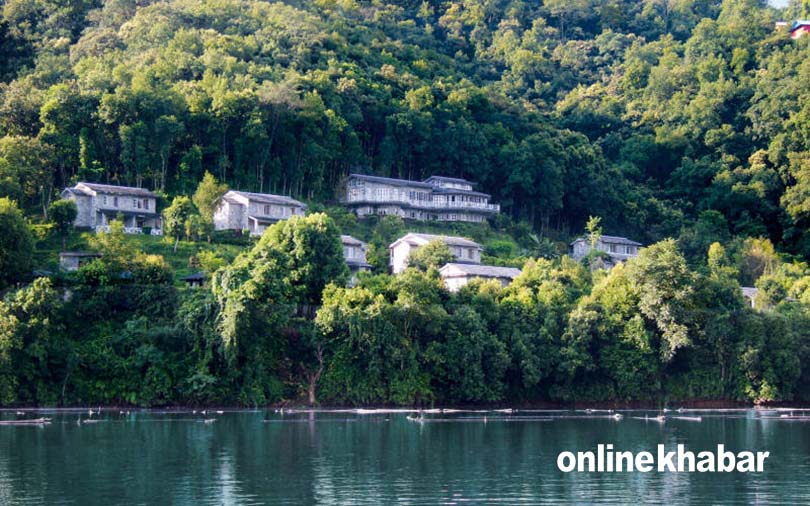 At Jimire, on the banks of the Begnas Lake, there is cluster of beautiful houses that look like a charming village. These 16 villas have 40 rooms, and are part of the Begnas Lake Resort & Villas.
Most guests who come to the resort prefer a half-hour boat ride across the lake to reach there. Those who do not prefer to boat can also walk to the resort. Once at the property, you will be welcomed by beautiful stone villas nestled on the foot of a dense forest with the lake just a stone throw's away.
The rooms' starting price has been fixed at around $120-130 while Nepalis can pay around Rs 4,000 to rent a room for a night.
This three-star property is spread over an area of 25 ropanis of land where banana, guava, oranges and many other fruits grow.
5.
Raniban Retreat Resort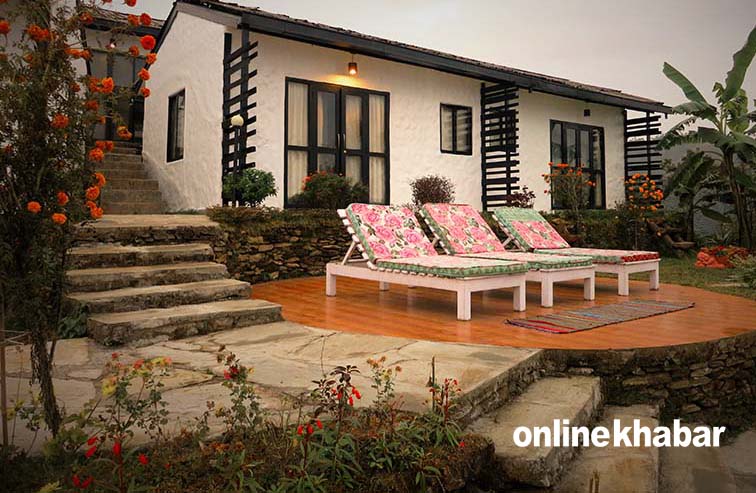 Raniban Retreat Resort's location in the south-west part of the city near the World Peace Stupa offers the perfect vantage point to view the Pokhara city, and the mountain range beyond in all its glory.
Its 10 rooms are located in individual cottages which are divided into three categories; deluxe, sunrise view and mountain facing. The resort's three mountain-facing rooms have their own private garden.
This eco-friendly resort is mostly run with power generated from solar panels. Solar energy powers its air conditioning as well as lighting.
The cost of the rooms start at around $90-160 for foreigners and Rs 4,000-5000 for Nepalis.
6.
The Pavilion Himalayan Resort

At Pumdi Bhumdi, The Pavilion Himalayan Resort has been providing traditional Nepali hospitality to its guests with a touch of modernity through its 15 luxury villas.
Located around 20 minutes away from Pokhara airport, the resort is spread over an area of 65 ropanis and houses almost all amenities required for a comfortable stay.
Apart from single and double rooms, the resort has a family suite, especially prepared for those travelling in a large group.
The tariff for the family suite is based on per bed basis and is charged $ 80 USD per bed. A single room costs $ 235, while a double room costs $ 360.