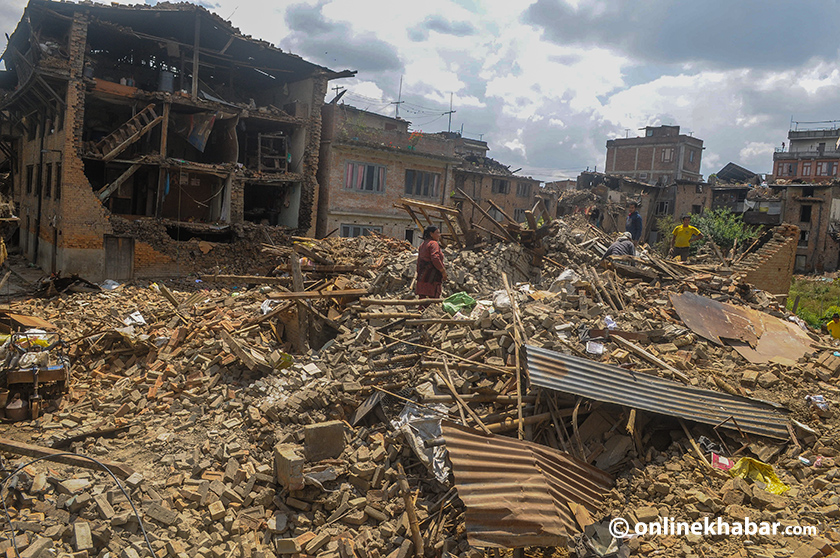 Kathmandu, September 10
Reconstruction of historical monuments in Kathmandu's historical town, Sankhu, which was devastated by the April 2015 earthquake, has not gathered momentum.
The reconstruction drive has almost reached four years, but it is snail paced.
Though the Department of Archaeology took up the responsibility for rebuilding of the Lichchhavi-era historical monuments, it could not speed up the works.
The earthquake had caused damages to 10 key monuments of Sankhu; namely: Bajrayogini Temple, Khagayogini Temple, Madhav Narayan Deuchau, Nhayayak Home (Mai's Home), Maighar Temple (Suntole), Padmagiri Chaitya Mahabihar, Bajrayogini Basundhara Mai, Narayan Temple, Krishna Temple and Yogeswor Jyotirlinga Temple.
Among them, the reconstruction of Narayan Temple, Krishna Temple and Yogeswor Jyotirlinga Temple has been complete, shared Department of Archaeology's Information Officer, Damodar Gautam.
Reconstruction of remaining seven other monuments is being coordinated by the Department as part of its multi-year plan, shared Officer at the Department, Sabita Neupane.
The delay in the reconstruction of the monuments has outraged locals, said Sangeeta Shrestha, a local of Sankhu.
RSS