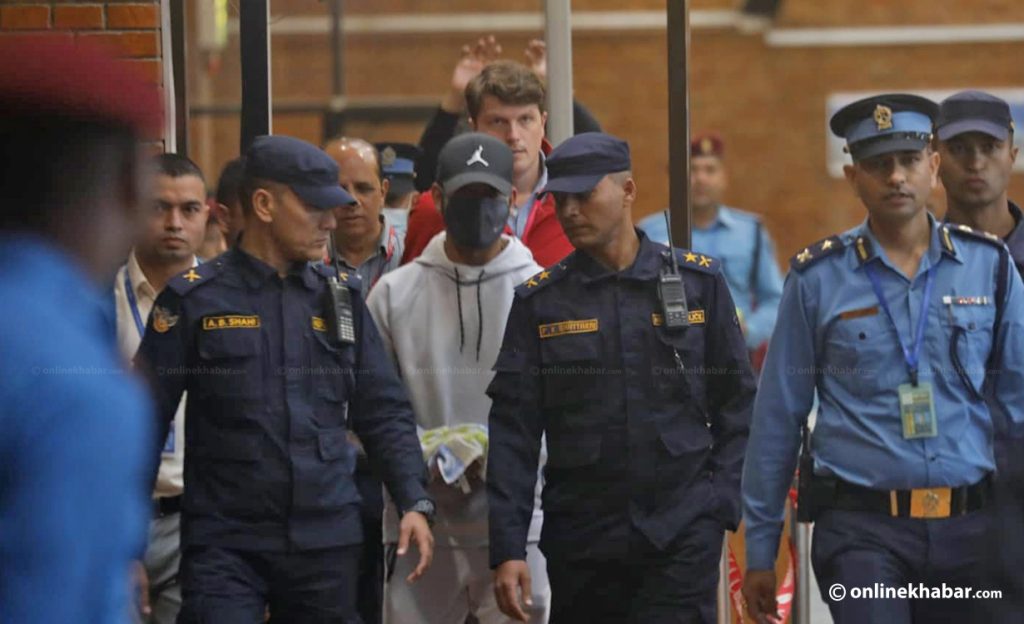 Kathmandu District Government Attorney's Office officially filed a charge sheet against Nepal's former cricket captain Sandeep Lamichhane for raping a minor. The hearing of the case is beginning on Tuesday to determine if Lamichhane will be sent to judicial custody until the case is settled or released.
The police are confident that they have enough evidence that proves Lamichhane is guilty and the attorneys hence have asked for a 12-year sentence for the globetrotting cricketer. But, Lamichhane, from the first day, has been pleading innocent stating this a ploy to defame him and affect his rising career.
While the trial is beginning, we have got statements from Sandeep Lamichhane, the alleged survivor as well as some other people related to the case as recorded by the police. Comparing their statements, you can know what happened before and during that fateful night.
The common denominator: Dev Khanal and Snapchat
The two, the survivor and Sandeep Lamichhane, met through cricketer Dev Khanal, as told to the police by both of them. Khanal had kept a photo with Lamichhane on Snapchat, a social media platform, after which the survivor sent Lamichhane a friend request. Lamichhane claims he did not accept it right away, but when he found that the survivor was Khanal's friend, he accepted the request. Following that, the two started to talk sending photos and videos via Snapchat.
Who initiated to meet?
The two kept on sharing snaps and messages for a few months, say both Sandeep Lamichhane and the survivor. But, when it comes to who asked to meet the other first is where there is a conflict between them.
Lamichhane told the police the survivor made the first initiation to meet as she was a huge fan of the cricketer. He says he told her he did not have time and would meet her after coming back to Nepal from the Kenya tour and the Caribbean Premier League in September. He claims the survivor asked to meet him repeatedly and said how she needed to talk about some personal things and needed his help. He said he met her, not wanting to disappoint her.
But, the survivor's story is different. She says it was Sandeep Lamichhane who asked to meet before the cricketer's flight. As per her statement, he told her as he would not be coming back to Nepal immediately after the Kenya tour, it would be great if they could meet one day before he was due to fly. As he insisted, she told Lamichhane that she would think about it.
The next day, she says got a call from Lamichhane before noon, telling her he would call her soon and it was not until 6:30 pm that she got a call from him, asking her to stand outside the parliament building in New Baneshwor. After she refused to go there, Lamichhane went to pick her up from Old Baneshwor at around 7 pm.
So, it is unclear as both their statements are conflicting regarding who wanted to meet whom. But, after they met, the real issue began.
Drive to Nagarkot
Sandeep Lamichhane says the girl wanted to go to Nagarkot, but the girl says it was Lamichhane who had asked to go there despite her not wanting to go there.
Lamichhane claims the girl told him to go to Nagarkot as she was in the mood to go there. But, as he was due to fly to Kenya the next day, he refused. But, as he did not want to disappoint someone, he told her they could go but had to get back early. During the drive to Nagarkot, Lamichhane claims the girl told him she was 19 and that she studied in class 12.
Sandeep Lamichhane says he even asked her if her hostel would be open, adding it would be better if they ate something in Bhaktapur and went back. But, he claims the girl told him how she wanted to see the view of Kathmandu from Nagarkot and that Lamichhane should not worry about the hostel.
During the drive, he says they talked about the girl's relationship with Dev Khanal, cricket and Lamichhane's musical career. In Nagarkot, they went to Boginee Resort, where they spent a few hours talking, singing and eating. He says he even pulled out his guitar and sang along with the girl. He says the girl even put her head on his shoulders, which made him uncomfortable and asked her if she wanted to return. It was 11 by the time they left Nagarkot.
But, the girl says she was taken to Nagarkot without her will and Sandeep Lamichhane even enquired about booking a VIP room at the resort. He even asked her if she wanted to drink alcohol, to which she said no, along with telling him she could not stay in Nagarkot as she had to attend classes the next morning.
The fateful night
The survivor says Sandeep Lamichhane booked only one room at Kathmandu Inn, but she asked him to book two. When they reached the hotel, Lamichhane asked the survivor to put on a mask and gave his mask to her and asked her to get the keys from the reception and go to the room. They even changed a room as the AC was not working in the one they got. She says he asked her to not sleep with clothes on too, but she refused and slept with her clothes on.
She says she dozed off and when she woke up, Lamichhane was next to her, naked. He pulled her pants down and was raping her. She was in shock, but as she was physically pinned down, she could not do anything as she says Lamichhane's semen was all over her abdomen. She says he raped her again a few hours later and when she tried to protest, he hit her on the back. Shocked and afraid, she could not do anything as he abused her.
In the morning, she says Sandeep Lamichhane dropped her at her hostel.
Lamichhane's version is different. He says they had to take a room at Kathmandu Inn because the survivor told him she could not go to the hostel as it would be closed. Shocked at what she said, he told her he had to be at the hotel with the cricket team and asked her to come there with him. But, she refused as everyone would be there including Khanal. Then, Sandeep Lamichhane proposed to take her to Kathmandu Inn and book two rooms, but she did not let him do so, he says, telling him she was afraid.
In the statement, he says they did not share a bed as he sat on the chair talking. He wanted to go, but she told him to stay and leave in the morning. He says they talked about her parents' divorce, sponsoring her studies and her life. He even sang songs to refresh her mood. He says he slept on the chair and woke up at 6 and left telling her he would be busy as he had to concentrate on his game.
When he was accused of raping the girl who told him she was 19, Sandeep Lamichhane says he was shocked.