Laphing is a Tibetan street food that has been very popular among Kathmanduites of late. However, it is lockdown and it is stopping you to find this delicious Tibetan treat on the streets of Kathmandu. But, what can you do to satisfy your craving for this mouth-watering spicy noodle? Why not try making it at home?
Cooking laphing will not only satisfy your cravings, but you can also involve your family members to cook it together. If you are worried about the ingredients and cooking procedure, here we bring the recipe for you so that you do not have to wait for the lockdown to be over to get indulged in these soupy and spicy cold noodles.
Ingredients
For starch: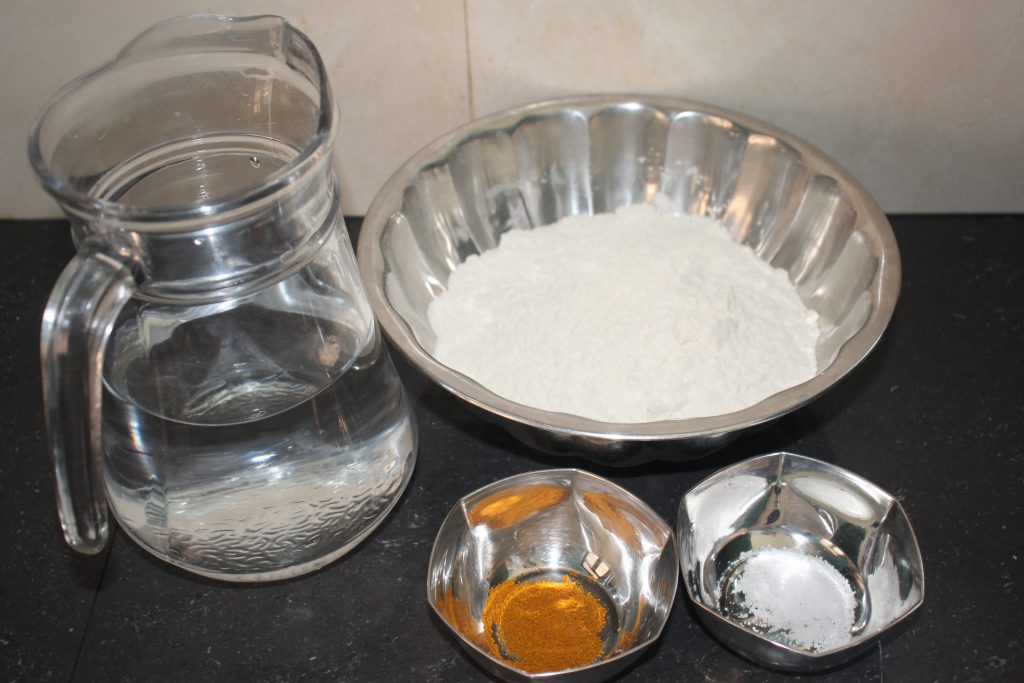 2 cups of maida (all-purpose flour) (approximately 320 grams)
Salt (a pinch of it)
Water
Turmeric or food colour
For chilli oil and sauce,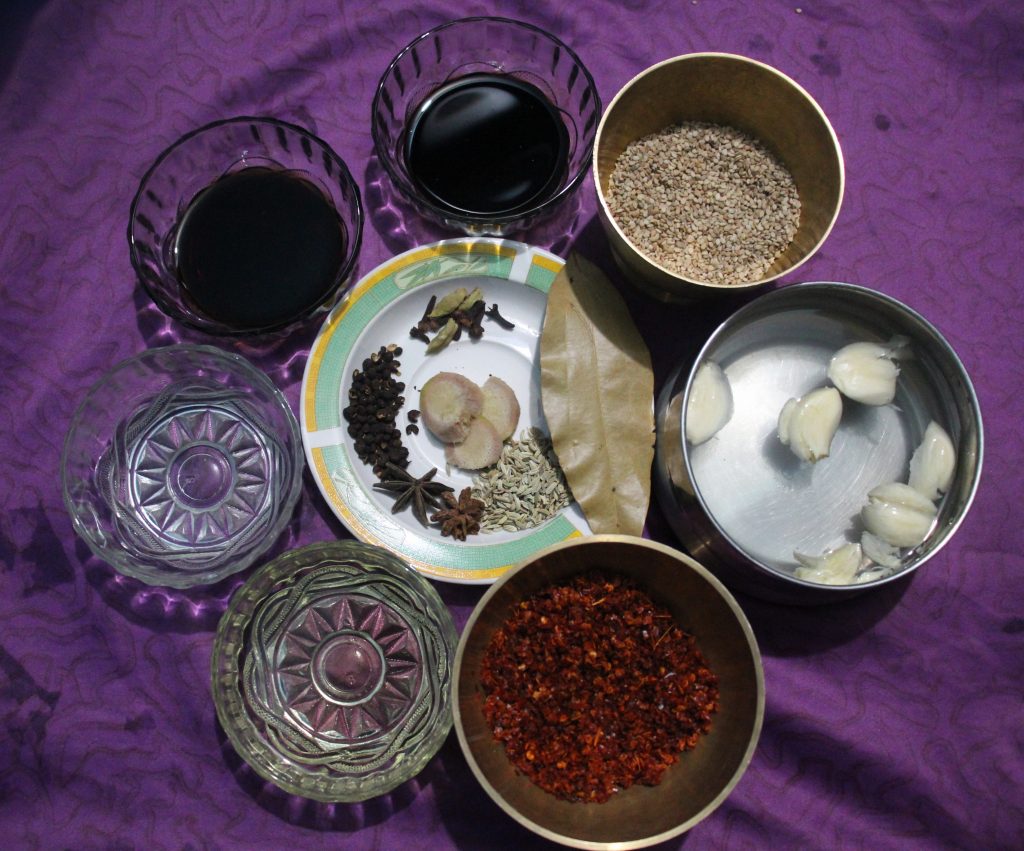 Chilli flakes or powder (four tablespoons)
Garlic cloves (five to six)
Finely chopped spring onion (optional)
Salt
Light soy sauce (two tablespoons)
Sesame seeds (two tablespoons)
Oil (half cup)
Dark soy sauce (one tablespoon)
White vinegar (four tablespoons)
Bay leaves (three to four)
Ginger ( half an inch)
Sichuan pepper (one and a half tablespoons)
Star anise (one)
Fennel (one tablespoon)
Cloves (four to five)
Early preparations
You first need starch to make laphing.
To do so, take a bowl, mix flour and a pinch of salt together. Add water little by little and make a soft dough (as for regular rotis). Cover the dough and leave for at least half an hour. Then, again knead the dough for some time and set it aside for some 10-15 minutes covering the dough.
After that, shift the dough into a big bowl and fill water in the bowl. The dough should be submerged in the water.
Now, you need to mash or wash the dough with your hands in order to separate the gluten and starch for about 5-10 minutes. While mashing the dough, all the starch comes out and mixes with the water in the bowl. Thus, a milk-like fluid remains in that vessel. Transfer that fluid into another big bowl and keep it aside.
Take the remaining dough (gluten) to another bowl and repeat the same process of washing the gluten until it does not stretch any longer. Now, transfer this milk-like water into the first batch of water.
Then, strain that water with the help of a strainer in order to get rid of the remaining gluten. Cover the water with a plate and leave it overnight or at least for four-five hours without moving it at all.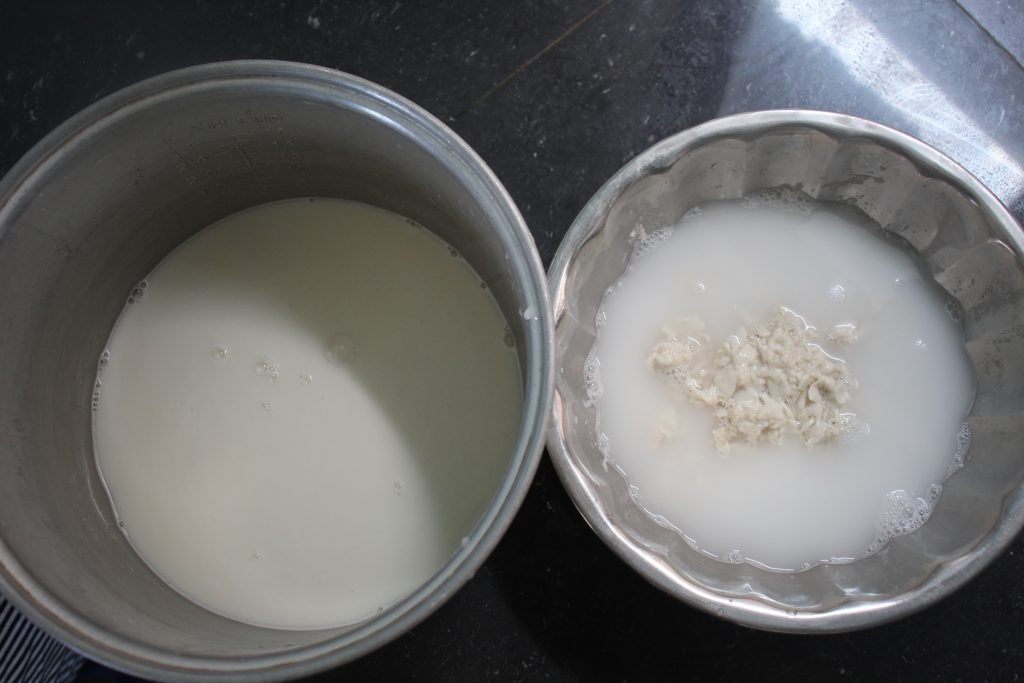 For the sauce, you need a special kind of water, for which you need to soak some crushed garlic cloves in some water overnight or for three-four hours.
Now, let's get back to gluten. Keep washing the gluten with clean water until clear water comes out of it. Once, the clear water comes out, keep it aside.
For making chilli oil, chop some garlic, mix chopped garlic with chilli flakes in a small bowl. Add salt as per your taste (this is optional) and some roasted sesame seeds in the same bowl. Now, heat up the pan and add oil, let it heat enough. Once the oil is hot, lower the flame and add bay leaves, ginger, Sichuan pepper, fennel, star anise and cloves. After you smell the aroma of the spices, take all the spices out of the oil and let the oil heat up until the oil turns slightly smoky.
After that, pour the hot oil into the mixture of chilli flakes, garlic and sesame seeds. Cover it immediately. After it is cooled down, your chilly oil is ready.
The main cooking
Now, let's get back to gluten and starch.
First, take gluten in a bowl, add half a tablespoon of yeast to it and mix them well. Cover the mixture for half an hour.
After that, steam the gluten for about 20 minutes. It should be spongy if it is cooked well. Let it cool down. Once it is cool enough, cut it into small pieces.
After four hours or overnight (as per your timing), you see that starch and water are clearly separated in the vessel. Starch is collected at the bottom of the vessel. Now, you need to carefully drain all the water. Now, you have starch collected at the bottom of the vessel.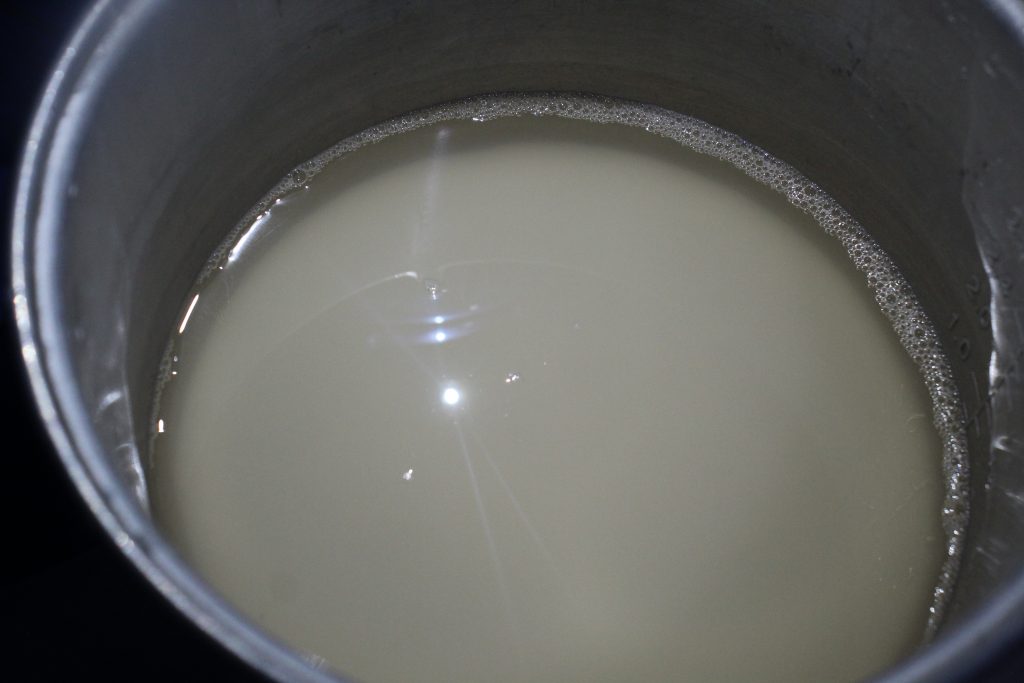 Add some turmeric for colour, and mix it well. Now, your starch mixture is absolutely ready to get steamed.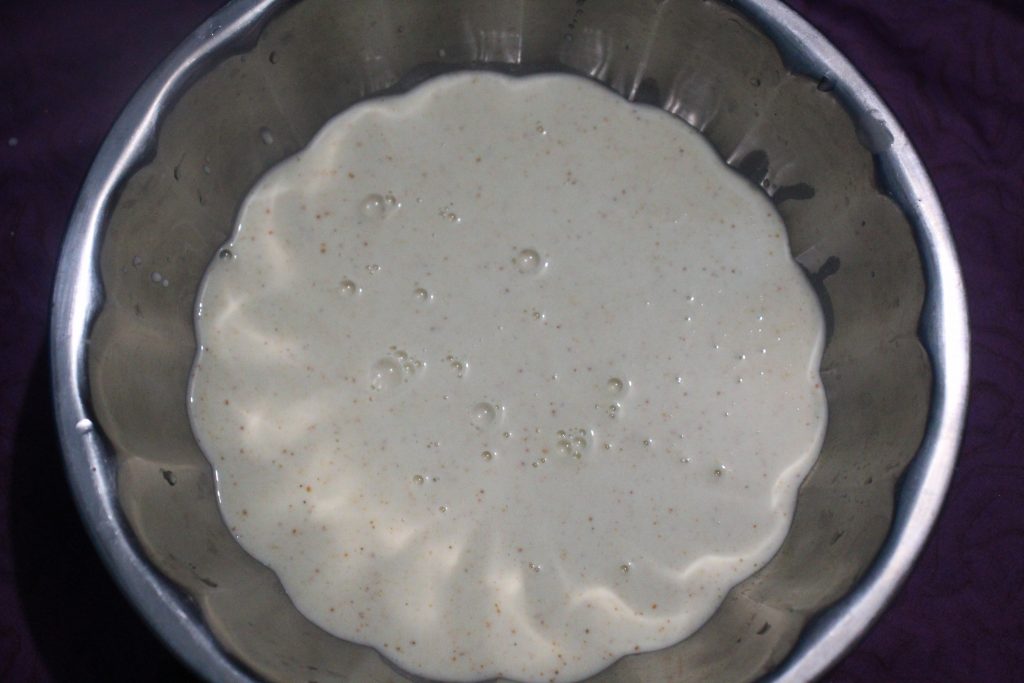 Take a plate, coat it with some oil, pour some starch mixture in the plate and steam it for about three to four minutes. Repeat the process for all remaining starch mixture.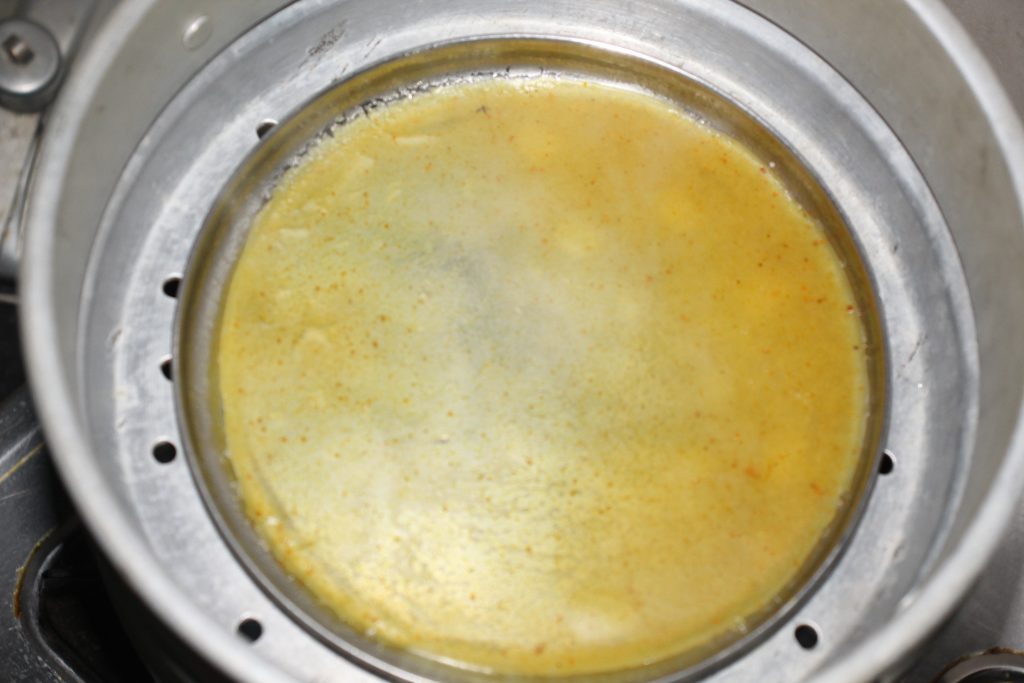 After it is cooked, let it cool. Now, take it out of the plate with the help of a spoon and your laphing noodles are ready to get served.
For the sauce, take a bowl, add dark soy sauce, light soy sauce, white vinegar, spring onion, chilli oil, salt, garlic water and mix all these ingredients together. And, your sauce is ready.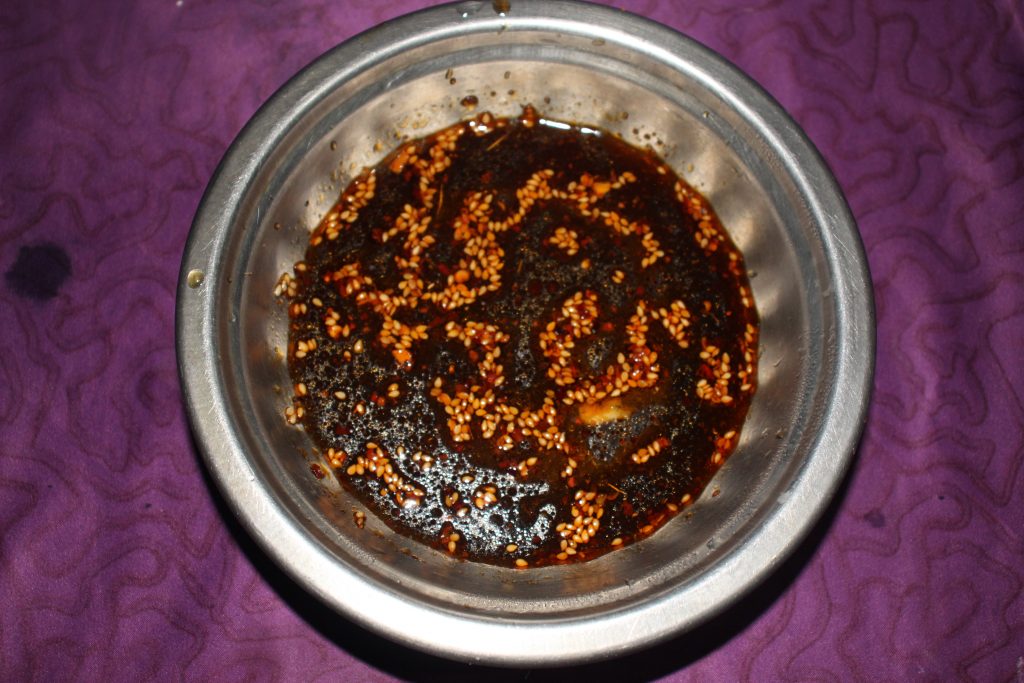 Serving style
Generally, laphing is served either with or without a cold sauce. For dry laphing, take laphing noodles on a chopping board, add some salt and chilli oil as per your taste, spread it all around the noodles. Now, add pieces of gluten and some instant noodles (optional) on them and roll tightly. Cut them into pieces and serve them in a plate.
For sauce laphing, you can just add the sauce in dry laphing. Else, you can simply slice a piece of the laphing noodles and add those slices and gluten in the sauce and enjoy the delicious homemade laphing even during the lockdown.
All photos except for the opening one by Shukra Giri