There is something pleasant about Bouddha. Apart from the pacifying chants, what I love about the place is the variety of Tibetan food available there. I feel that the people of Kathmandu are lucky that we get to taste cuisines from around the world here.
We bring you a list of popular Tibetan cuisine you should definitely try:
Shabhaley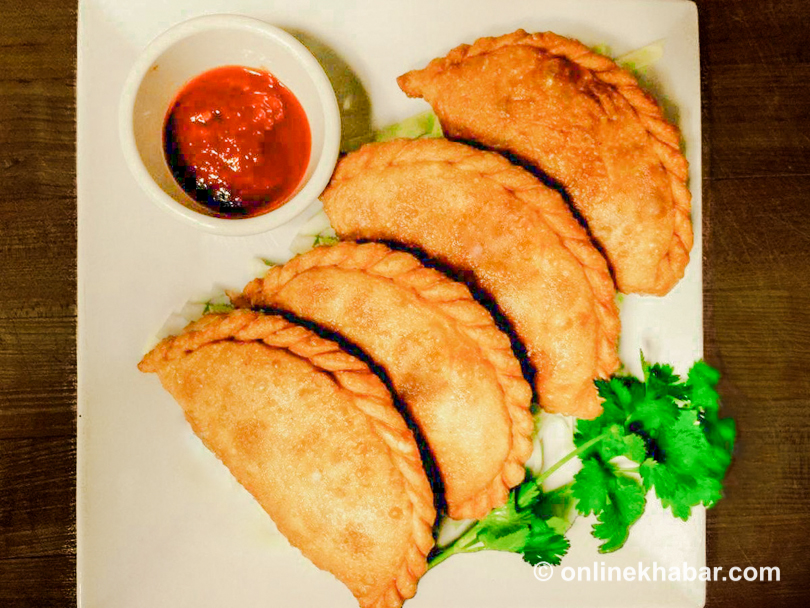 It is a dish widely loved both by Nepali and the Tibetan community and is a must-have dish at any Tibetan gathering. Shabhaley is a Tibetan dish made of bread stuffed with seasoned meat and cabbage, which is then fashioned into semi-circular or circular shapes. According to regional variations, it is either deep or pan-fried.
Some people eat them for breakfast, but typically, shabhaley is served with lunch or dinner, often with a basic soup. In Tibet, the most common meat would be that of yak, which is a bit leaner and stronger tasting than buff. But outside Tibet, you will usually find them made from beef or veggies. Tibetan shabhaleys are essentially meat pies. The dough is crunchy on the outside and gooey on the interior. If you like non-veg, you should not miss out on this.
Thukpa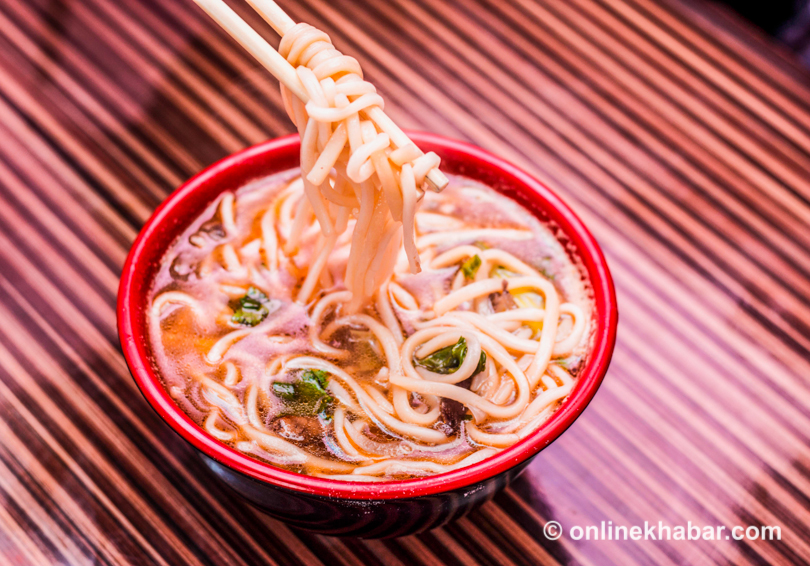 Thukpa is a Tibetan noodle soup, which originated in the eastern part of Tibet and northern part of Nepal. Thukpa consists of vegetables, meat, and noodles of various shapes in a soup. The Nepali version of thukpa contains chilli powder, masala (usually garam masala), which gives it a hot and spicy flavour and is an ideal meal during the winters. It is considered as an Indo-Tibetan food, that has been influenced by Tibet and South Asian traditions.
Thukpa is popular in Kathmandu and mountain regions of Nepal. It is eaten mostly during winter to keep warm as the noodle is dipped in a hot soup. It has its own chilli-dipped vinegar foundation. People prefer hot and spicy tomato pickle with this item too. Thukpa can be eaten as lunch or dinner and can be easily prepared at home.
Laphing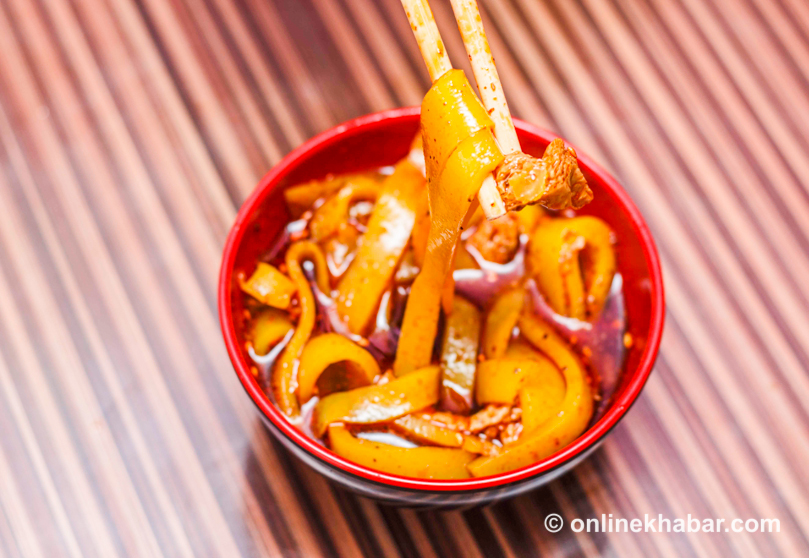 This has to be one of the most popular street foods in and around the Bouddha area. Gradually this spicy noodle dish is gaining popularity and a few restaurants around the valley are including it on their menus. It is a cold, spicy and savoury noodle dish often eaten in summer. The noodle is made from extracting starch from the potato, mung bean or wheat flour, and also gluten extracted from the flour is served with the noodle. Gluten has tofu like meaty texture. Spices and condiments such as soy sauce, garlic extract, Szechuan pepper, red chilli paste, sesame oil and vinegar give laphing a peculiar and perfectly balanced flavour.
Thenthuk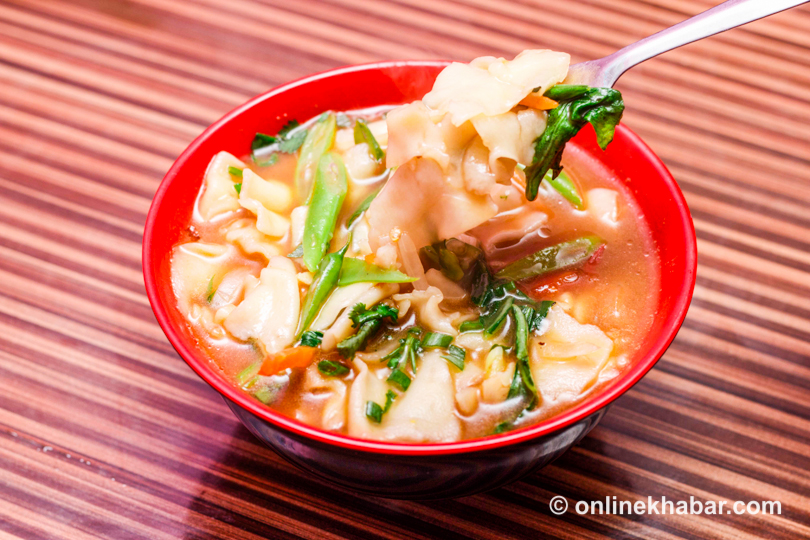 Thenthuk is a Tibetan noodle soup enjoyed by Sherpa, Tamang, and Tibetan communities from upper regions of Nepal. It is normally made with meat stock and locally available vegetables. This is a perfect meal that is sure to keep you warm during the winters. The noodle soup is generally made from winter vegetables, lamb or yak meat and homemade noodle. Thenthuk is derived from the Tibetan language, which translates to 'hand-pulled noodles'- 'Then' means 'Pull' and 'Thuk' means 'noodles'. It's a dish you can make easily at home.
Tingmo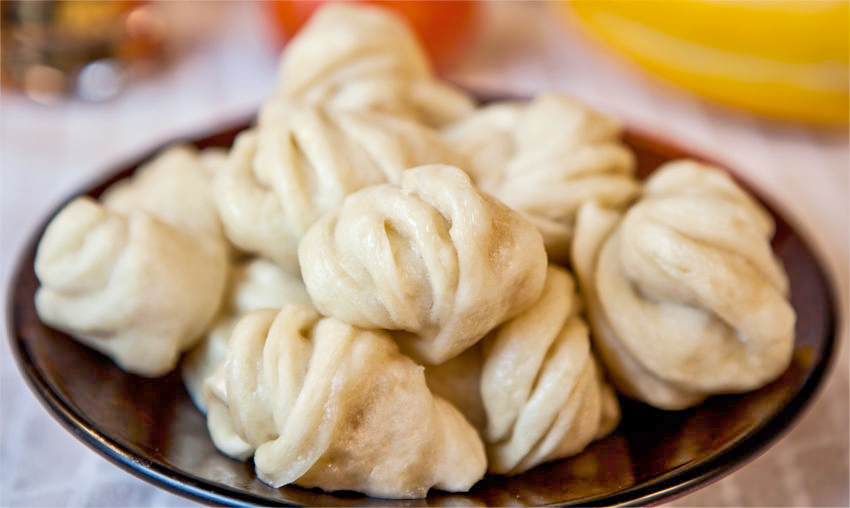 Fluffy and steamed, tingmo is a traditional Tibetan bread often rolled or folded into intricate shapes and served alongside spicy sauces or hearty stews. Unlike momo, which are filled with meat, regular tingmos are plain or just slightly seasoned, the perfect accompaniment to the flavourful food (meat) found in Nepal and Tibet. Tingmo is usually served as an accompaniment to fried vegetables, soup or curry.