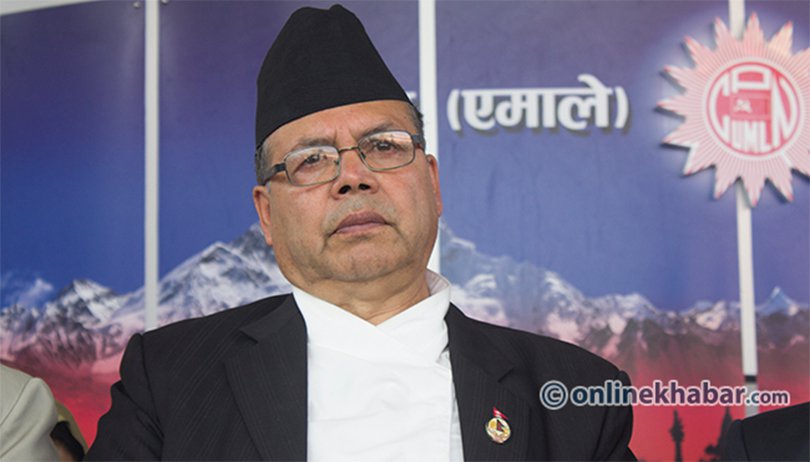 Kathmandu, February 8
CPN-UML senior leader Jhala Nath Khanal says he is ready to recognise Maoist leader Pushpa Kamal Dahal as the chairman of his party.
Khanal's statement follows reports that claimed UML Chairman KP Sharma Oli was willing to take up both key positions including the party chairmanship and the prime minister after the UML and the Maoist Centre merge. The Maoist Centre negotiators have claimed that Oli's claim over both the positions is lingering the unification preparations.
But, Khanal, who preceded Oli as the UML Chairman, says the unification should not be foiled at any cost.
Top leaders of both the parties should expedite discussions to forge an understanding to facilitate the process, according to him. "We have to sit together together and discuss further to find a way out," he says in an interview with Onlinekhabar.
The former prime minister remembered that when then CPN-ML and CPN-Marxist were unified in early 1990s to form the CPN-UML, the smaller party's Chairman Manmohan Adhikari was made the chairman of the unified parties and the bigger party's top leader Madan Bhandari was made the general secretary.
Meanwhile, Khanal reiterated his readiness to accept Dahal as the chairman in an television interview broadcast on Wednesday evening.
"I personally think that KP Oli should be elected the prime minister, but our party is yet to make a decision," Khanal said, "I do not know if I should have told you, but I do not have any objection to Dahal becoming the chairman."
"If the two parties unify, nothing should be objected to."