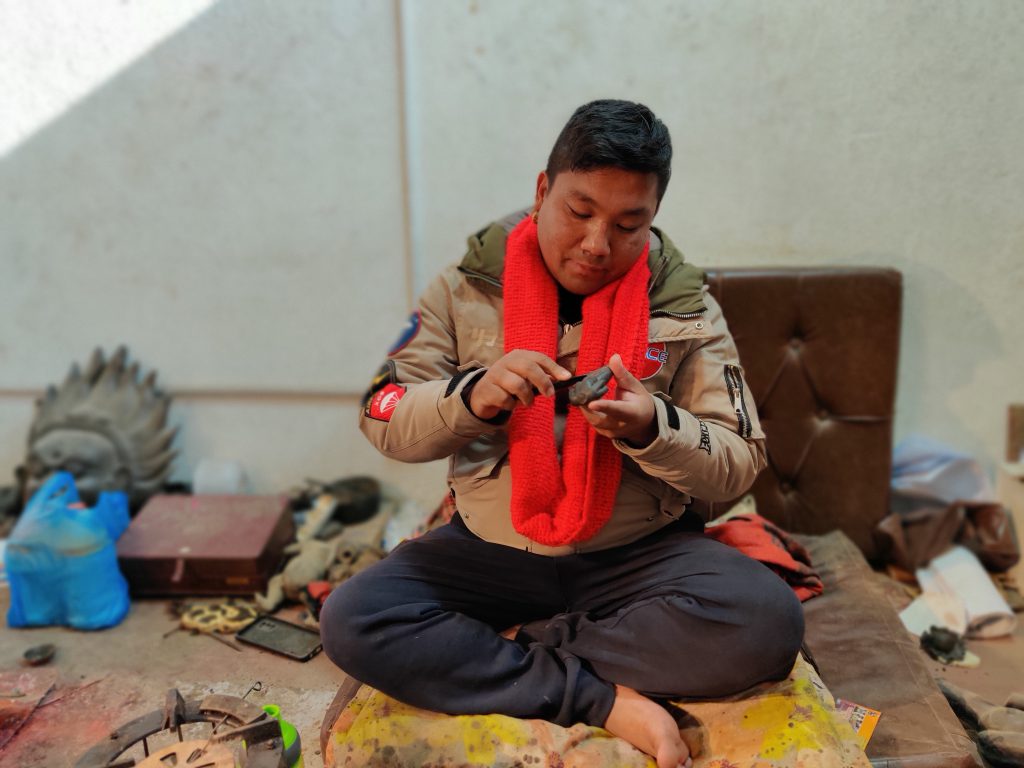 Sitting on his father's lap, Ravi Bahadur Shakya of Lalitpur learned how to mould the clay and wax into figurines of birds and animals. But as his lap grew wider than his father's, Shakya started nestling many sculptures of gods, goddesses and other deities and moulded them with his hands, taking over the aeons of history that his family has guarded and continued.
Shakya says his clan moved to the valley from Lumbini some 2,000 years ago. His ancestors brought with them the skill to mould emotions into lifeless clays and the patience to guard the heritage, generation after generation. Today, at 37, Ravi Bahadur Shakya has been the man behind many idols and sculptures of gods and goddesses that adorn the many temples in Nepal, with a majority of them in the valley.
Some of the idols he has made and installed include the idol of Nani Bhagwati (Dhulikhel), headgear and jewellery of Bhimsena temple (Mangal Bazaar), Yogambar Mhepi Ajima, as well as idols of Bajra Barahi and Chakrasambat.
Learning through art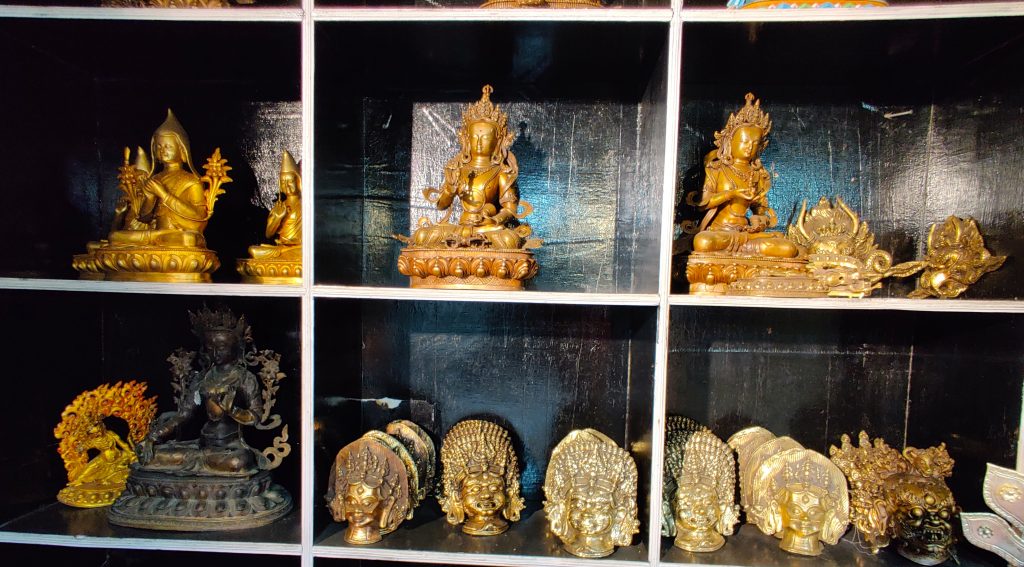 Ravi Bahadur Shakya belongs to a long line of families, since the Lichhavi era, associated with metal casting and is even referred to as thakami (those who do metal casting) for their work within the sub-community.
"I do not remember how young I was when I started working, but together with my parents, sister, aunts and uncles, I started learning to make animals. And what intrigued me is the unusual colours they were depicted in, the many hands and heads they had," says Shakya talking about how he started learning the art.
His learning has seen leaps and bounds–starting from the statues of Shiva, different Bhairavs and (Pancha) Buddhas. In laymen's eyes, these statues look similar, but the sculptor in his learning stage realised that they all represent different emotions that closely reflect the natural human nature.
To become a sculptor, Ravi Bahadur Shakya has undertaken the learnings of Bajrayan dharma shastra (Buddhism), Shaivism, and Pancha Buddha from both aspects of Hinduism and Buddhism, along with heavy inspirations from Asta Matrika dances and tantric sadhana.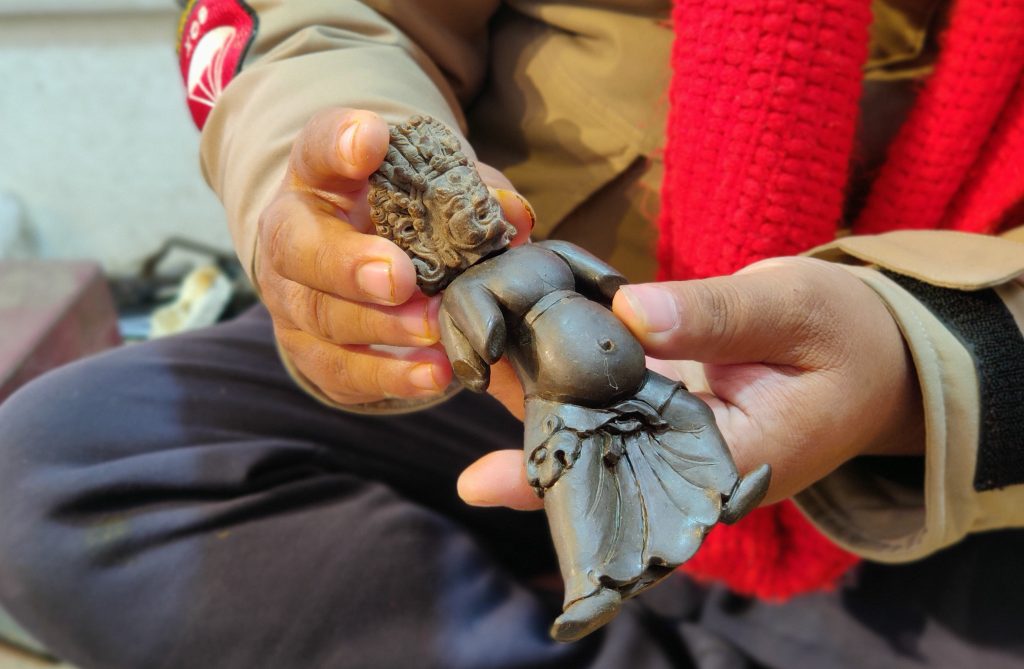 Even today, Shakya has been learning about what different scriptures say about different idols. "Gods are one, but have different forms depending on how they are worshipped by different communities and the time they are worshipped."
"Every idol, carvings on torans, dance, iconography and the gods or goddesses that we worship all have its special meaning. How they perform, their postures, and their expressions, have meanings behind them," he says, "But, through my reading and understanding, I have concluded that they all tell the tale of the life cycle of human lives and how it should be."
"All of them are the virtual representation of many teachings that you can find in the scriptures. It is the way the artistic ancestors thought of the perfect way to simplify the teachings of the scriptures and keep the non-scripture-reading population from learning quickly and adopting the important life lesson," he explains further.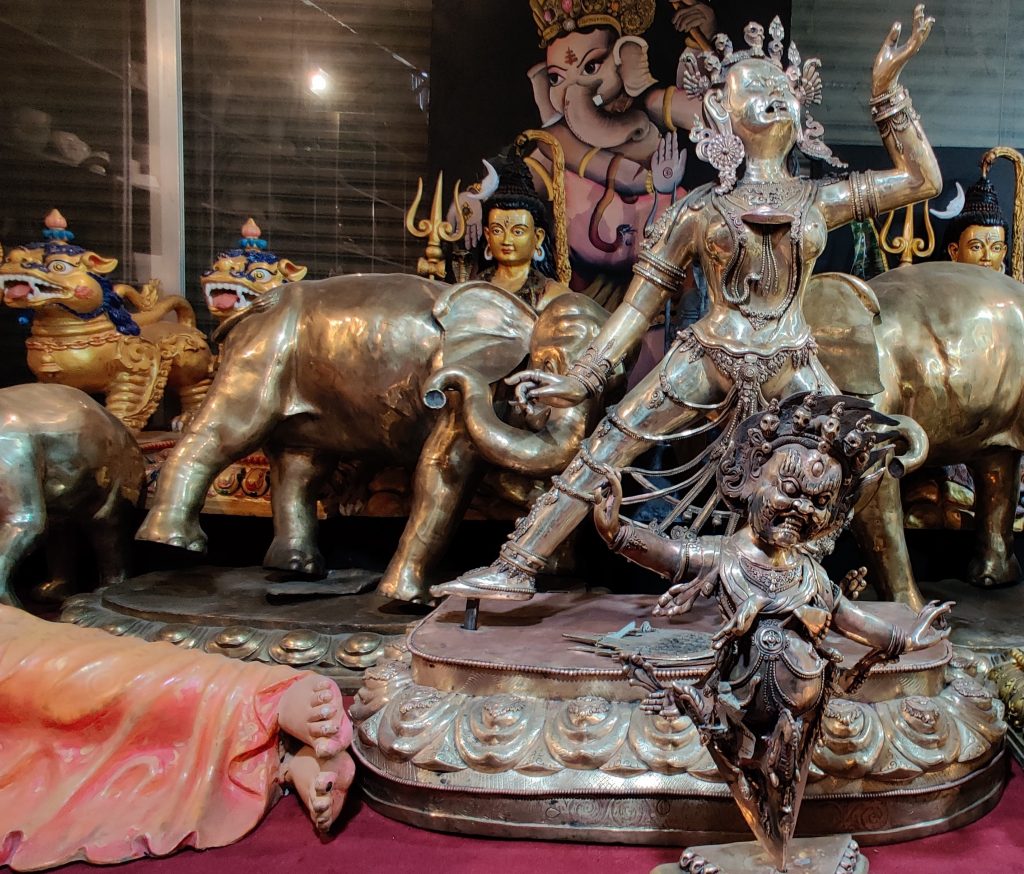 Ravi Bahadur Shakya is positive that if people can apply what the scriptures are trying to convey in their lives, it will be fulfilled; the ancestors who turned the scripture into art meant the same. "Even the deities, with their consort, depicted in sexual poses are telling people the important part of life."
So far, to learn the skill he has also been exploring meditation and even practised samadhi sadhana [in which one goes to the cemetery areas to perform rituals and meditates].
Art has money
Ravi Bahadur Shakya is one of the few individuals who have continued the family profession, undertaken the intricate skill and is adamant to continue it as well as teach others.
However, such generational occupational art-making skill is endangered as many are switching their profession and discontinuing the generational occupational craft. Many assume it is because the market is now stable or weak in terms of monetary aspects.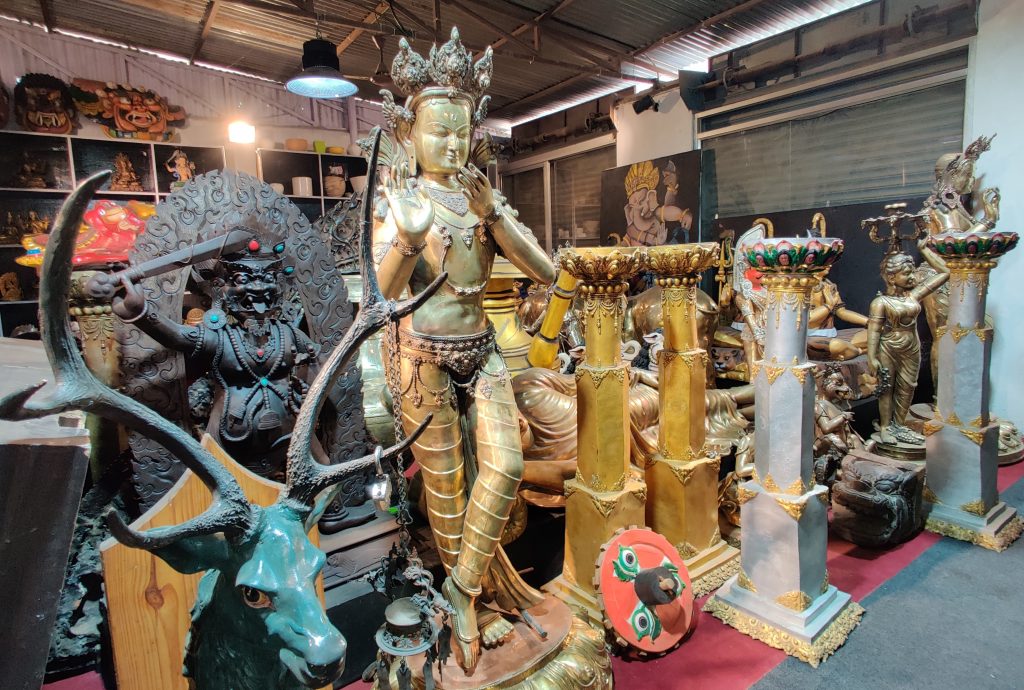 However, he denies it, "The market is small, but the demand was always been high. There is definitely some fluctuation in the market and that is natural. So there is money but one needs the patience to reap the returns."
Sculpture is about energy; it is spiritual and mystical. To learn the skill, one has to make several commitments and needs to be immensely disciplined and be able to establish a connection with the idols they are making. "And this scares many, discouraging them to learn. They want quick money but do not have patience," Ravi Bahadur Shakya says.
Regardless, he agrees that time has changed. "There was a golden time of pure handmade art. Then, people used rubber mould." But, what did destroy the market? He says, "There are a few people who betrayed the market and the community. They went abroad and taught the skill not to individuals but to factories commercially, and mass producing the icons and idols, which threatened the market here."
More than an artist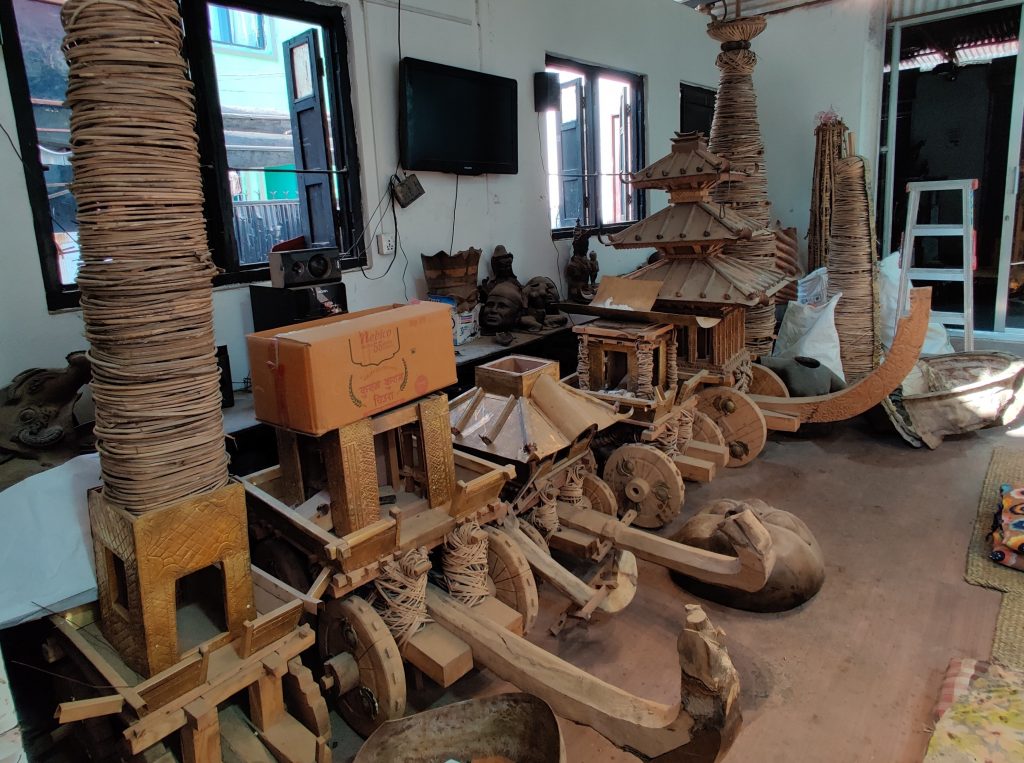 Ravi Bahadur Shakya has the prowess to not just make idols or sculptures but also design model rath or chariots. Like idols, he has studied them immensely including the making of the joints and the materials used in the process.
In his house and studio on the outskirts of Lalitpur, he has also conceptualised models of the Rato Machhindranath and Minnath chariots, as well as the (Bhairav) chariot, pulled in Bisket Jatra for Sweden Engineering College, where students there will learn how the chariots are made, the wheels and the joints.
"Our chariots withstand a lot of pressure and have withstood the test of time. So, I have sent them last month for them to study. Apart from this, I have also sent many idols abroad including one idol of Rato Machhindranath to the sultan/sheikh of Dubai for his palace."
On the sidelines, Ravi Bahadur Shakya is also teaching four girls about music, sculpture and dance for two years now. "I want to continue my learning as well as teach others as long as I live. I wish to teach at least 40 to 50 more students and make them inept in their skills and make the society able to adhere to the many learnings that our religion and culture so beautifully teach us," he says.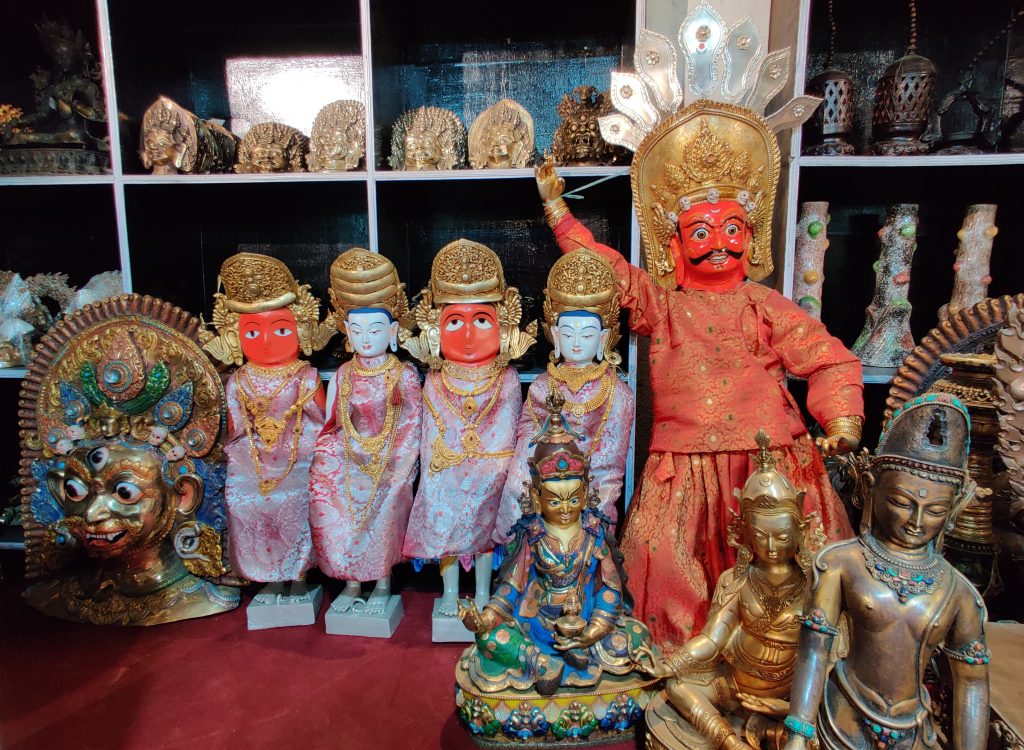 Similarly, he is heavily invested in making idols for temples around the valley and outside Kathmandu too. "I make the sculptures when I am asked to make them. If there is a budget, I take the money, but if not, I have waivered some while investing my money too."
Apart from all this, Shakya is also active in campaigns for heritage conversation. He is particularly sad about the idols being stolen across the city.
While debates about lost statues and their recovery are gaining momentum currently, Ravi Bahadur Shakya says, for any debate to settle, further research is required, to which he also plans to contribute.