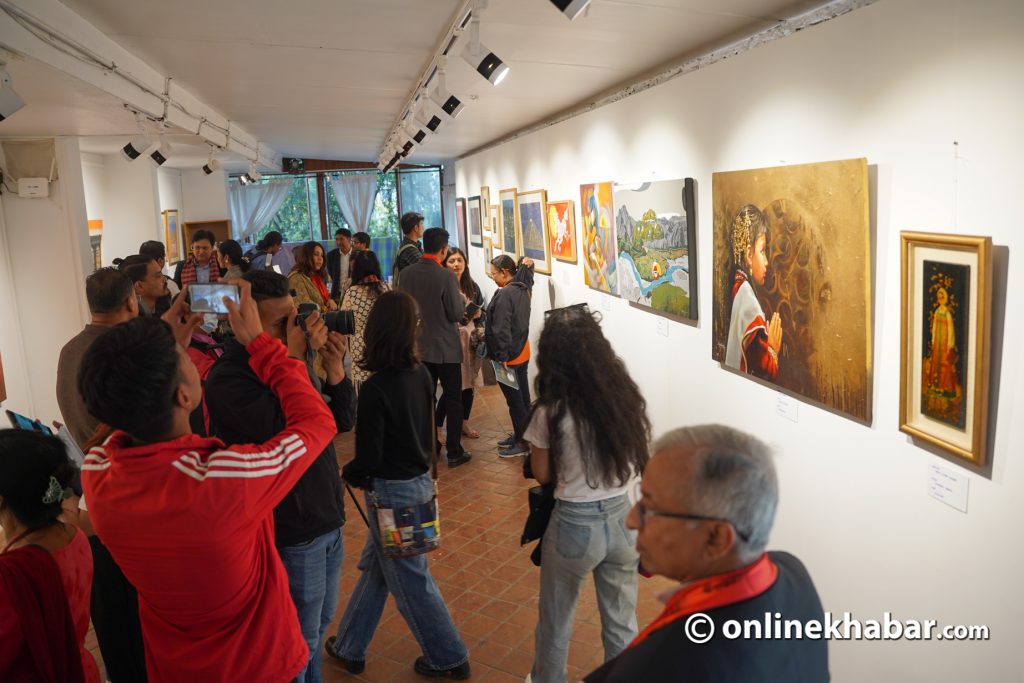 Senior artist Umesh Shrestha vividly remembers a random chance he got in his village in Dolakha to read the Times of India. There is a reason why he remembers this as he says, "A picture with a boat under the red sun impressed me deeply."
Only when he came to Kathmandu to study fine arts, he understood that it was the painting, Impression Sunrise by French master Claude Monet.
Before coming to Kathmandu, due to the unavailability of art materials, books or paints, he used to paint on the white walls in red clay with the hair from the tail of an ox and small bamboo sticks. "My grandfather was an astrologer and he had epics such as the Ramayana and the Mahabharata in his collection of books," he says, "And I was impressed by the illustrations on those books, which inspired me to be an artist."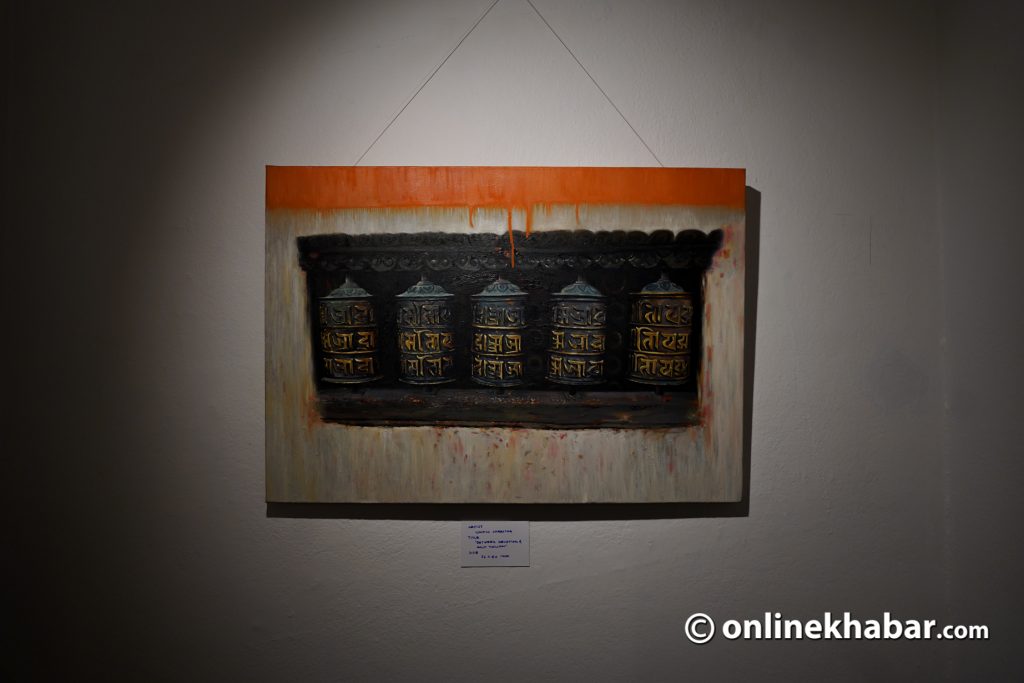 And, now, he has inspired his son, Kaushal Shrestha to be an artist where paintings are on display at a group painting exhibition, Under the Full Moon: The 3 Gen, that began on May 5 at Windhorse Gallery, Jhamshikhel.
The exhibition which aims to share the rich experiences of the seniors and take inspiration from the young artists features paintings by 26 artists. These artists can be categorised into three generations according to the time they became professionals.
In the exhibition
Under the Full Moon: The 3 Gen can be taken as a creative synergy between three generations and a platform to understand Nepali modern art from its initial phase to contemporary days.
The exhibition features paintings by veteran artists Bipin Kumar Ghimire, Gautam Ratna Tuladhar, Govinda Lal Dangol, IB Malla, Kiran Manandhar, Krishna Manandhar, Radhe Shyam Mulmi, Ragini Upadhyay Grela, Shashi Bikram Shah, Shyam Lal Shrestha and Vijay Thapa.
Then, there are the paintings by artists Hari Jung Bomjon, SC Suman, Dr Seema Sharma, Sushma Rajbhandari, Uma Shankar Shah and Umesh Shrestha. Along with them, it has displayed paintings by artists Anita Bhattarai, Gaurav Ratna Tuladhar, Kaushal Shrestha, Prabin Shrestha, Rajeshj Maharjan, Ratna Shakya, Shankar Shrestha, Surya Dudraj and Sushmita Kunwar.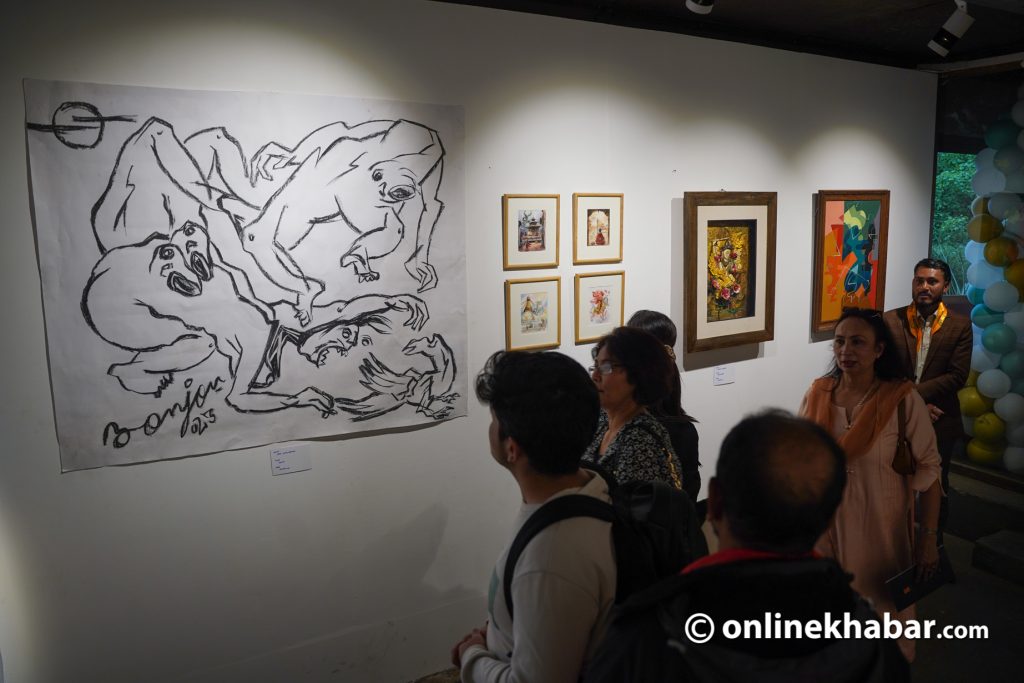 It is visible to any visitor that there is a sense of connection between them through the use of similar motifs, which contradicts only in terms of expressing them using different mediums such as acrylic, oil, watercolour and printmaking techniques.
While choosing the themes for their paintings, these artists have used religion, nature, humanity, urbanisation, culture and feeling in forms such as figurative and abstract art, realism and surrealism.
Display of individuality
Apt to the title of the exhibition, Under the Full Moon: The 3 Gen, these three generations share the same universe in the form of shared experiences and perspectives, yet display their individuality while expressing themselves through colours.
Artists Shah used the printmaking technique of etching to create City, a print of the city dominated by traditional Shikhar and other Nepali-style temples, stupas, and gates during the night time.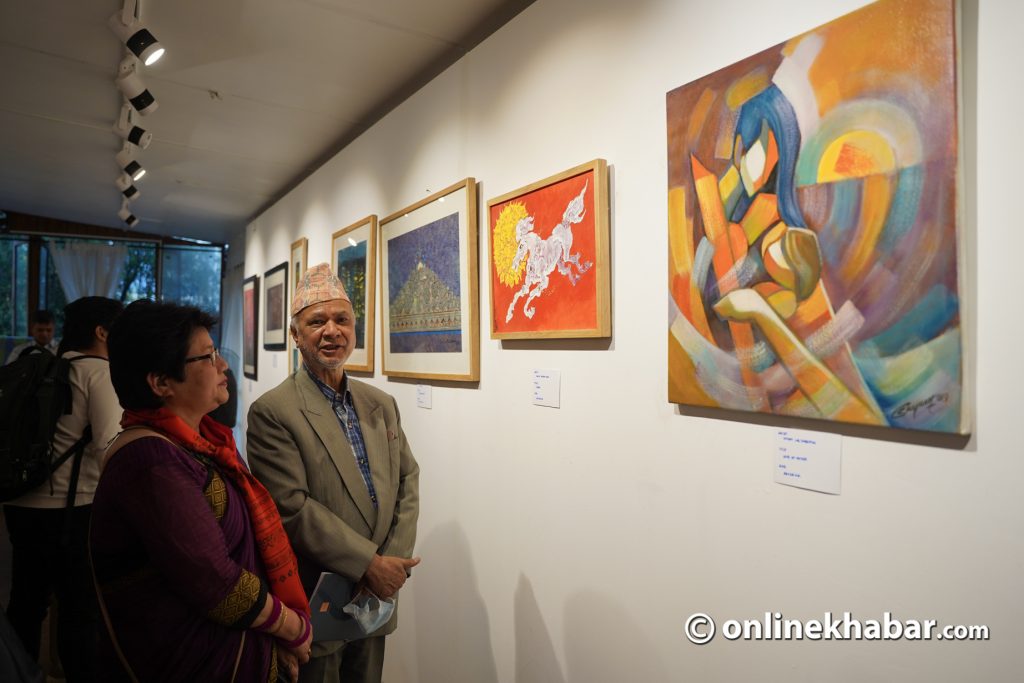 Then, another young artist, Kaushal used motifs such as durbar squares, temples and traditional houses that show the shared experiences and perspectives of the seniors. However, the use of a dragon and the composition of paintings in the style of manga denotes his individuality and uniqueness.
Moreover, this is just one example of unity along with unique distinctiveness between different generations of artists.
Visit the exhibition that continues till May 26 to understand different perspectives and experiences under the same roof.