A few days ago, Sweta Gyanu Baniya, an assistant professor at Virginia Tech University, posted a picture of an intricate gilt-copper necklace stolen from Kathmandu's Taleju temple in the 1970s. The picture caused a lot of uproar as a lot of Nepalis demanded the neckless be brought back to Nepal.
Around two months ago, the Art Institute of Chicago returned an idol of Laxmi-Narayan which had been stolen from Patan in the early 1980s. An idol of Uma-Maheswar, stolen from Tangalhiti in Patan, also miraculously made its way back to Nepal a few months ago.
These are just a few examples as hundreds of idols and antiquities have been stolen from Nepal, by both locals and foreigners, and sold abroad, mainly into the United States. Out of the hundreds, a few, after showing proofs that they were stolen, are being handed back to Nepal.
Even though the US policy states that an artefact should be returned to the home country if it is proved to have been stolen, the process to get them back, however, is lengthy and tedious. That is why, out of the hundreds of idols stolen, only a few make its way back.
Difficulties in repatriation
The trend of idols disappearing started as Nepal opened its door to the world. Before the 1960s, there were hardly any cases of idols being stolen. According to the Department of Archaeology, over 500 idols and artefacts were stolen from Nepal between 1960 and 1980. But, the doors have opened for the idols being repatriated only recently when the home countries can show proof.
"Museums have started to return these artefacts because they think that keeping them will defame their organisations," says Sarita Subedi, an archaeology officer at the department.
But, things are not so simple when it comes to repatriation. Stolen idols and artefacts only appear to the public eye once they are sold or donated by a collector. Even if there are poofs that the idols have been stolen from Nepal, the repatriation process is moved forward based on the policy of the country where the idol is found.
The only country which has been cooperative in this process is the US, say the department officials.
Lichhavi-era artefacts under threat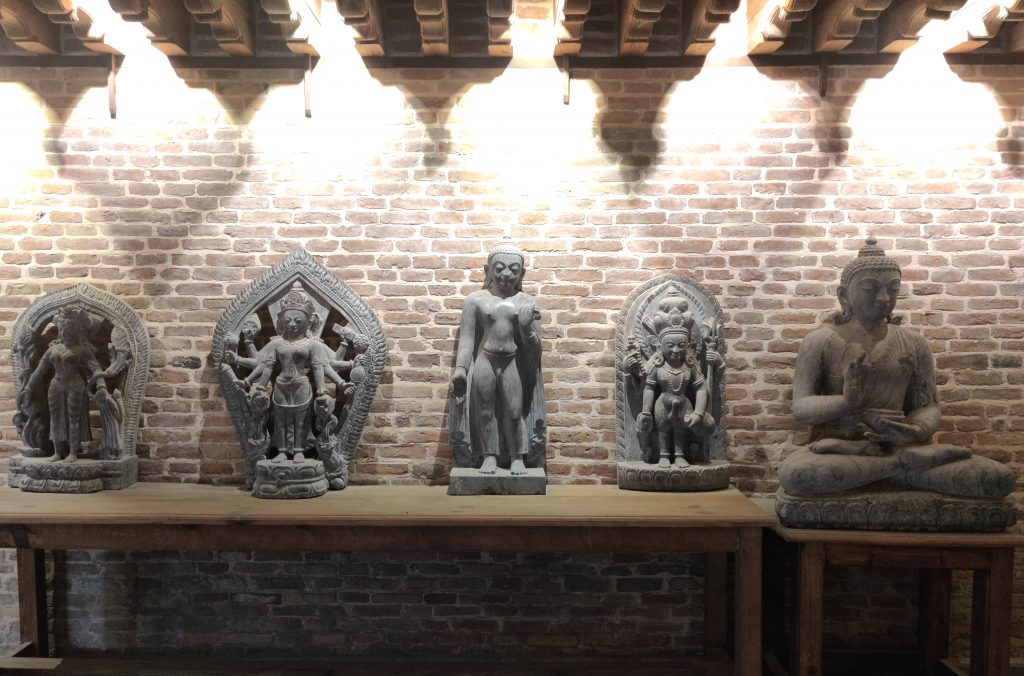 Sandhya Khanal, an assistant professor at the Central Department of Nepali History, Culture and Archaeology in the Tribhuvan University, says that archaeologists have found idols and artefacts in Kathmandu that date back to the second century. She says that from Naya Baneshwar to Patan, there are over a dozen of idols from the Lichhavi era which have been left in a neglected state. Patan, Basantapur, Handigaun and Pashupati also have such idols, says Khanal, who adds that these neglected idols have not been taken care of by stakeholders.
This has resulted in these idols being stolen. The government's Department of Archaeology says that every year they receive complaints of idols being stolen. The department gives the case to Nepal Police that has rarely been successful in apprehending the culprits.
Stolen statues galore
Historian Lain Singh Bangel published a book titled 'Stolen Images of Nepal' in 1989. The book listed 227 idols that had been stolen from Nepal. No one knows if these idols are still in Nepal or have been sold abroad.
If you look at the archives by Bangdel, it is evident that Nepal has lost many idols which were of cultural significance as most of them, according to him, were from the second to the eighteenth centuries.
For example, the idol of Narishakti (feminine power) from Batsaleshwari in Pashupati, which is believed to be from the second or third century, was stolen in 1960. The whereabouts of a standing Vishnu idol, stolen from Bhuweshwari Temple in Pashupati in 1983, is unknown. According to Bangdel, the idol is believed to be from the fifth century. A seventh-century idol of Nagraj, was also stolen from Chabahil stupa in 1970.
Many historians and experts believe that even after Bangdel's book was published, idols have continued to be stolen from Nepal. The exact data, however, are not available as there are many cases where people have no reported idols being missing. The Department of Archaeology's Sarita Subedi says that less than one-third of the idols which were listed in Bangdel's book has been found. Most of these stolen idols are between the 10th and 15th centuries, say officials.
Homecoming after heists
The idols that get repatriated back to Nepal do not go back to where they belong. Most of them are kept in museums far away from the public as the department wants to keep them safe. Around 40 such idols which were returned to Nepal by the US in 1994 are now being kept at the National Museum in Chhauni.
The German government in 1999 returned a 12-century idol of Uma Maheswar stolen from Dhulikhel. The idol is being kept at the Patan Museum. In 2002, Austria also returned a statue of Dipankar Buddha has been placed in its rightful place.
Idols have also been stolen from areas like Pharping, Panauti, Dolpa and other historic areas of the country. Most of them have been returned to Nepal and are being kept at the National Museum.
How do they disappear?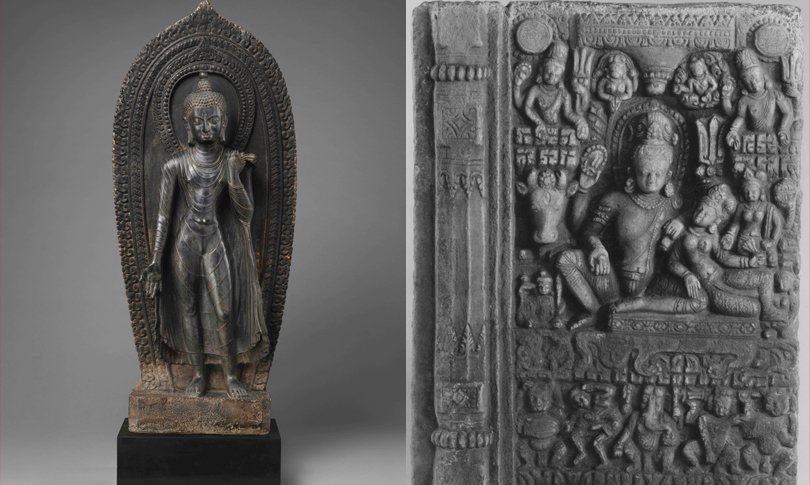 The trend started after Asian artefacts started to sell for as much as a million dollar. Collectors then started to come to Nepal and take some of these idols away for peanut prices. Almost none of these idols are sold legally as most of them are bought on the black market by wealthy collectors.
According to rumours, most of the idols disappear in the night. Many even bring cranes to loot the idols. Locals of Bhaktapur once stopped this from happening and chased them away.
Locals of Dumbarahi stopped smugglers from stealing a 1,500-year-old idol from the Dhumbarahi temple in the middle of the night. Even though they stopped them from taking the Baraha idol, the smugglers did take away an idol of Prithvi Mata. Even though they complained to the police, the culprits are still at large.
In Jumla last year, police caught two people who stole an idol from the historic Chandannath temple in Khalanga. They were apprehended four years after they stole the idol. As they had failed to sell it abroad, the idol was recovered.
Officials from the department say the main reason idols are stolen is they are neglected by the society and the concerned stakeholders. They say that most of these idols are stolen from Nepal, taken to India, and then taken abroad.