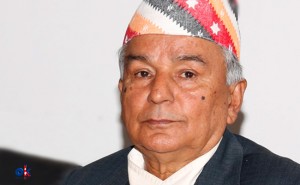 Kathmandu, April 3
Nepali Congress leader Ramchandra Poudel is contesting the race for the leader of the NC parlimentary party against his well-known rival.
Like in the 13th general convention of the NC, Poudel will take on Sher Bahadur Deuba, who won the race against Poudel in the convention and became NC president.
Held on Sunday, a meeting of Team Poudel leaders decided to field Poudel as a contestant in the crucial race. Team Poudel was in favour of selecting the party PP leader on the basis of consensus. Other leaders like Prakash Man Singh were also aspiring for the position.
The election for the NC PP leadership is taking place on April 6. The party's establishment faction is fielding Deuba for the job. In the 13th convention, Poudel had survived the first round of the race for NC leadership in which Krishna Sitaula and Deuba were his rivals. In the second round, Poudel had lost the race to Deuba.