In 2017, three-game enthusiasts–Uday Gurung, Uttam Adhikari and Robin Sharma–developed a game named Haku Run. The game was based on the plot of the blockbuster Nepali movie, Loot 2. It was also the first game based on a Nepali movie.
The game garnered immense success and popularity; it went beyond the developer's expectations.
Haku Run made them realise that Nepal does not have a gaming industry and people would love to play a game that has localised content. In just three days, the game had 10,000 downloads.
Looking at the success of their first game, the trio thought of doing something bigger that would promote the gaming culture all over the country. So, last year, they launched Ramailo Games, a "social gaming" platform in their bid to make the country recognised for its gaming culture also. They claim it as the one and only social gaming platform in Nepal.
The thriving biz

In a short span of time, Ramailo Games is garnering notable popularity. Last month (March), the startup witnessed 22,000 visitors. Among them, around 5,000 played free games whereas the remaining ones played the premium games. 
A premium game costs Rs 60 per month. Once you pay Rs.60, you can play any premium games on the Ramailo Games platform for a month.
Meanwhile, the founders of the startup got surprised by the number of visitors on the platform from the very first week of this month. While there were 22,000 visitors last month, the monthly count is expected to go up to 100,000 this month (April).
"As we are currently hosting a month-long tournament Ko Banchha Lakhapati, we expect a surge of visitors to our platform," says Gurung. "Ten players will get a chance to win Rs. انو 100,000 in the tournament."
Easy and for everyone
Ramailo Games currently has 140 games. These are actually mini-games that are easy to play and user-friendly. Through their platform, the co-founders want to serve everyone who loves playing games.
Gurung believes playing games has no boundary, and hence, everyone from a child to an elderly citizen can enjoy playing the games.
"From a shopkeeper to a police officer, everyone is playing games at Ramailo games," he says. "Likewise, people from outside the valley, such as the places like Kailali, Dolakha and others are also playing games at Ramailo Games."
So on, Ramailo Games is not just making people play games but also connecting one gamer to another. One can view the profile of other gamers and know their gaming status. They can chat as well.
Making Nepal the social gaming Mecca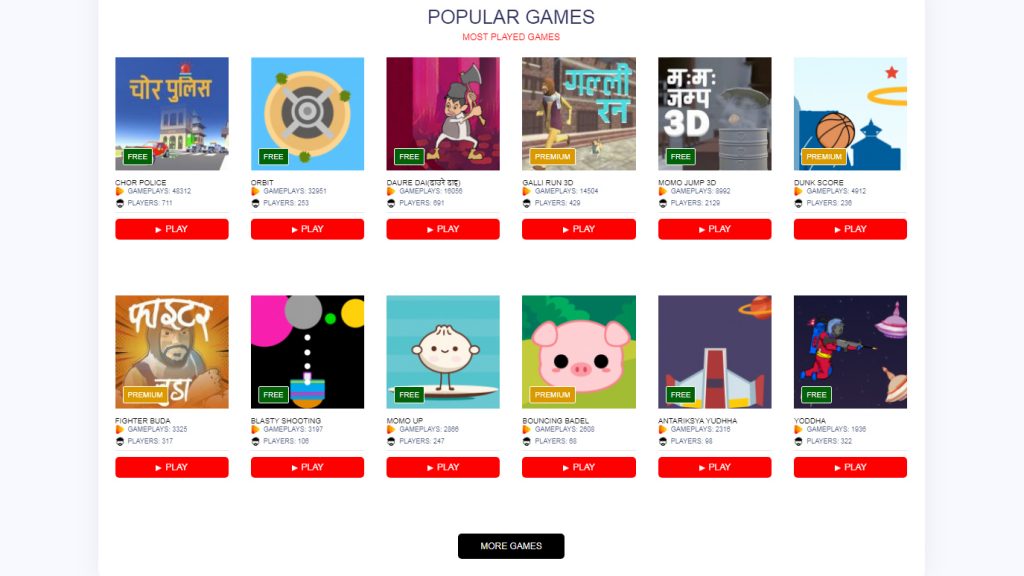 Ramailo Games says it has a lot of future plans as it wants to make Nepal a hub for game enthusiasts and developers.
"We want to see Nepal as a Mecca of game developers and people who love social gaming," says Gurung.
To see this dream come true, very soon, Ramailo Games is starting a training session for all the game developers. Likewise, it is also going to collaborate with different brands and organise a gaming festival. The festival, Gurung says, will aim to gather gamers from all over the country.
Similarly, the gaming platform is also organising an e-sport tournament for three months; 16 best teams in the country will be vying for it.
To promote the Nepali game developers, Ramailo Games is also introducing a feature in which game developers can upload their games on it. According to the company, by the end of the year, the feature will be introduced on the platform.
Likewise, it also wants to host a game development championship so that game developers in Nepal feel motivated.
Besides, Ramailo Games offers some direct financial benefits for game developers. "If the uploaded game is a premium one, the creator will get 70 per cent of the total earnings," says Gurung.
Off games, Ramailo Games is also working on an edutainment project as it is starting a game based on the syllabi for grades 1 to 10.
"All in all, we want to focus on local content and family games," says Gurung.