Shova Chhetri, a resident of the western outskirts of Kathmandu, faced an acute water scarcity in early September 2021.
"The water we were receiving regularly was enough for my family of five until this time," Chhetri shares, "But, for the first time we faced such a shortage of water at our home." As per Chhetri, the crisis was a result of water suppliers interrupting the regular supply. The defects in the pipelines aggravated the crisis further.
"All the water saved in the tanks emptied after around three days, after which we bought jars for drinking whereas borrowed water from neighbours for other purposes."
Ironically, it was the same time when the Kathmandu valley, particularly the rivers and roads, were inundated by rainwater. Chhetri says, seeing excessive downpour this year, she thought, "If only we could store and use the rainwater which was going to waste while we were in the most need of it, there would be no scarcity at all."
Unlike Chhetri, who is learning some lessons about the significance of rainwater harvesting, there are many people who are yet to realise this. But, the stakeholders observe such awareness may change the fate of the overpopulated city of Kathmandu where the water crisis is a perennial problem.
The missing connection
The demand for water in Kathmandu is 470 million litres per day, but with limited production of 114 million litres per day, only 91 million litres is supplied in the city on average.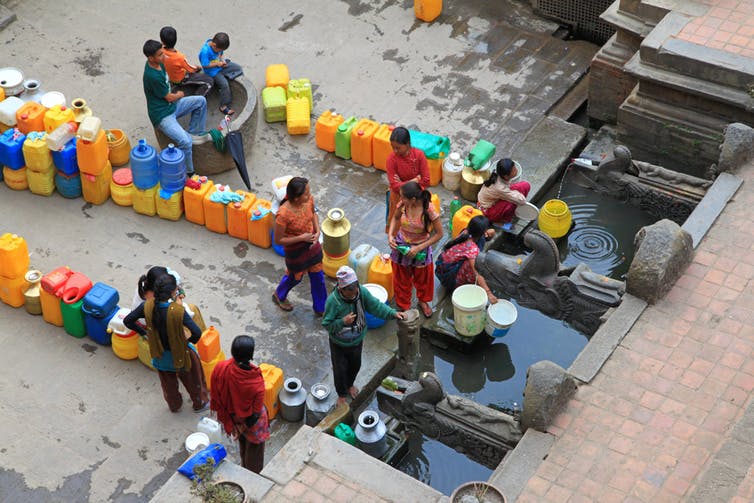 Still, the regular water supply managed by the government is far from meeting the demand of the Kathmanduites. And the thirsty Kathmandu valley, which has been eagerly waiting for the Melamchi Water Supply Project to relive, receives 1,448 mm rainfall annually on average.
Such being the case, rainwater harvesting can be the best supplement to aid the water supply in all parts of the country including the capital city, says Bhushan Tuladhar, an environmentalist.
The amount of rainwater harvested using 342.25 square feet of land can easily fulfil the needs for water including drinking water for two individuals, informs Sajal Pradhan, a cofounder of Best Paani, a startup promoting rainwater harvesting.
Likewise, Anisha Karn, the CEO of Smart Paani, another similar company, briefs rainwater harvesting helps people in two ways: first, by meeting the water needs, and next, by offsetting the groundwater which is depleting rapidly due to excessive and haphazard use of groundwater and concretisation.
"Urban flooding is massive nowadays. It is also significant to address this immediate concern," stresses Karn, "It also minimises the stress of wastewater management, in which the government has been spending huge amounts."
Richness of rainwater
Rain is the ultimate source of water. It is distributed properly among all places by nature and hence not limited to a place as in the case of ground and surface waters, says Tuladhar.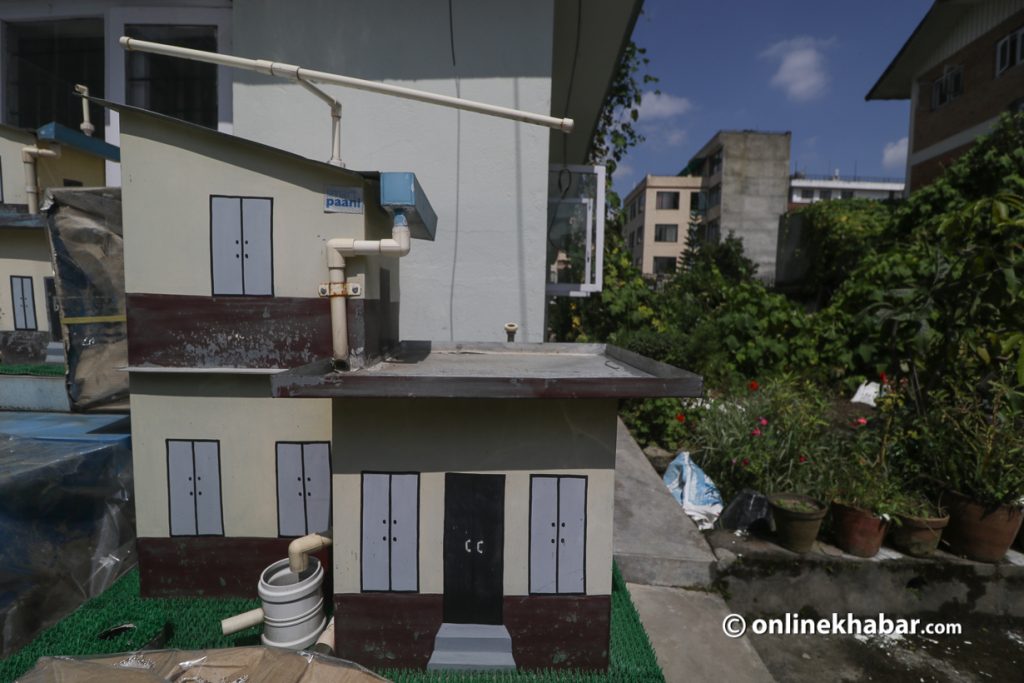 "No doubt, some places receive less rainfall whereas some other places receive more," he explains, "But, the best thing is that it does not require much work to deliver as it falls on the rooftops of every house, which is the collection surface itself."
If you look at Kathmandu only, the storage system is also already in existence as almost all houses have underground tanks or any other kind of tanks, Bhusal suggests. "The only thing we need now is the connection that links the rainwater falling on the rooftop surface to the tanks by treating it to make it drinkable, which is not difficult at all."
Yet, the weather pattern of Nepal can be problematic as around 80 per cent of the annual precipitation happens in just three months of the monsoon. But, this should not be an issue with rainfall in small amounts occurring almost every month, Tuladhar says.
If stored properly, harvested rainwater can be a great help in meeting people's demand, inform all three of them.
Need for awareness
Rainwater harvesting is not a new system as ancestors of Nepalis also practised in different ways, both Pradhan and Tuladhar say.
"But, I don't think people know that rainwater can be harvested in such a way that it can also be made drinkable. People have been using rainwater for only gardening and cleaning purposes," says Pradhan.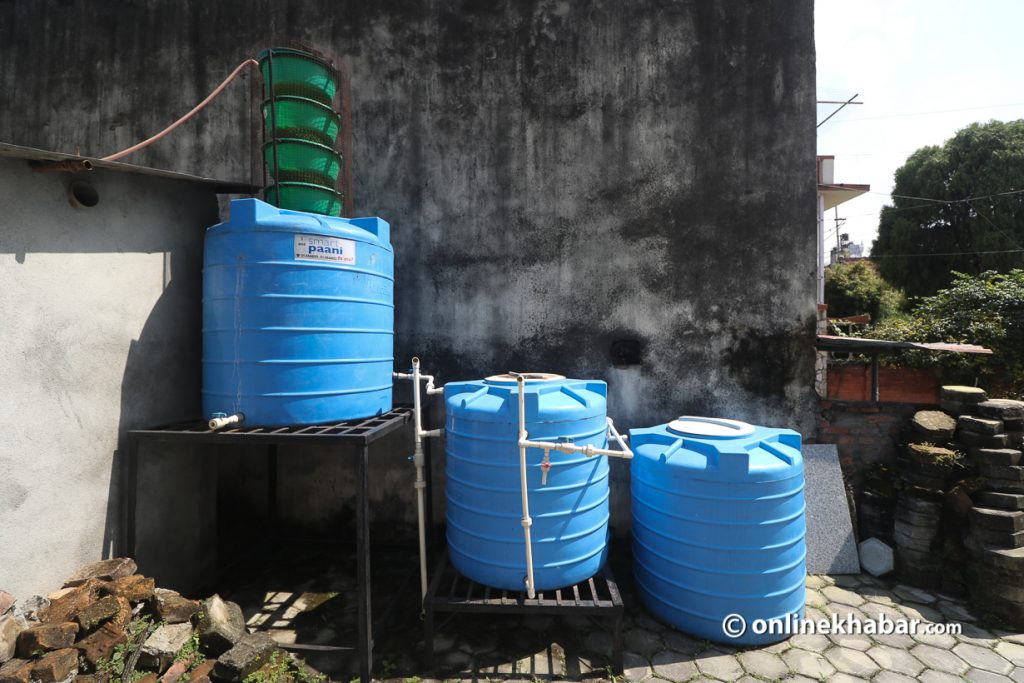 Meanwhile, Karn mentions while her team started Smart Paani a decade ago, people following eco-friendly lifestyles and people working in this sector were practising rainwater harvesting. In the span of 10 years, there has been an increment in the level of awareness in people gradually, she thinks.
Tuladhar also believes over the years, there has been some improvement in the awareness level of people, but that is not sufficient. People are gradually realising this because of the increased need, which motivates them to search for alternatives, as in the case of Shova Chhetri above, he says. Meanwhile, the establishment of private companies to work in the sector has also helped.
Yet, there is little awareness about its importance among the general people, says Tuladhar. Some people even doubt if rainwater can meet their everyday needs of water. Some fail to measure the quantity of rainwater whereas others are suspicious about its quality. Meanwhile, some find it cumbersome.
Tuladhar, who has been practising rainwater harvesting for drinking also for about nine years now, says, "We can just look at recent examples: it was raining heavily regularly and people were buying water from tankers and filling the tanks. This shows the level of awareness in people."
Also, the government is also not much aware of its importance. "Our government lacks a commitment to turning awareness into action. Instead, the government is concerned about Melamchi and other projects," says Tuladhar.