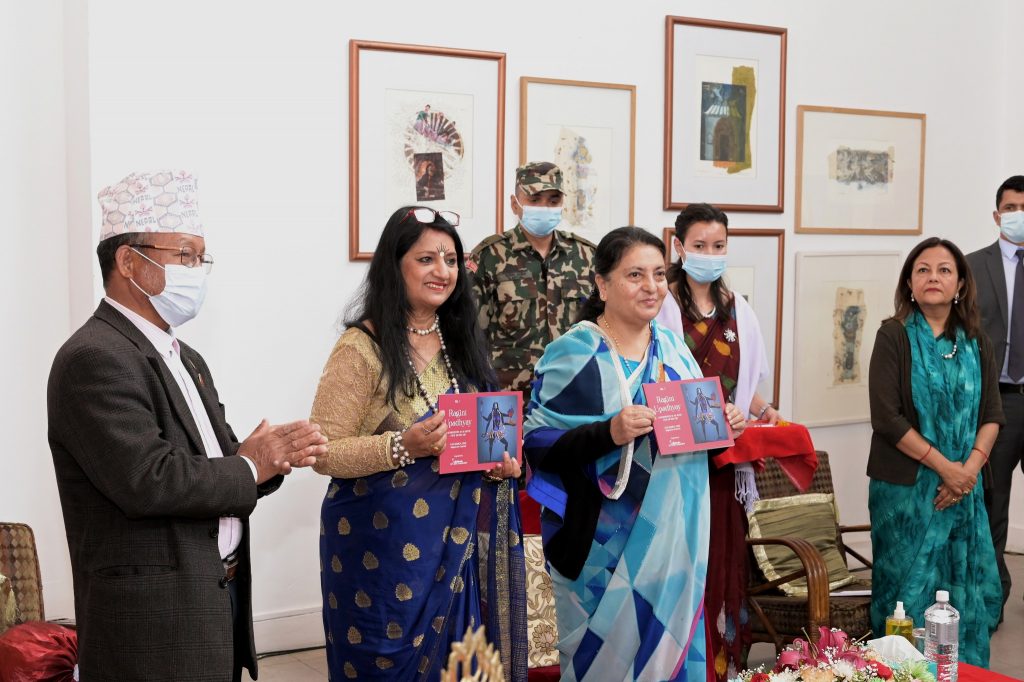 It depends upon the viewers what they see in an artwork. Their observation and analysis are usually the outcomes of their life experiences and how they feel about them. While viewing the artworks, some align them with the artists and some express a totally different point of view. Artists usually leave it to the viewers, how their audience perceives their artworks.
Veteran artist Ragini Upadhayay agrees that viewers have different perspectives on her artworks. She says, "I initiate them, and the spectator has to complete them."  She says that she has never stopped transforming her thoughts and emotions into pictures that narrate many stories. She adds, "My life has been art and art has been my life."
On the occasion of Women's Day (March 8), Siddhartha Art Gallery organised a retrospective art exhibition of Upadhyay titled Ragini Upadhyay: A retrospective of an artist (1978-2023) at Nepal Art Council, Babermahal, which is curated by artist/curator Pratima Thakali.
As the title suggests, the exhibition summarises the artistic journey of Upadhyay, the first female chancellor of the Nepal Academy of Fine Arts and also the founder of the Women Artists Group of Nepal (WAGON), in the past 45 years.
The exhibition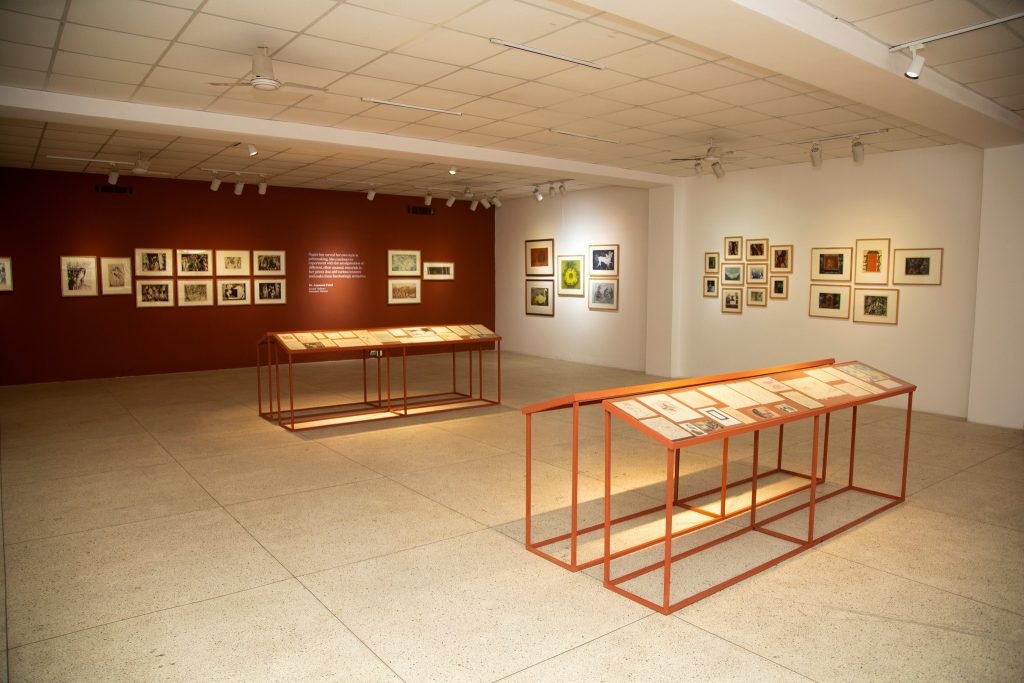 The exhibition features around 300 of Ragini Upadhyay's works including paintings, prints, drawings and lithographs, which she created from 1978 to 2023. She has used different media such as acrylic on canvas, linocut, etching, litho, watercolour, and mixed media.
The exhibition is on display on the ground, first and second floors of the gallery.
Her works are curated in a brilliant manner that celebrates her artistic journey of 45 years. The handwritten notes by prominent figures such as Bal Krishna Sama about her art, vintage photographs and her drawings on display let the viewers understand her journey, which can motivate and inspire them.
The exhibition showcases a chronological order of her artistic transformation using the themes such as motherhood, surrealism, mythology, symbolism, socio-political context, nature and more.
Meanwhile, Ragini Upadhyay's artworks reflect her moments in life from pleasant dwelling to heartbreaking aspects. "A retrospective exhibition is a milestone event in the life of any artist as it provides the viewer or curator with a profound multifaceted vignette into the artist's ever-evolving body of work," says Sangeeta Thapa, the founder director of Siddhartha Art Gallery, "But above all, it is a narrative of a bold, socio-politically aware and sensitive artist who has surpassed countless emotional and psychological challenges through her art."
Her execution and expression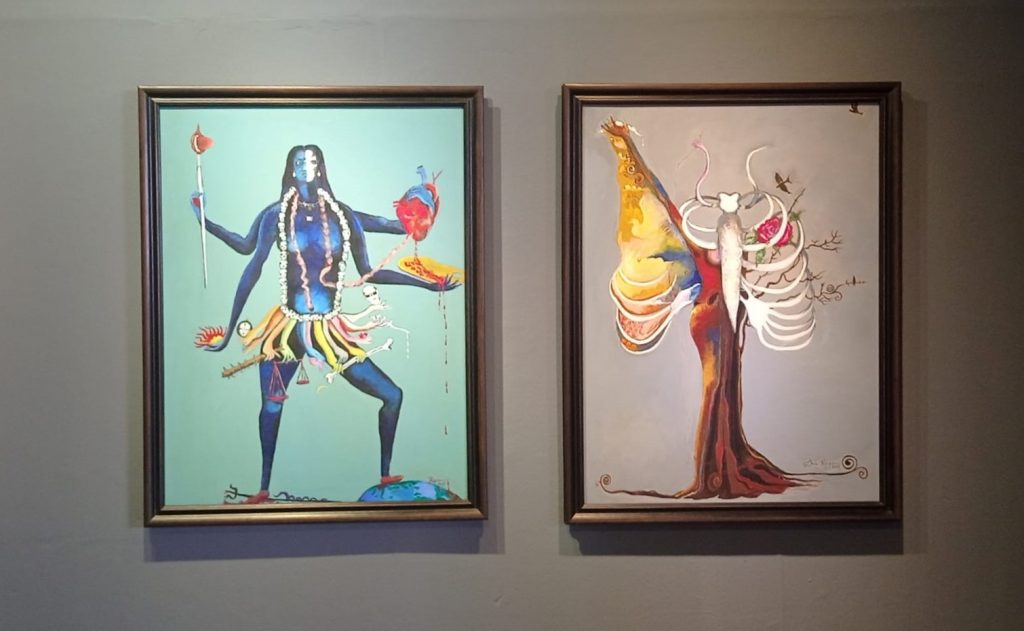 In the series, People's Power (2006–2007), she showcases the psychology of political leaders. Likewise, in Gaijatra (2009–2010), she shows the thirst for power by the political leaders using the figure of a cow as the public and monkey-like figures trying to ride on it symbolises political leaders using the public to fulfil their selfish motives. These series are bold and show the viewers on her awareness of the socio-political context.
Then series like Motherhood (2016 to 2017), Broken Wing of You and Me (2017) and Story of Ashes (2011-2019) series showcases Ragini Upadhyay's emotional side of being a mother, losing her daughter and her mother.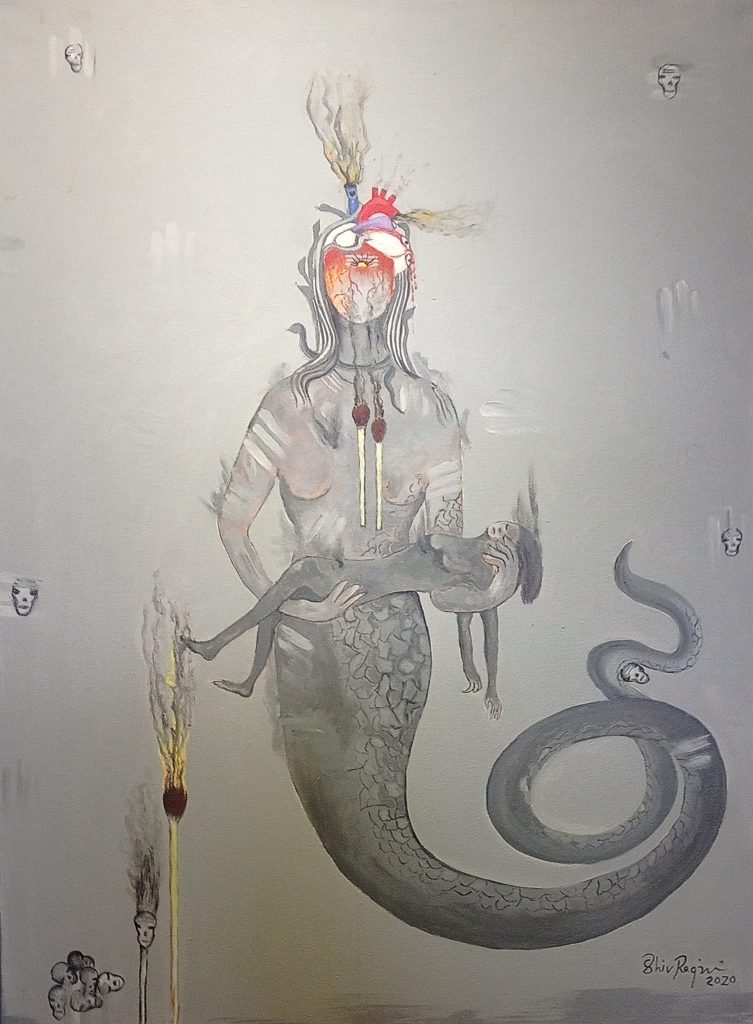 She was pregnant in 1995 and her experience as a mother-to-be is seen in the series Motherhood. She lost her only daughter Shivata in Holland in 2016 at the age of 21 to meningitis and she has depicted her suffering in that series. She says, "My daughter's diary gave me the inspiration for the Ashes series."
After the death of her daughter, she is also involved in philanthropic work she founded Shivata Love Foundation under her daughter's name and currently through the foundation, she is taking care of the education of 27 children.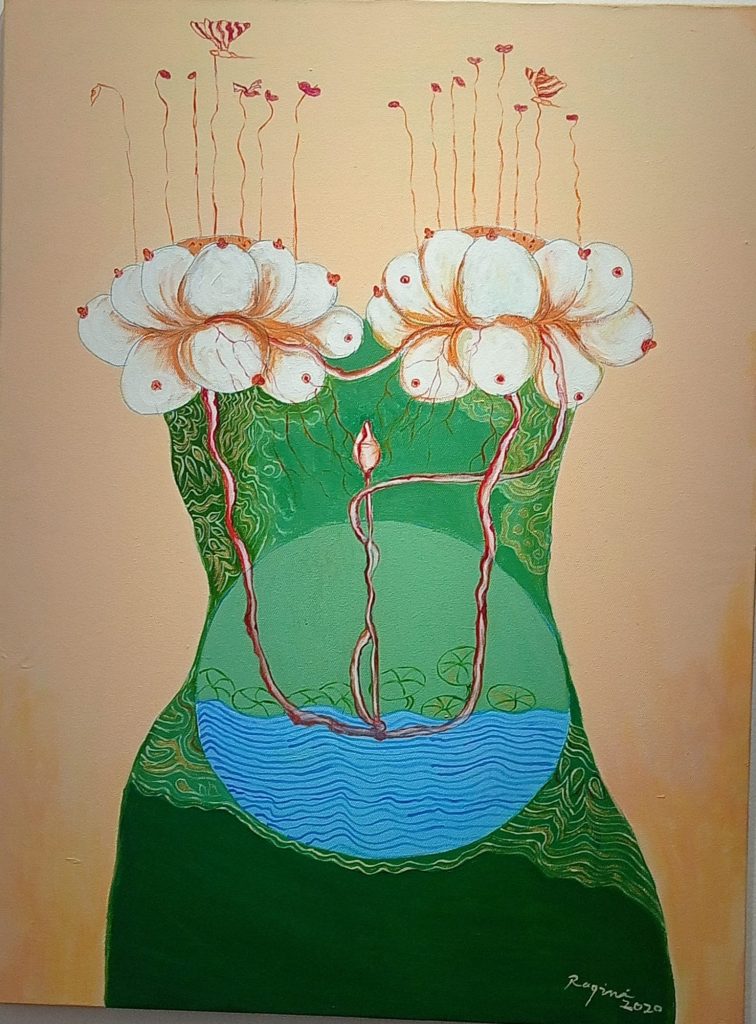 In the exhibition, the hues she used in her artworks reflect her own personality during that period.
In today's context, one can see both vibrant and dark colours in her artworks. Her artworks are visual treats that have a certain message in them for the viewers. Moreover, the use of variation in hues depicts the balance the artist possesses in herself while leading her life.
If you want to view the artistic journey of a printmaker, painter and philanthropist, visit the exhibition that continues till March 22.