When it comes to action cameras, the first and last thing that comes to anybody's mind is GoPro. It is probably the best action camera in the world as it comes with an attractive and strong build with an abundance of features making it a must-have and a desirable gadget.
Moreover, it only gets better every year. But, all the cool features such as durability that GoPro provides comes with a heavy price tag. The recently launched GoPro Hero 9 black costs Rs 65,500 in Nepal. This price may not be affordable for all those who want to own an action cam. So, today, we bring for you a list of some cheaper alternatives of GoPro that you can purchase in Nepal.
5. Eken H6S 4K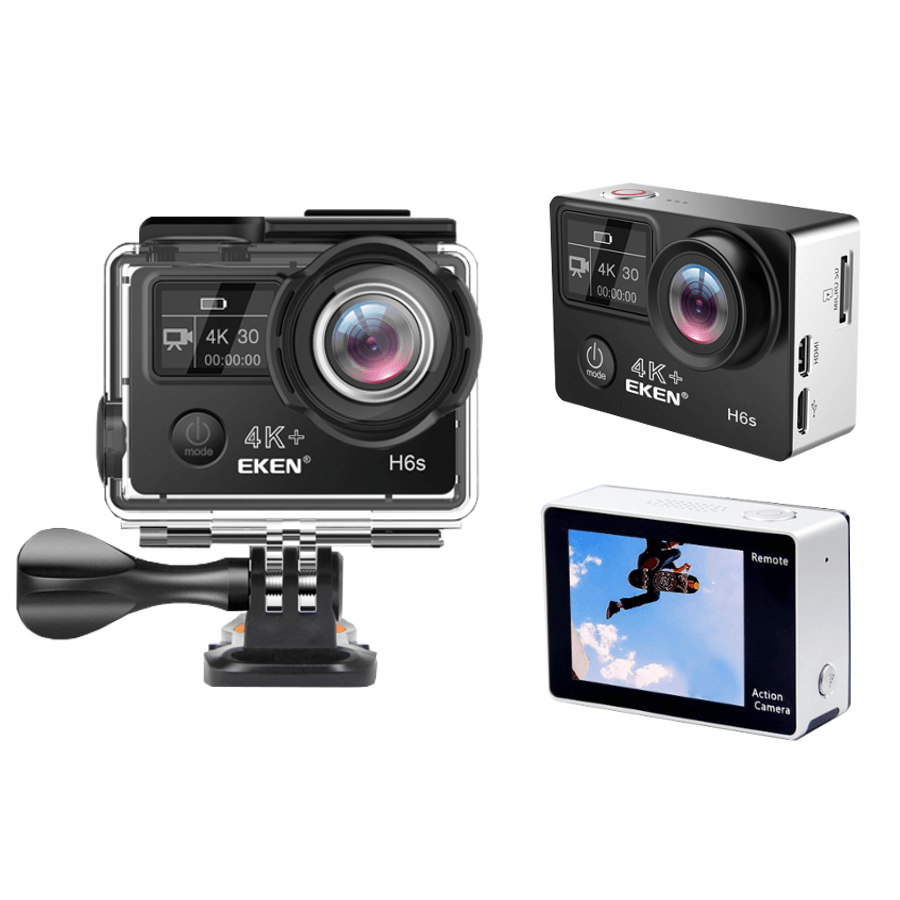 Eken H6S 4K comes with a variety of features. It probably is the best budget action camera you can purchase in Nepal. It can capture videos, single or burst photos, time-lapse videos, and series of photos at set time intervals. It also has video playback and photo playback options and one can easily adjust camera settings and resolutions. The camera can capture pictures up to 14MP and videos in 4K up to 30fps which is more than sufficient for most of the people out there.
There is a 1050mAh battery that can be fully charged in three hours. The camera also has a super wide-angle lens of 170 degrees. The camera has an Ez iCam app with which the user can control their camera using their smartphone or tablets. It includes full camera control, live preview, photo playback and more. There is also a splashproof remote that lets the user take videos and capture photos up to a distance of 6.6 feet.
Specifications
The price of Eken H6S 4k in Nepal is Rs 16,999 and comes with an action camera tripod, waterproof camera case, mount accessories and a wireless remote.
4. AEE S50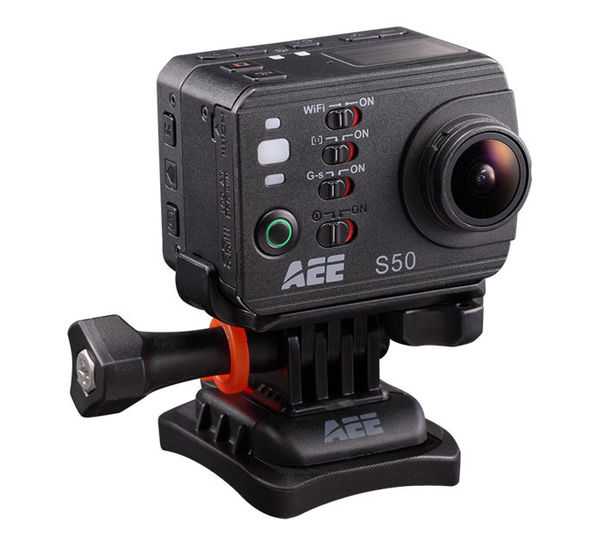 Along with capturing pictures and videos, AEE S50 comes with many other features. It has a 175-degree wide-angle lens and comes with multiple interchangeable recording modes. An additional feature of this action cam is it supports an external microphone and HDMI output. This action cam is said to be waterproof up to 40 metres. The 1250mAh battery can give you a decent run while recording videos. The battery can last up to three hours.
There is no 4K recording option though. The cam records video in 1080p@ 30fps and clicks pictures at 12 MP high resolution. It also has 10x digital zoom and up to 16x fast forward and fast reverse mode.
Specifications
The price for AEE S50 is Rs 19,800 and upon purchase, it comes with waterproof housing, camcorder plate, flat adhesive pad, curved adhesive pad, USB cable and quick starter guide.
3. AEE S71T Plus
A better version that gives a better value for money among AEE action cameras is the AEE S71T Plus. This action camera has professional 4K shooting and can click 16MP supersharp photos. It has a built-in 2-inch touchscreen display and a built-in wi-fi transmission function. It also has an IP68 waterproof housing dive depth of up to 328 ft. This action cam also supports slow-mo, burst shooting, time-lapse, up to 150-degree ultra-wide-angle and 10X digital zoom for the ultimate action camera experience. It supports an external microphone and has up to 16x fast forward and fast reverse mode. Smartphones and tablets can have real-time control and operation. The action cam will also be equipped with multi-functional wi-fi remote control. Another noticeable feature about this action cam is it has a built-in G-sensor.
Specifications
The price for the AEE S71T Plus is Rs 26,350 and upon purchase, the buyer will get waterproof housing, wi-fi watch remote, camcorder plate, 2-pin mount, camera bag, USB cable and curved adhesive pad.
2. SJ 8 Pro
SJCam is one of the widely used and popular action cameras in Nepal. SJ 8 Pro is probably the best mid-range action cam you can find in Nepal. This cam comes with an Ambarella chipset installed. It can record 4K videos in 60fps and click sharp photos through its 12MP Sony IMX377 sensor. It also shoots image in RAW format.
There is a variety of features this cam offers like video lapse, slow rec, still, photo lapse, burst mode, video+photo mode, car mode, and FPV mode. It has a long-lasting detachable battery that can last up to 90 minutes recording 4K videos in 60fps. It also has a 7G lens, gyro stabilisation, 8x digital zoom, external microphone and remote support. There is an SJCAM Zone app that allows users to control settings and functions and offers an all-in-one real-time experience for easy previewing of recordings and photos.
Specifications
The price for SJ 8 Pro in Nepal is Rs 30,000 and the buyer will get waterproof housing, quick release buckle, 2 x 3M adhesive tape, 4 x camera mount, tripod mount, adapter, cleaning cloth and a type-C cable along with the camera.
1. DJI Osmo Action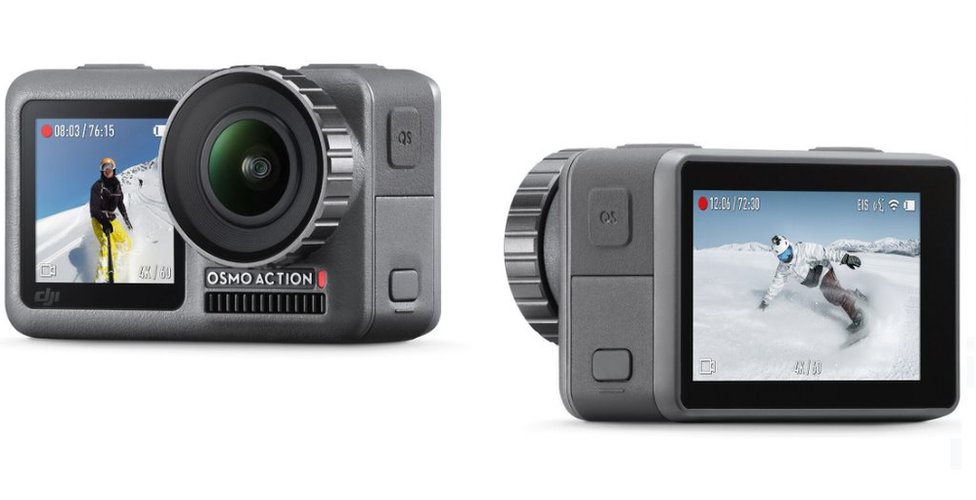 DJI's Osmo Action is probably the best GoPro alternative you can find in Nepal. It is not so cheap as you expect it to be, but if you want to save a few thousand bucks, this is the best option you have. This action cam comes with almost all the feature of a GoPro.
Though it cannot compete against the likes of GoPro Hero 8 and Hero 9, it gives a tough challenge to the Hero 7, which is a pretty badass action camera itself. It can record HDR videos in 4K up to 60fps; the user can rotate the display 90 degrees to take the photos. It has a dual display that allows the users to preview the images and videos. Osmo Action is waterproof up to 36 feet and up to 30 minutes. With waterproof housing, the depth can be extended up to 197 feet. This action cam also records videos in slow motion. DJI's RockSteady electronic image stabilisation (EIS) technology stabilises footage in standard record modes. RockSteady is enabled in all video modes except in slow-motion, hyper-lapse, or time-lapse modes. The Osmo Action can be controlled via Bluetooth or Wi-Fi from an iOS or Android smartphone using the DJI Mimo app.
Specifications
The price for DJI Osmo Action in Nepal is Rs 48,000 and the buyer will get a mounting frame, a USB Type-C cable, a quick-release base, a flat adhesive mount, a curved adhesive mount, and a connector screw along with the camera.