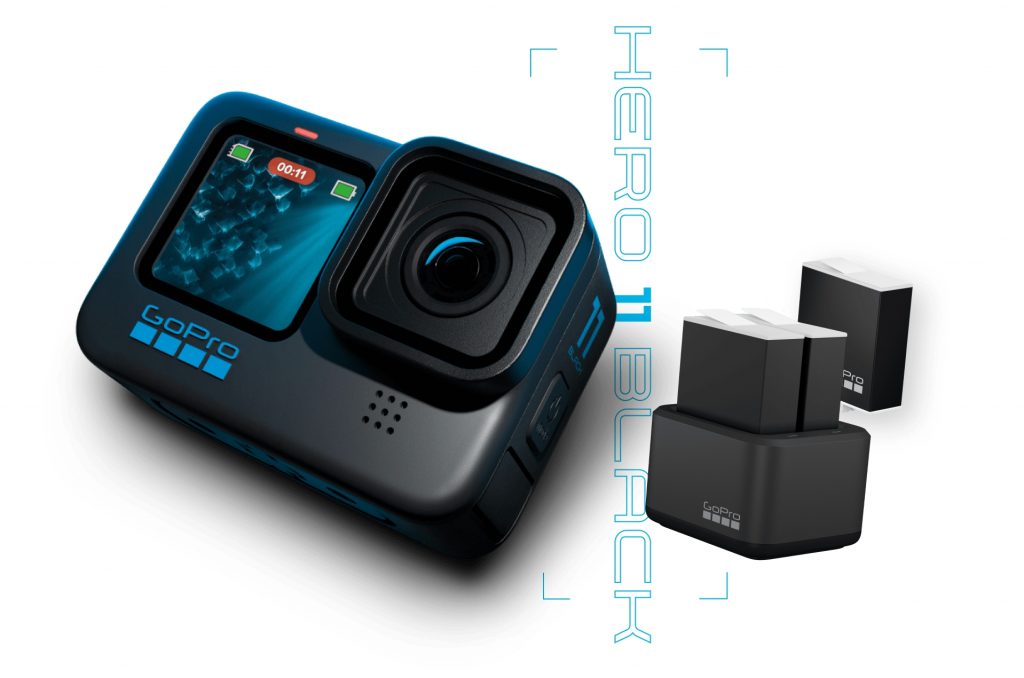 GoPro Hero 11 Black is the 11th generation of action camera from GoPro that has been finally released worldwide and is available in Nepal also. The action camera has been released with two other models, Hero 11 Black Creator Edition and Hero 11 Mini.
There are no huge visual changes to the camera, but the features have been upgraded for a better and smoother experience. Go Pro Hero 11 Black has a larger sensor this time and also has a bigger aspect ratio. The action camera also offers a wider field of view and better colouring than the previous generation: GoPro Hero 10 Black.
Let's get into the details to know more about GoPro Hero 11 Black.
Specifications
Dimensions
Width: 2.8 inch
Height: 2.16 inch
Depth: 1.32 inch
Weight
153 grams
Display
2.27'' Fixed touchscreen LCD
Secondary display
1.4" LCD live-view monitor
Camera sensor type
CMOS sensor
Resolution
27 MP
Focal length
24.4mm
Media/memory card
Single-slot: microSD/microSDHC
Video format
Up to 5,120*2,880 at 24/25/30/60 fps
Slow motion mode
120 fps at 4K 240 fps at 2704*1520p
Still image
24.7MP JPEG/RAW
Audio format
WAV
ISO sensitivity
Photo: 100-3200 Video: 100-6400
Waterproof depth rating
33 ft /10m
Inputs
1*USB 3.1 Type-C charge
Battery
Rechargeable 1720mAh
Connectivity
Wifi, Bluetooth
Audio
Built-in speaker, built-in mic
Price
Rs 81,500
Design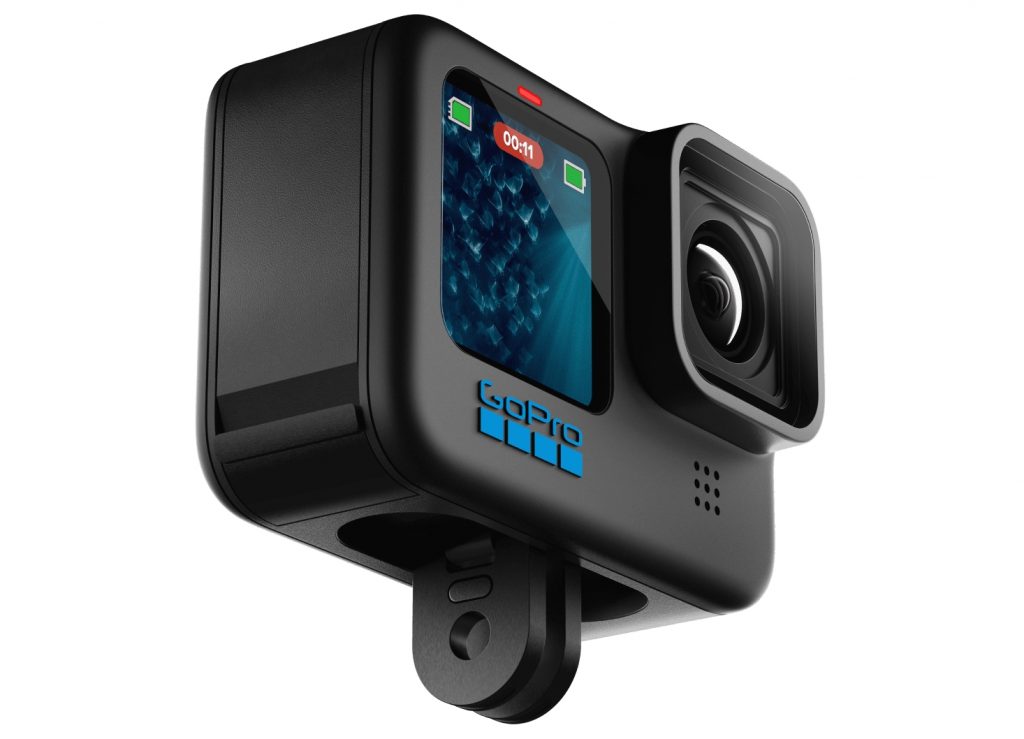 Visually, there are no changes on the new GoPro Hero 11 Black compared to last year's Hero 10 Black. The only thing differentiating is the writing on the side, which mentions the model number. The accessories of Hero 10 would perfectly work on Hero 11 as well. The camera is waterproof up to 33 feet.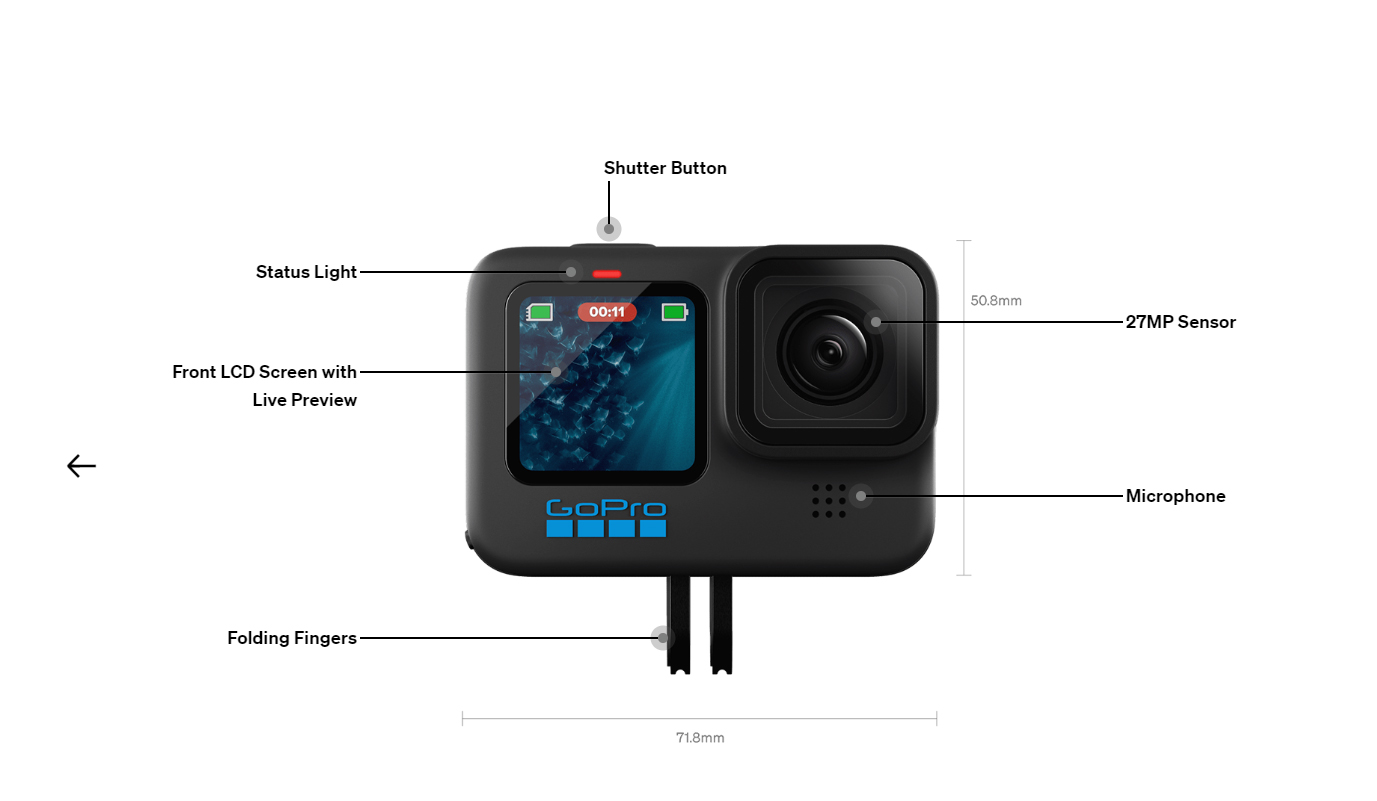 It has the same 2.27-inch fixed touchscreen LCD display on the back and a 1.4-inch secondary LCD live-view monitor on the front.
Camera features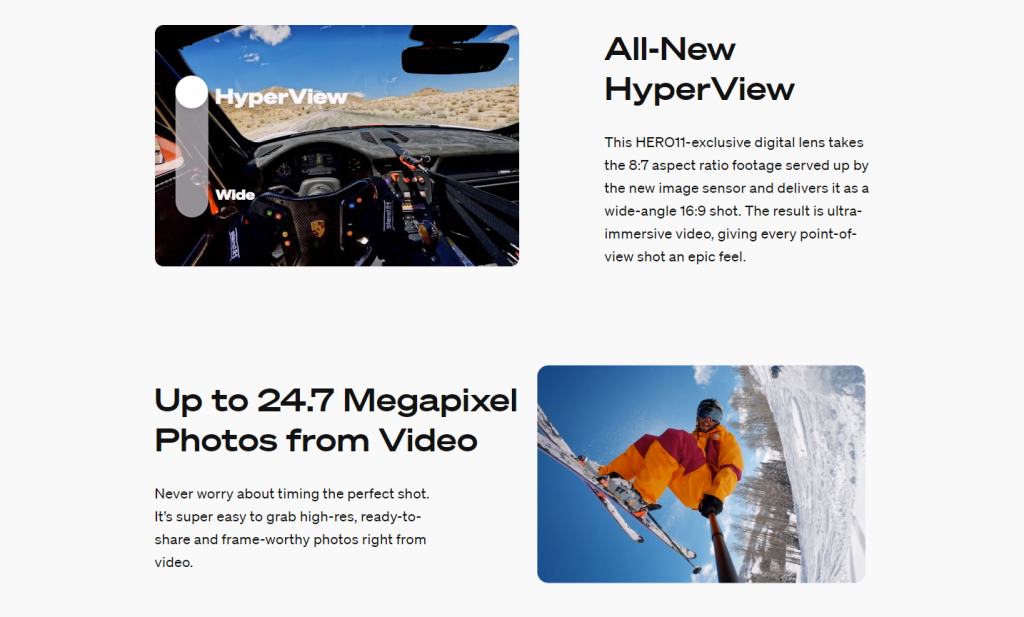 If you are a GoPro user, you definitely are familiar with the stability of the videos taken by GoPro. The HyperSmooth feature on the device allows users to record amazingly smooth and stable videos even in difficult situations. To make things even better, the new GoPro Hero 11 Black comes with the fifth generation of onboard stabiliser, which offers improved stabilisation in all 4:3 video modes.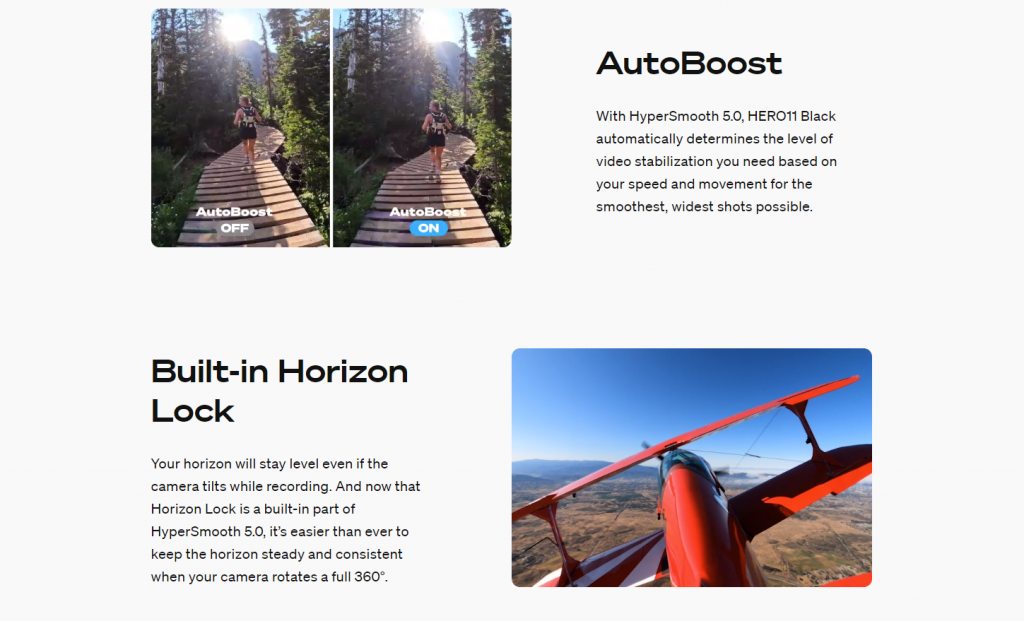 There is also a new autoboost option on the device, which, according to GoPro, automatically adapts and determines the level of video stabilisation based on the speed and movement of the users for the smoothest and widest shots possible with minimal cropping.
A new, 360-degree horizon lock feature can be really exciting to those who want to take their cameras for a spin. This feature levels the horizon level of the footage even when the camera rotates, which previously was only possible if the max lens mode was used.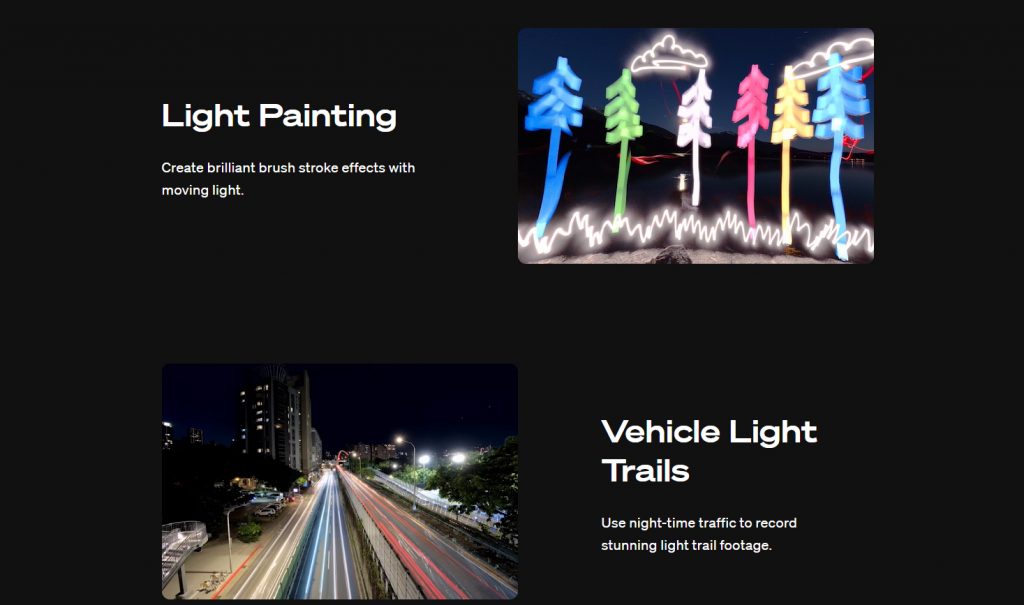 Similarly, GoPro Hero 11 Black has three new night modes: star trails, light painting and vehicle light trails. The night mode takes long exposure and time-lapse at night. There is an easy mode on the device for the amateurs while those who are comfortable with their own settings can adjust manually with the Pro mode.
Performance and battery life
GoPro Hero 11 Black runs on the same GP2 processor, which was introduced last year in the Hero 10. The introduction of this process has made navigation faster and also has made the display more touch-responsive in the action cam.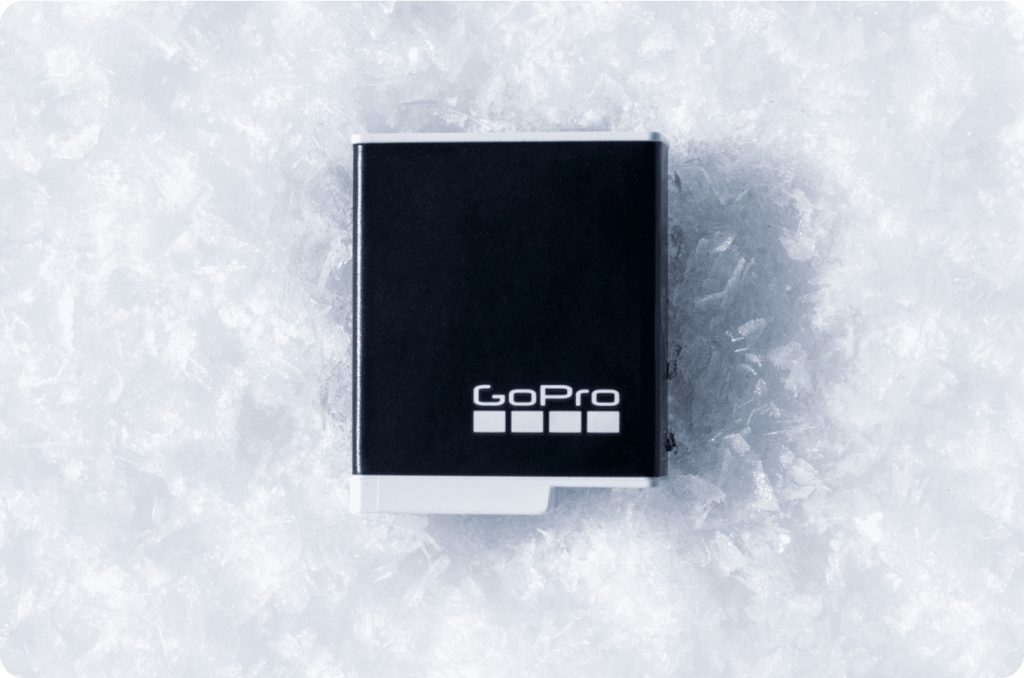 The new GoPro Hero 11 Black gets the Enduro battery as standard, which was an optional purchase last year. This 1720mAh battery performs better than the standard batteries that were used last year. The Enduro battery offers better performance in all weather conditions as well, making it a great upgrade and giving more recording time to users in extreme conditions.
Camera verdict
GoPro Hero 11 Black now comes with a vertically larger sensor. The resolution on the action cam is also higher than the last time. It now has a 27MP camera sensor, which can record up to 5.3K resolution videos at 60fps and 4K resolution videos at 120fps. Now, it has the option to shoot in 10-bit colours, which offer a greater dynamic range. This is the same video setting as last year's, but the larger sensors now allow the users to shoot in a new aspect ratio focusing on vertical videos as well.
Since video-sharing apps like TikTok and Reels are taking over the internet lately, the new 8*7 aspect ratio can be a blessing to its users. With the full frame mode, the users can shoot the videos and crop them later in different aspect ratios appropriate to share on social media. The user can also extract 24.7MP high-resolution stills from the video. Similarly, the camera can click 27MP photos. The slow-motion video recording option remains the same as it was on GoPro Hero 10 Black.
Another interesting addition to GoPro Hero 11 Black is the hyperview mode. This view provides an even wider angle than the superview mode, which was available in the previous generation of GoPro Hero action cameras. It also offers superview mode in 4K 120fps resolution. Similarly, the user can now shoot RAW format photos in burst mode, which was limited to JPEG format only in last year's model.
The price of the GoPro Hero 11 is Rs 81,500.