While pursuing her bachelor's degree in management at a Kathmandu college, Pranisha Shakya learned Ranjana lipi, the script used in writing the traditional Nepal Bhasa, during the Dashain-Tihar break. Being a Newa, she felt that she had to learn the script, and she continued to learn Prachalit lipi, another script used in the language, too.
This was her story some 15 years ago, yet memories are still fresh for her.
After learning Ranjana lipi, Shakya shortly started teaching the skill to others. She was willing to continue it a bit longer, but life had different plans for her. She got married, moved to Qatar, and then to the United Kingdom, and also had two kids. Now, 15 years later, she is doing the same work of teaching the Nepal Bhasa script in the UK for the last two years, a job that is joyful but filled with challenges.
Teaching native in the foreign land
Marrying and migrating first to Qatar and then to the UK, Shakya had already stopped using or practising the Ranjana lipi in her daily life.
But, at a point of time, she found herself detached from her roots. Worried, she was sad that she could not continue an activity that could save herself from detachment.
In the meantime, a new opportunity popped out in front of her on Facebook. "In 2018, I saw that a group–World Newah Organisation, UK– had conducted Ranjana lipi class here in the UK. So I got in touch with them through Facebook."
As per her wish, she was offered to be a volunteer for the Ranjana lipi training there, through Pasa Puchah Guthi, UK Chapter. Then, she had to wait about three months before she got to relive her days in Nepal as a teacher and continue teaching Ranjana lipi in a foreign land.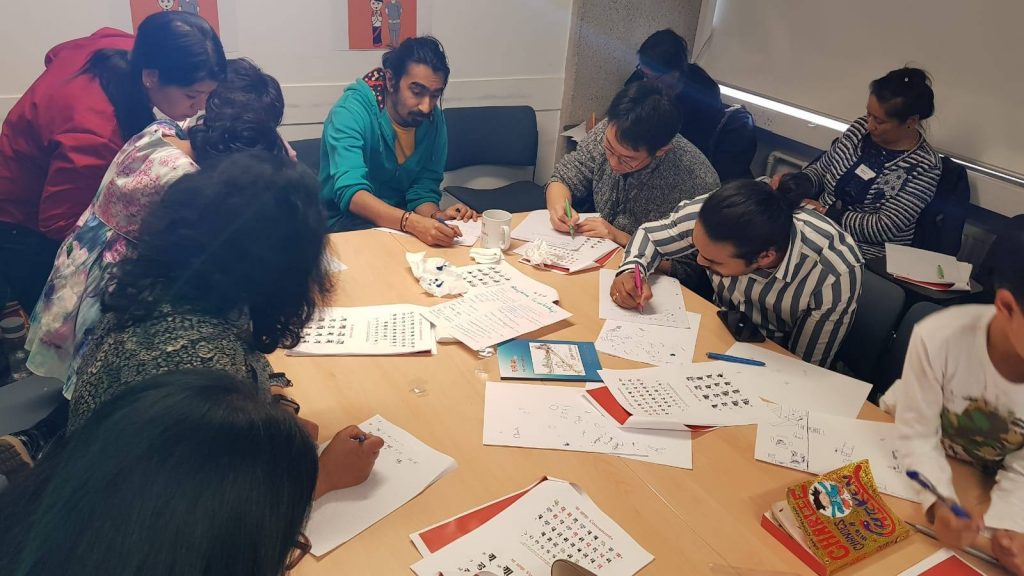 She first started working at the organisation's cultural secretariat. Later, with some scepticism, she garnered confidence and started teaching herself.
Love for culture
Nepal Bhasa and its scripts are the pride of Newa culture, says Shakya. "It is an art, the more you learn about it, the more it draws you in. It is my personal experience, I have grown to love my culture even more."
She believes learning a language is the first step to learning one's culture, history, and the knowledge one gets to pass on and make active contributions. Language gives meaning and helps in the research of the past.
So far, she has taken three physical classes with 12 online classes and has participated in many of the presentations and programmes related to Ranjana lipi, recalling her journey every step of the way. During this time, together with Sanyukta Shrestha of Pasa Puchah Guthi, UK, she also made and sold many bookmarks with people's names written in the Ranjana lipi.
Not a smooth ride
But, it is filled with struggles, she explains. There used to be people who were not even familiar with basic Nepali alphabets. "So, we had to teach them from Nepali alphabets, in Devanagari, before even starting to teach Ranjana lipi. So, we would be holding their hands and teaching them how to write, just like teaching little kids," she says.
"When one knows the Nepali alphabets, it is much easier to teach them. As many of the letters, like 'Ka' 'Ba' 'Wa' are similar in both languages, it gives us a head start. We categorise the letters based on their complications and types and teach a few letters every day."
Even during the Covid-19 lockdown, the effort continued online on Sundays of April, according to Shakya. "Compared to the physical classes, where people had to travel long, online classes did bring more people in. We used to get 500+ views on Facebook Live too," she shares, "But, the thing about online classes is that we do not know if people are learning and practising the language correctly or not."
Her interest clearly lies in the flourishing and promoting of Ranjana lipi, not just in one area but widely. However, her observation tells her that there are so many hurdles to achieve the feat.
"People are certainly interested, they inquire, they participate and even learn Ranjana lipi," Shakya says, "But, it will not make a difference if there is no use of the language after they have learned it."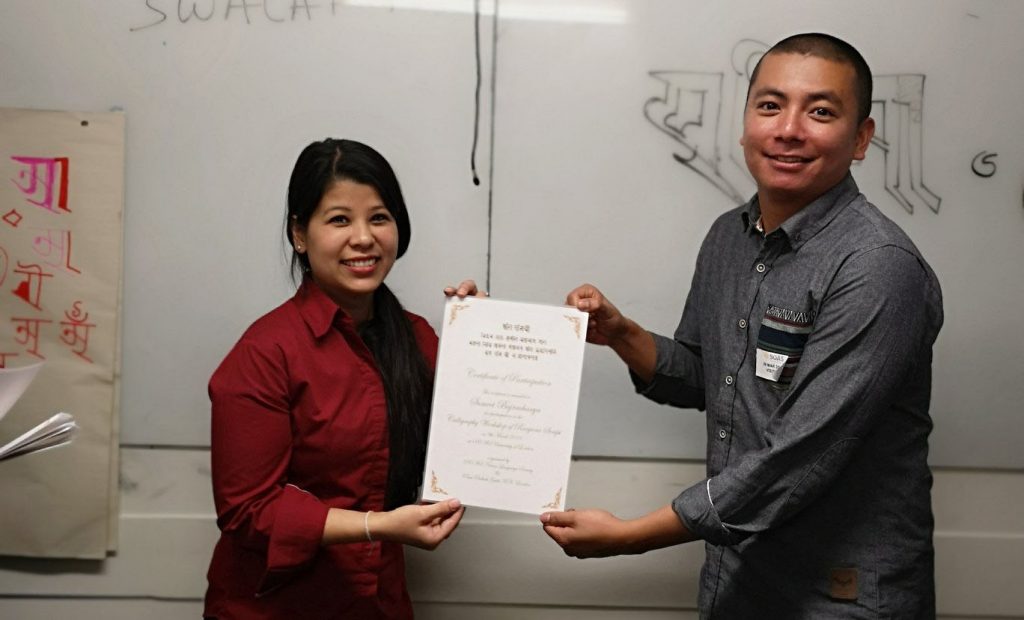 Newa parents in the UK struggle to teach the language to their children; it is much easier for them to converse and understand things in English. Even if they do, apart from the parents, they do not have many opportunities to use the language, and it is likely they will forget it sooner or later. Shakya elaborates the problem, "There are no grandparents here to encourage the next generation to converse in our native language."
Another problem one might face while learning Ranjana lipi is the lack of resources. "We are in a foreign land, so we do not always get the right resources. We brought pens from Nepal to show the students, but mostly we used paints, markers, bamboo pens and crayons to teach and let them practice," she says.
Meanwhile, she adds, "It has been five years that we have been teaching, but we cannot expect similar effects in people here like in Nepal." She observes that in Nepal as well, many have been discouraged to speak Nepal Bhasa because of the different pronunciation of 'Ta' and 'Ma'.
Concerns for coming days
Shakya says not just the continuation of the language but the sustainability of the Ranjana lipi classes is in question too. "The organisation is a charity and we do not get paid. So, all we are doing is from our hearts, and because we are passionate about it," Shakya says.
"Whether you talk about Ranjana lipi classes in Nepal or elsewhere, so far, any amount of effort and the campaigns held is solely driven by the emotional attachment they have with the culture or the cause."
But, she is hopeful that if they can just tap the right mindset and increase their curiosity, the teaching gets easier and so does the practice, even in the UK.
Her personal preference lies in teaching the younger generation. "It is great that people of all ages are interested in learning Ranjana lipi. But, realistically, if we teach the younger generation they are likely to learn, practise and keep the culture alive for the next 50 years."