Kathmandu, March 20
Exactly a month after embarking on a visit to India, Nepal's southern neighbour, Prime Minister KP Sharma Oli has left for a week-long visit to China, the northern neighbour.
Improving bilateral ties was the sole agenda of the India visit, whereas trade and development are the agendas of this visit. Members of his entourage include four Cabinet ministers, including Minister for Foreign Affairs and Minister for Finance.
Monday will be the most important day of the visit. That day, PM Oli will meet Chinese President Xi Jinping and Li Keqiang and sign some important agreement.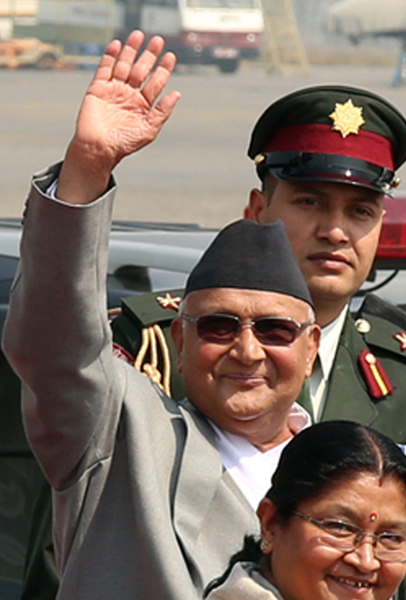 Nepal's agendas
The transit treaty is the main agenda of PM Oli's visit.
So far, Nepal has entered into a transit treaty with India only. So far, Nepal has been importing goods from third countries via the Kolkata part. During PM Oli's India visit, the two countries signed an agreement allowing Nepal to use the Vishakhapatnam port.
During the blockade, India also stopped imports to Nepal from third countries. So, a transit treaty with China will be crucial for Nepal's trade diversification as it will end India's monopoly on Nepal's international trade. Nepali officials say both the sides have completed homework for the transit treaty.
A Sigatse-Kerung-Kathmandu-Pokhara-Lumbini railway line is on Nepal's agenda. China is bringing rail up to Kerung and Nepal wants the link extended to Lumbini via Kathmandu. China is positive about extending the railway link.
By 2020, China plans to construct a rail track up to Sigatse. During the Prime Minister's visit, there will be an agreement on preparing a DPR for the project. The deal will be crucial for the development of railway line in Nepal.
The north-south road is the other agenda. There are expectations that there will be agreements on opening the Kimathanka customs and on constructing the Kimathanka-Dhankuta link road.
Other agendas including construction of a transmission line along Ring Road, speeding up Ring Road expansion and expediting West Seti project construction work, for which China has made investment.
What of oil deal?
The public wants to know whether Nepal and China will sign an oil import deal during PM Oli's China visit.
It's almost certain that the deal will not take place. After India imposed a blockade against Nepal taking objection to the new constitution, Nepal had shown eagerness to bring in oil from China. The two countries had reached an understanding for import of oil from China. But a full-fledged agreement has not happened.
Nepal Oil Corporation officials have visited China and discussed technical matters related to oil import. During this time, Deputy Prime Minister and Foreign Minister Kamal Thapa also visited China.
But the oil import deal is not the agenda of this visit. China has proposed giving 15,000 MT of oil immediately. But an agreement to this effect is unlikely to happen during the visit. The joint communique is likely to make mention of Nepal-China oil trade on commercial basis, but an oil import agreement is unlikely to take place, a source close to PM Oli said.
China, though, is positive on constructing oil storage facilities in three places of Nepal.
(Photo: RSS)