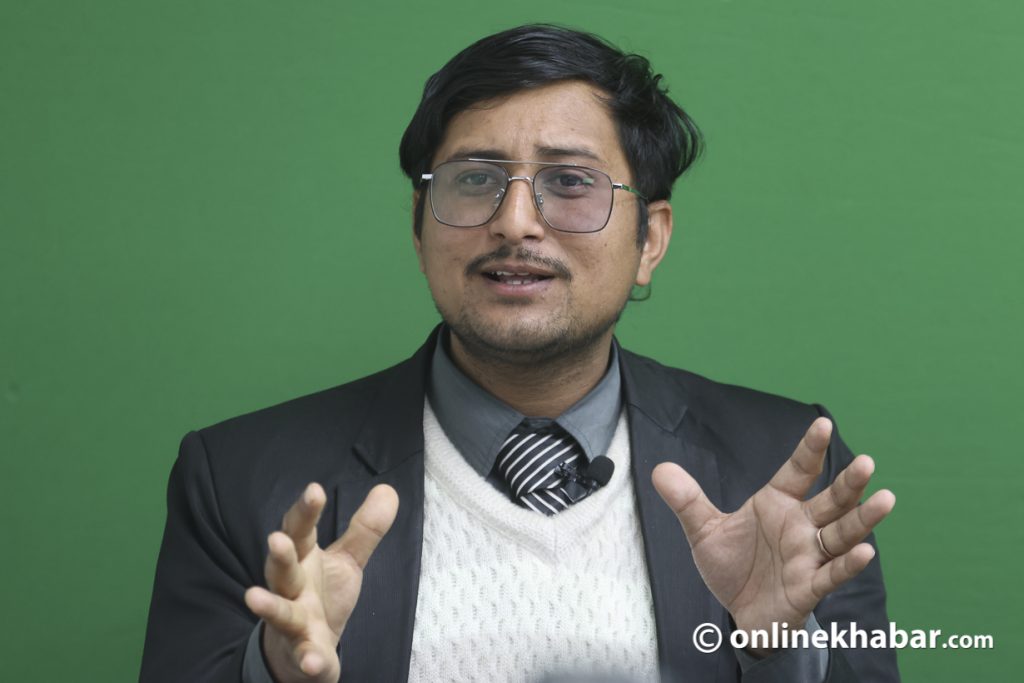 When Sanjay Adhikari visited the Pashupatinath temple, one of the most popular Shiva shrines in Nepal, in 2014, he was left with a question—how many litres of milk did the temple purchase a day?
In his first year as a law student, he was taught the right to information (RTI) and like many people, he used to think it was for media personnel only. But, after the Pashupatinath visit, he filed his first RTI case.
"This experience burst my bubble that information was easy to get," he says. The Pashupati Area Development Trust neither had a public information officer nor did anyone coordinate to give him the information. "Only after many processes and one and a half years, I was able to get the information," he says.
But, by the time he got the information, Adhikari had already taken a deep dive into the law and it changed his life. By then, Adhikari had started becoming the go-to person for many heritage activists, in particular when they need to deal with legal issues.
Sanjay Adhikari's daily life is almost equally busy since then–for heritage and nature conservation in the country. Over these years, he has courted several controversies, but he believes all of them are meant for the common good.
Getting into activism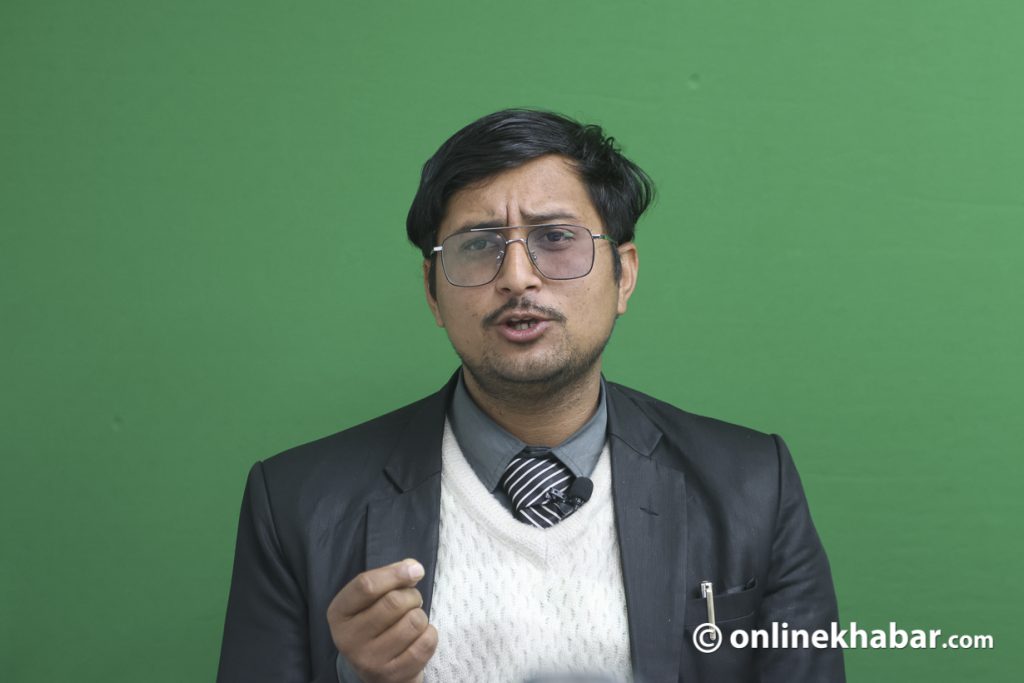 How did Sanjay Adhikari get into law though?
"After my A-levels, for a year I was on the journey of self-exploration. And for the sake of studying, I chose law despite my family, for generations, not being from the law background."
After that, the 2015 earthquake shook Nepal, which gave him another reality check. "That was the first time I knew the temples were made of mud. The first time I saw Ranipokhari dry. That got me curious and nostalgic about the stories I had heard," Adhikari says, "One day, I saw a post about Kasthamandap, so being the new know-it-all law student, I approached the page that had posted the information, saying I know how to file an RTI so I can help them if they needed it. Since they did not reply, I forgot about it."
But, the innocent messaging became another turning point in Sanjay Adhikari's life. "Two years later, I got a random call," he says, "The person, who was the page's admin, told me about that same message and asked me to meet them and join them."
The person was heritage activist Alok Siddhi Tuladhar. After he met Tuladhar, his journey as a public interest litigator began. He actively contributed to the Occupy Tundikhel campaign.
But, it was the Nijgadh international airport case, one of his biggest and most controversial cases, that brought him to the biggest-ever limelight. "I heard this national pride project endangered 2.4 million trees, but for someone who had not stepped outside Kathmandu, it was an unimaginable number," he says, "Only after watching a video, I could grasp the gravity of the situation. And then I began to fight for the right of nature."
And, the ball kept rolling. Sanjay Adhikari brought to light how fundamental human rights were being marred by heritage encroachment. He also penned a report about the reactive monitoring system for the International Council on Monuments and Sites (ICOMOS) mission to put the Kathmandu valley on the danger list, hoping for a change in attitudes among the authorities.
He has been active in getting the stolen idols back to Nepal, starting with the return of the Laxmi Narayan idol, together with Rabindra Puri. He is involved in Nepal Heritage Recovering Campaign for the same. He says, "We have 100+ idols that are on their way to Nepal only with the help of diplomatic connections so far. But, now we are taking the criminal investigation route to return more idols."
What is more? Sanjay Adhikari even became an advocate for the LGBTQIA+ community and their rights.
In setting the new standard for cement industries in Lumbini or fighting for the rights of elephants in Sauraha being illegally traded to India, one can find Adhikari involved deeply. Even when the world was in lockdown, he fought for those who were on foot for days to get to their homes and for the students in Bangladesh to come home and die in their own country.
The continuity of the 'anti-development' agenda
Sanjay Adhikari is one of those people who will be present in different kinds of activism that happen today in and around Kathmandu. But, Adhikari shares that he had an early retirement plan.
"When I first started working, I was a law student, and I had thought that I would work until my degree was finished and start my practice right after I graduate. I had even told Alok dai that I would work in the heritage sector for just three years and retire," he says, "But life did not follow the plan."
"Recently, we were revisiting our time at Ranipokhari. And, he revealed that the reason why he approached me first was not that I was an "expert", but just for a mere head count. That burst another one of the bubbles I lived in. But I was in too deep already to back out now."
Between fighting for culture, indigenous communities and nature, Sanjay Adhikari questioned himself many times if he was really an anti-development person. And he got many local, mafia to international-level threats for daring to question. He would have quit many times too. "When I was on the verge of quitting, media coverage and people's plight, together with the obligation, I felt helped me to keep fighting."
He has filed more than 65 public interest litigation cases. Behind his many PILs are two main pillars: the Ancient Monument Act and the omission of duty.
While they were standing against the encroachment of heritage, Tuladhar asked him to look into the Ancient Monument Act (1956), which became another revelation for him. And burning the midnight oil, he read the whole act, and, after that, started quoting that everywhere and found himself in the middle of many initiatives.
"Then I got connected with senior advocate Prakash Mani Sharma. And, he pointed me in the direction of the law that talks about the omission of duty," Sanjay Adhikari says, "That got me more intrigued to question what happens to the officers who do not fulfil their duties if they can be made legally obliged to be accountable."
While many of his cases are still in hearing, he lost the first case of his life: his attempt to stop the reconstruction of Laxmi Prasad Devkota's house.
Busy man
Maybe one of the busiest among his peers, Sanjay Adhikari wakes up at 4 in the morning daily and the first thing he does is read his case files. Next, he makes the slides for his lectures and spends two hours of his day teaching. And with all his involvement, he gets about just three hours of sleep every night.
"I spend a lot of time researching and reading. For quite some time I was working for free, but that would not fill my pockets," Adhikari says, "So, I took up a teaching job at Kathmandu School of Law, where my focus in class is to give students legislative wisdom and indulge students in legal practices with the clinical law department there."
Apart from that, he is directly involved with five organisations including his firm. He has plans to continue his practice, but he rarely gets to be in his firm or fight his cases. "My prior engagements and all the forms of activism keep me busy. Even after one and half years, I have not been able to do my practice completely."
Law is the backbone
Sanjay Adhikari says being a law student has had its advantage in his heritage activism. "If I was an activist alone, I might have been one more voice that would have got lost in the noise. But as a law student, the knowledge helped me and gave me that edge."
But if a commoner is not a law student, how plausible is it for them to know the law? He answers, "Law is something that people already know. People already know that you should not kill, or hurt others, that society should be kept clean and sustainable for the future, to work in favour of the environment or ecosystem for all living beings, and that it is you who will have to protect it today. It is not rocket science, law is just a technicality to help you get justice."
Talking about his motivation to work pro bono, Adhikari says, "I fight because the subject touches the heart. It has been my passion to save the indigenous communities because I come from a community without any sampada (heritage) or sanskriti (culture)."
But Sanjay Adhikari feels it is a thankless job some days. "I work on behalf of both the communities. But as a Bahun (Brahmin), I do get accepted by the Newa community, and because I work for the Newa community I do get accepted into the Bahun community. It feels like I belong to both the communities and neither at the same time."
Also, in retrospect, Adhikari states that it is the PIL cases that have shaped the progressive Nepali law scene, even in the current scenario where media trials are more prominent. Adhikari also states that the government needs to start giving PIL cases and advocates who fight pro bono more weightage.
His experience fighting PILs makes him question the future of the PIL in Nepal. "Activists are usually said to be guided by compassion. But where is the logic?" he says, "If we want to preserve our history and continue our legacy, we have to work with logic and back it up with research. It is we who need to save our heritage today, for tomorrow."
Sanjay Adhikari adds, "There is no recording of the hearings in the court. No matter the good or the bad, we are leaving nothing for the future. Law students can at least make references if we do so."
But fighting a PIL is equal to wasting time without any returns. "It is very depressing at times. But I continue to fight for tomorrow. "