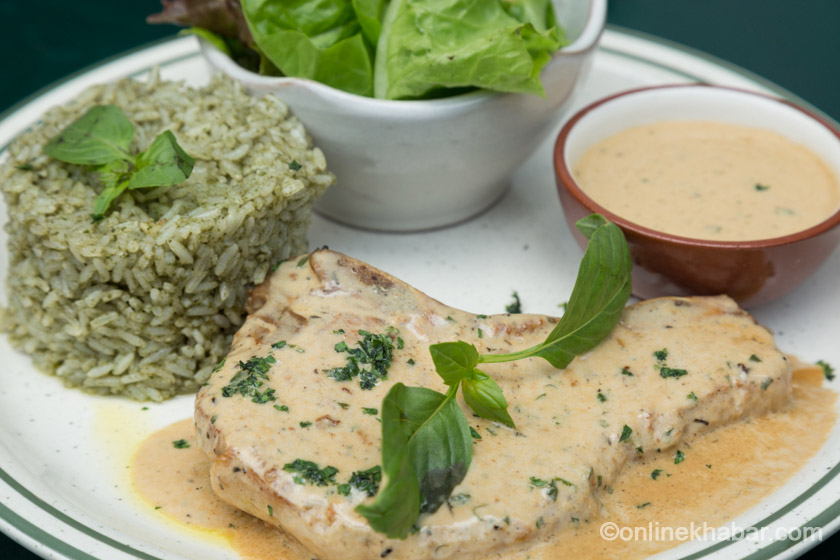 The history of French gastronomy goes back centuries to the Gauls, who developed the art de vivre of eating and drinking well. With time the rest of the world slowly started to take inspiration from the French and designed their dishes accordingly.
But there is something about French cuisine that others don't have. It has a balance that not many cuisines can offer. It might not be as fulfilling as dal-bhat or a bowl of Chinese noodles, but the flavours it offers can't be compared to any other cuisine in the world.
To get a taste of France, I visited one of Kathmandu finest garden restaurants, Pauline's Garden where you can spend your afternoons drinking coffee or just lounging in the hammock overlooking a well-kept garden while reading a book sipping their range of cold beverages.
Pauline's Garden is located in a quiet alley in Balwatar, away from the chaos and dusty roads of Kathmandu. As soon as you enter the place you get a European vibe. There is a sign at the restaurant that says "Hot Beer, Lousy Food and Bad Service", but we experienced exactly the opposite. The drinks were ice cold, the food was absolutely delicious and the service was top-notch.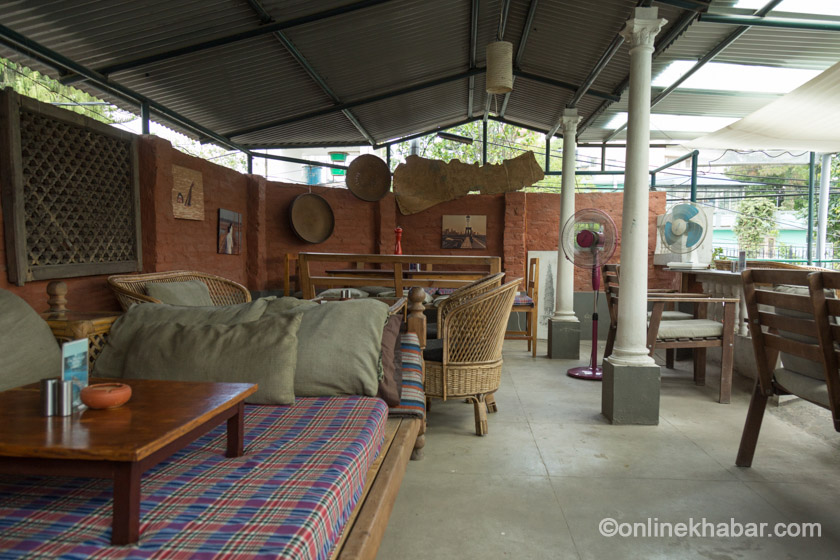 Once you enter the garden, you are in a different world altogether with its beautiful ambience. The garden is filled with trees and birds. This adds to your refreshing experience.
The spacious garden has enough seating and the terrace roof upstairs is an ideal place to keep yourself away from the sun or the rain.
As I decide where to sit, I am joined by the Pauline, the owner of the place who has been in Nepal for a decade now and has a few ventures that keep her busy. Within the garden restaurant, there is a house which she uses for Air BNB. She also runs a boutique hotel in Babarmahal Revisited called '3 rooms by Pauline' which has a rustic European feel to it.
After an enjoyable conversation, the food arrived. To start with, I went for the Cheese and Caramelised Onion Crepe. I've always been fond of crepes and loved how it can be both an appetiser and a dessert. This too was a combination of both. The cheese blended well with the caramelised onion which had a unique taste quite. The crepe's I've normally tasted were all the same, but this one was full of flavour and is one of Pauline's recent creations. Although she doesn't cook, she does have a role in choosing what food included on the menu.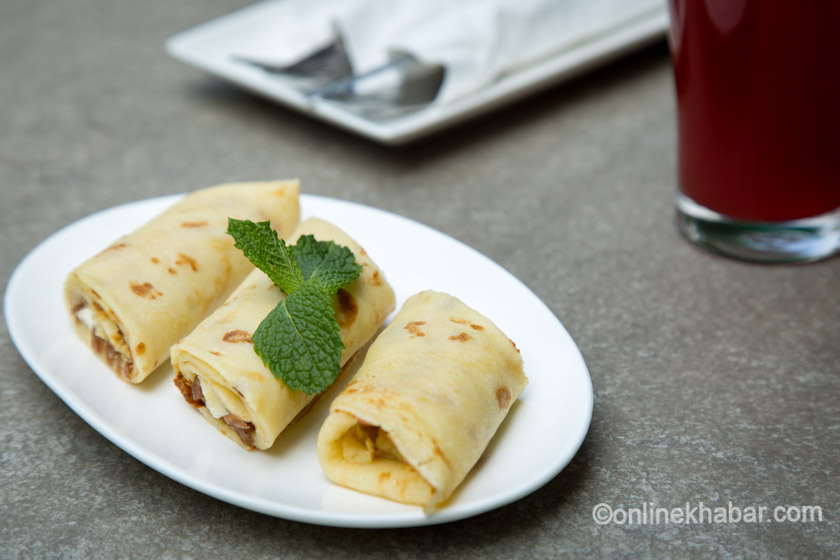 For the main course, I opted for the pork chops with mustard sauce which had deep and satisfying flavour with delicious fatty notes along with a tender, juicy texture. The pork comes with mustard sauce which gives the meat added flavours. With that, came a side of Pesto Rice which was quite new for me. The rice dishes at Pauline's Garden changes every three months and this time they had cooked the rice with basil and olive oil.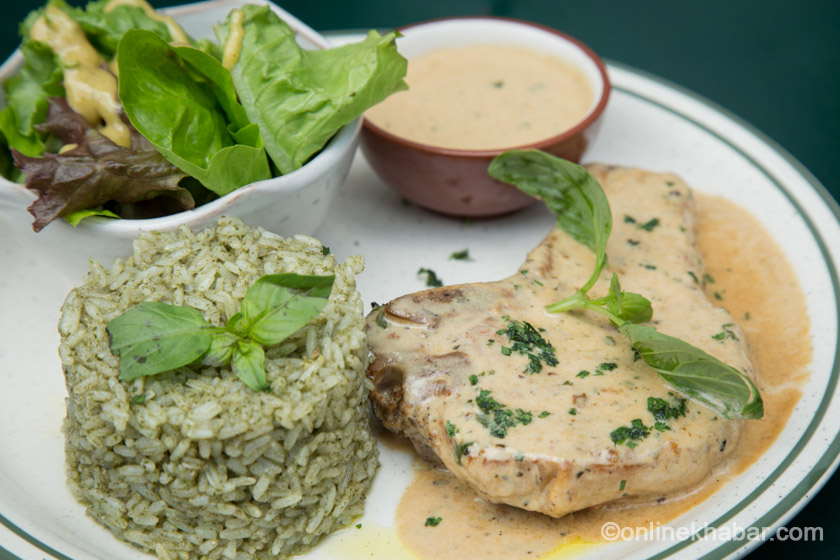 Along with the pork chops, I also tried the chicken satay with a side of mashed potatoes. The chicken was tender and juicy and had a touch of lime in it giving it a unique texture and added flavours. The mashed potato that came with it was just as good.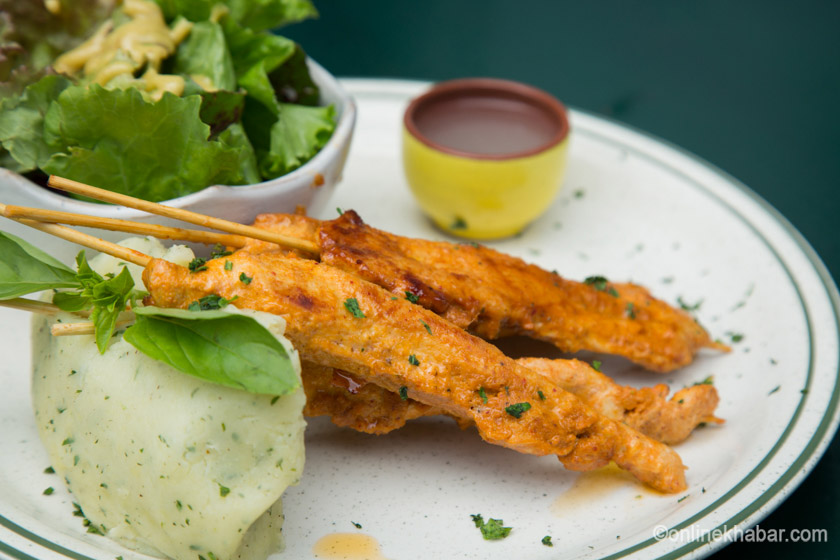 The garden restaurant also offers pasta, lasagnas, soups and sandwiches that are sure to make you coming back for more.
Overall, Pauline's Garden offers you a refreshing and peaceful experience. It's a place that offers you a variety of good food, beverages and also has hookas for those who want that experience.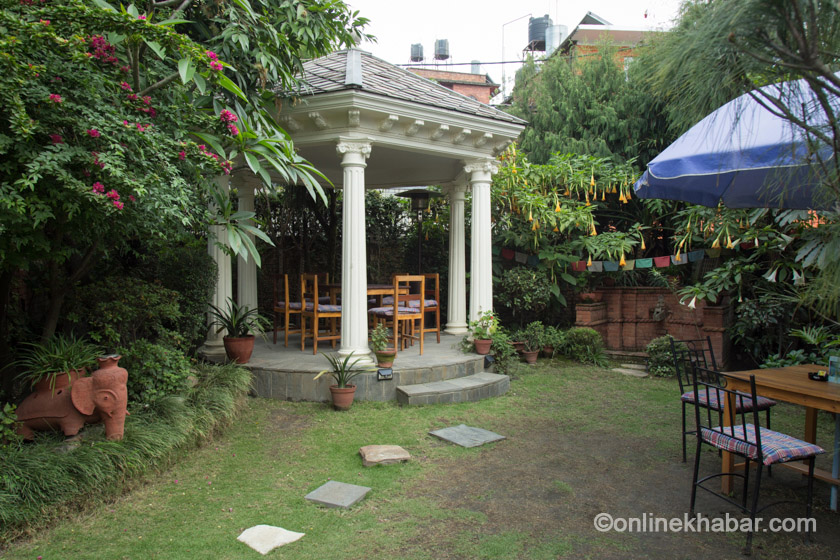 With time, the place is getting busier and is growing to become an ideal place for office lunch and dinners for both locals and expats.
The restaurant at times also offers live soft and Indy rock music.
---
Address: Aanek Marg, Balwatar (Next to Gate No. 3 of PM Quarter)
Timing: Noon – 10 PM (Closed on Mondays)
Happy hours every Thursday from 5 PM to 7 PM
Phone: 01-4221537
Email: [email protected]