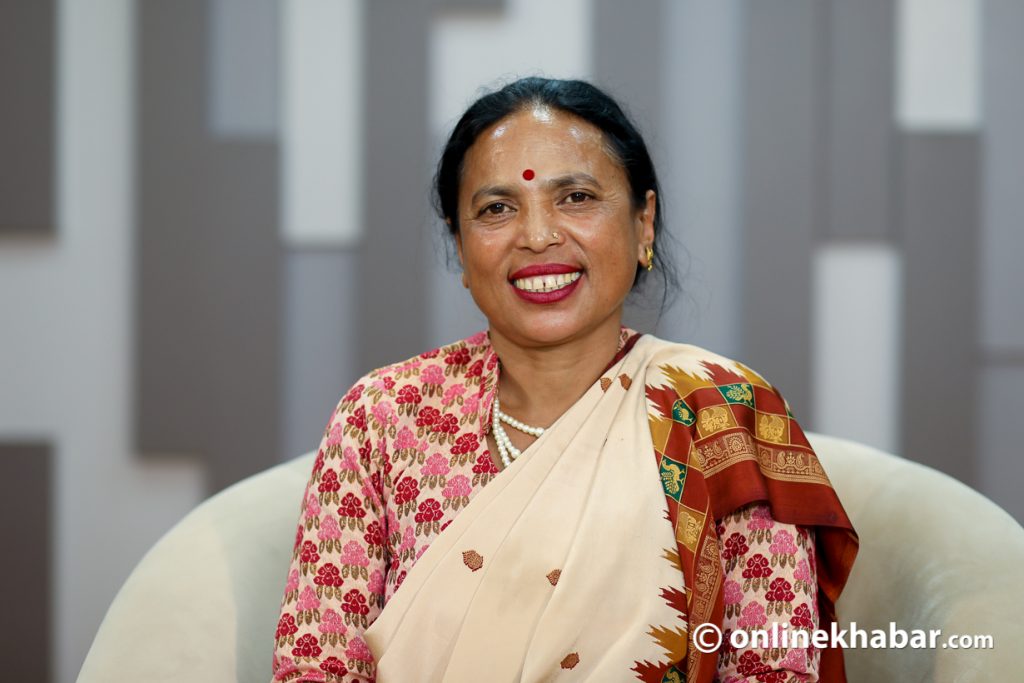 In one of her recent videos, birds are chirping in the background and Kanchhi Maiya Bhandari is collecting koiralo (Bauhinia variegata) flowers and leaves from a tree in her village. As the 12-minute video ends, the delicious koiralo curry is ready.
Most Nepalis use koiralo flowers and leaves for achar (a kind of pickle but not fermented), but Bhandari uses it for the curry.
The difference from the rest is the identity of KanchhiKitchen, Bhandari's YouTube channel that she started around two years ago. But, the difference is not limited to the dishes.
Almost every food vlogging fan in Nepal knows that KanchhiKitchen is better known for its setting. Unlike most food videos on YouTube, Bhandari's videos are not produced in fancy restaurants or modern kitchens; they are all shot inside her mud-and-stone house in her village some 100 km away from Kathmandu. They are hosted by a rural woman dressed in rural attire without any special makeup.
As the setting is different, all the ingredients and methods she uses in cooking originate in her village in Dhading.
The pandemic pleasure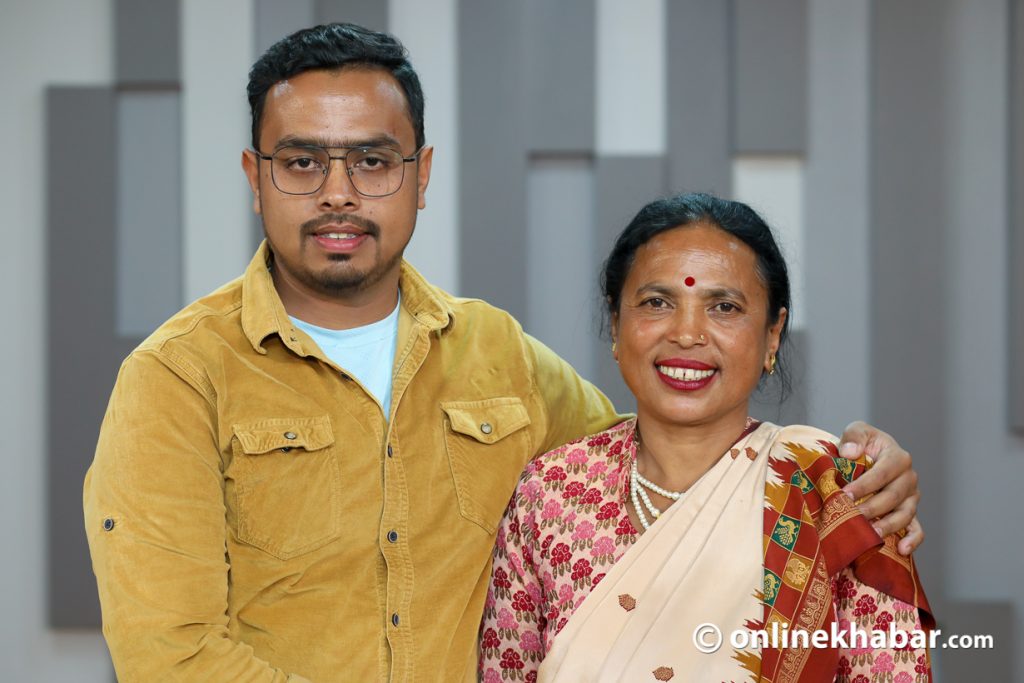 Before the Covid pandemic began, tragedies came to Kanchhi Maiya Bhandari's life one after another. Within a span of a few months, her mother, father and her husband died.
"Those were very difficult days of my life; I hardly remember smiling back then," Bhandari says.
Then, the pandemic began and his son Prakash, a trekking guide, lost his job. Then, Prakash returned to his home in the Dhading district of central Nepal, where his mother in her late 40s was living alone.
He had free time and nothing to do.
This is when Prakash convinced his mother to start a YouTube channel with the mother as the host.
Prakash says he got the idea to open KanchhiKitchen from one of his friends who showed him a rural kitchen channel based in India. As he was always a fan of his mother's cooking skills, he says he was very desperate about the idea.
"I also wanted to inspire many other women like my mother, who had the potential and skills of doing something but are unable to showcase them," says Prakash.
He says he wanted to make her mother happy and refreshed by making her engage in creative tasks.
Prakash says he already had a video camera as he once worked at a television studio. Hence, the YouTube idea was feasible.
The first video
After her mother was convinced, Prakash was waiting for the right time to begin KanchhiKitchen.
One day, a fish vendor came to their house. They bought a fish and planned to eat it with dhindo. Prakash thought that would be the right time to begin it as dhindo was a local dish that originated in rural Nepal.
As she started cooking them, Prakash began filming.
"Within a few hours, we uploaded the video and got inspiring feedback. This motivated us to create more content," Bhandari says.
As of now, the video has crossed 100,000 views. So far, KanchhiKitchen has garnered over 300,000 subscribers and 67,000,000 views altogether.
For someone like Bhandari, who had always remained aloof from advanced technology, facing the camera or becoming a YouTuber was not a usual thing.
"In the initial days, I used to be highly alert while facing the camera. It was a very unique experience for me," she says. "But now, things are different. Maybe it's due to continuity."
"Now I can speak and present myself confidently in front of the camera. Prakash has also helped me a lot in making it happen," she adds.
Deciding the dishes
KanchhiKitchen already has videos of cooking over 100 different dishes including local and foreign ones. But how do they decide on the dishes?
Bhandari says the two discuss what to cook next first and prepare for it. Bhandari knows well how to cook many Nepali dishes. But when it comes to foreign cuisines, she takes help from her son.
"Prakash would tell me about the food and its taste and ingredients. Afterwards, I cook them," she says.
Some of the foreign dishes she has cooked are biryani, pizza, and chicken lollipop. However, she cooked them in the Nepali style, using local ingredients. For instance, instead of using an electric oven, she cooked pizza in firewood and used a stone as a cooking utensil. And, this is where KanchhiKitchen stands out.
Changing narratives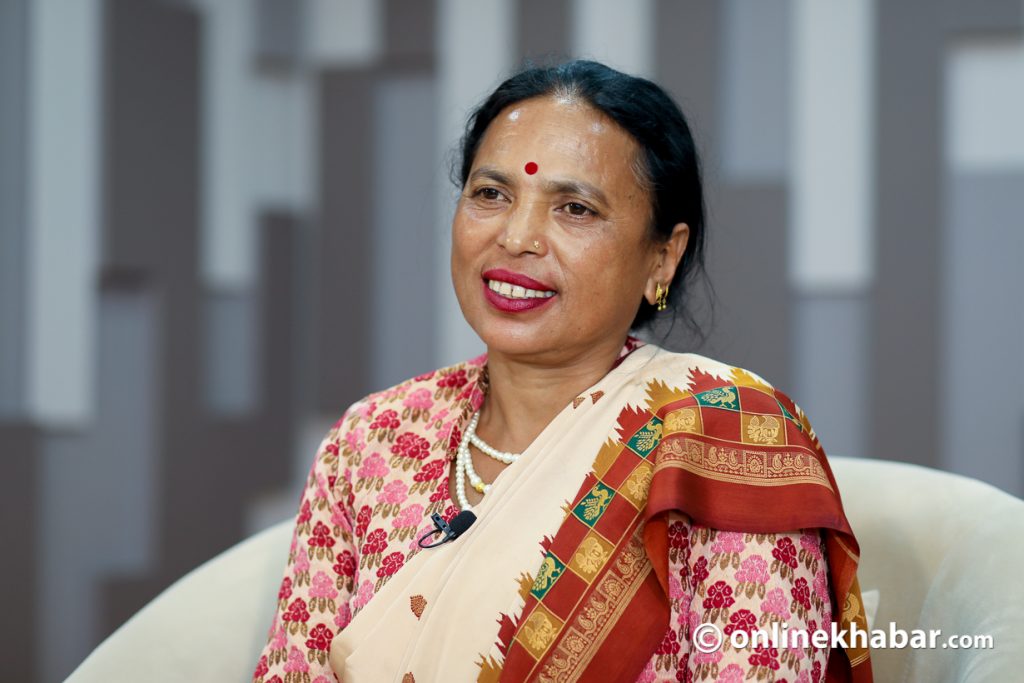 Before the YouTube channel was born, Bhandari was just a housewife. She would be busy with household chores and farming. But now, she also has to spare her time for making the videos.
Both of them say at least three hours are required to complete a single video and an additional couple of hours for post-production.
Bhandari is satisfied with whatever she has been doing on KanchhiKitchen for the last two years. The number of subscribers and likes on the channel shows how popular she has become all these years.
Due to her popularity, even unknown people talk to her while travelling. They ask her about her YouTube channel.
Bhandari is also happy with earnings from her YouTube channel. "They are sufficient enough to cover our daily living expenses and investment made in making videos," she says.
After KanchhiKitchen videos began going viral, people have also changed their mindset towards the family. They remember the villagers used to consider them crazy when they used to travel with cameras to make videos. But now, they understood what they were doing.
Bhandari through her journey as a YouTuber has realised that continuity is the key to success. The appreciation on her YouTube channel has motivated her to do more good things in the upcoming days. She has some dreams to fulfil. If everything goes right, she wants to promote all the local food globally.
"As we are curious about foreign foods, foreigners might also be curious about our food," she says, "Hence, I want to take KanchhiKitchen beyond YouTube."