Kathmandu, July 30
The number of Nepalis getting foreign jobs has reduced to just a bit higher than one-third of the previous year in the recently concluded fiscal year, 2020/21, the government reports.
According to the records of the Department of Foreign Employment, it issued labour permits to only 72,081 Nepalis from mid-July 2020 to the same date this year.
In the previous year, the number of permits issued was 190,453. Hence, the number of permits in the recent fiscal year is around 37 per cent of the previous year's mark.
The table below shows the details of the permits issued in the fiscal year 2020/21.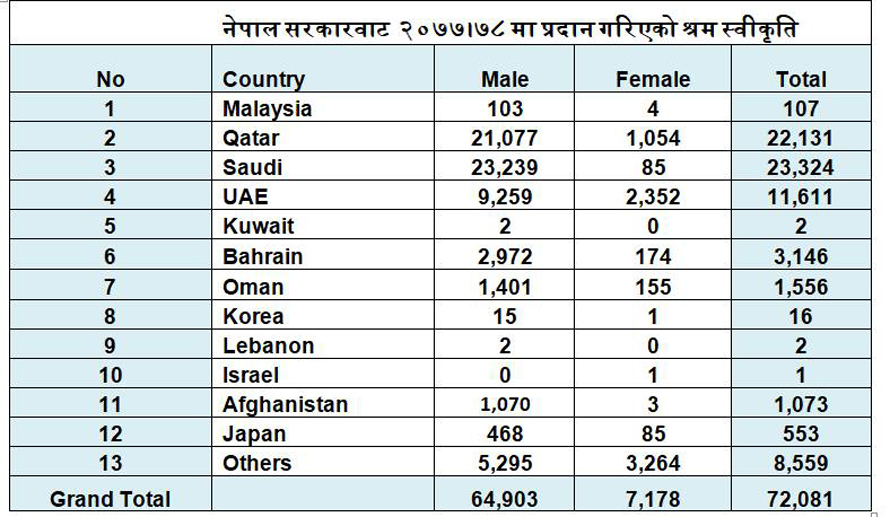 The figures do not include the permit renewals.
Sujit Kumar Shrestha, the general secretary of the Nepal Association of Foreign Employment Agencies, says the country's foreign employment industry has been hit hard due to the Covid-19 pandemic troubling most of the labour destinations. Although the number of Nepalis willing to go abroad is excessively high even today, there is no more an exciting demand, he informs.
Foreign employment expert Madhu Bilas Pandit says the imbalance is likely to affect the country's socio-economic condition in the long run. He says the government needs to make efforts to address this as remittance contributes a lot to the national economy.