Today, it might be rare to see any Kathmandu child pick up a newspaper, but there was a time when they used to travel kilometres to just read a paper. Born in Nhagal of Lalitpur, Hari Ram Joshi, as a seven-year-old child, used to travel all the way to Kasthamandap of Kathmandu to read Indian newspapers including the Times of India, Navabharat and National Herald. Joshi has not stopped reading them as a part of his life.
Most likely a reader of thousands of books, Joshi is also a prominent writer. Currently, at the age of 87, this veteran historian with proficiency in art, culture and traditions of Kathmandu is as dexterous as ever, still putting his pen to paper to write and express.
A seasoned learner
Behind Hari Ram Joshi building his profile was his avid learning nature in his childhood. He was one of the four students in the first batch of masters of arts in the culture at Tribhuvan University in 1962. "It was me, Punya Ratna Bajracharya who became a writer, Gopal Man Tuladhar (a teacher) and Buddha Ratna [Tandukar] who worked in the foreign ministry."
The experiences he has gained today are from his multiple affiliations with the government bodies working in different departments. Given his interest, he started working at the Department of Information as the censoring authority for the government. "During the Panchayat era, my primary job was to scan and filter all the international papers that came into Nepal. If anything was written against the government or the country, it would be edited out."
In the meantime, Hari Ram Joshi also started studying the four Vedas to understand the culture even more deeply.
Above all, he prioritises perspective over anything. "There will always be differences in how two people perceive the world. They might be looking at the same thing, but their angle will be different and that comes from learning and understanding the world in various aspects."
For this, he also says that people have to create dialogue and not accept or copy others. "If you want to learn, you have to develop your perspective and make your background or foundation strong. Just copying what others do, what others perceive is true or successful will not work for you. Our culture and the nation have suffered a lot in this pursuit already."
"We have also distorted a lot of our culture and traditions. From the names of the places to the meaning behind the culture and traditions, people have stopped learning, researching and uncovering the reality. They want it easy. But, the beauty is in the roots of the traditions."
For example, Hari Ram Joshi adds, "The place we call Panauti today existed even before the Kathmandu valley and got its name for being the outlet of the lake that was Kathmandu. Panauti was "pa ti" meaning the outlet made of bamboo for the lake, even before the time when stories suggest the valley was drained [by Manjushree with a khadga]. Knowing the story behind Panauti just adds value to the importance and existence of the town in today's time in terms of history and culture."
A rebellious thinker
Over a half-century ago before it became reality, Hari Ram Joshi sat in the open field of Tundikhel and wrote that Nepal would one day become a republic. It received many criticisms.
Joshi has always been a farsighted and rebellious thinker. As a person who censored the media in the autocratic regime, Joshi says he finds the media today being as censored and scared as they were in the past to write anything about the government.
Having lived almost nine decades, Hari Ram Joshi says he is still the same person he was in his youth. "I always had my thinking perspective that was independent of society. And, this landed me in various clashes with my bosses though my colleagues loved my company. Because of my nature, I used to do all the odd jobs like censoring."
But, his rebellious nature was also evident in his work. "I never liked the concept of working in the 9 to 5 setup. Even when I was working, I would not sit in my cubicle. But, that is not to say that I ever cheated on my work. I was diligent, honest and always followed the chain of command."
Throughout his life, Hari Ram Joshi's divergent way of thinking also uncovered bases for a lot of cultures and traditions. "One of the key events in one's life is getting married. In the wedding ritual, parents of the bridge perform kanyadaan and "give their daughter away". But, I oppose the concept altogether. Women of today should oppose this tradition of being a "daan" rather than just opposing the gender inequalities and demanding they need the parental property."
He has been a great advocate of women's empowerment. He showed this in his book Bahinipuja published in 1958 in which he talked about the respect that sisters should get and that they should be celebrated as their brothers.
A romantic writer
Hari Ram Joshi loves the art of writing. He appreciates a good book and is always found cheering writers and learners. "Writers of various natures meet me and request me to write forewords for their books. I enjoy the process not just because I get to add my insights in the book but also for the opportunity to learn their perspective in the book."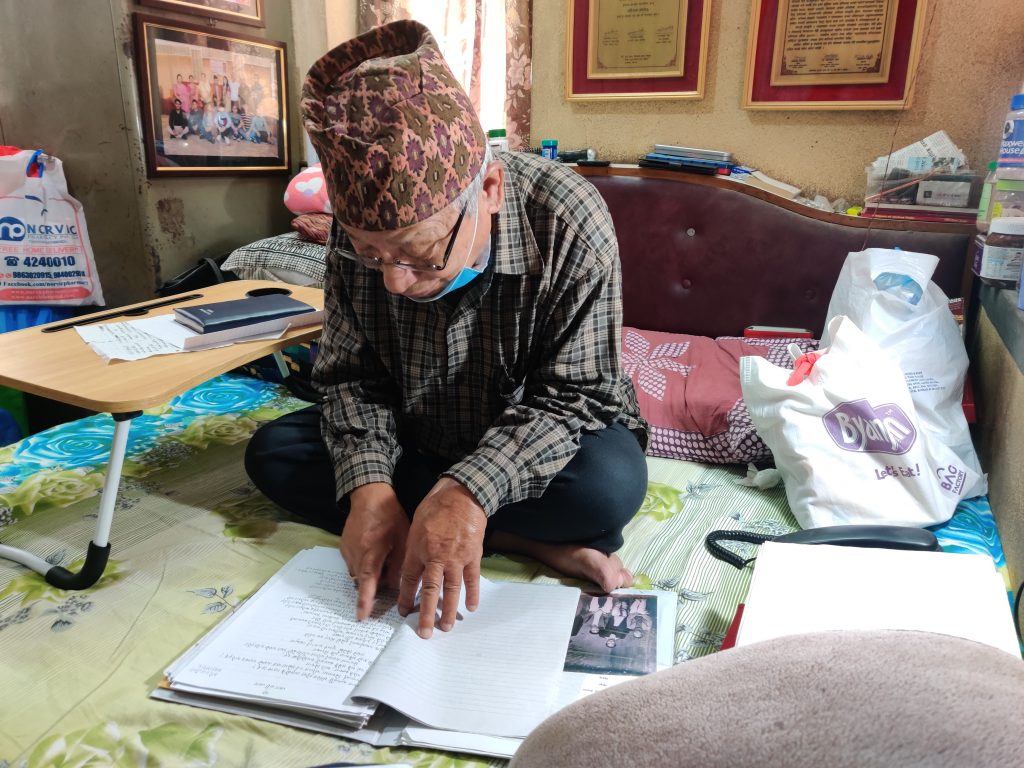 Joshi is continuing his love for writing in his old ways. He does not use a smartphone or a computer to date but pens everything with his hand and he holds the process dear to him. Joshi is also very meticulous in his approach and files everything.
His recent forewords are for the book by a Panauti-based writer and Kalpana Maharjan and her memoir of the Everest summit. In this, the veteran historian and writer uses his style and writes in free verse to express his feelings, knowledge, interpretation and encourage others.
Hari Ram Joshi wrote his first poem in 1953, sitting on the vast Tundikhel ground without distractions. In 1957, he got his first work published. To date, he has written over 30 books in various genres and topics of art, culture, traditions and love. He also has over 30 years of experience running a magazine called Rolamba, in which he has penned a lot of writeups.
A testament to his romantic side is also the book he has written for his wife. "After losing my wife last year, I published the book. When she was bedridden, I held her hand and recited the poems for her that I wrote on a piece of styrofoam paper cup and today the whole poem collection and more have taken the shape of a book Kadam: Abhinav Mera Anubhutiharu that I dedicate to my wife, my partner Kadam, who walked with me hand-in-hand for more than six decades."
Apart from his wife, he has also dedicated his work to the names of his two sons. One of his literary works, Abhinav Sanskriti Kosh also won him the Madan Puraskar in 2001.
His old age has restricted his movement today. But even today, Hari Ram Joshi finds peace in reading and writing, moving his pen in the flow of his romanticism. "Life may be slipping away, but for the time I have, I will read and write. I am already working on my next book."