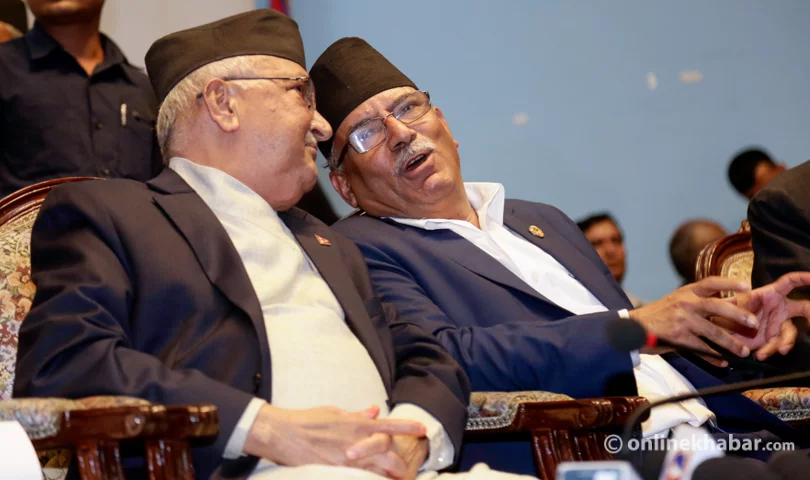 Kathmandu, November 3
Two major communist parties of Nepal–CPN-UML and CPN-Maoist Centre–which are contesting provincial and federal parliamentary elections jointly with a promise to unify the parties after the polls have made public their election manifesto.
The manifesto makes tall promises for prosperity and development of the country including increasing the per capita income to USD 5,000 in next 10 years if the unified party gets a chance to lead the government. Nepal's per capita income is USD 862 as projected by the government in the recent Economic Survey.
The manifesto reads, "Nepal will be among developing countries within next five years. People will be freed from the situation of living under the line of absolute poverty… Plans and programmes for economic development would be forwarded to make Nepal a prosperous country by the end of this century [that is 2042/43 AD according to Bikram Samvat calendar]."
The manifesto assures of making the country independent on agricultural and animal products, promoting organic fertilisers, generating hydropower, promoting clean energy including electric vehicles, and establishing sports university.
Likewise, the parties say they will replace imbalanced treaties and agreements signed with China.
Criticism of other parties
In another context, the parties have criticised their competitors in a section of the manifesto. For them, the Nepali Congress is against communists and working class whereas various factions and groups of Rastriya Prajatantra Party are feudalistic.
The Congress in its manifesto had said the communists are in favour of state terrorism and against personal freedom.
Likewise, the joint manifesto of communist parties say the Madhesh-centric Rastriya Janata Party Nepal wants to surrender national independence whereas it is also against transformation of the working class.
The parties, however, shown they have a soft corner for the Federal Socialist Forum-Nepal as they say the party is trying to expand itself as a national party and hence it will be treated according to its policies and actions.